Now that we've celebrated Chinese New Year with our amigurumi Monkey, we have another special day to look forward to this weekend…Valentine's Day!  I thought it would be so cute to design a wool-themed card for us yarn lovers!  I was inspired to create one after I saw a flattened yarn ball (made of actual yarn for texture) in one of Myla's alphabet books- I thought it would be a brilliant way to use up some scrap yarn that many of us have lying around and don't know what to do with!  Whether or not you have a special someone in your life, this is a fun project that you could make for a yarn-loving friend or family member such as your mom or sister!  Let's get started!
I remember seeing a cute wool-inspired pun last year on Lauren Conrad's site (see HERE), and I wanted to have two options: "Wool You Be My Valentine?" and "Wool You Be Mine?".  We also wanted to have both crocheting and knitting options!  To help you easily make this card along with us, we have created a FREE PRINTABLE PDF HERE so you can have the exact same text that we designed and used!  And so, all you need to do is:
Print out the Wool Valentine Card PDF HERE using good quality paper.
Cut along the line in the middle.
Fold it in half.
Make a yarn ball!  We've even included a PDF of the Yarn Ball Circle Template HERE if you want guidance for that too!  It's best to use sturdier/harder paper for the circle since you will be wrapping yarn around it!  You will need about 145 inches/368 cm of yarn!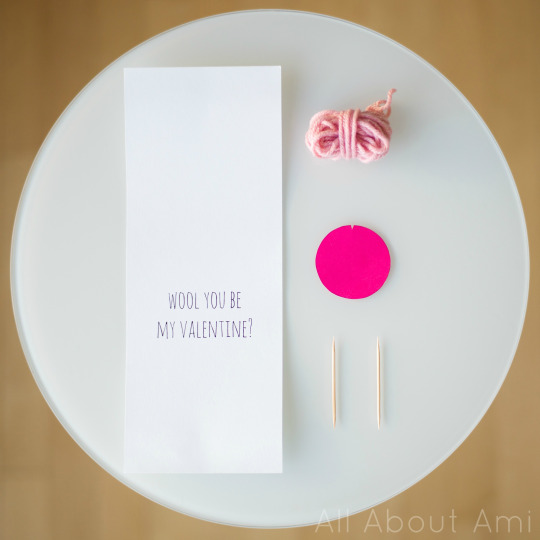 Cut a tiny notch at the top of your circle.  Begin wrapping the yarn as shown below to simulate how a real yarn ball is formed!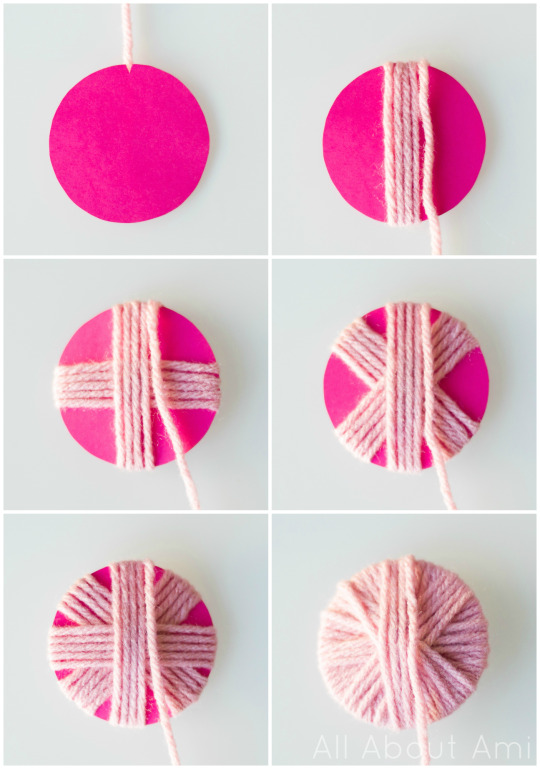 Then, use hot glue to firmly stick the yarn ball onto the card.  Leave a tail of yarn and carefully glue that strand onto the card as well so it looks like the yarn is all ready to be used!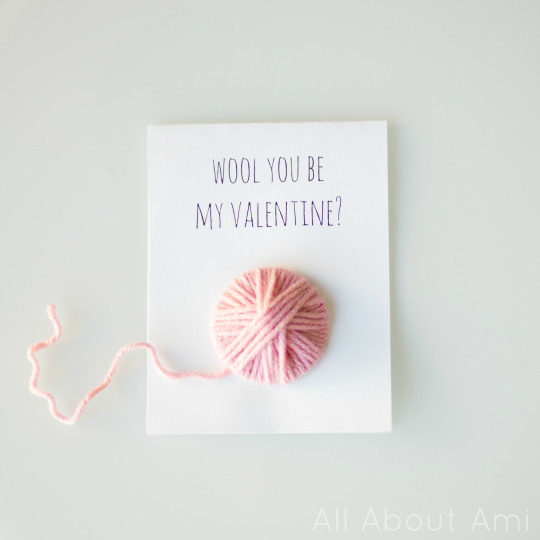 If you want to make the knitting version, grab two toothpicks and cut off the bottoms with a sharp pair of scissors.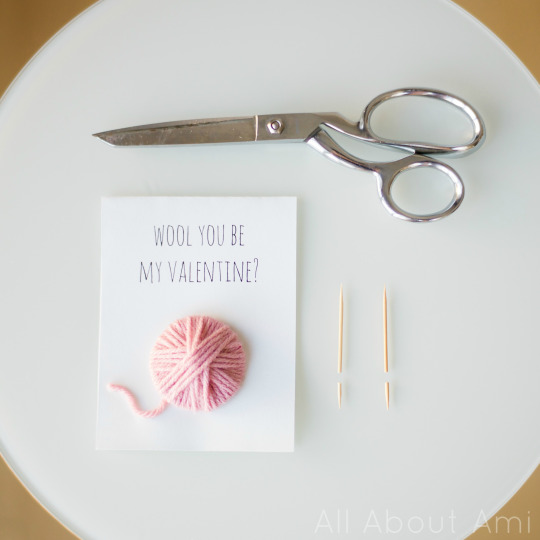 Make a notch at the bottom of the toothpicks by rotating your scissors around them.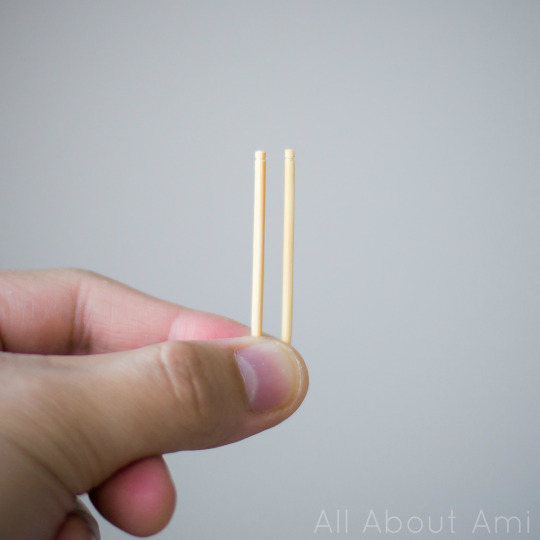 Put some fabric glue onto the top of the knitting needles and insert them into your pretty yarn ball!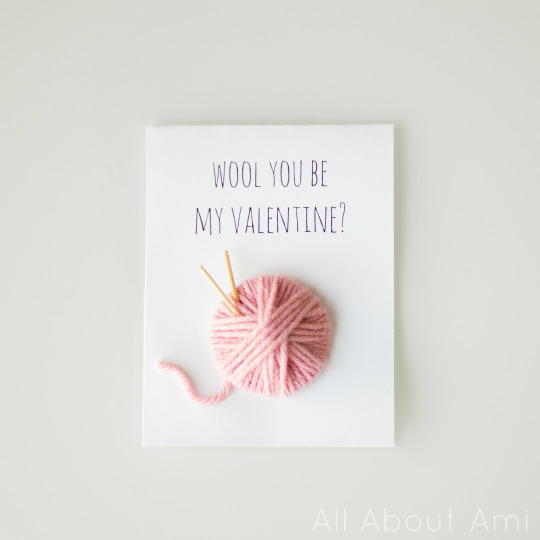 For the crochet version, use some decorative wire (same wiring we used for our amigurumi Monkey) to make a hook by bending one end with a pair of pliers.  Place fabric glue on the bottom of the hook and insert it into the ball of yarn.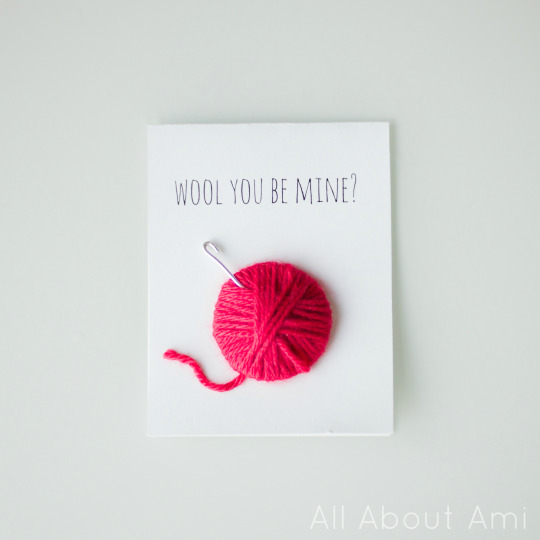 Aren't these so modern and beautiful?  They would make such special handmade cards for all the wool lovers in your life!  It's such a lovely way to use up the scrap yarn you have in your stash too.  You can choose which phrase you want, what colour yarn ball you want (like the recipient's favourite colour), and whether you want the knitting or crocheting version!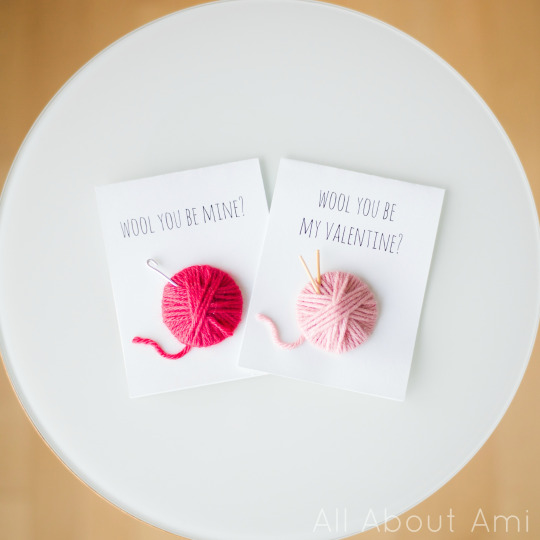 I am so happy with how these turned out as I suddenly got the idea for them last week while I was working on all the Monkey posts.  We quickly whipped these up on the weekend and YOU can easily make them too with our free printables!  It's a fun little craft that looks gorgeous- I think they would make lovely wall art if you framed them too!  Let us know if you give them a try- we'd love to see your wool cards!  Have a wonderful Valentine's Day, everyone
❤
****Get the free Wool Valentine Card Printable PDF HERE!
****Get the free Yarn Ball Circle Template PDF HERE!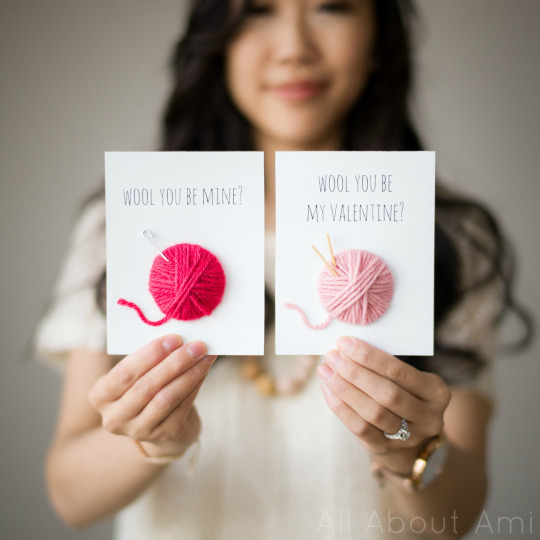 If you're itching for more Valentine-related crochet projects, check out my amigurumi Valentine Teddy & Sweetheart Bunny projects too!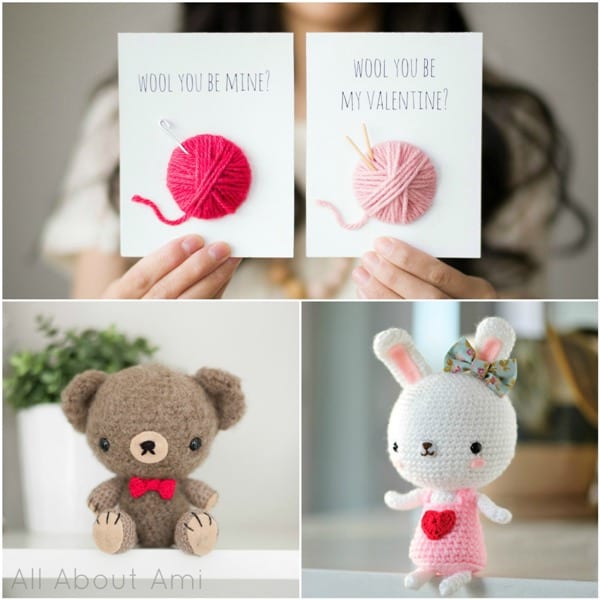 You can subscribe to my e-mail list HERE if you never want to miss a post, and you can also follow me on Facebook, Twitter and Instagram to see what crafty ideas we're dreaming up next!