After I finished knitting my "Heartbreaker Shorts" by Wool and the Gang a couple of months ago, I was told that they were releasing a brand new yarn that sounded very intriguing! "Tina Tape Yarn" is a unique flat tape yarn that is made mostly of fibre from sustainably sourced eucalyptus trees (Lyocell/Tencel). According to the Wool and the Gang website, Tina Tape Yarn is 100% vegan and uses renewable energy as it is "manufactured in a closed-loop system so that resources like water and solvents get reused instead of ending up as pollution and waste". I was excited and eager to preview their brand new Tina Tape kits and choose one to try as this yarn sounded unlike any I had worked with before! I chose the "What's Love Top" as I thought a knitted tank top would be such a lovely addition to my wardrobe, particularly one that looked so chic and comfortable!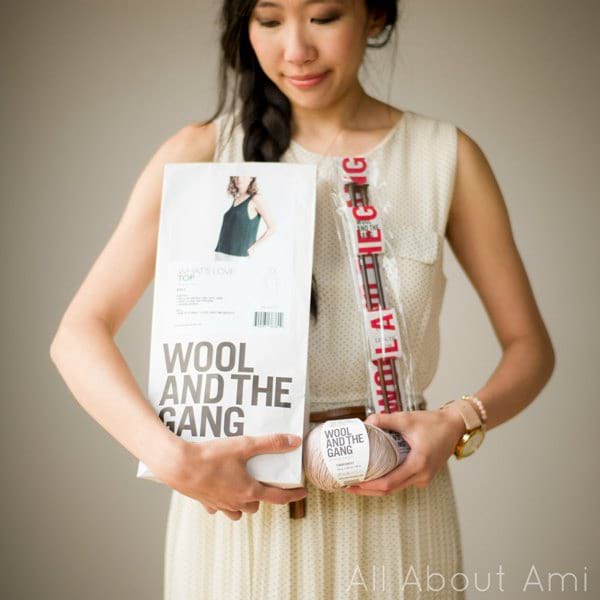 The What's Love Top is an easy pattern that is great for beginners, and the kit comes with 4 balls of Tina Tape yarn, the pattern, a yarn needle, and 6.5 rosewood knitting needles (optional in case you already have that size).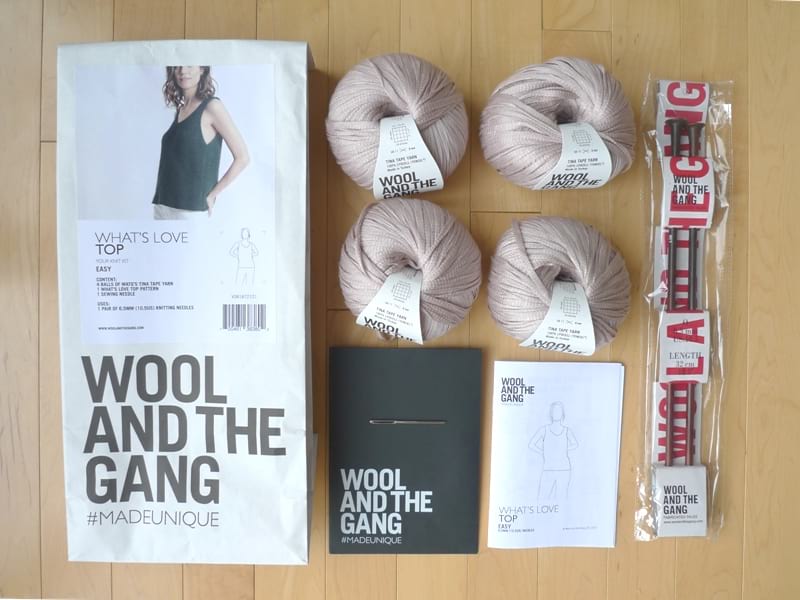 Upon receiving the kit, I was so excited to feel and squish this brand new yarn. I was very impressed by its silky and smooth texture, and it felt so lightweight and soft. I was incredibly happy with this gorgeous colour that I chose too: Timberwolf. Tina Tape Yarn is available in many beautiful colours, and I was strongly debating between Timberwolf or Perfect Peach. Timberwolf is such a beautiful neutral, almost like a grey/champagne colour!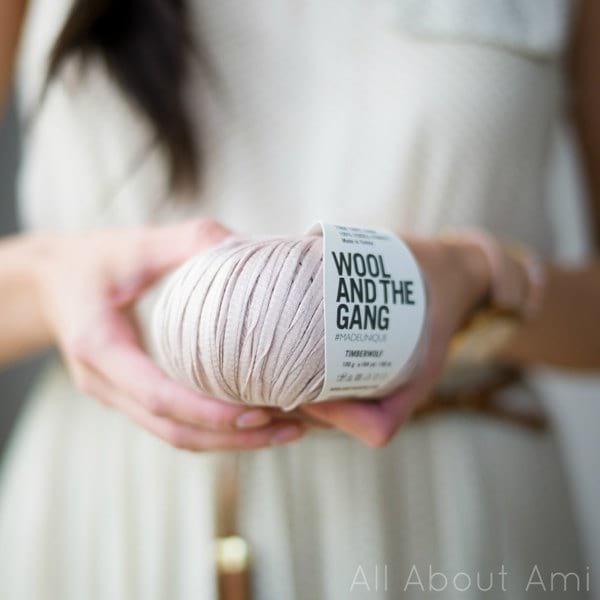 The What's Love Top pattern includes instructions for 3 sizes, and I knitted the smallest size! Below is a picture I snapped on my birthday in July as I celebrated with some of my favourite things: knitting, fresh flowers, and full pleated skirts! It was such a pleasure knitting with this unique yarn as it glided so effortlessly along the rosewood needles!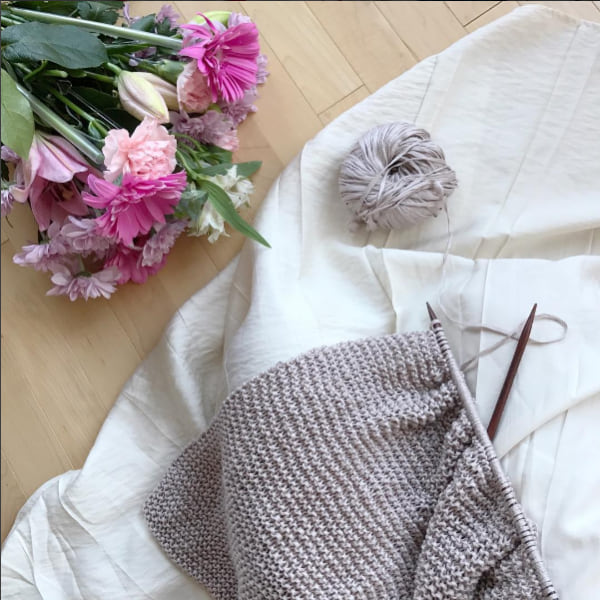 As I built up the length of the tank top, soon it was time to create the V-neck and two straps!

After completing one side of the tank top, it was time to follow the exact same pattern and make the second side! The picture shown below was taken two days before my sister Ashley's wedding with my freshly-manicured nails! Don't they match perfectly with Timberwolf?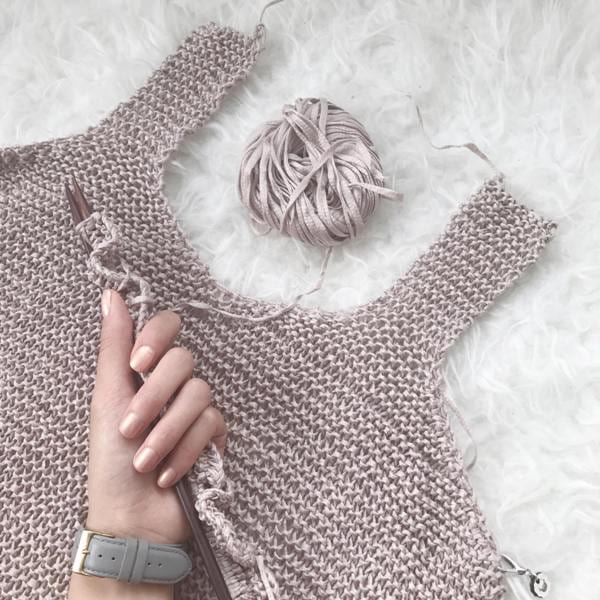 I was determined to finish knitting my top before the end of Summer! I was ecstatic when I officially finished making both sides and I could seam them together!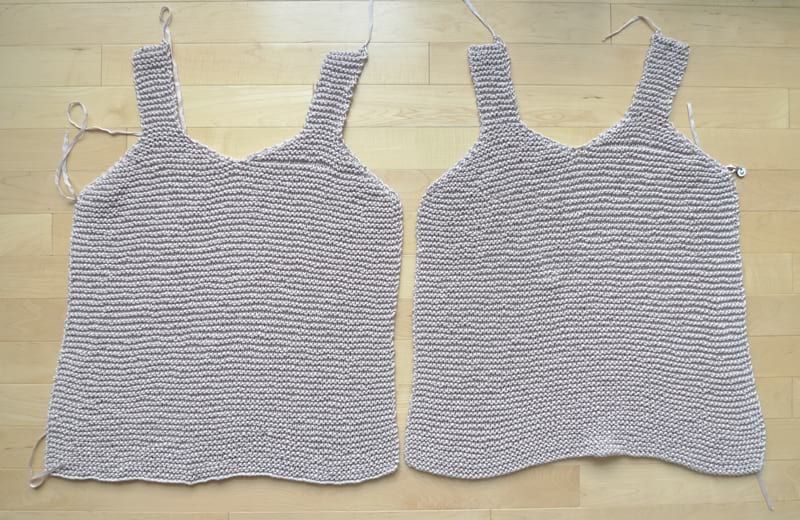 As soon as I finished seaming up the top of the straps and the sides of the tank, I immediately slipped it on! I love the loose and flowy feel of the What's Love Top!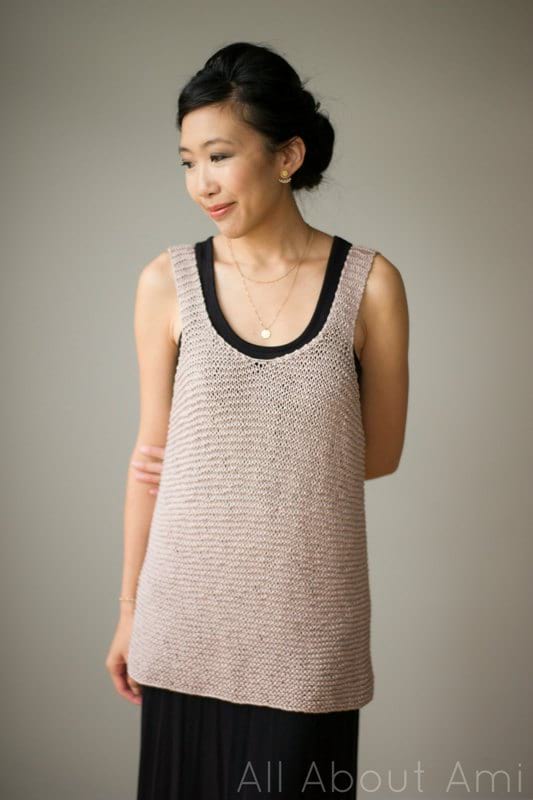 The pattern mentions how taking measurements when garments are laying flat is very different from taking measurements when the garments are being worn or hanging (because of the pull of gravity). My top is considerably longer than the one pictured on the website and at the front of the kit, but I love this longer look! Since the sides, front and back all dip a bit lower, I will always wear it layered over a maxi dress- it could possibly function as a swimsuit cover-up too! I noticed that my tank top grew in length as I wore it throughout the day, so keep this in mind if you are determining how long you want your tank top to be! I might even be able to wear mine layered over leggings now!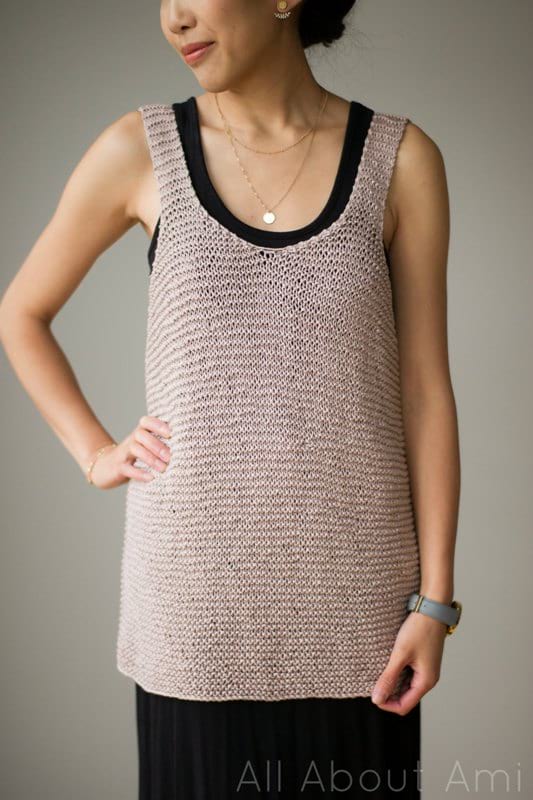 Here is the back of my What's Love top! Since the front and back of the top are exactly the same, it makes this pattern very simple since you follow the same pattern twice! I like the dramatic neckline of the back!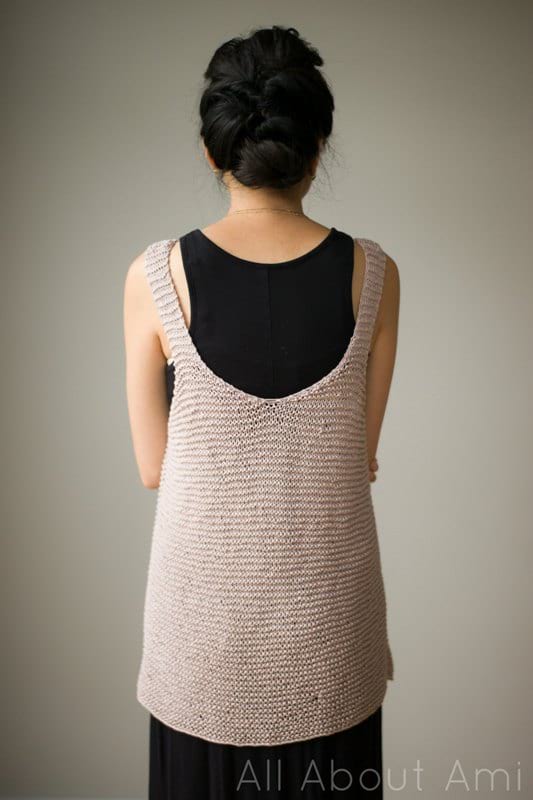 I think the side is pretty as well! This lustrous, environmentally-friendly yarn is very unique and feels so silky against the skin- it drapes beautifully and does not feel heavy at all. The basic garter stitch used all throughout provides such gorgeous texture and allows this garment to be worked up quickly. This top is one of those simple projects that doesn't require too much focus or concentration (great to have on the go) until you get to the neck shaping and straps!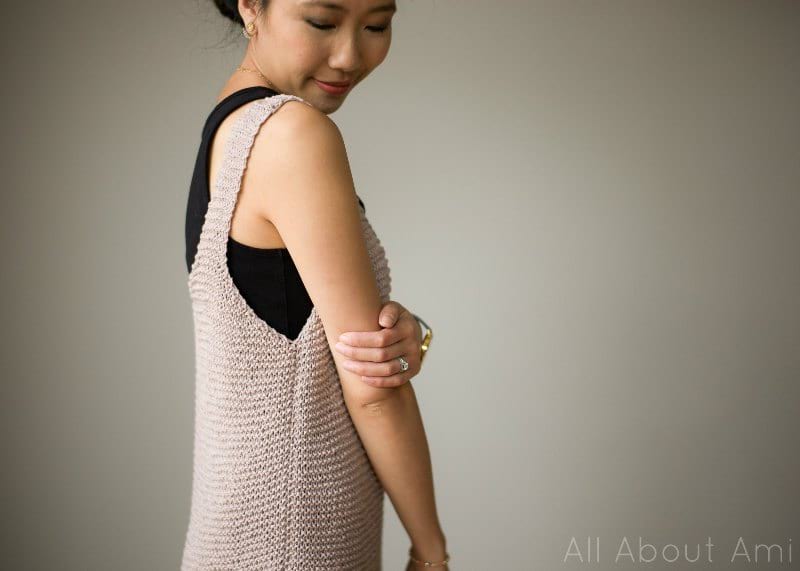 If you're a crocheter who's always wanted to try knitting, don't forget to check out my "Simple Knit Series" as I've demonstrated the basic stitches of knitting and designed three patterns to accompany these stitches! Part 1 is all about the garter stitch (the only stitch used in the What's Love Top) as I demonstrate in this video below (find the "How to Knit Garter Stitch" blog post HERE):

Wool and the Gang has partnered with me to do a fun GIVEAWAY for my readers! One of YOU will get a chance to knit with this Tina Tape Yarn because Wool and the Gang and I are giving away a WHAT'S LOVE TOP KIT in any colour of your choice! Even though summer is ending soon, this top would look great layered under a cardigan or blazer! Keep in mind that if you are ordering a kit or yarn from Wool and the Gang, some Canadian readers (including myself) were charged customs fees upon delivery, so be prepared for this if you live in Canada. According to their website, US customers should not be charged any customs or import duties and fees as they have been pre-paid by Wool and the Gang.
***To enter this GIVEAWAY:
Leave a comment below telling us which colour you would choose for your What's Love Top (currently 12 colour options available) Check them all out HERE!
This giveaway is open WORLDWIDE (excluding Russia) and will close on Sunday, August 27th at 8 PM MST! You can also enter through Facebook and Instagram to increase your chances! One winner will be chosen at random from all the entries!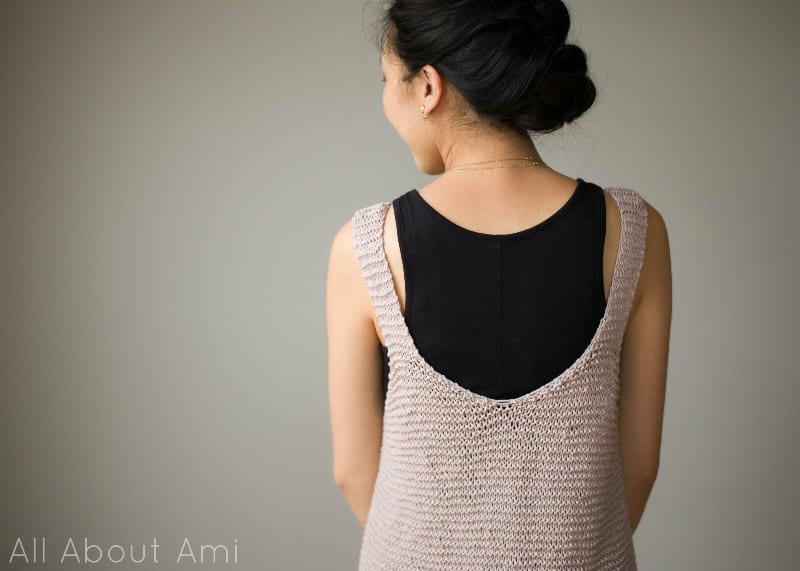 Note: Thank you to Wool and the Gang for providing me with the What's Love Top kit! All opinions and views expressed are 100% my own!