Ryan and I have absolutely loved getting all your wonderful feedback about our Christmas teddy ornaments through our facebook page, twitter, tumblr and blog.  I've never received so many comments or tumblr hearts for a post before, and I want to thank each and every one of you who took the time to stop by and leave a kind message!  I know a lot of new people have been introduced to my blog through other sites and through Ravelry, so I would like to welcome you all here!  It's wonderful seeing people explore all my previous projects and I really appreciate the support I've received for my blog overall 🙂
Within a day of my posting the pattern, people already started sending me photos of their own teddy ornaments!  We were absolutely blown away to see how popular they were!  It warms our hearts to know that these teddies are being made and hung on trees all around the world!  In this Crochet Corner post, we have a whopping twelve teddy ornaments to share with you 🙂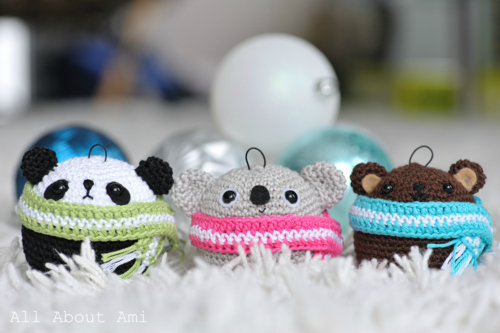 Catherine made her own rendition of the brown teddy complete with a festive red scarf and attached red bell!  He's a perfect addition to her Christmas amigurumi set with her absolutely adorable snowman and penguin 🙂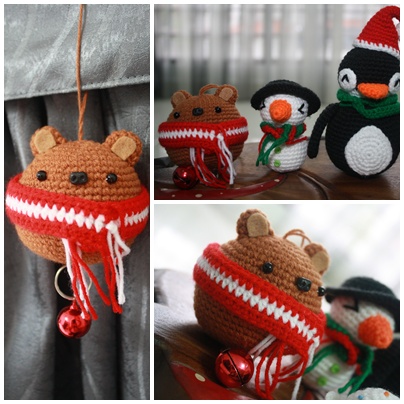 Jill of Dapper Toad made a brown teddy for her tree as well!  See those cute little mini snowmen also hanging on her tree?  Jill provides a free crochet pattern for them here!  You can never have too much amigurumi for your tree, right?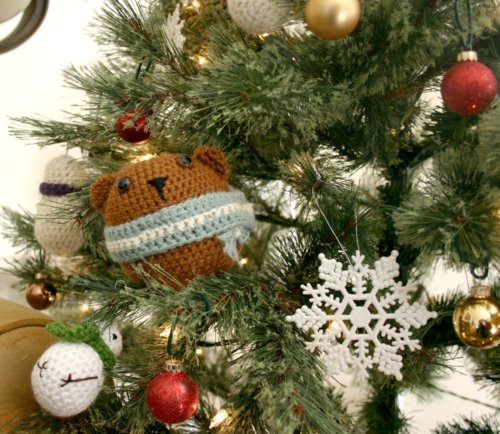 Grace also made a brown teddy for herself, and she might make some to give away as presents!  Cute brown and white loop to attach him to the tree!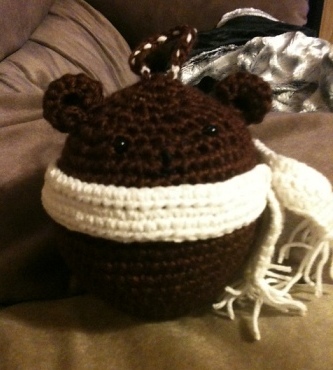 Emily made an adorable little matching hat for her brown teddy!  It's cute how he's posed with her cat 🙂  She says she'll be making more for her co-workers as Christmas gifts!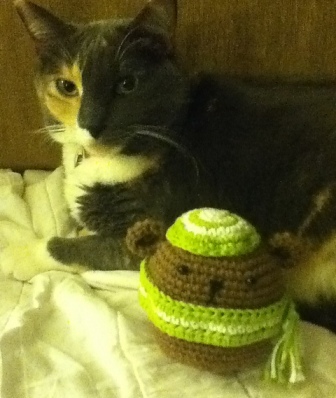 Stephanie of the UK made her own panda ornament with a red scarf and has been requested to make another one for a friend's tree!  These teddies are popping up everywhere 🙂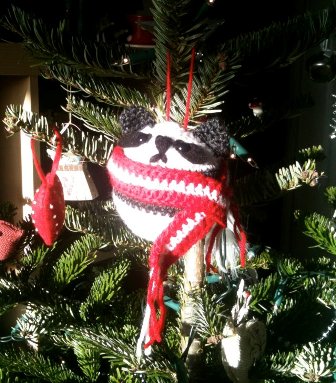 Camille said she saw my teddies and made her very own the same day!  Her panda has extra big eyes with her big eye roundies 🙂  I love how she positioned him next to an orange to show his relative size!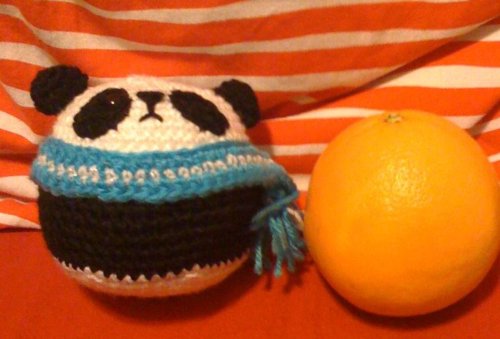 Theaie of Micca Design from Germany also made a panda.  Doesn't he look so sweet sitting in her mug?  Adorable!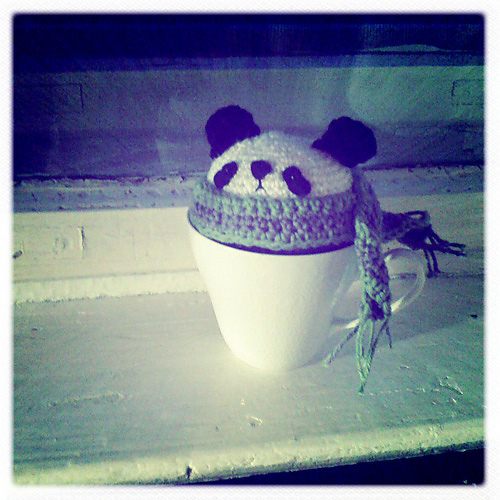 Jourdan made both the brown teddy and the panda, and she tells me that the recipient of these teddies loves them both dearly!  Who wouldn't?  Love their facial expressions with their cute smiles and big eyes.  I love how our teddies have similar scarf colours!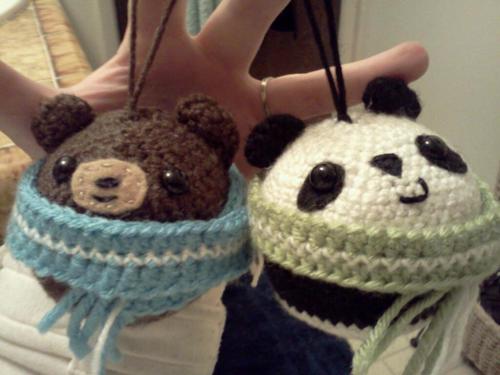 Irina of the Ukraine made these teddies as presents for her friends.  Her teddies are so colourful with the variegated yarn and bright scarves!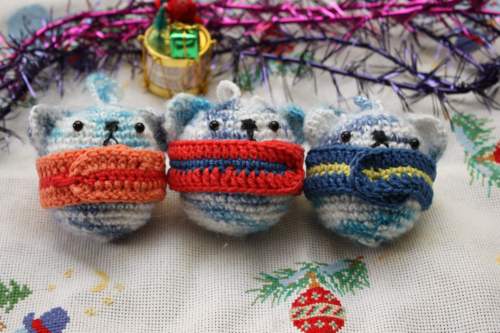 Michelle's koala is very unique: instead of crocheting her koala, she knitted the body and then turned it inside out.  She then placed the knitted piece around an actual ornament ball instead of filling it will stuffing!  What an interesting idea!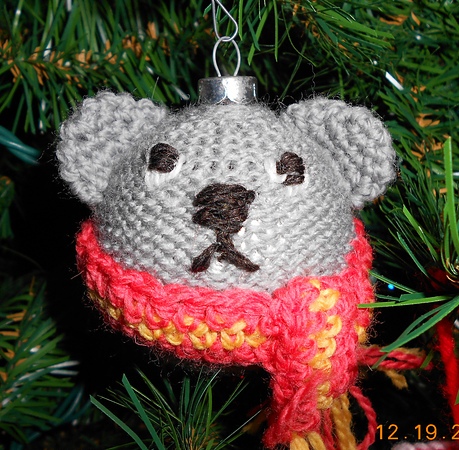 Nng House Adm of Malaysia posted this pic of a Snowman ornament she made using my pattern!  It's neat how you can easily adapt my teddy ornament pattern to make many other ornaments 🙂  Love his carrot nose, wide smile, and red scarf!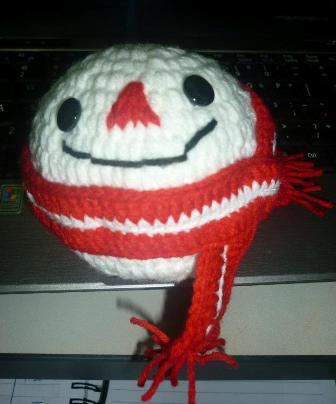 And lastly, Bunny of Malaysia made this sweet brown teddy complete with a Santa hat!  Love his big eyes and how she positioned him atop her furry white carpet and in front of the Eiffel tower in this photo.  The Eiffel Tower is getting me excited for Paris!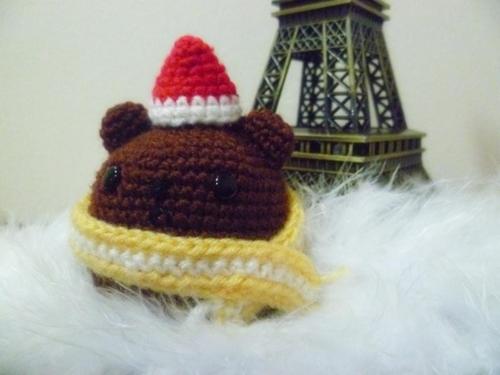 Thank you for sending me all your photos and for posting them on Ravelry, everyone 🙂  I see that the brown teddy and panda are popular to make!  Are there any others out there who have tried to make the koala?
It still amazes me that something we've worked on in our home is spreading to homes all around the world, and that people are following the patterns I've written up!  We're very thankful for all your support and encouragement and we can't wait to share more projects with you all and see where this journey takes us.  Hopefully you've been inspired to make your own teddies after seeing all these cuties too!  I know some people have already made plans to make them for next Christmas!  Check out my step-by-step photos here and the free pattern here!  And keep sending us photos of your ornaments because we absolutely love seeing them 🙂