In this week's edition of "Crochet Corner", we will be featuring Sweetheart Bunny.  We made this little bunny for my sister's silent auction and as this year's Valentine's Day amigurumi!  We gave her a pretty pink jumper adorned with a red heart and a sweet little bow as an accent.  Let's see how everyone else's Sweetheart Bunnies turned out 🙂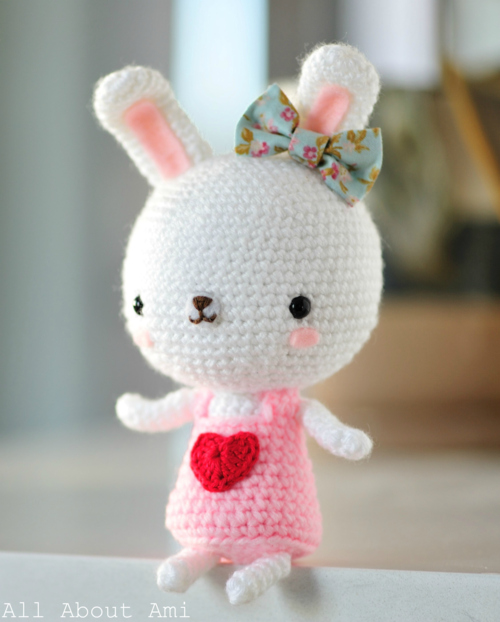 Novy was on a long hiatus from crocheting (more than three years), but she took up her hobby again when she saw the pattern for this bunny!  I'm so happy that Novy has rejoined us in the world of crochet!  Her bunny looks very well-made, and I absolutely love the colours she used.  The yellow heart and bow pop so well against the pink and whiteness!  It makes me so happy that this pattern inspired Novy to pick up her crochet hook again.  I hope I'll be seeing more of your amigurumi work in the future, Novy 🙂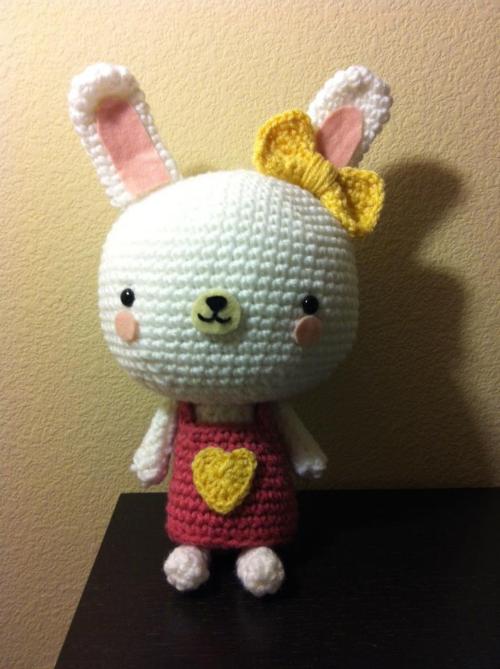 Susi of Siouxsiexs's Weblog from Peru made her own polkadot Sweetheart Bunny!  I love how she used the same fabric for the lining of the ears and for her bow (as well as the backdrop for her photo!).  Susi said that she found my pattern very easy-to-follow and that she loves my patterns 🙂  Thanks so much, Susi!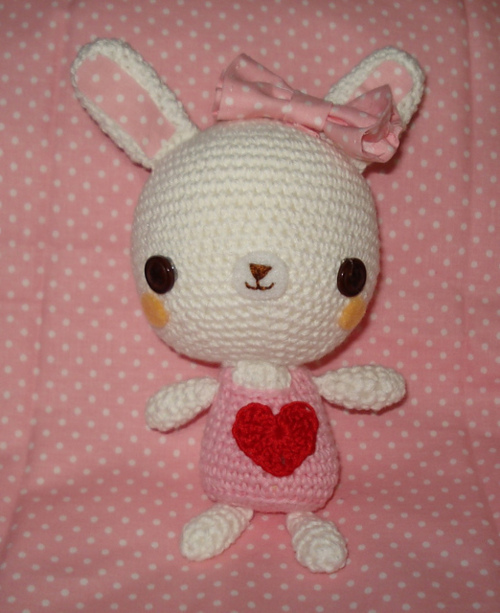 Stephanie named her Sweetheart Bunny "Melanie" and followed my pattern very closely.  There are so many beautiful fabrics out there, and it's wonderful being able to use them in crocheted projects for a nice contrast.  The blue and white bow is an unexpected pop against the bunny!  Melanie looks very sweet indeed, almost like she's blushing 🙂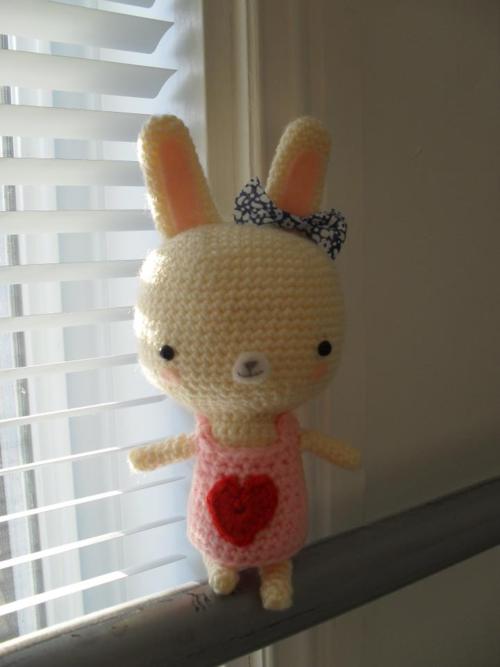 Tina used a beautiful lightweight yarn (mercerized cotton I think) to make her bunny, and you can see how dainty and small she turned out when you compare her to a pair of scissors!  Instead of using fabric or yarn, Tina used ribbon for her bow.  Tina wrote that she just needed to pick up some red yarn to make her little heart and finish her up!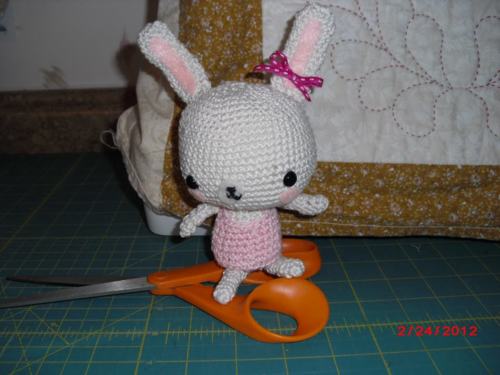 Katka of Katkas Creations made this Sweetheart Bunny for her mom for Valentine's Day.  Then, Katka went on to make THREE more Sweetheart Bunnies: one for her son's friend, and two for her boys.  Katka has made way more Sweetheart Bunnies than I have!  I'm so happy that you like the pattern so much, Katka…and I'm glad it's been a hit with your loved ones 🙂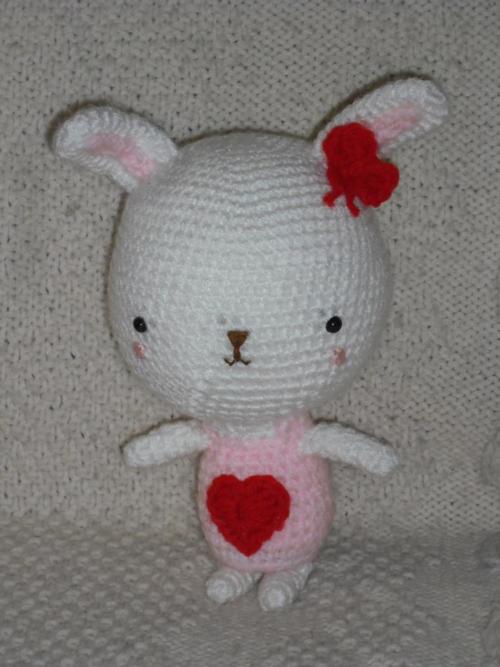 Catherine used a bright fuscia colour for her Sweetheart Bunny's jumper and cheeks.  Did you notice the adorable pink shoes that Catherine's bunny is also wearing?
Catherine included another great addition too: a pom-pom tail!  How cute is that little fluffy tail?  What a great idea!  I'm sure she sits much better now with this tail too!  I love the modifications you made, Catherine!
Amanda of Wisconsin was new to amigurumi and crochet when she stumbled upon my blog.  She fell in love with some of my patterns, and within a week she made the Spring Bunnies, Snuggles, a Knotted Headband, a phone cozy, an Urban Jungle Slouchy Beanie and….a Sweetheart Bunny.  Isn't that amazing?  Amanda said she is really enjoying her new hobby and that my site has really helped with learning new techniques and tips.  I'm so happy to hear this, Amanda, and I think it's so inspiring how you've really taken off with amigurumi and crocheting!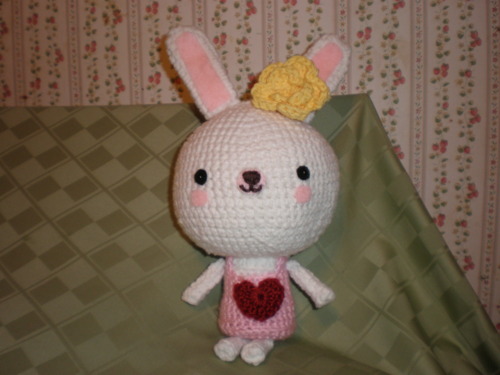 Candy from Singapore made a little satchel bag for her bunny!  I think it's so cute when amigurumi have accessories 🙂  What a fancy border and cute background for this little bunny's photo too!  What a model 😉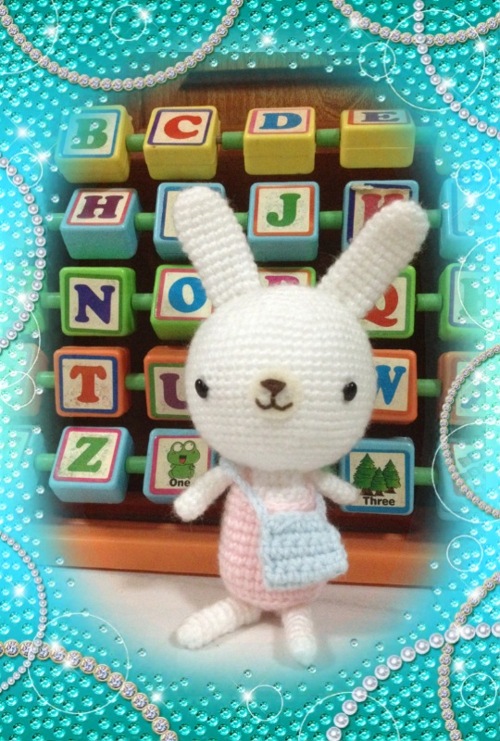 Do you all remember how my Sweetheart Bunny was based on this image on my pencil case?  I thought this bear and bunny were such a cute pair with their adorable facial expressions and cute little hearts.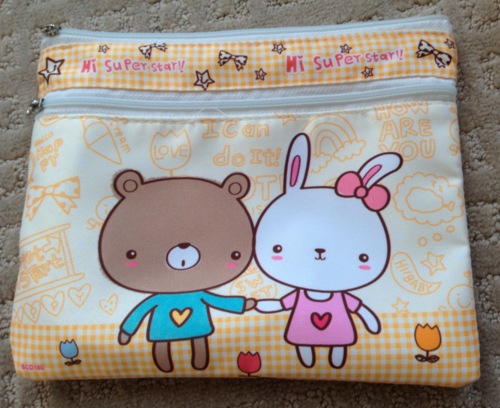 Well, Višnja posted this photo on my facebook page a couple of days after Valentine's Day, and Ryan and I were absolutely blown away!  Višnja modified my pattern to make Sweetheart Bunny's Bear friend!  Isn't he absolutely adorable?  I love his little blue shirt and rosy cheeks.  The stitching of the nose is so well done, and using buttons for the eyes gives these two an adorable doll-like look.  We were so impressed as it really shows how people can do such amazing things by putting their own creative touches on patterns!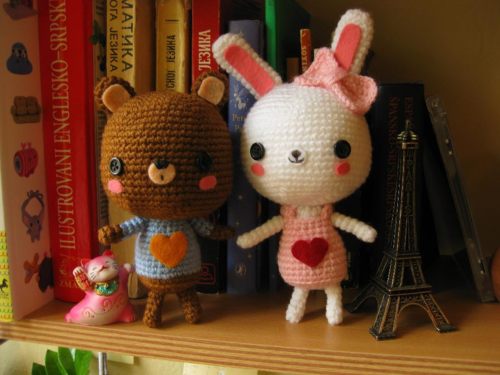 You too can make your very own Sweetheart Bunny by following my free pattern here and checking out the step-by-step photos here.  Keep sending me your photos through my facebook page, twitter or e-mail (all_about_ami@hotmail.com).  Thank you so much to everyone who has taken the time to send me their kind words and encouragement and for showing me all your lovely amigurumi!