When you are first learning how to knit or crochet, it is so handy having kits available that include everything you need to make a project, including the needles/hooks and yarn!  Stitch & Story reached out to me last year and asked if I wanted to try one of their knitting kits.  This company was started by two friends named Jenny Lam and Jen Hoang in the UK.  They wanted to empower others to start their own creative projects and tell their own stories through all-in-one knitting kits, online tutorials, and workshops in London.  After struggling to find a good knitting project for herself, Jenny came up with the idea to "throw some wool in a bag with a good pattern and clear instructions" in February 2012.  Jenny and Jen come from backgrounds in design and publishing, so they set out to create a product that would "inspire more people to learn to knit and emphasize the richness of stories behind handmade products".  I love hearing the background and stories behind these small businesses and companies, and it's wonderful how they decided to create their own kits when they couldn't find what they were looking for!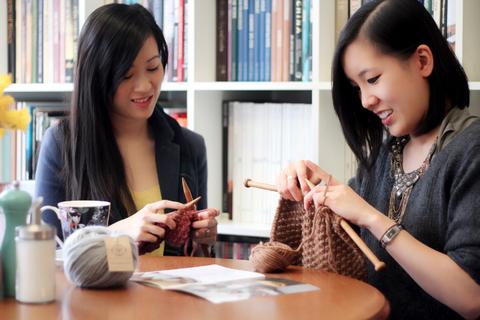 As I browsed through their knitting kits, I was drawn to the Staman Stitch Cushion Cover HERE as the stitch looked so unique and unlike any I had seen before.  Once I saw the ivory/pink/fossil colour combination, I could not resist!  The kit comes with 12 mm long (35 cm) bamboo knitting needles, 3 balls of Stitch & Story The Chunky Wool (100% merino wool, each 100 g), the pattern, sewing needle, and basic knitting instructions.  You can choose to purchase the kit without the knitting needles if you already have that particular size in your collection!  Their logo is very elegant and regal, and all the contents come in this sturdy Kraft bag!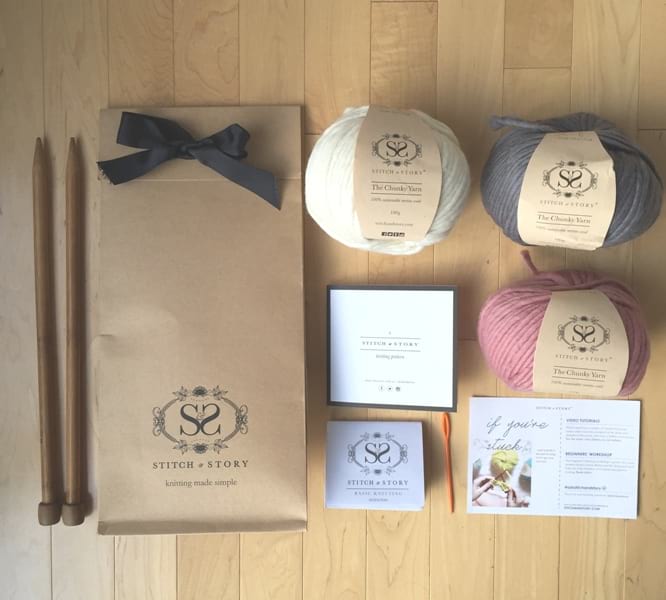 I had so much fun learning how to knit the Staman (stamen) stitch!  Who knew that such a gorgeous texture could be created by working knit stitches and slip stitches together!  I asked you to guess what stitch this was and whether it was knit or crochet on social media, and many of you were stumped or guessed Tunisian crochet!  You can check out how to knit the Staman (stamen) or honeycomb slip stitch HERE!  Working with chunky wool and large knitting needles makes the project absolutely fly by!  Incorporating all three colours was very fun, and this wool is incredibly soft!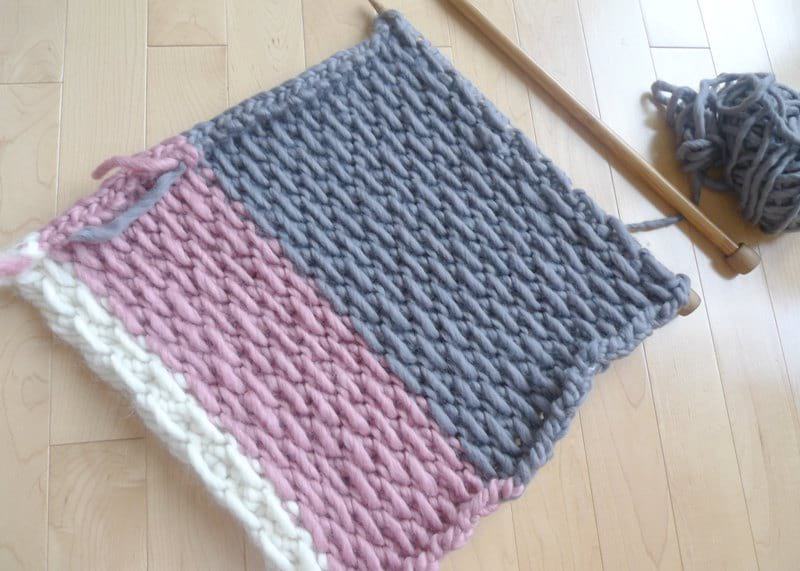 Both sides of the Staman Stitch look very unique!  As you can see below, the edges of the cushion were curling quite a bit, but I knew that once I seamed the edges together and stuffed a pillow form in it, all would be well!  If I wanted this piece to be very flat, I could always block it too!  I tied my ends in a knot when switching colours as I did not know the technique of felting wool ends with a felting tool when I was knitting this project.

I found this 16″ x 16″ pillow form from Walmart (similar HERE on Amazon) and was excited to place it in the cover!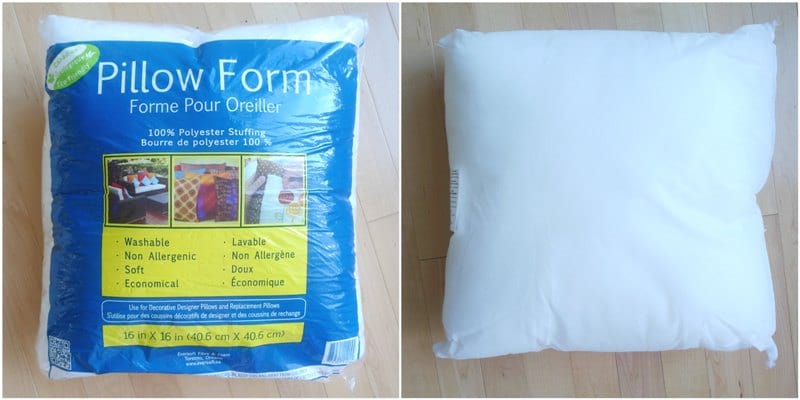 Here is my finished Staman Stitch Cushion Cover!   It is so soft and I love the gorgeous texture of it!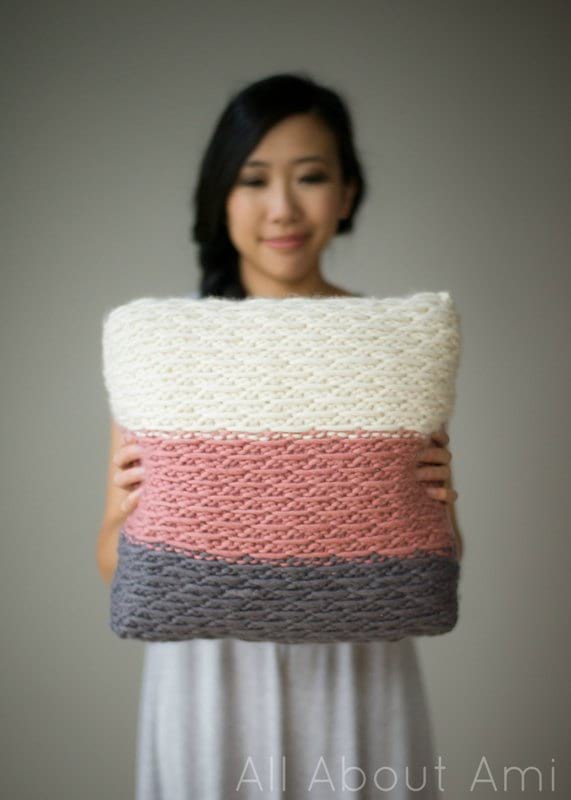 It is a beautiful addition to our home, and I actually keep it in my workspace!  I love cuddly cushions!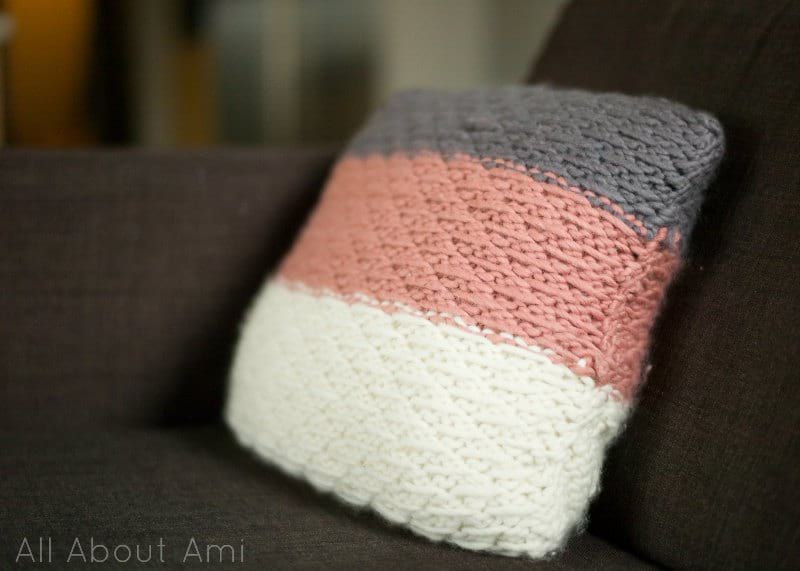 I think pink and grey look so stunning together!  In fact, this colour combination looks like my blog colours!  You can check out the other beautiful colour combinations available for this cushion HERE!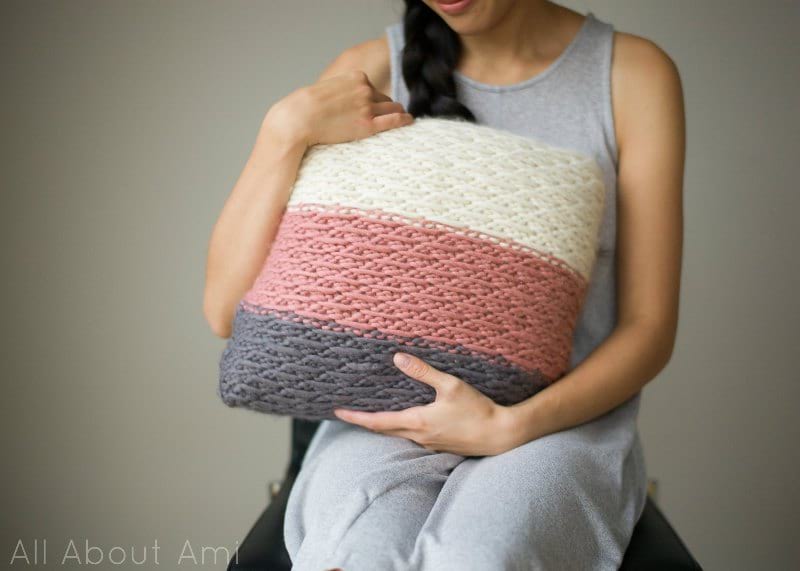 Stitch & Story has recently launched a new collaboration with Sophie la girafe!  I know many of us purchased Sophie as teething toys for our babies, and it's neat to see a whole knitting collection based around this iconic toy!  Jenny and Jen sent me the Sophie's Hat knitting kit to check out, and it is so lovely!  The packaging is gorgeous as I love the white sturdy bag with illustrations of Paris around it including the Eiffel Tower and the Arc de Triomphe.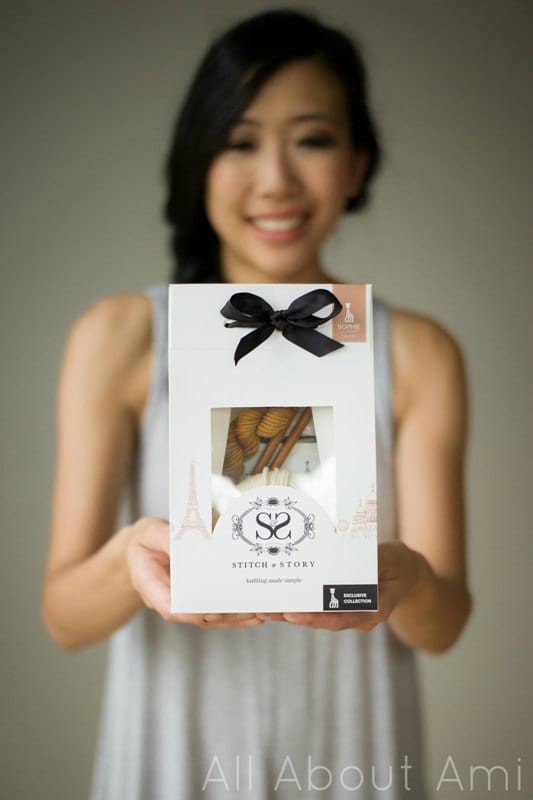 The Sophie's Hat kit contains their Lil' Merino Wool (100% superfine merino wool – 50 g of a cream shade for the main hat and 10 g of a mustard brown for the ears and horn) as well as 8 mm bamboo knitting needles.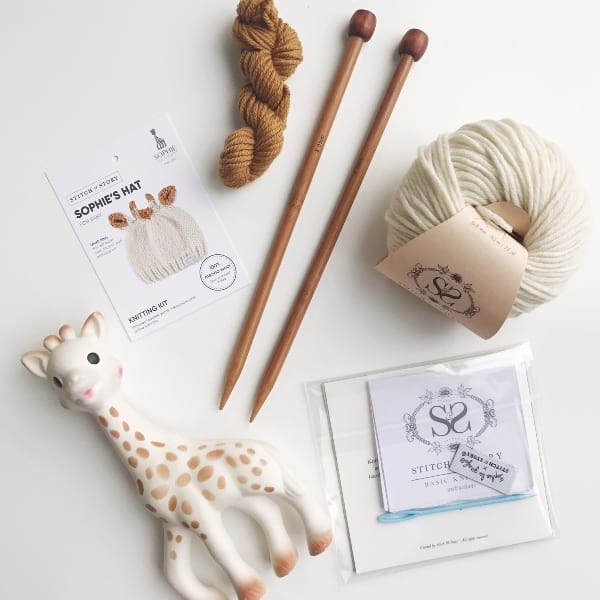 Through their kits, Jenny and Jen hope to "help more people experience that wonderful sense of accomplishment you get from learning something new – the pleasure of taking time for yourself and discovering your own unique creativity".  These Sophie la Girafe knitting kits are perfect gifts for new parents or baby shower gifts as it is so empowering being able to create beautiful items for our little ones!  Wouldn't it be so special and practical if you gifted Sophie the teething toy with one of their knit kits?  Below you can see some more of their Sophie la Girafe knitting kits, such as their Sleepy Baby Blanket!  The colours in this collection are gorgeous, and complement one another so well!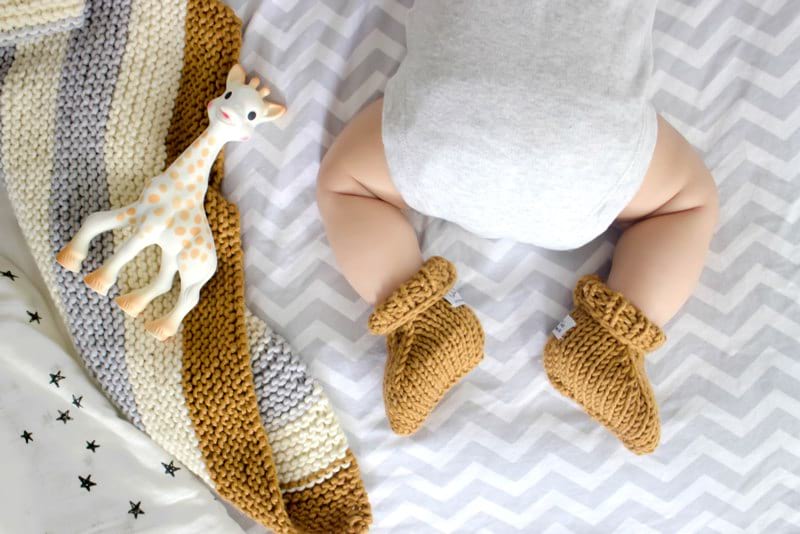 This is the Lily Bow & Booties Set, and they also have a Mini Mitts & Booties Set and a Raglan Bebe Sweater kit!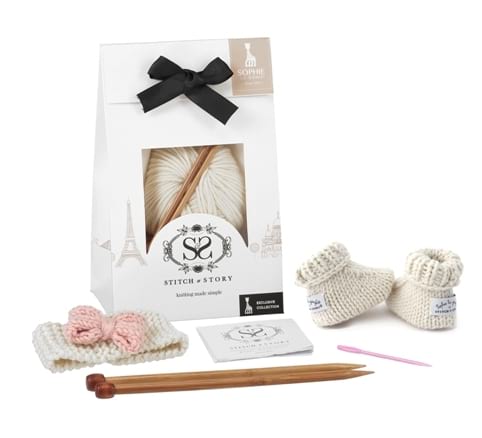 You can browse all the Sophie la Girafe knitting kits HERE!  I am so thankful that I had the opportunity to knit through a Stitch & Story kit, and now one of YOU will get this same opportunity!  Jenny, Jen and I have partnered together to host a giveaway so that one of you will get your hands on a Sophie's Hat Knitting Kit from their new collection!!  To enter, simply leave a comment below telling us who you would make this hat for or who you would gift this knitting kit to!  Giveaway is open WORLDWIDE and will close on Sunday, October 1 at 8 PM MST.  You can also enter through Instagram and Facebook as well!  Check out all the kits and tutorials available on the Stitch & Story website HERE to help you on your knitting journey, my friends!


Note: Thank you to Stitch & Story for providing me with the Staman Stitch Cushion Kit & Sophie's Hat Kit for review!  All opinions expressed are 100% my own!