A year ago, I heard about an amazing event organized by Regency Encounters that was happening in my hometown through Facebook: a Pride & Prejudice Ball!  My heart skipped a beat as I had always wanted to attend a ball, and Pride & Prejudice is one of my favourite books and movies!  I excitedly asked Ryan if he wanted to attend it, and he was just as excited as I was haha.  Thus, I immediately purchased tickets to attend both the dinner and the ball happening in October 2016, and I was glad that I did- the event sold out within less than a week!  Thankfully I wrote this blog post while it was still fresh in my mind back in October, but I am only now posting it half a year later because of the busyness of the fall and winter months in the crochet world!
We began searching for costumes and looking up what Regency attire looked like (the Regency period was roughly between 1800-1820).  For women, Regency dresses were long gowns characterized by Empire waists and puffed sleeves.  I tried searching online but it was difficult finding something that I liked and I wondered whether it would fit.  Thankfully, we attended a Costume Fair in the summer that Regency Encounters hosted, and we got connected with Meg from "Nutmeg Sews", a local costume maker who makes all the costumes for Fort Edmonton Park!  We sent Meg photos of what we liked and the amazing part was that she took us fabric shopping!  She made recommendations of what would and wouldn't work, and we chose the fabrics and colours together.  I was so happy that we could work with and support a local artist, and Meg would be attending the ball too!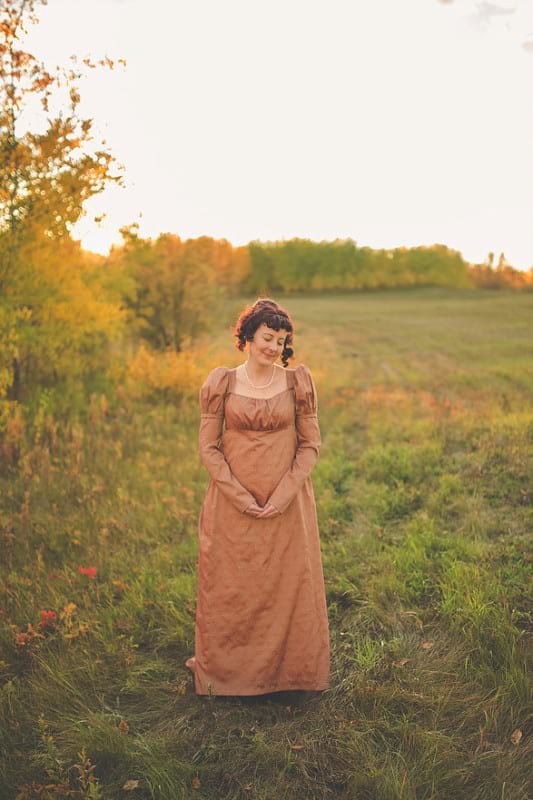 Regency Encounters, the company that organizes the Pride & Prejudice Ball, was created by Tara Melanie.  Tara used to regularly attend the Jane Austen Festival in Bath in the UK, but once she had her three toddlers, it was much harder to travel overseas.  Thus, she decided to create an event here in Edmonton and see if there was any interest.  Much to her surprise, there were hundreds who wanted to attend!  This was her third year organizing the ball, and since the Saturday ball sold out (the one we attended), she ended up adding another ball the following day.  Tara herself also sews her own Regency gowns and offers many for rentals.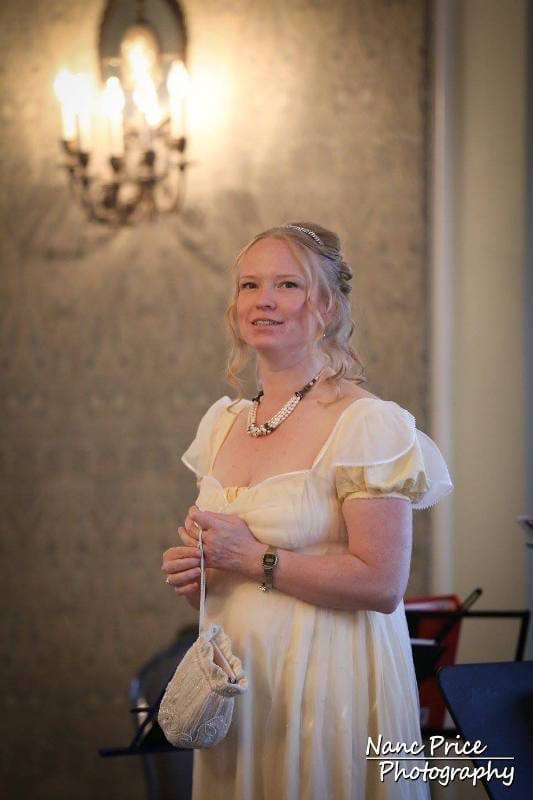 Tara wanted everyone to be able to fully enjoy the ball by already knowing the English country dances rather than learning them AT the ball.  Thus, she held three dance practices during the three weeks leading up to the ball in which she taught us five dances: Zephyrs & Flora, the Spaniard, Hole in the Wall, the Duke of Kent's Waltz, and Mr. Beveridge's Maggot. Ryan and I had SO MUCH FUN at these dance practices as they were date nights for us- we would go out for dinner and then learn a new dance!  We tried to practice them at home, and Tara also uploaded videos on YouTube so that we could go over them regularly.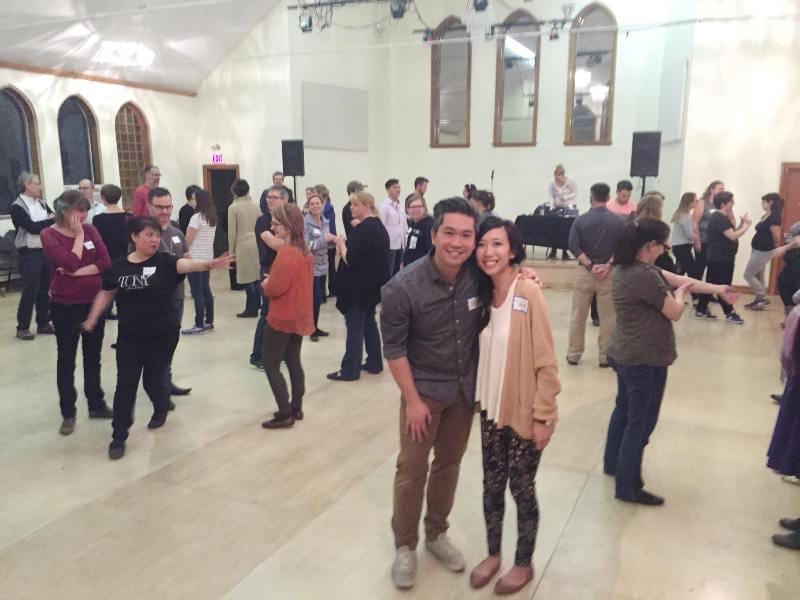 Leading up to the ball, Ryan made his own breeches by cutting and hemming a pair of pants and modifying it by adding a front flap!  They turned out so well with the addition of the elegant gold buttons!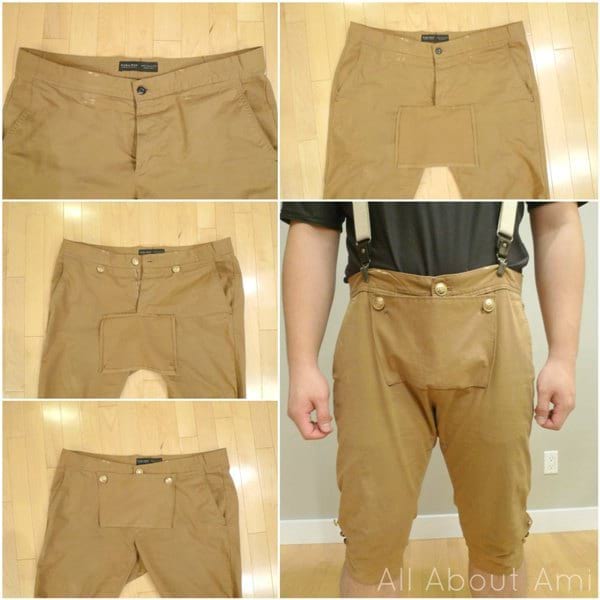 I found the perfect pair of earrings and hair comb at the mall, and we made sure to purchase gloves as these were a necessity at these elegant balls.  My family was traveling in Hong Kong prior to the ball, and they found the perfect fan for me!  I also wanted to add a touch of crochet to my outfit, so I decided to crochet my own reticule, which was the lady's handbag during that time period.  I researched photos and discovered that reticules typically consisted of a drawstring bag with some tassels.  This is the reticule that I crocheted using Lion Brand Yarn's Cotton Bamboo– if there is interest, I can share the pattern that I designed [UPDATE: Due to the overwhelmingly positive feedback, you can now access the FREE PATTERN for my Regency Reticule HERE]!  I wanted to make it elegant, romantic, and a bit antique looking, so I used the solid shell stitch!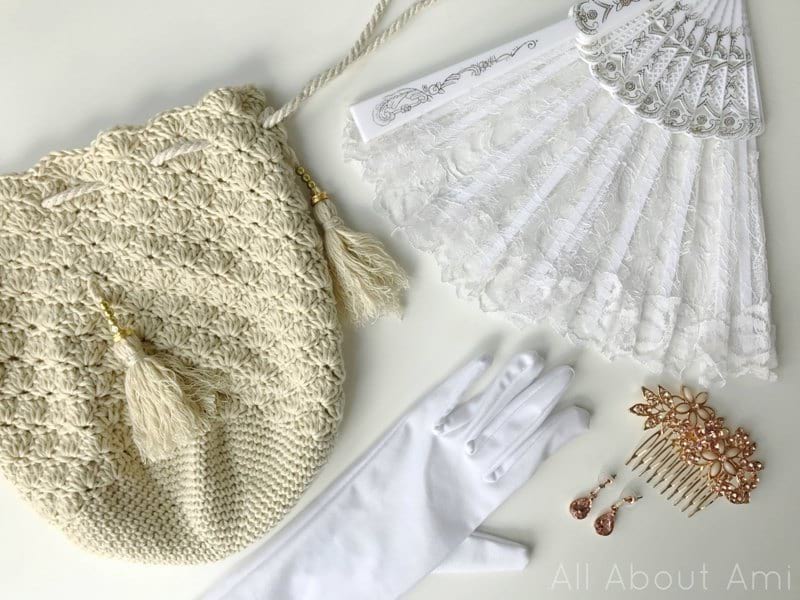 During the day of the ball, Ryan and I had so much fun getting ready as we put all the elements of our costumes together.  Myla said that I looked like a princess and that Ryan looked like a prince!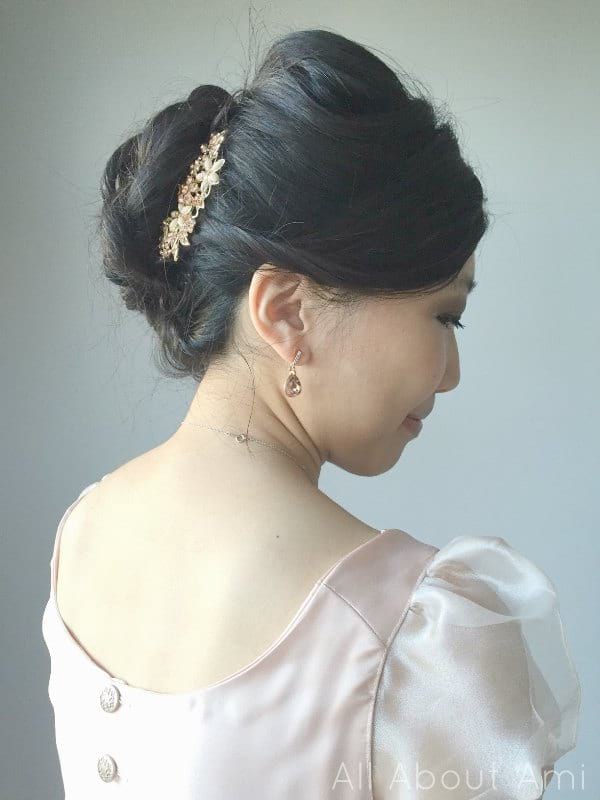 The Pride & Prejudice Ball was held at the Fairmont Hotel Macdonald, with Saturday's ball held in the Wedgewood Room.  We got quite a few stares as we walked to the hotel as it looked like we were from a different time period!  However, as soon as we stepped into the hotel, we fit perfectly in!  To be historically accurate and to help us stay immersed in the experience, no technology (cell phones, cameras) was allowed during the dinner or ball.  Tara hired a professional photographer (who was also in costume) named Nanc Price Photography to capture the whole night's events .  These are some of the photos that she took of us upon entering the ballroom!  Photo credit goes to Nanc Price Photography for all the photos with the "Regency Encounters.com" watermarking within this blog post!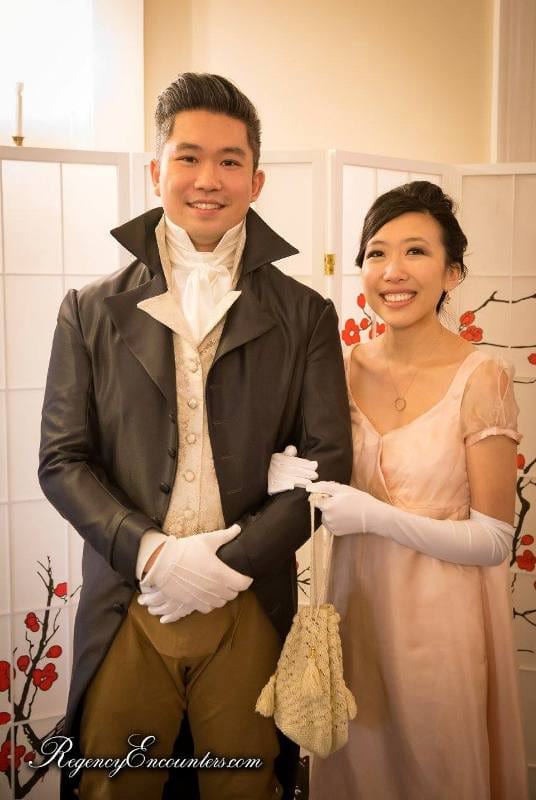 All smiles!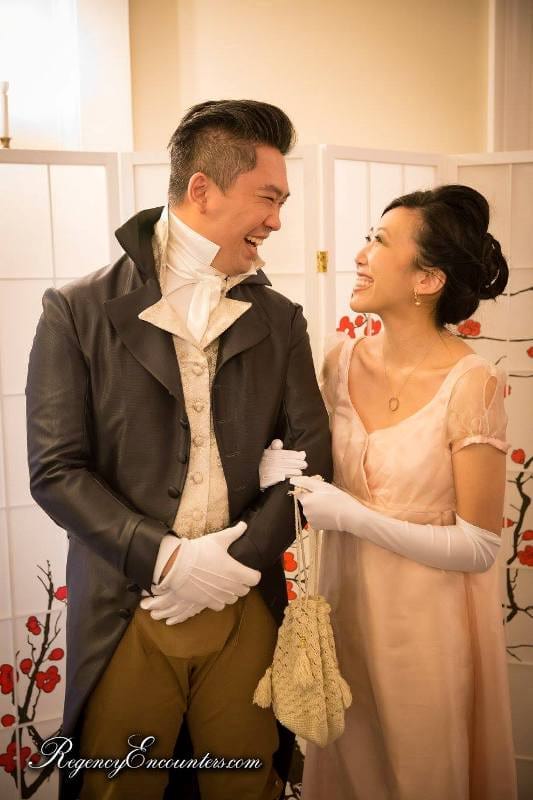 We arrived quite early, and we quickly snapped some of our own photos before dinner officially started.  The Wedgewood Room is absolutely gorgeous and so perfect for this event!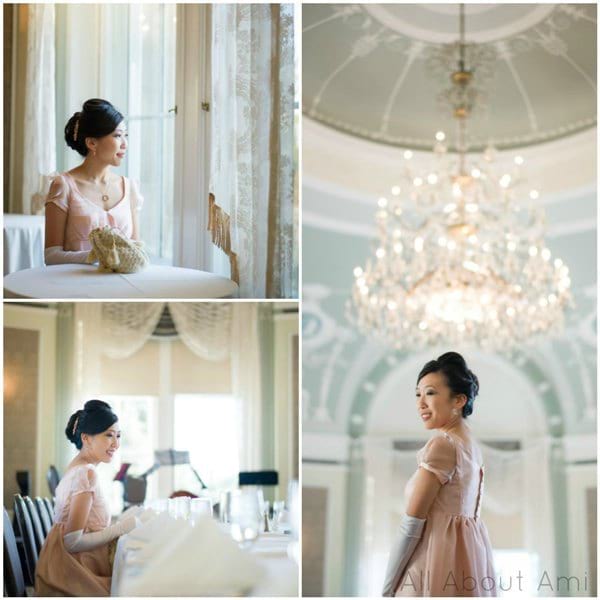 Our dinner started at 6 PM and consisted of rolls, mulligatawny soup, and chicken fricassee, all with elements relating to the Regency time period.  Everyone sitting near us at our table were first time attendees of the ball, and we had some great conversations and good laughs!  One woman sitting near us actually spins her own yarn, so it was wonderful chatting with her about that.  Everyone was so kind and excited to be a part of this amazing experience!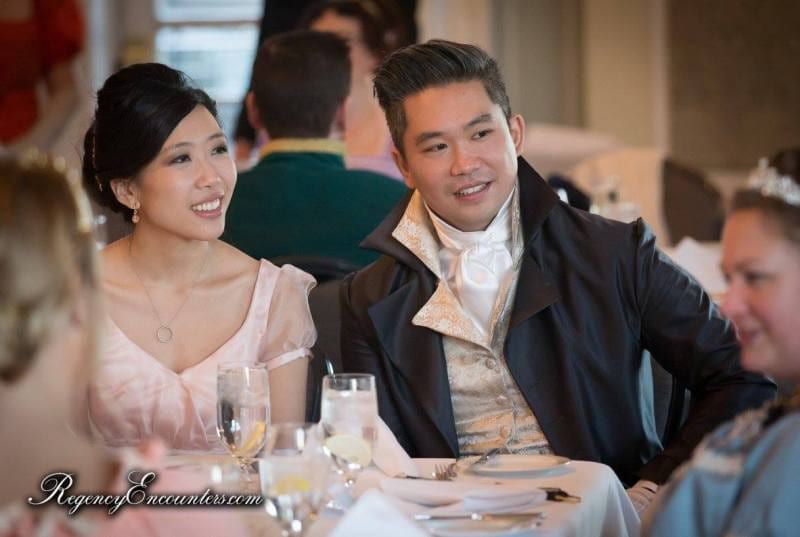 After dinner, we left the room and had some time to walk around the hotel as they cleared the tables and prepared it for the ball.  We snapped some of our own photos and videos, and Nanc Price took some of the below images of us in the foyer and on the stairs!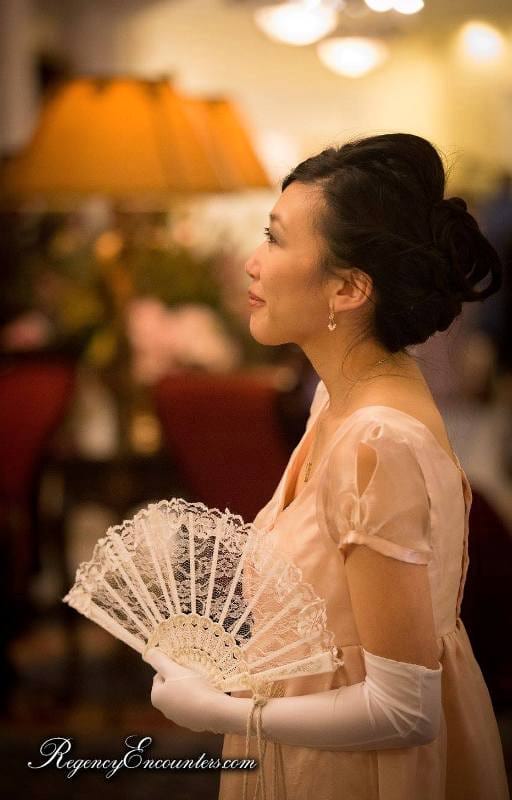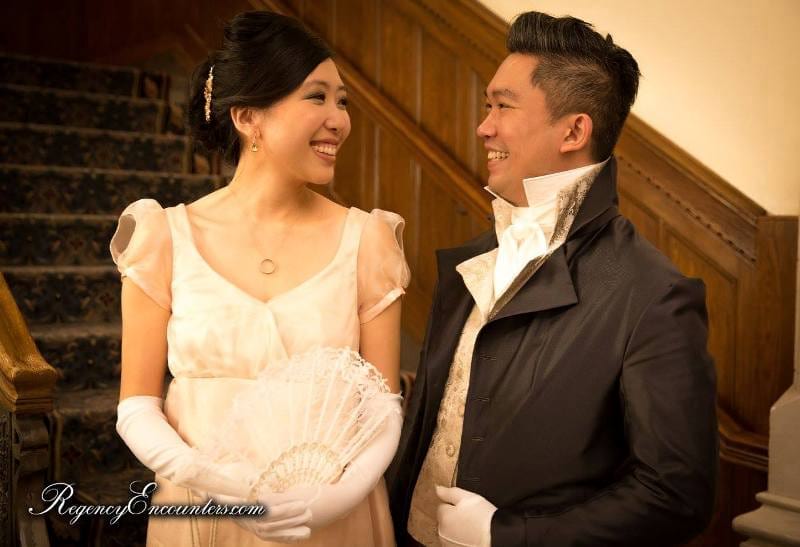 Around 7:30 PM, we were allowed back into the ballroom.  We were each given a glass of Syllabub, and a gentleman by the name of Mr. Martin Kerr, the husband of the organizer Tara, did a fabulous job of announcing each person or couple as they entered the ballroom.  The funny thing was that we were allowed to make up any name that we wanted.  There was a Lord and Lady Von Trapp, a General, an Archbishop, and many other clever names.  We decided to be the Duke and Duchess of Weselton, a reference from Frozen as people frequently incorrectly pronounce it as "Weaseltown".  People were laughing as we entered, and as you can see, we were laughing pretty hard too.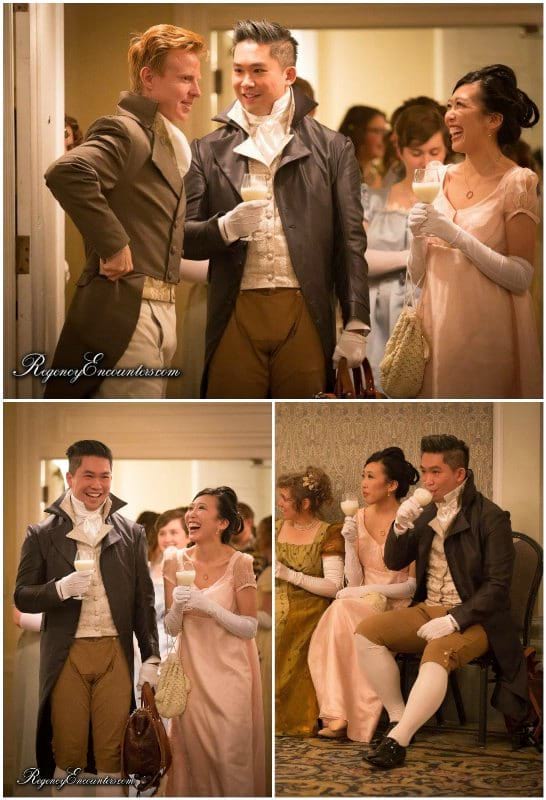 Tara would announce what dance we would be doing, and we formed our lines.  She helped us all by declaring the dance moves and preparing us for what would come next.  It was so fun dancing the night away with everyone in their gorgeous costumes.  This type of dancing is so social as you move up and down the lines and dance with various couples.  It was amazing having live musicians play the beautiful music!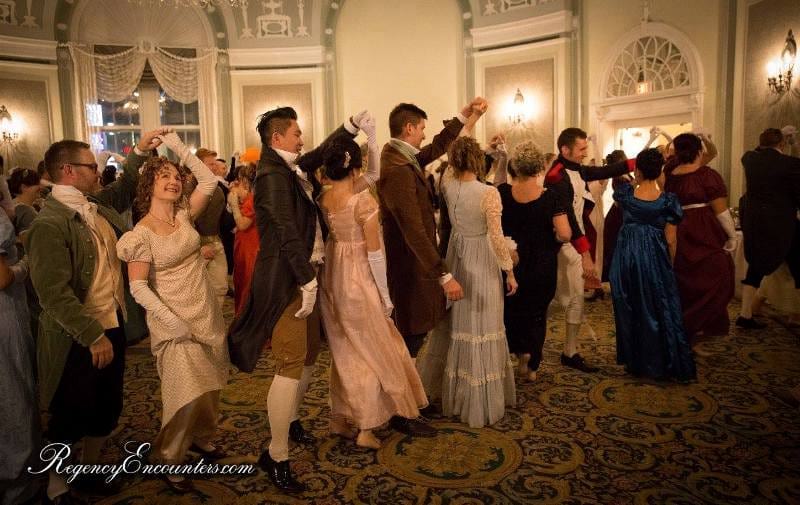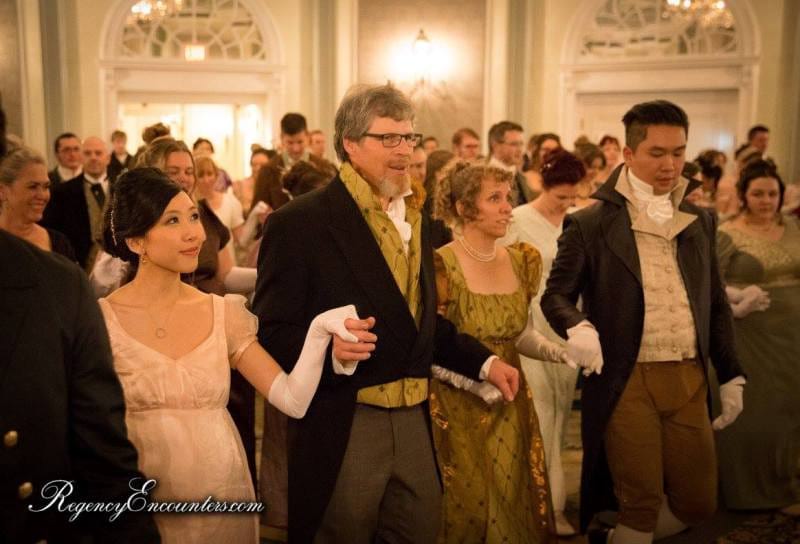 Throughout the evening, waiters also came out with hors d'oeuvres and desserts during breaks between dances.  It was such an incredible evening, and Ryan and I couldn't stop gushing about how much fun we had.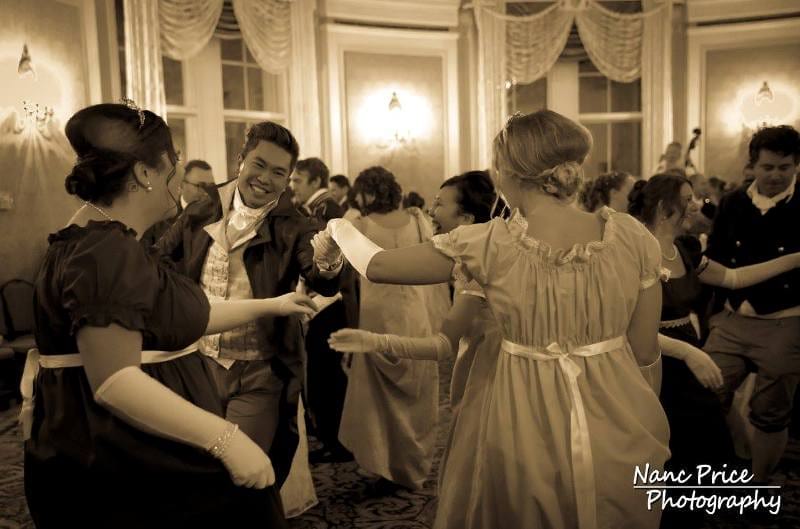 I want to extend a huge thank you to Tara for organizing such an amazing event here in Edmonton.  I greatly admire her spirit and initiative in starting Regency Encounters.  When I posted about the event on social media, many said how lucky we were to have such an event in my hometown and how they hoped to attend one in the future as they would add it to their bucket list.  Tara saw that there was no such ball in Edmonton, so she decided to start her own.  If there is something you love and there is nothing in existence, why not start your own, whether that be a crochet group, a book club, or a Pride & Prejudice Ball!  Tara is not only the organizer of the ball, but also an author of books that take place during the Regency time period!  You can check out her novels "Follies Past" and "Mary Green" which both have rave reviews on Amazon.  I myself can't wait to read them since I love Pride & Prejudice!
Ryan and I have already bought our tickets for the next scheduled Pride & Prejudice Ball on September 30, 2017, and you can purchase tickets HERE if you're interested too!  We cannot wait to dance the night away in our Regency attire again!  We hope you enjoyed reading about our experience at the ball and that it felt like you were almost there too!  Don't forget to check out the free pattern for my Crochet Regency Reticule HERE!