Several months ago, I posted my crochet design combining amigurumi and home decor called the "Snuggle Bunny Pillows"!  We were thrilled with the warm reception that these bunny pillows received, and I've loved seeing your own versions!  Myla sleeps with her grey bunny pillow on her bed, and it warms my heart knowing that something I made for her is so dearly loved and used everyday!  Shortly after publishing that design, Lion Brand Yarn asked if I could design some pillows based on something that many of us use everyday in online conversations: Emoji!  Emoji are small digital images or icons used to express an idea or emotion used in electronic communication, and it comes from Japanese with 'e' meaning 'picture' and 'moji' meaning 'letter, character'.  I use Emoji all the time and I love how they can convey an emotion and facial expression with an image. We decided to take on this project and crochet some pillows inspired by Emoji!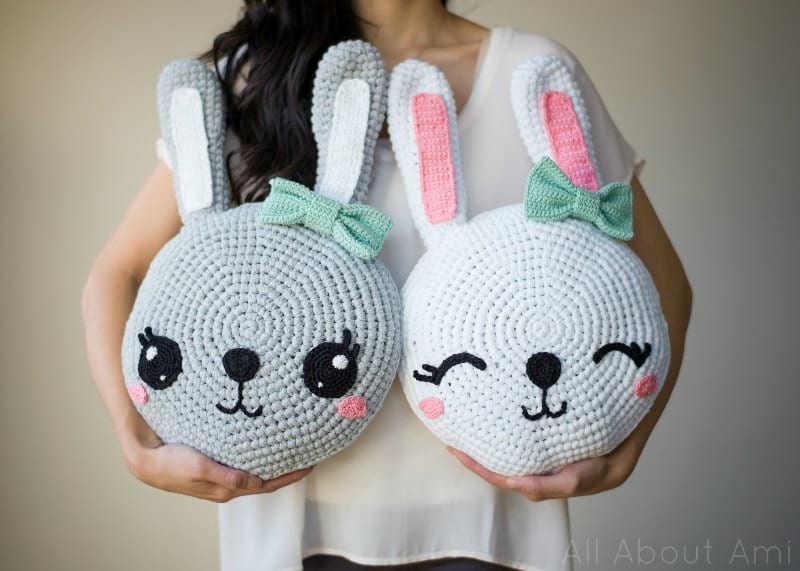 Lion Brand Yarn asked that I use Fast-Track yarn in Taxi Cab Yellow which is a lovely soft yellow without being too harsh or fluorescent.  Fast-Track is the same yarn I used for my Snuggle Bunny Pillows, and it is a super bulky (level 6) flat tape yarn that works up beautifully.  For the facial features, Lion Brand Yarn asked that I use DIYarn!  If you've never heard of this yarn before, it is a great deal: it is a worsted weight (level 4) yarn that is 100% acrylic and very similar to Vanna's Choice.  It contains 30 g/65 yards, so this yarn is great to use if you need a smaller amount of a certain colour for a project.  Frequently you have left-over yarn that sits in your stash when you only used a small quantity of it (e.g. for amigurumi) and it is tricky knowing what to do with the leftover yarn.  This DIYarn allows you to purchase a smaller quantity at a cheaper price: on the Lion Brand website, it sells for 99 cents, and I've seen it on sale for 79 cents on the site (people have reportedly seen it at Walmart for only 50 cents)!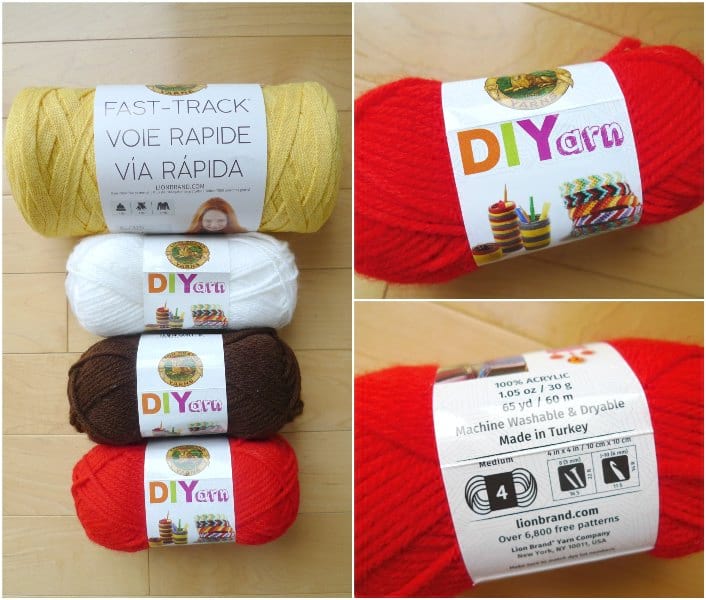 I wanted each pillow/cushion to use exactly 1 skein of Fast-Track yarn.  I crocheted a large flat circle, and it took me a couple of tries to get the sizing right as I needed to leave enough yarn to seam the two circles together to form the cushion.  14 rounds did the trick!  I crocheted 6 circles for 3 pillows!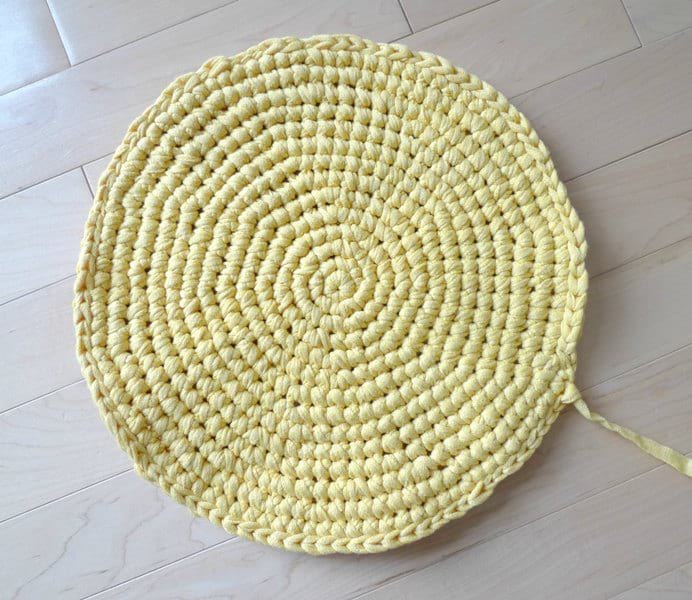 Next it was time to crochet the facial features!  We made these sparkly eyes by crocheting brown circles and embroidering white circles onto them.  I crocheted a heart using red yarn since you can use hearts for the eyes or for a kiss.  We also made winking eyes by crocheting "V"s"and an open mouth with a tongue embroidered (or crocheted) onto it!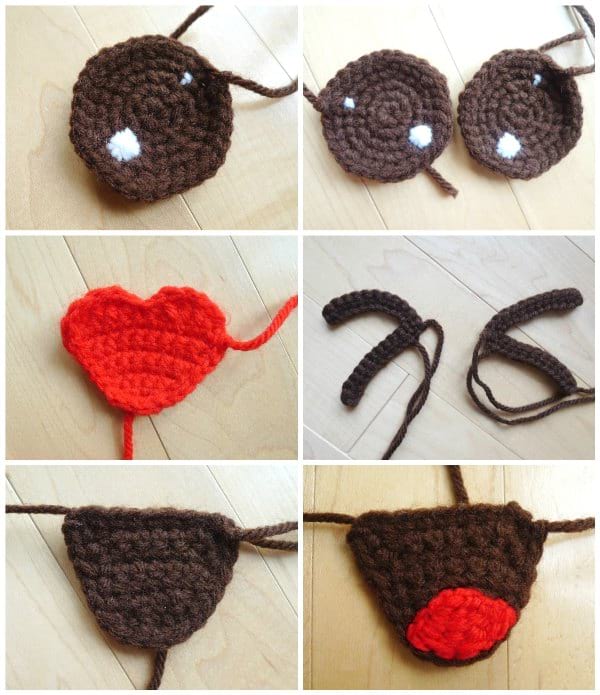 Ryan helped me sew the facial features onto the faces!  For this face, we gave it a kissing mouth that resembles the number 3!  It could also be sewed upside down as a mouth!  We added pink blushing cheeks and sewed the heart hanging off the face so that it looks like he's blowing a kiss!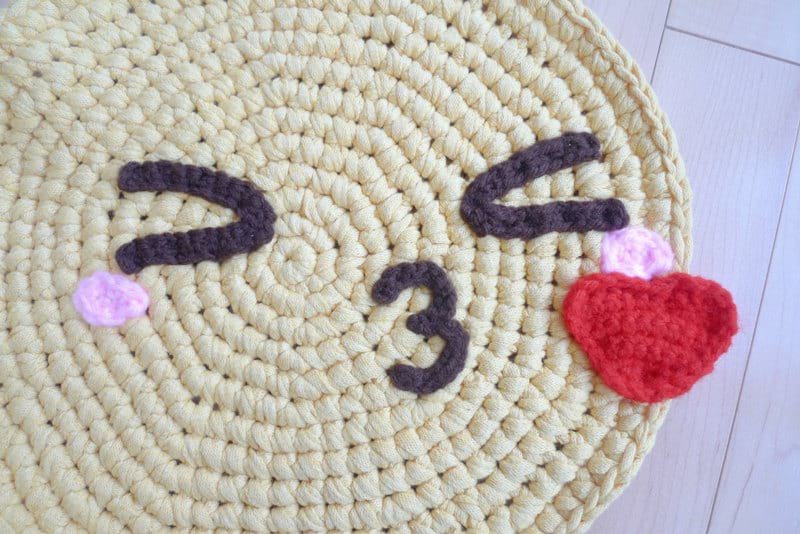 Next, it was time to seam up the pillow!  I placed the two circles ontop of one another (wrong sides facing each other).

I inserted my hook into the back loop of the first circle and the front loop of the second circle.  Then I yarned over and pulled through all the loops.  I continued slip stitching the pillow together in this manner all the way around, stuffing it as I went along.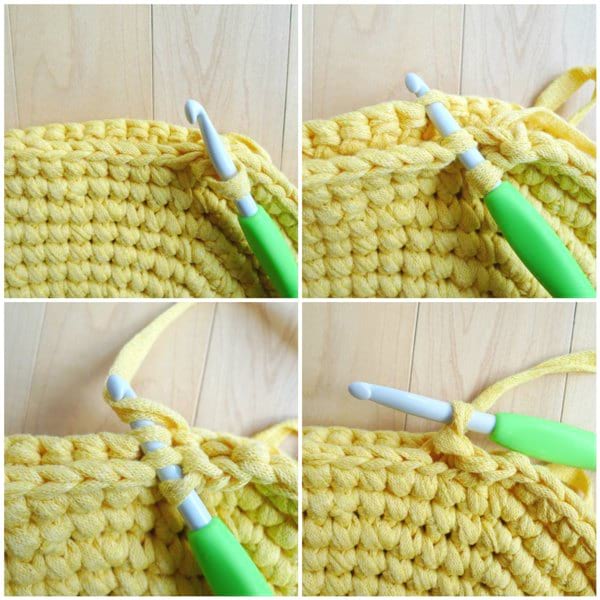 It was fun choosing which expressions to depict!  The fantastic thing about this project is that you can mix and match the different facial features to make all different expressions!  You could also embroider different expressions on each side so that you could flip the cushion depending on how you are feeling and what you want to display!  I've also included the pattern for closed smiling eyes (with or without lashes), a simple smile, and a tear in case you want a crying or laughing face!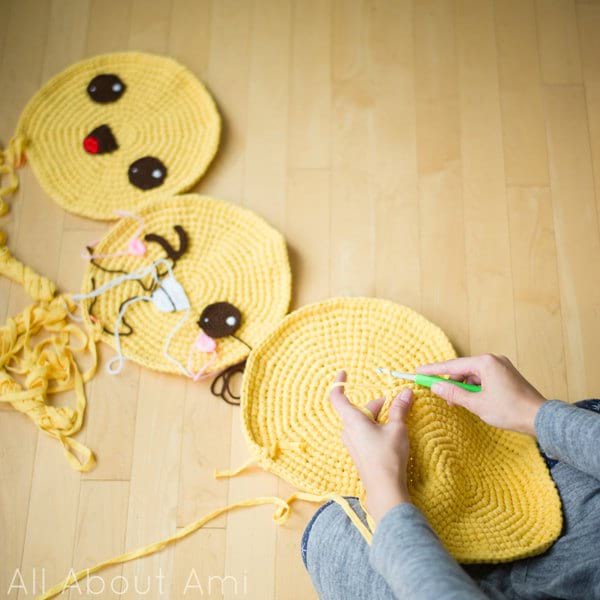 Here is the first expression: a kawaii happy face!  Several people have said that this pillow reminds them of Pikachu!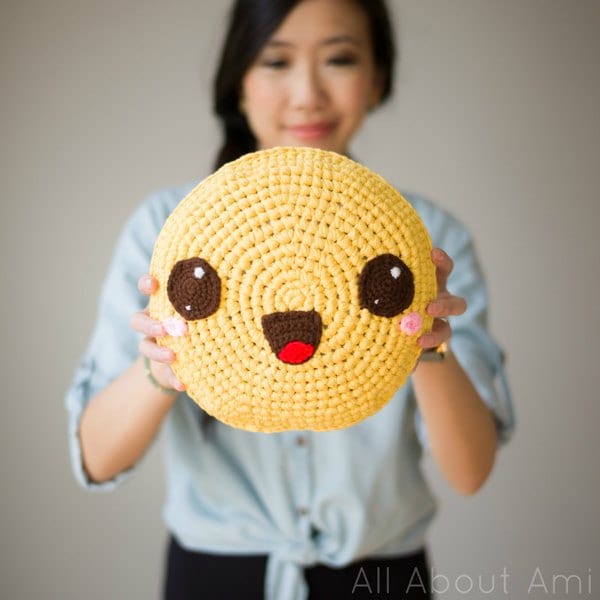 The second face is the winking kissing face!  I love how the heart looks like it's being blown away in mid-air!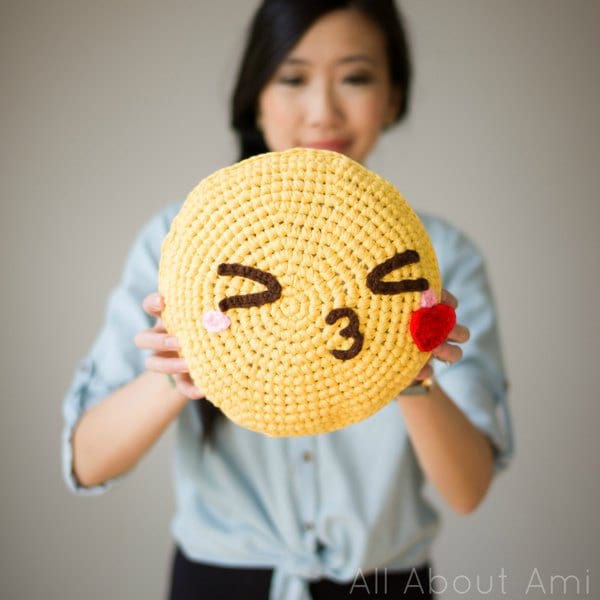 The third face is this winking smiling face!  We used white yarn for the mouth and embroidered a brown line across it!  This one looks like he's got some mischievous plans ahead!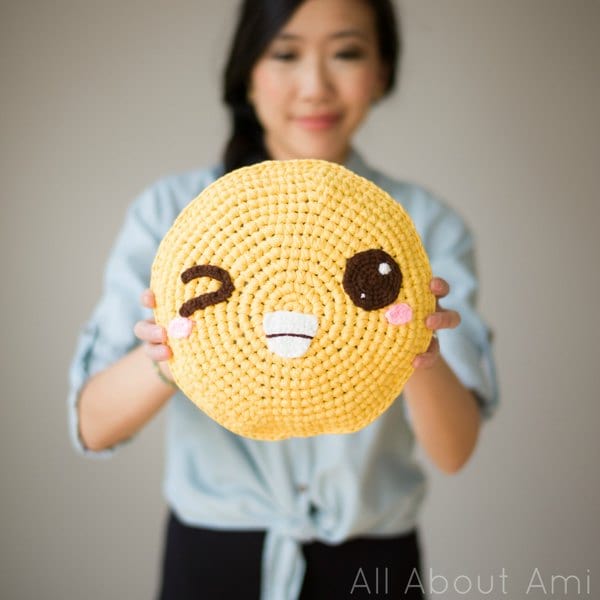 For our finished item shots, we enlisted the girls' help so we could each carry one!  Hehe someone didn't get the memo to hold the crochet pillows over your face!  Although I must say, Brie's proud smiling face is absolutely adorable!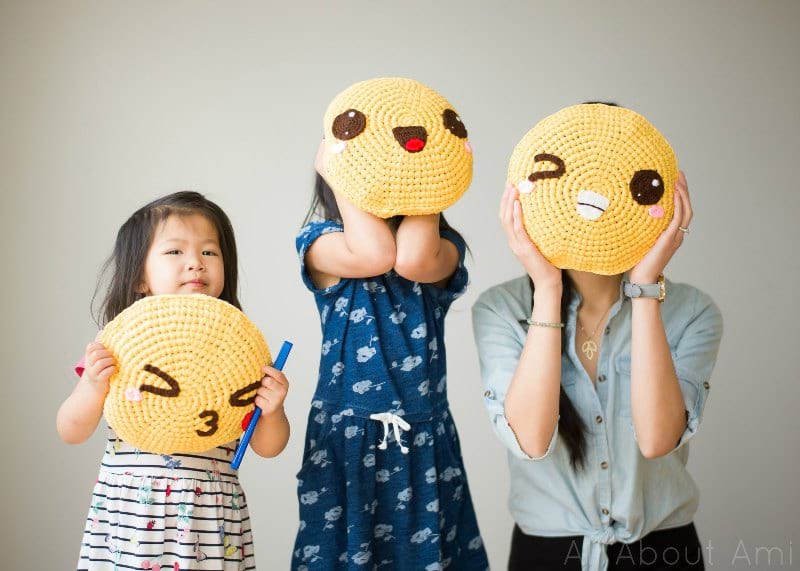 There we go!  Pillows are all up and displayed!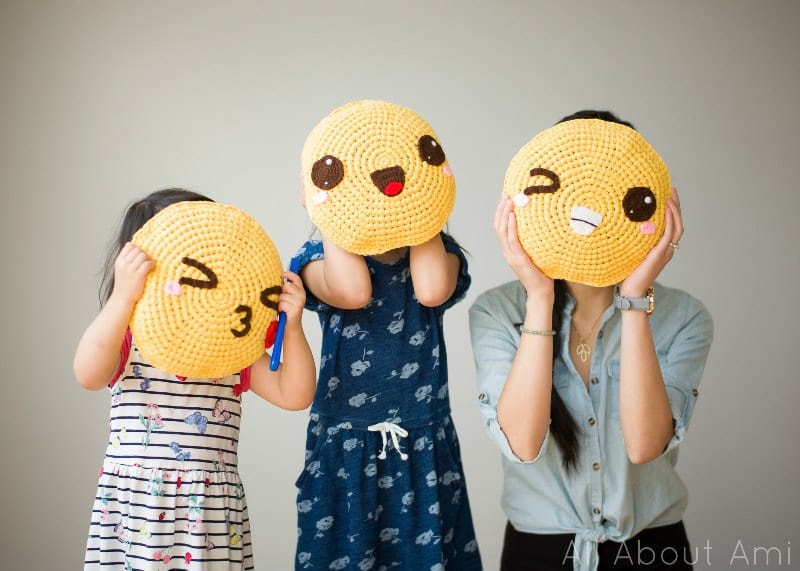 We decided to name these expressive cushions the "Pillowji Pillows" as it has a catchy ring to it, and they combine "pillow" with "emoji"!  Thank you so much for helping us name these cuties- we always love drawing upon your wonderful suggestions!  Here are the three Pillowji Pillows displayed in our home, and I love how they pop against our grey sofa!  They are a fun addition to any home, and they would be fun housewarming gifts, particularly if you and a friend use a certain emoji frequently to converse online together!  These pillows would also be a cute addition to children's rooms since they love seeing different expressions and emulating them- you could use them as a teaching tool to show "happy", "sad", and different emotions!  Some readers also mentioned adding velcro to the facial features so you can swap them out and create different expressions whenever you want!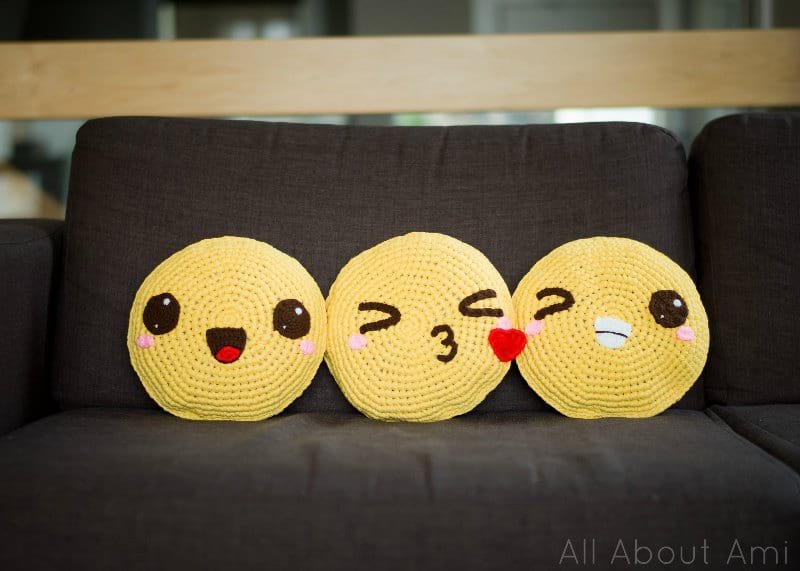 The FREE written crochet pattern for these Pillowji Pillows can be found HERE!  If you want an easy printable version of the Pillowji Pillows pattern, check out the PDF on Etsy HERE and on Craftsy HERE!   I am so please that Lion Brand Yarn has also made these pillows into a convenient kit HERE so that you get all the yarn you need to make a set of 3 pillows including 3 skeins of Fast-Track yarn and 4 colours of DIYarn!  Thank you for reading, and I hope you are getting lots of summer crocheting done!