Two and a half years ago when I first became a mom, I had so many first experiences.  One of the biggest challenges was learning how to breastfeed and persevering through difficulties that arose (e.g. mastitis, clogged ducts, soreness).  Breastfeeding was very important to me and I am so thankful that I was able to nurse Myla for so long as we both got the hang of it.  I really cherished our nursing sessions and was quite emotional when Myla officially weaned.  Learning how to be comfortable nursing in public was another challenge in the beginning, and you may remember that I blogged about some Momzelle nursing tank tops that I absolutely loved two years ago HERE.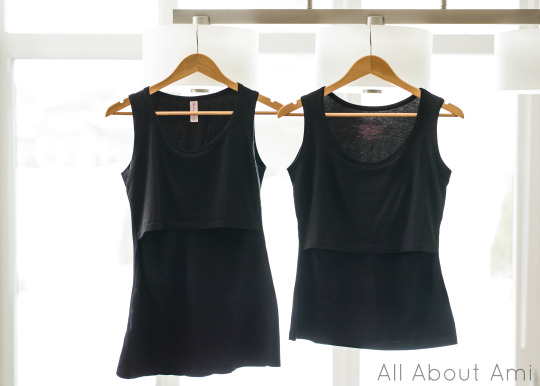 Momzelle is a Canadian company based out of Montreal that was founded by a mom named Christine Poirier who began making her own nursing tops after having her baby daughter.  I purchased the "Original Nursing Tank Top" and the "Xtra Long Nursing Tank Top" back then and got SO MUCH wear out of these two tops.  I wore them layered under pieces throughout all the seasons of the year and am happy to report that their good quality held up throughout all the washes!  They were such great investment pieces as I am now wearing them again since I am nursing Brielle.  Thankfully, breastfeeding has gone A LOT smoother with my second child as I haven't experienced any of the challenges that came the first time round.  If anyone is interested in my original tops, Momzelle informed me that the "Original Nursing Tank Top" is now called the "Mia" (round neck) and the "Rosemary" (v-neck on sale).  Similarly, the "Xtra Long Nursing Tank Top"  has been updated with ruching on the side and is now called the "Lucy"!  Below are some of the photos from my original "Nursing Fashion" post HERE from 2013!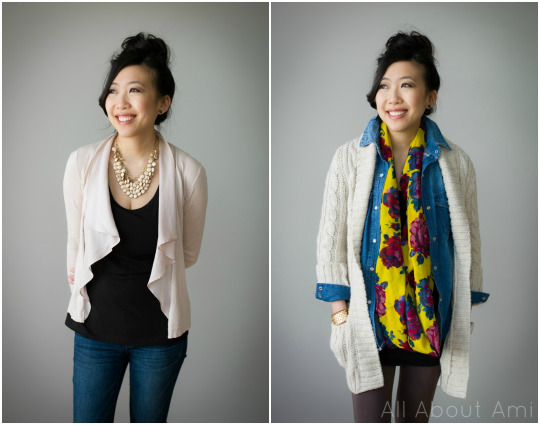 I was recently contacted by Sara of Momzelle who congratulated me on the newest addition to our family!  She extended an invitation to do another Momzelle review and giveaway since they had added many new styles and prints to their nursing line.  I was more than thrilled to try out some of their new tops since I had such a great experience with my original two tank tops!  Sara suggested the Josiane tank top, and when I saw what it looked like on-line, I was very excited as I absolutely loved its design and style!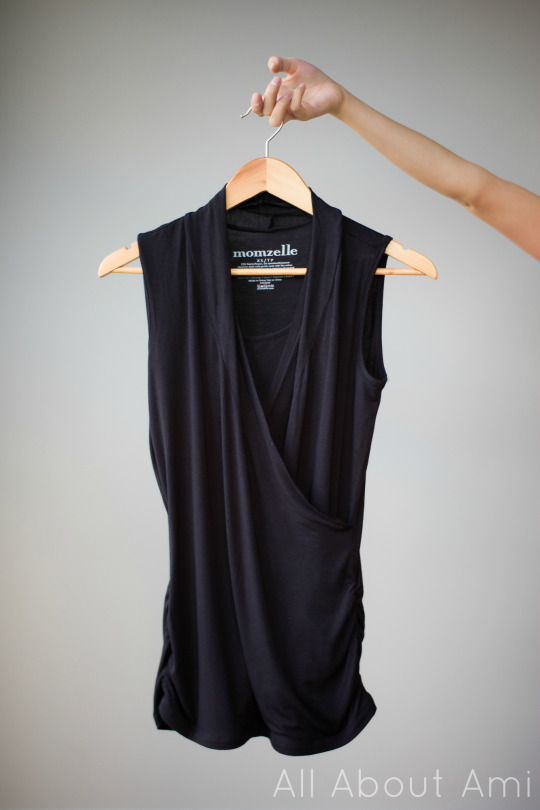 The Josiane is a very stylish and comfortable tank top as it drapes beautifully and is made of 95% rayon and 5% spandex.  It feels incredibly soft (softer than my original tank tops) and I adore the length and the ruching on the sides.  The ruching helps hide postpartum belly weight and means that this tank top can also be worn throughout pregnancy as the belly grows and grows!  The hidden nursing panel makes it VERY easy to nurse and this is actually my current new favourite top!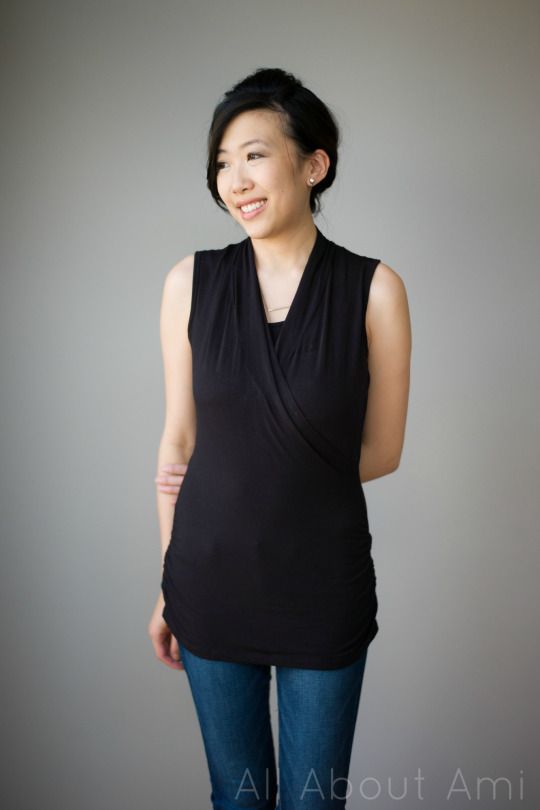 As you can probably tell, I like black tank tops since they can be easily worn under other items.  Here I am wearing my Josiane top under one of my favourite comfy blazers.  Be sure to check out all the other colours that this top comes in as well!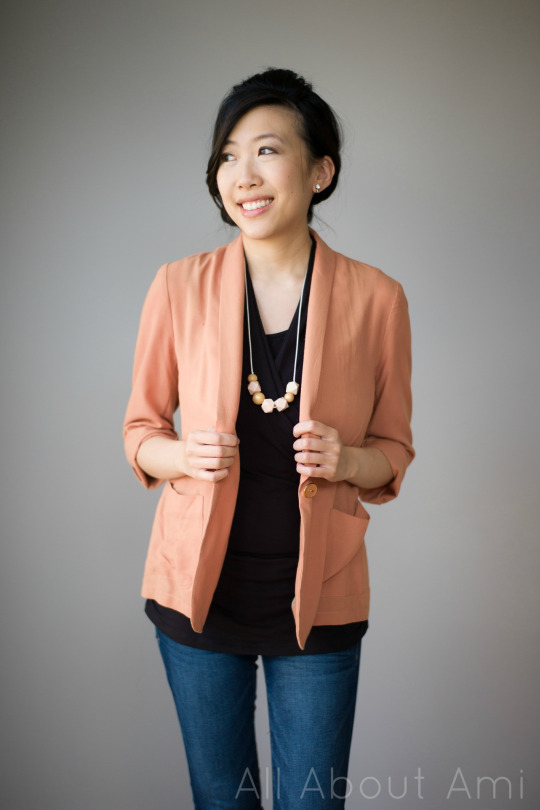 I love how easily these tank tops can be dressed up!  I tucked my Josiane tank top into a black and white maxi skirt and belted it for a more chic and elegant look!  This top can definitely go from day to night!  And do you notice the beautiful necklace that I'm wearing?  It's actually a teething necklace that I designed in collaboration with another Canadian mom company called "LouLouLollipopFinery" based in Vancouver, BC!  I'll be blogging about it in the future 😉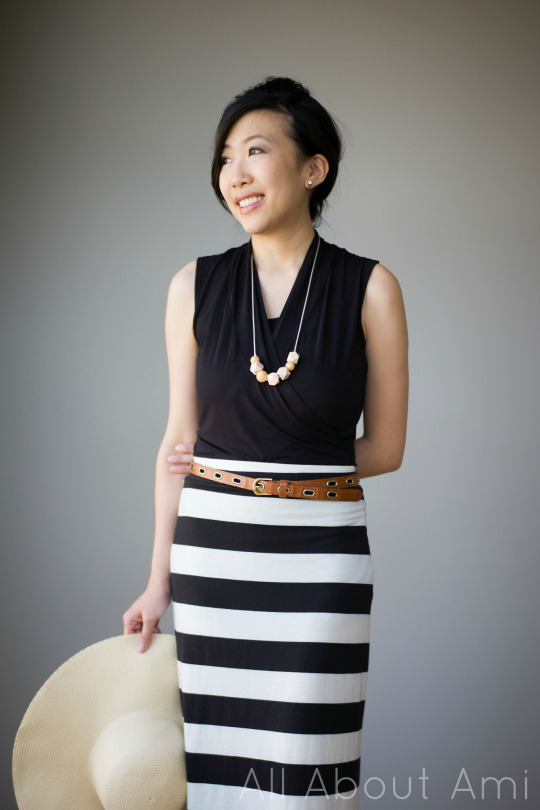 Sara of Momzelle also generously sent me their "Sylvie" nursing tank top (currently on sale) to try as I saw that it had stellar reviews on their website and also came in an array of colours!  The Sylvie has a beautiful drape in the front and I chose the "Crimson" colour as I thought this bright and vibrant pink would be fun for the summer!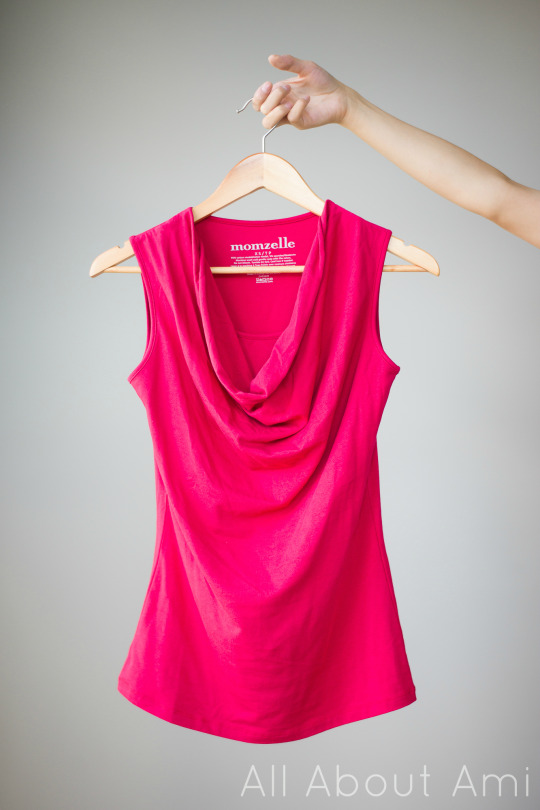 Once again, I love wearing these tank tops under cardigans and blazers.  Here it is under a classic black blazer!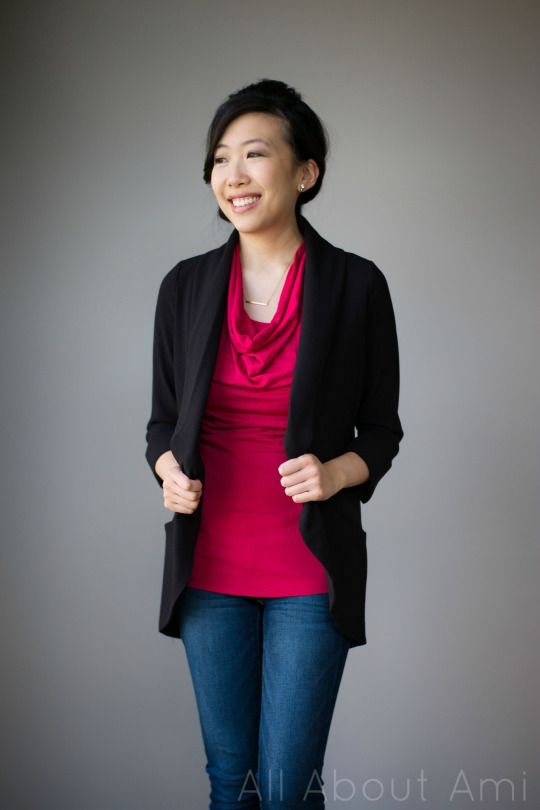 For a dressier feel, this time I paired the Sylvie tank top with some grey dress pants!  This tank top tends to cling to the belly more because of the design.  I love the draping of both the Josiane and the Sylvie, but I definitely prefer the Josiane after a big meal because of the ruching, haha…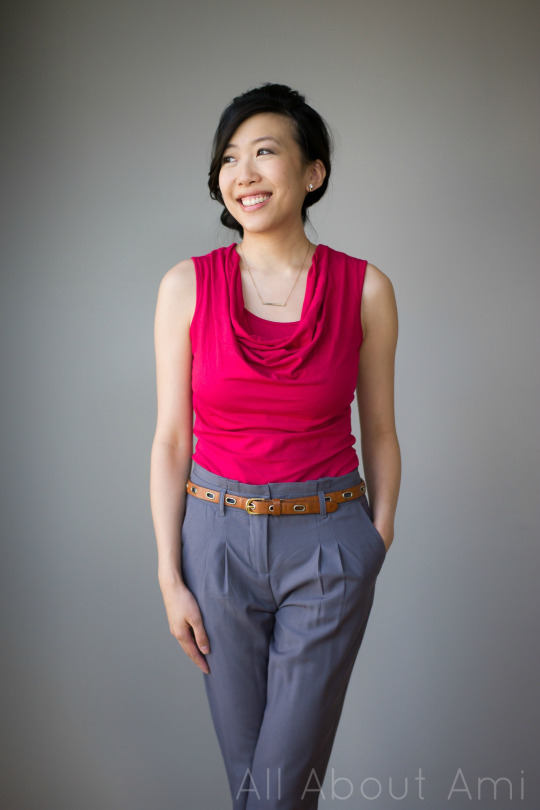 This past weekend we took a road trip to Canmore and Banff- I love how the beautiful Rocky Mountains are within driving distance since we are in Alberta!  I wore my favourite Josiane top on a hike as we enjoyed the great outdoors- below are some of the pictures from our hike!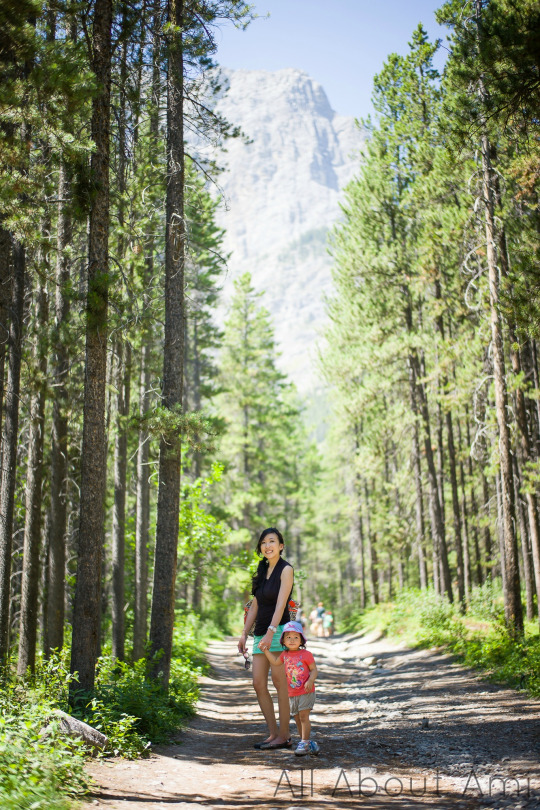 Love our cute little hiker!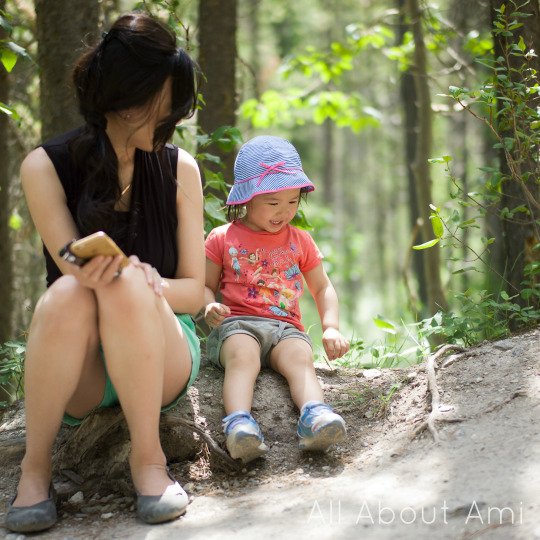 Enjoying the majestic mountains and God's wonderful creations!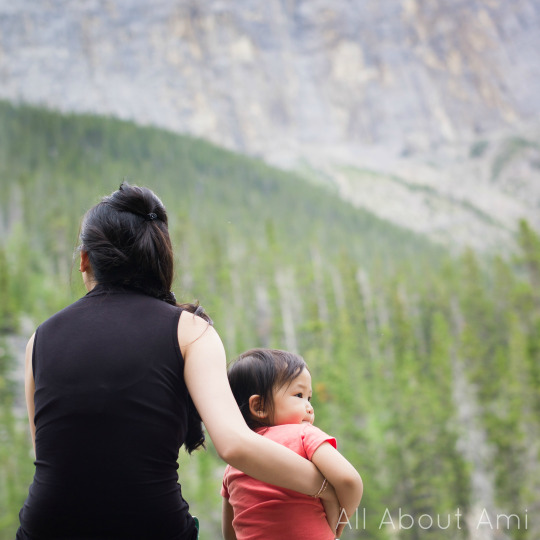 What I love about both of my new Momzelle tank tops is that they can be worn by themselves since the nursing panels are so discrete!  People would never suspect that they are nursing tank tops, which also means that I can continue wearing these tops even when I am no longer breastfeeding.  I always layered my original and more basic Momzelle tank tops under other items, but it's been wonderful being able to simply wear the Josiane or the Sylvie by themselves on hot summer days since they have more design and draping to them.  Furthermore, my old nursing tank tops had the "Momzelle" logo on the bottom (see pic below) which I personally did not mind, but I read reviews in which others did not like how the shirts were visibly nursing tops and seemed less dressy.  The Josiane and Sylvie do not have any visible Momzelle logos on the outside.  Nursing in them is incredibly easy and convenient as I do not have to expose my back or my belly when feeding Brielle!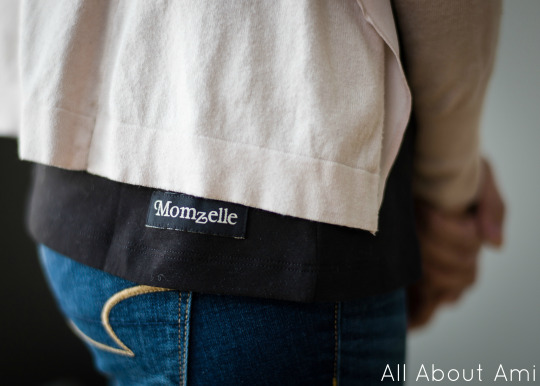 I could not be happier with my new nursing tank tops, and I am so glad that I discovered Momzelle years ago when I first became a mother and began breastfeeding Myla.  These tops have served me so well, and I think they are a great investment, particularly if you know that you will be breastfeeding for a long time and nursing more children in the future!  I love how they've designed many of their new styles to be worn throughout pregnancy as well, so you really can get A LOT of wear out of these good quality tops!
Momzelle has offered a coupon code for my readers if you or your friends are interested in trying out some of the items in their nursing line as well!  Use the code "AMI15″ for 15% off your order until July 31st!  This 15% coupon code works for sale items as well, so you can get some great deals (e.g. the "Rosemary" tank is currently $19.80 Canadian dollars and with the code it becomes $16.83 CAD or $12.84 USD!).  In addition, Momzelle has generously offered to host a GIVEAWAY for a $40 gift card for my readers!  This giveaway is open worldwide and will close on Sunday, July 12th at midnight MST.  Please use the Rafflecopter widget below to enter- the only mandatory entry is to visit the Momzelle store and have a look around!  If you decide to leave a blog comment, please let us know what your favourite Momzelle product is (e.g. the Josiane top, the Lily nursing dress).  Please share this blog post with your pregnant or nursing friends!  Happy shopping, and thank you to Momzelle for working with me and hosting this giveaway!
[Note: Sometimes Rafflecopter has difficulty loading: if you are unable to add your entries, please come back and try again at a later time or day!  Thanks for your patience!]