Have you ever made a project shown on a yarn label before? When I was younger, I remember being so excited to find a written pattern in the label as patterns were much harder to come by (the patterns I followed were mostly found in books as there was no internet back then!). Nowadays I enjoy seeing the designs found on the yarn labels since they use that specific yarn and it is always neat seeing how that yarn looks like worked up in a design!
There was one particular design that piqued my interest whenever I looked at the yarn label: the slouchy hat on the "Touch of Alpaca" yarn (level 4 worsted weight yarn, 90% acrylic/10% alpaca). I used Touch of Alpaca for my Granite Poncho and Rustic Canyon Crochet Scarf, and whenever I saw the hat on the label, I told myself that I would one day try and knit this design when I found some time. Over the Christmas break, I finished up some long-term projects, and I felt like making a quick and satisfying project. Thus, I decided to try making the hat on the label and found the pattern called the "Lima Super Slouch Hat" on the Lion Brand Yarn website HERE (click the yellow "Free Pattern Download" to get the free PDF)!

I thoroughly enjoyed knitting this hat as it is broken down into various sections: first, there is the stockinette beginning that gives a rolled brim. Next, there is ribbing, and then alternating sections of stockinette and garter stitch. I love how this design uses the contrast of stockinette and garter stitch since it provides so much visual interest and varying texture. The garter stitch bands pop out and give such a neat striping effect.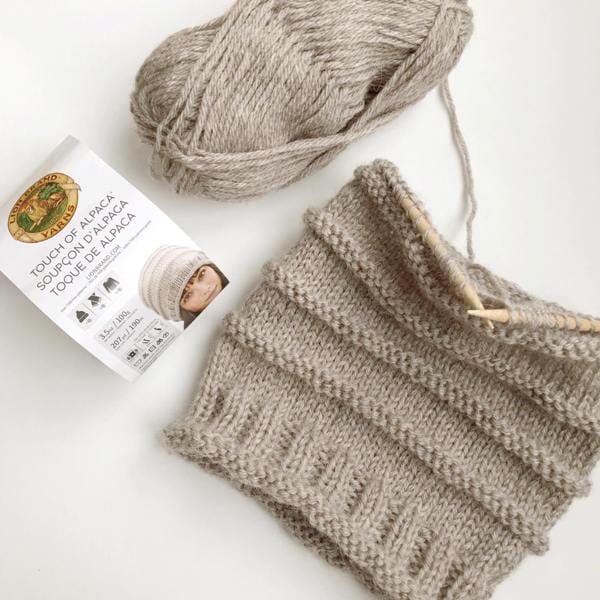 I was a little hesitant as I was working up this design as I was not sure how the rolled brim would look (I usually do not enjoy how stockinette curls) and how tall this hat was becoming. However, in the end when I tried this hat on for the first time, I was delighted with the fit and slouch!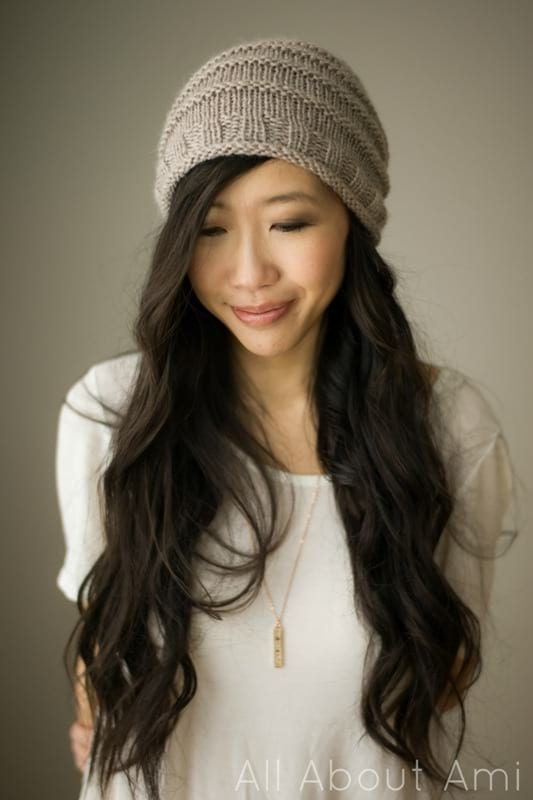 The Lima Super Slouch Hat gives off such an effortlessly cool vibe with its contrasting stitches and perfect slouch! I really cannot get over how beautifully it drapes at the back!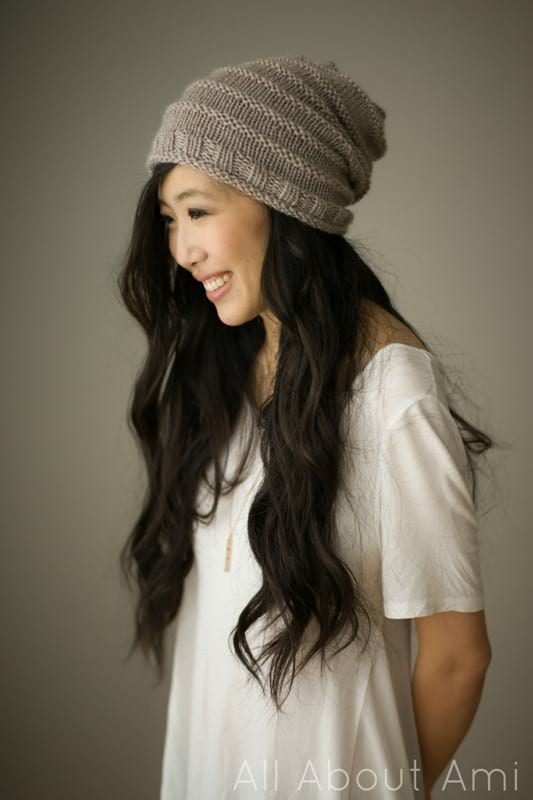 This is what the back looks like! It closes up so nicely towards the top, and it never feels like this hat is going to fall off as it molds wonderfully around the head. The sizing is perfect! Since the Lima Super Slouch Hat uses worsted weight yarn, it can be worn year-round and not just in the winter months!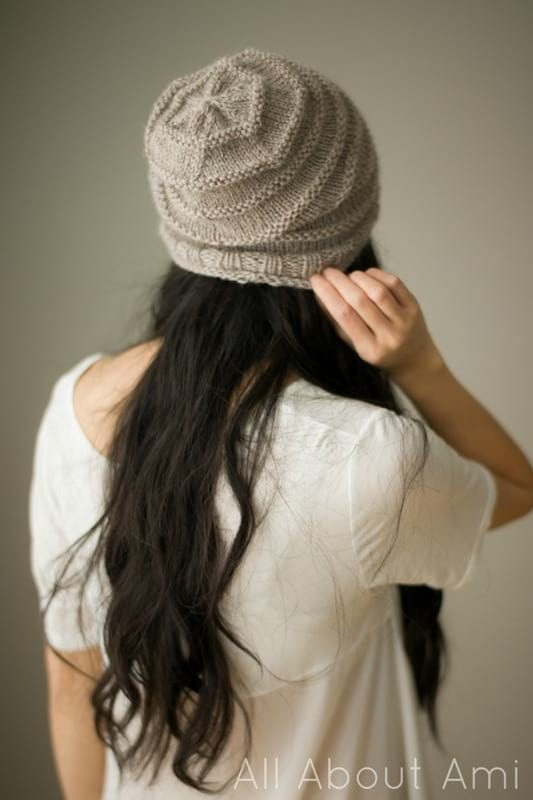 As soon as I finished knitting my hat, Myla asked if she could try it on! It looked adorable on Myla, although it was way too long and a bit too big. I asked Myla and Brielle if they wanted to have the same style hat, and they both excitedly exclaimed that they would! We went to Michaels so they could choose their own yarn colour, and Myla chose Vanna's Choice in "Grey Marble" and Brielle chose an orange yarn as orange is currently her favourite color. I embarked on adapting this pattern for a child, and the hats came out beautifully (see my notes below for the modifications). Here are Myla and I wearing our matching mama-daughter hats!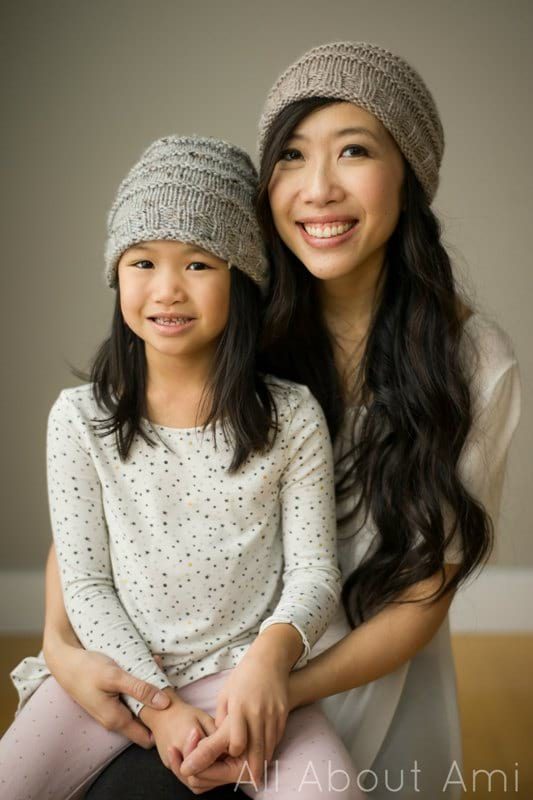 As you can see, I made the girls' hats less slouchy. They tried on their hats as I was knitting so I could ensure that the sizing was looking alright and to determine when I needed so start closing up the top. Myla was very excited to join me in this photoshoot- look how much she's grown!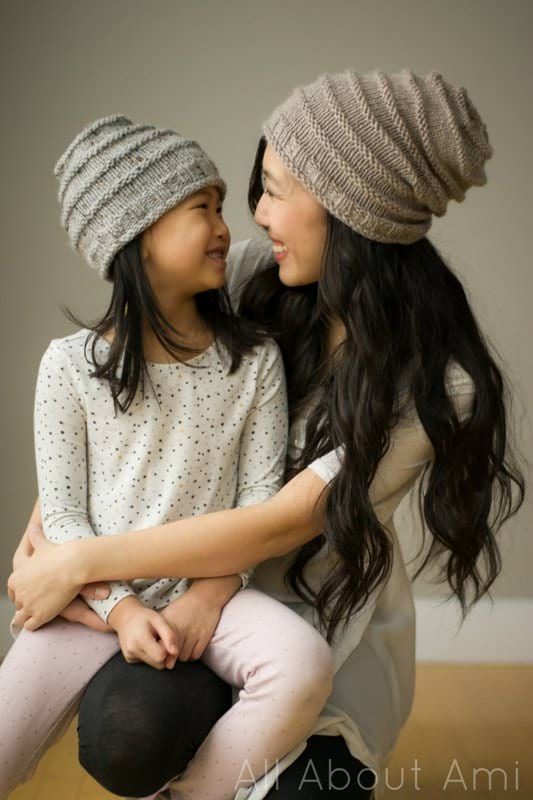 Myla ADORES her new hat and has been wearing it everyday since I made it for her. You can see that her hat has been worn and stretched more in the pic below! Hats are a necessity during this time of year as it is extremely cold, so Myla has been putting her hat to great use going sledding and during recess!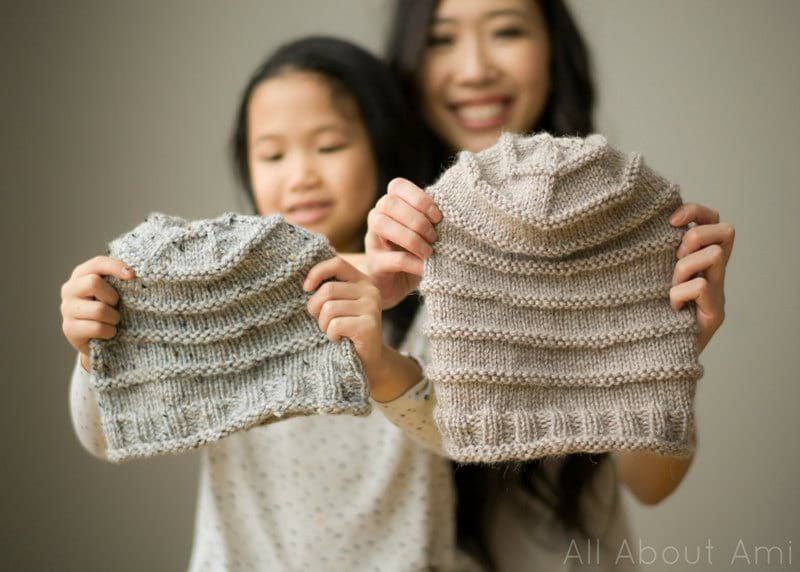 Here are my notes below for the Lima Super Slouch Hats I knitted, including the modifications I made to the original pattern to make the child version:
Notes for Adult Lima Super Slouch Hat:
I used 70 grams of "Touch of Alpaca" in Taupe.
I followed the free pattern HERE with no modifications.
Notes for Child Lima Super Slouch Hat:
Child hat uses approximately 50-55 grams of yarn.
I casted on 60 stitches. Note that if you want to follow the pattern, the initial cast on must be a multiple of 4 (for the ribbing) and also a multiple of 6 (for the decreases). This is why I chose 60. If you want to adjust this number, I would recommend making it a multiple of 4 and then adjust the decreases as necessary.
Rather than doing 6 repeats of the stockinette + garter section, I did 4 repeats (so rather than 60 rounds for this section, I did 40 rounds).
When it was time to work the decreases ("Shape Crown" section of the pattern), I started at Round 3 (since I had 60 sts) and still followed the same stockinette + garter pattern (i.e. 8 rounds of stockinette + 2 rounds of garter while working decreases).
I had the girls try on their hats as I went to ensure the width and height were working out. If you want more of a slouchy fit, add more rounds (we did not want too much slouch for the child hats).
Knitted hats have such a wonderful stretch to them, and this design is so modern and simple to work up. The Lima Super Slouch Hat is perfect for both girls and boys, and you could knit one for every member of the family! I love being able to knit and crochet hats for the girls using their requested colours. Myla and Brielle really enjoyed seeing me knit up their hats as I was able to finish each one in one sitting!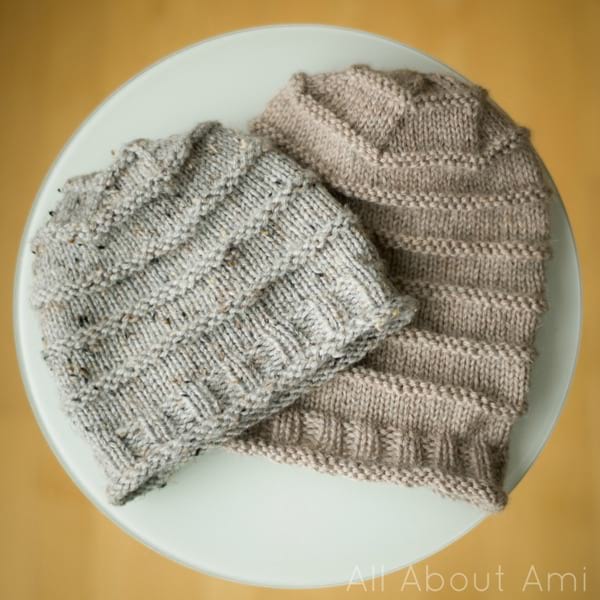 Once again, get the free pattern for the Lima Super Slouch Hat HERE! I am so glad I was finally able to try this design out after admiring it for so long on the Touch of Alpaca yarn label. Most of us have plenty of worsted weight yarn in our stashes, so this project is a great way to use up some of that yarn as they would make lovely gifts for friends and family or to sell in your shops! I will end off this post with a picture of Brielle and I, wearing our matching hats! This is the beaming smile she gives me whenever I pick her up at preschool- isn't she a sweetheart? Thanks for reading, and I can't wait to share 4 brand new designs with you this month!