I love adding faux fur pom poms to my knit and crochet beanies as I think they add such a beautiful and luxurious finishing touch! For a while, I used faux fur pom poms that had two yarn/string ends and tried my best to attach them to the top of the beanie as securely as possible. This would generally involve tying many knots and trying to weave the ends back into the pom pom at different angles to try and prevent the pom pom from being too floppy. This meant that it was also very hard to remove the pom pom for washing purposes or to switch out the colors.
However, I discovered that Amazon has some amazing options for interchangeable faux fur pom poms that can be easily attached and removed, and for very affordable prices. In this blog post, I will show you two different types of pom poms that I have purchased on Amazon and secured onto my handmade beanies using two different ways. Being able to easily remove the pom pom is great when you need to wash your beanies or when you want to switch out the color for a different look. The first type of faux fur pom pom uses snap/press buttons so that you can snap the pom onto your beanie! Look at the variety of colors that come in the set that I purchased (comes in a set of 12 with 6 different colors – I used the brand called "SUSULU Store")! Each pom has a snap button already on it, and you sew the other half of the antique bronze snap button onto the top of your beanie. These pom poms are 4.3″/10.9 cm in diameter and can be found on the US Amazon HERE and the Canadian Amazon HERE.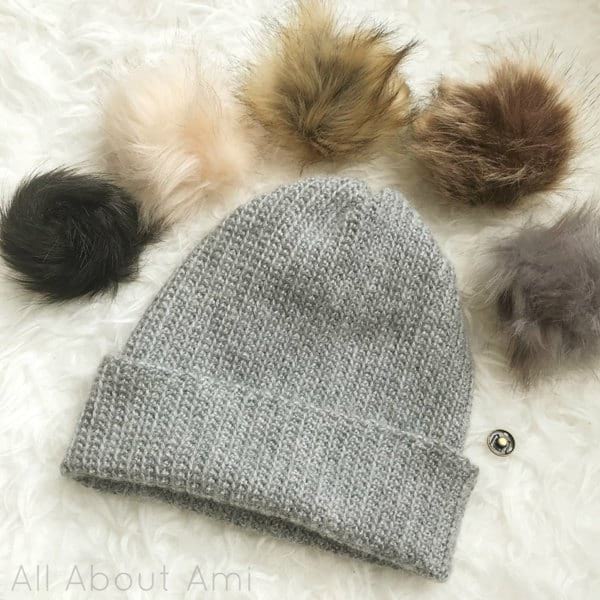 Here is a step-by-step photo tutorial showing you how to add your snap button:
Get your materials ready: the faux fur pom pom with a snap button already sewn into it, your beanie, and the loose snap button.
Take the loose snap button and find the very top of your beanie.
Position the snap button right at the very top.
Using a needle and embroidery floss, sew the snap button into place. There are four holes, and I go through each hole 2-3 times to make it very secure.
Your snap button has been sewn into place! I hide the knot and end on the inside of the beanie.
Now your faux fur pom pom is ready to snap onto the top of your beanie and can be easily removed as well!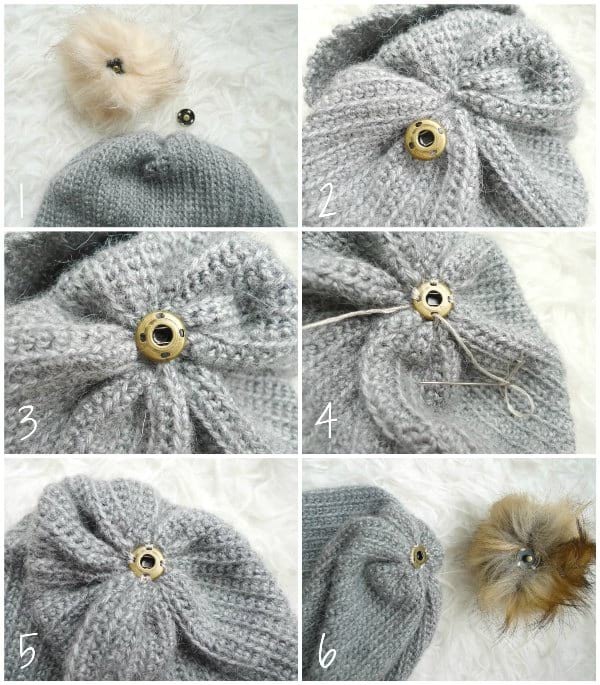 The second type of faux fur pom pom I would like to show you is different because rather than snap buttons, they have elastic loops with wooden buttons. These ones are larger in size as they are 5.5″/14 cm in diameter and they are the colorway "Light Grey" – I think they match with all different colored beanies since it is such a beautiful neutral color (I went with the "Furling" brand that comes in a set of 12 of the same colour). You can find them on the US Amazon HERE (note that at the time of publishing this blog post, most of the colorways seem to be "currently unavailable") and the Canada Amazon HERE (stocked with the different colors).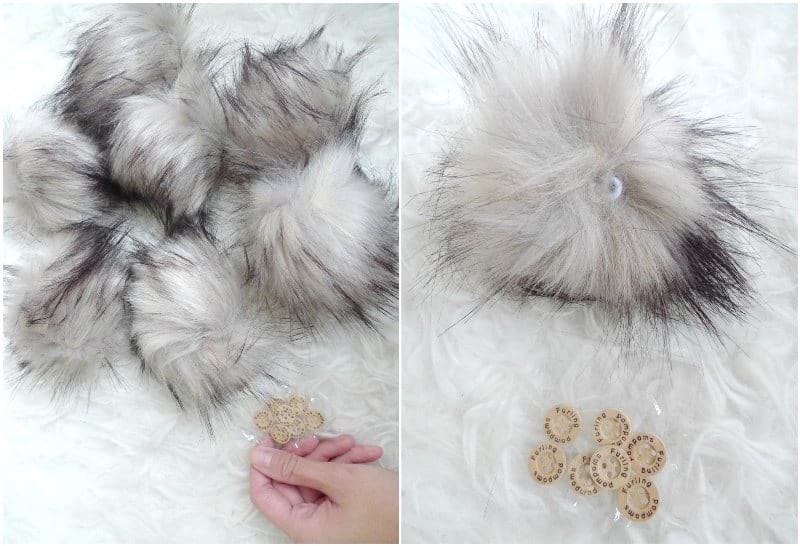 Here is a step-by-step tutorial showing you how to attach these faux fur pom poms with the elastic loop and buttons:
Gather your materials: the faux fur pom pom with an elastic loop, button, and beanie.
Flip your beanie inside out and find the top of the beanie.
Place the wooden button onto the top (make sure your beanie is inside-out) and use embroidery floss and a needle to secure it into place.
Insert your crochet hook from the inside of the beanie to the outside and grab the elsatic loop of the faux fur pom pom.
Pull the elastic loop into the inside of the beanie and pull it around the button.
Your faux fur pom pom has been securely attached onto the beanie with the elastic loop around the button!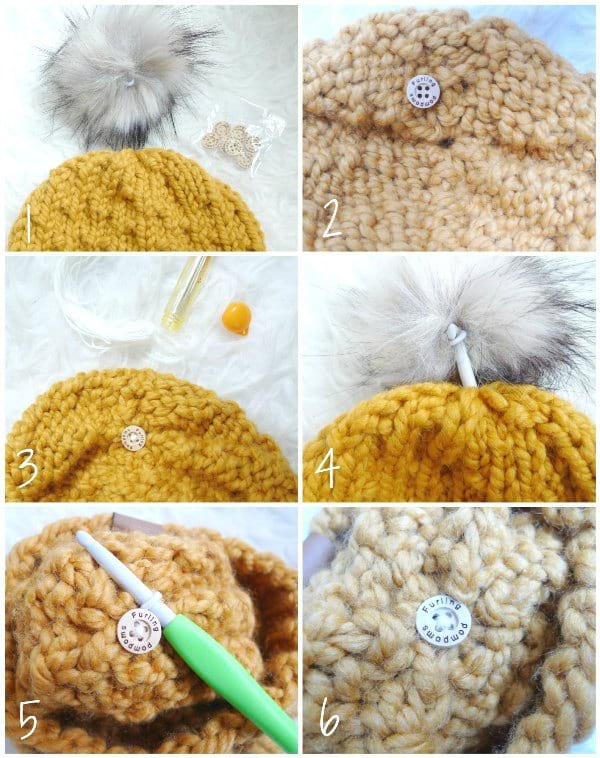 Here is a quick 15 second video I made showing you these two different styles of faux fur pom poms and how they attach to the beanies:
Both of these ways attach the faux fur pom poms very securely as they do not flop AT ALL. Here is a side-by-side comparison of the different sizes in case you are looking up different Amazon listings and trying to get a feel for what the relative sizes will look like on different beanies. In my opinion, the 4.3″/10.9 cm size (snap buttons in this blog post) looks good on smaller beanies that use lighterweight yarn (e.g. lightweight level 3 or worsted level 4) such as the Rosewood Beanie (pictured below) and the Dotty Beanie. The larger 5.5″/14 cm size looks better on bulky or super bulky beanies such as the Chunky Dotty Beanie!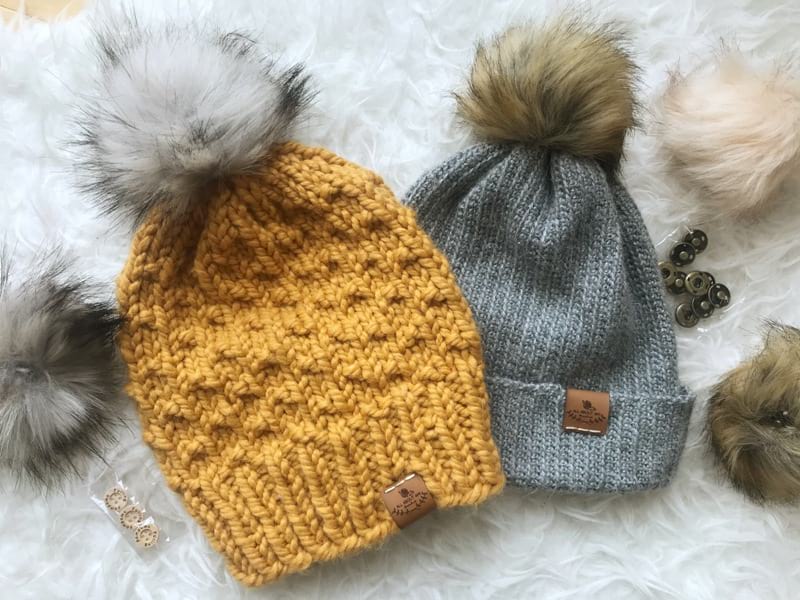 I have used both styles on my crochet and knit beanies and I like both methods. Here are some points to take into consideration if you are debating about which style to go with:
If you want to wear the beanie sometimes without a faux fur pom pom, the snap button will be visible at the top of your beanie whereas the elastic loop method leaves no outer mark since the button is sewn onto the inside of the beanie.
I find it easier to quickly remove and change the colors of the snap button faux fur pom poms. The elastic loop method takes longer to remove as you need to grab the elastic (which sometimes can be tricky since it fits very snugly around the wooden button) and remove it from the button.
I used the elastic loop style for a Child Chunky Dotty Beanie that Myla wore for most of the fall/winter season last year (multiple recesses each day). The elastic loop did end up stretching through the wear and tear of wearing it so frequently, but I then simply looped it twice around the wooden button.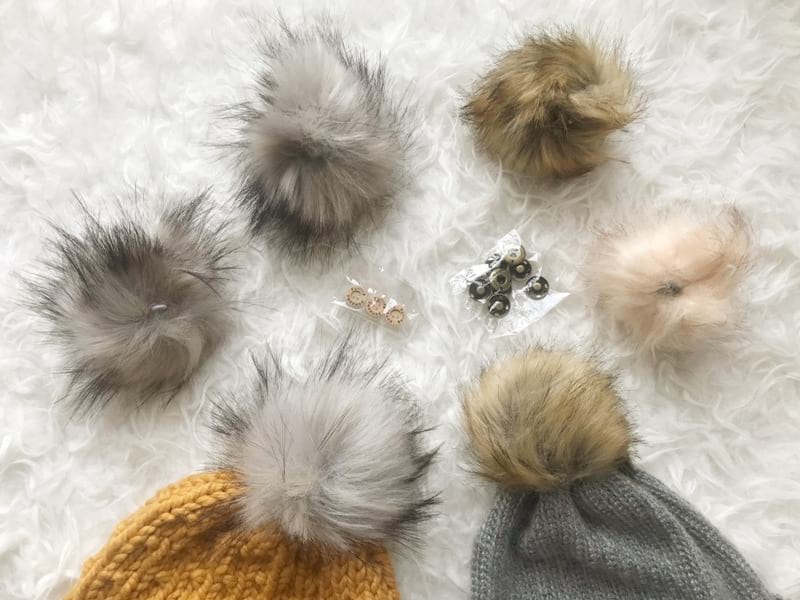 If you are gifting a beanie, I think it is a neat idea to give multiple pom poms so the recipient can change the color whenever they desire and have various options! I have been told that makers who sell their finished products at markets also like to use these styles of pom poms so that the buyers can mix and match and choose their own colors of pom poms as well! Another important tip to keep in mind is that the faux fur pom poms will frequently arrive at your house very squished together in a bag. They may look like a sad sight at first, but you can fluff them back into shape with a blow dryer! I hope you found this blog post helpful in describing these different interchangeable pom poms (snap buttons and elastic loops), how to attach them, and how the relative sizes look on your beanies! Have fun adding these faux fur pom poms to your beanies, and don't forget you can find all my free designs in my "Patterns" page HERE!