As Myla grows up, she is loving more and more activities such as colouring, playdough, kinetic sand, stickers and crafts.  I really wanted to get an inexpensive kids' table and chair set so that she could have a suitable place to do all these activities!  While scrolling through my Instagram feed, I noticed a cute table and chair set in one of babybellykelli's photos.  I immediately asked her where she purchased it and was delighted when Kelli told me that it was actually from Ikea!  I quickly looked it up on-line and found out that the Ikea LATT was a great bargain ($19.99 USD/$26.99 CAD) as it comes with a table and two chairs.
While researching the LATT on-line, I discovered that this set is a very popular item to modify/hack with its simple base design and inexpensive price.  Without modification, the LATT is made of solid pine in a natural wood finish with a white fiberboard table top and seat (see original product and dimensions HERE).  There are tutorials on how to convert the table top into a chalkboard and a lego table, how to add cushioning to the seats, and how to add storage along the sides.  We decided that we wanted to add some cushioning to the seats so that it would be more comfortable for Myla and to add a fun print to this simple set.  We went out to Ikea to purchase the LATT and Ryan began building it…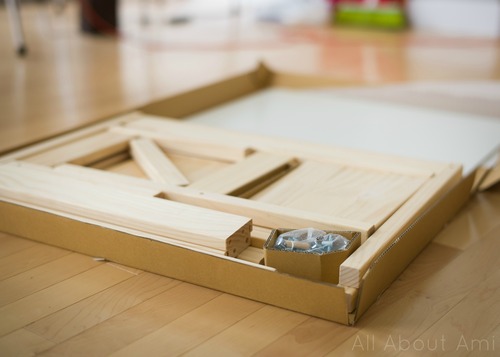 Ryan beveled the edges of the wood seat with a utility knife since we needed to accommodate for the added thickness of the fabric that would wrap around this piece later on…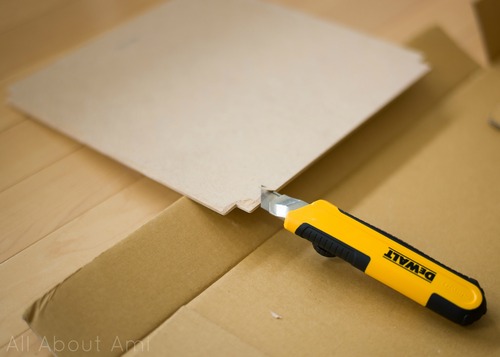 We purchased some ½" thick foam from a fabric store and ordered this beautiful chevron fabric from Spoonflower (called "BlueChevron" by "mrshervi").  We ordered it in the "Linen-Cotton Canvas" so that it was thicker and hardier.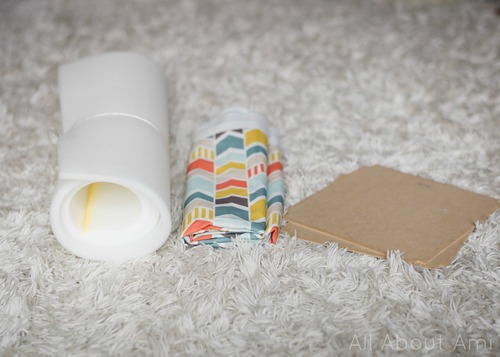 Ryan measured out how much foam and material we needed for each seat and began cutting away…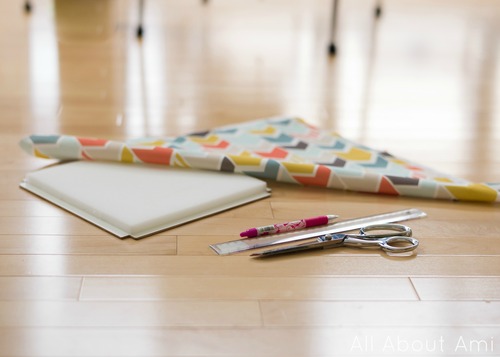 Next, he folded and hot glued the fabric over the foam and cardboard as depicted in the pictures below.  He also added white duct tape for added support.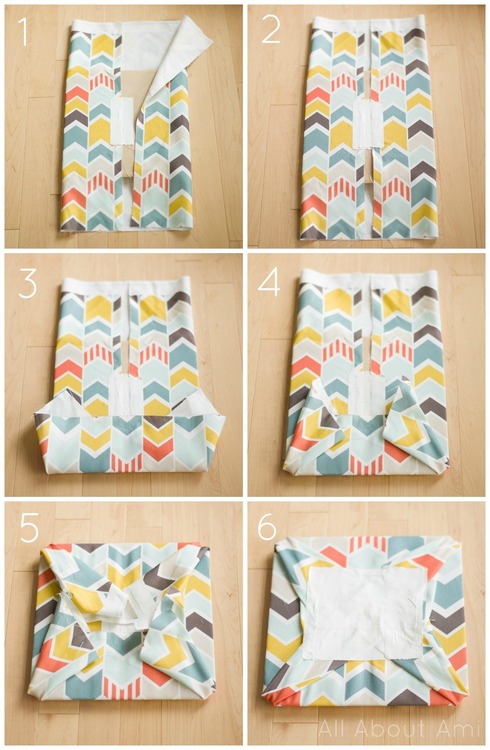 And here we are with a beautifully padded cushion!  I love how no sewing is required and how simple it is to add this modern chevron design to our chairs!  To secure this cushion to the plywood seat, Ryan used a spray adhesive.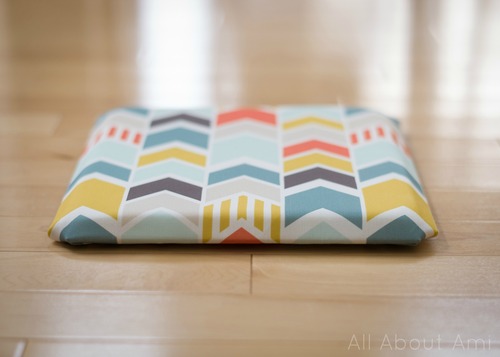 Ryan also wanted to add plexiglass to the table top so that it would be very easy to wipe down and we could add pictures underneath for different themes or seasons depending on what we were working on with Myla!  He bought some plexiglass from the hardware store and cut it to the appropriate size.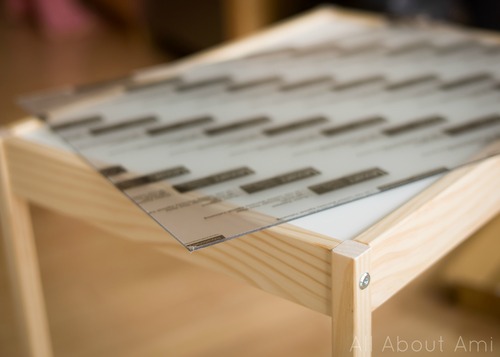 Our modified LATT with cushioned chevron seats and a plexiglass table top was soon complete!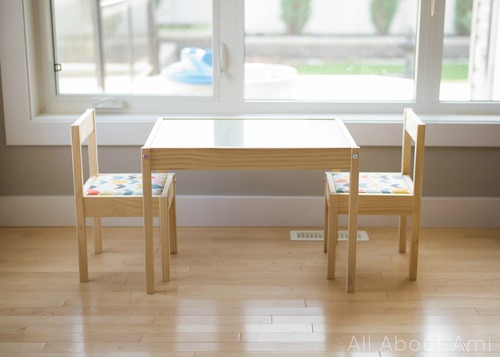 There are tutorials on-line showing some beautifully painted and stained LATT's as well (grey stains, gold-dipped chair and table legs), but we decided to keep it in the natural wood finish since it matches so well in our house.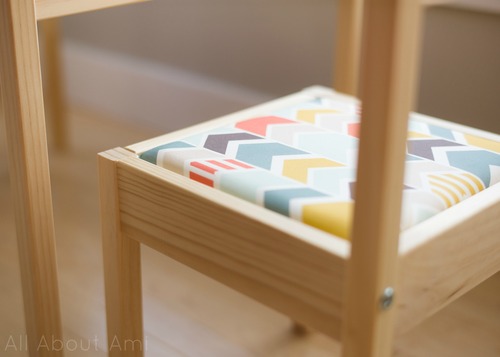 We had a blast choosing the fabric and are really happy with the one that we ordered.  You can have so much fun choosing coordinating paint colours and fabrics to really customize the LATT for your family!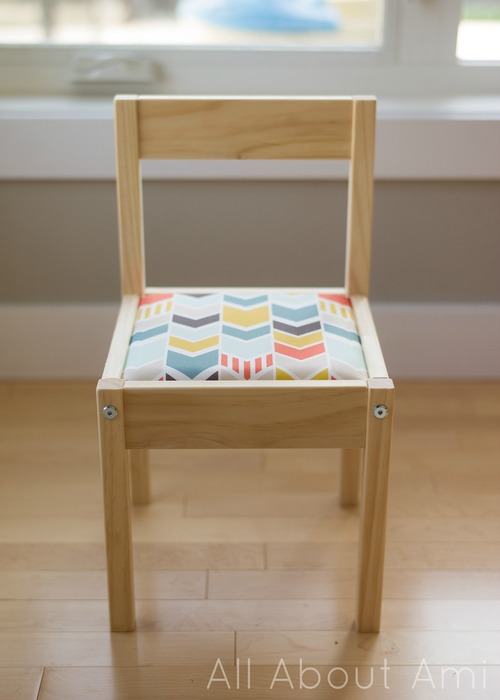 Here is a close-up of the corner of the table top!  Ryan cut tiny notches in the corners of the plexiglass so that it fit perfectly flush on the surface.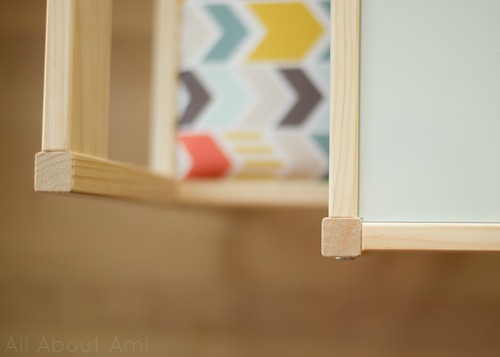 We've placed our table and chair set near our window so that we get plenty of natural light, and it is a wonderfully bright space for Myla to work and play in!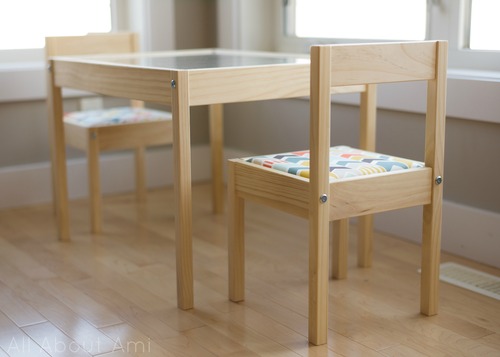 Myla's eyes widened with delight when she first saw these little chairs and little table that were her size!  It's adorable whenever we see her climb up on the chair by herself to get ready to do her activities.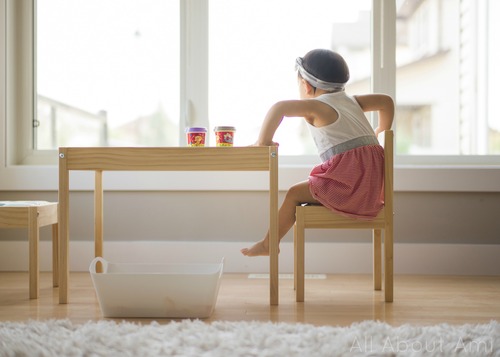 Right now she loves playing with playdough and using cutters to make different shapes and patterns!  I love how cute Myla looks with her feet dangling above the ground 🙂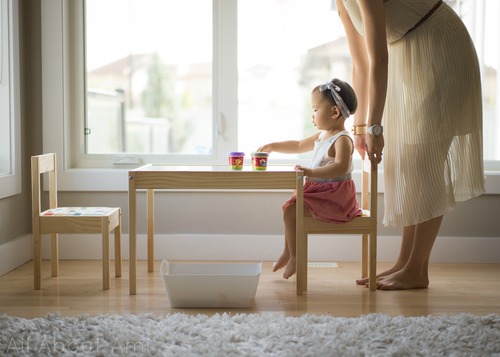 We love playing in this area, and in the future, Myla's little sibling can sit on this other seat instead of me 🙂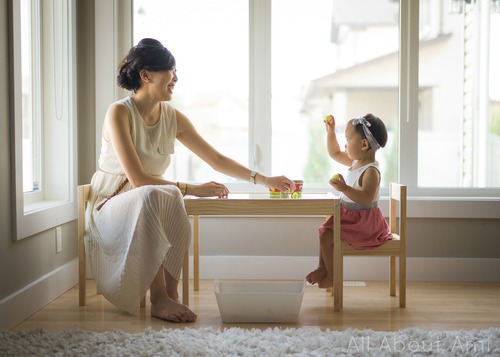 If you're in the market for a children's table and chair set, check out the Ikea LATT!  It's inexpensive and lends itself well to being modified- just google or search for "Ikea LATT hack" on Pinterest and a multitude of tutorials will come up.  Adding the padded chevron cushions to the seats and plexiglass to the table top was quick and easy, and Ryan assembled and modified it all in one sitting!  Let us know what you think and if you have any other ideas of how the LATT can be modified 🙂