It still amazes me how popular our amigurumi Dragon is, and I can't believe I was thisclose to not making him.  I'm so thankful that Ryan urged and encouraged me to give him a try to celebrate the Chinese New Year!  Many moms and moms-to-be have e-mailed me, expressing their excitement of making this crochet dragon for their own dragon babies!  I thank all the people who have sent me pictures of their work through facebook, twitter, e-mail, Ravelry and on the blog, and I would love to share some photos of little Dragons who've cropped up all around the world in this Crochet Corner post!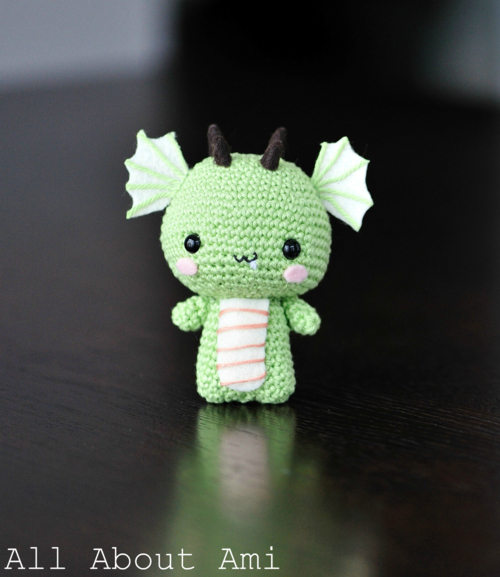 Ana, originally from Spain but now living in Switzerland, is a loyal reader and commenter of my blog.  She was one of the first people to send me pictures of her finished project, and I was sooo excited to see how other people's Dragons were turning out.  I think Ana did an absolutely wonderful job with the detailing and I love the colour she used.  Her Dragon looks very well-made, and I love how she included his shadow in the pic below too!  Thank you so much for your continued support, Ana!  I really appreciate it!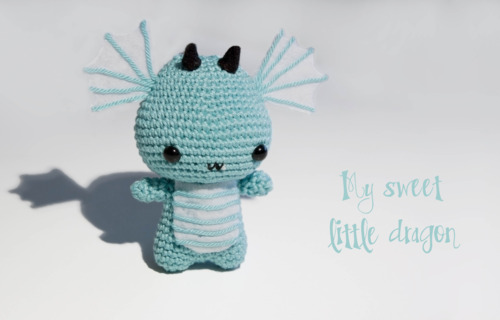 Sarah posted her cute Dragon on my facebook page, and I love how happy and sweet he looks!  She used tan felt for the belly and for the wings on his head, and she included the rosy pink cheeks as well.  Adorable!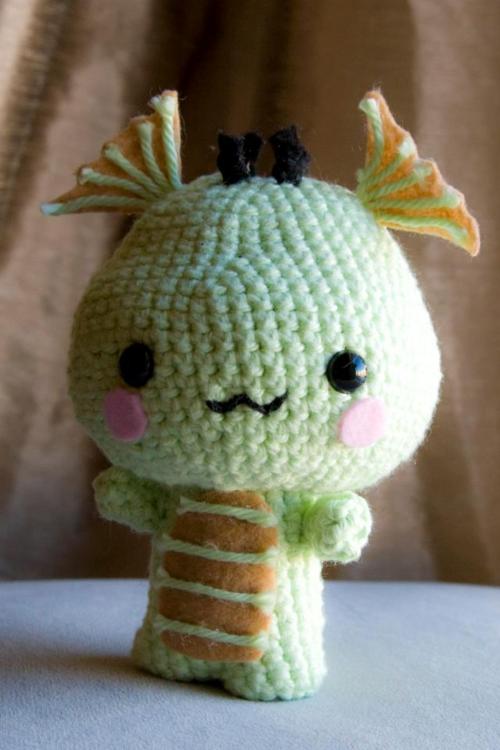 Kendra from North Carolina made her own little Dragon, and I love how he is really leaning back as though he's about to blow out a huge puff of fire!  So sweet 🙂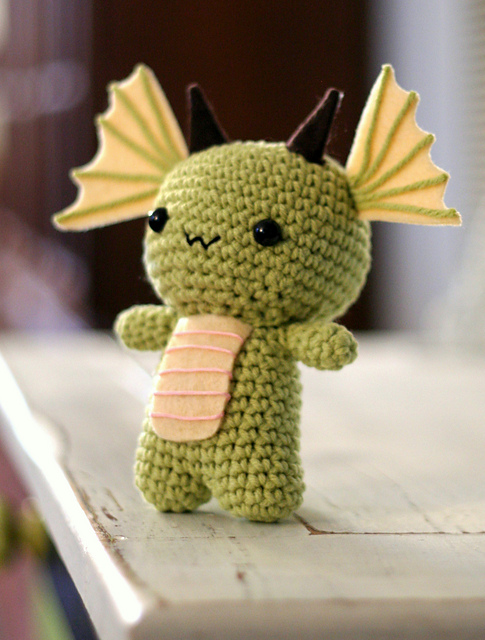 Katka of Katkas Creations from the United Kingdom is another loyal reader who absolutely loves amigurumi and the amigurumi community.  I'm honoured that my patterns were the first English written patterns that Katka followed, and I know she's had fun also making my Spring Bunnies and Teddy Ornaments.  Katka opted to use yarn instead of felt and a glue gun for the belly and horns as she made this toy for her son!  You can also check out her facebook page here.  Thanks for your support and always kind words, Katka!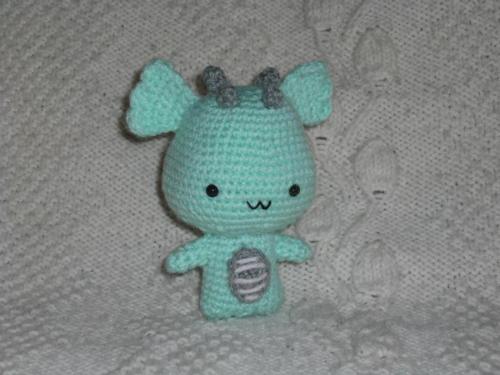 Mandy of Crystal Panda made this Dragon for some friends who are expecting their first baby!  Would you believe that this is Mandy's first amigurumi?  She whipped this little guy up very quickly and says she is happy that amigurumi is very forgiving as it was hard to keep the count correct at times, but he definitely still turned out!  I love how Mandy added her own unique touch to the scaling on his body as well.  Mandy writes that it's bittersweet having to give him away, but she might make one for herself in the future!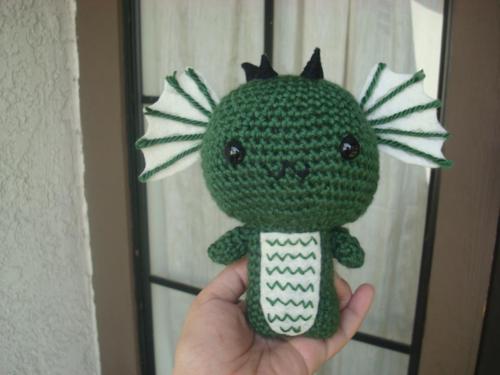 Lavinia attached a picture of her Dragon to the comments section of my Dragon pattern post.  His expression is so unique with his eyebrows and slight, wide smile.  Lavinia also crocheted her black horns instead of using felt.  What an expressive little Dragon!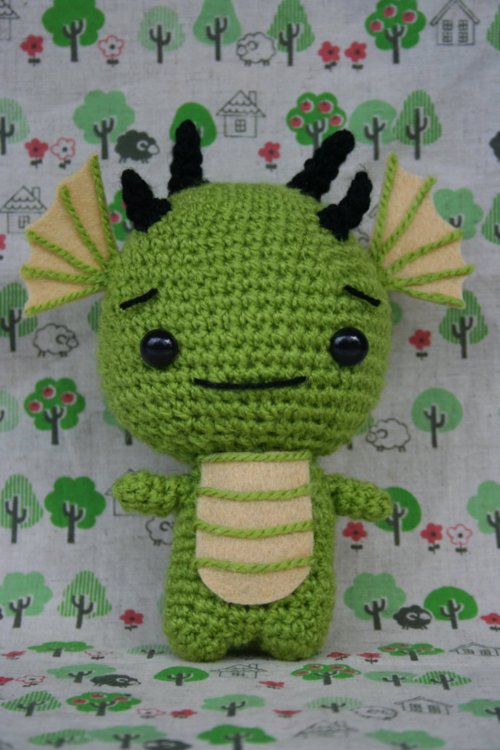 Migou writes that she found my pattern easy-to-follow with detailed information.  Happy to hear it!  Her dragon turned out adorably, and I think it's pretty awesome that he's holding a microphone.  He could be the next Karaoke Superstar or American Idol!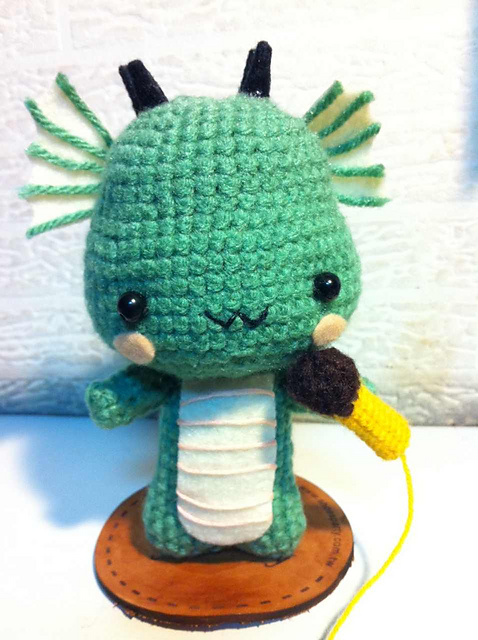 Amelia made two dragons: a green one and a red one, both complete with adorable little fangs!  The detailing looks great, and I love how she posed them with a crocheted red heart in between.  Amelia says she'll be keeping the green one and donating the red one to a craft fair donation.  Great job using your skills to help others, Amelia!  She'll also be making a blue dragon for her friend who absolutely loved these two when he saw them!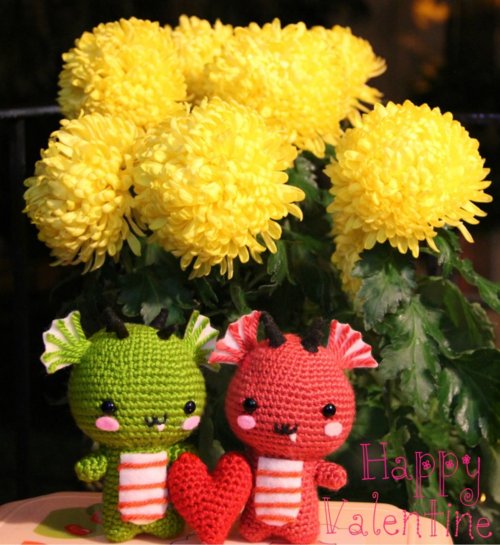 Puchitomato from Calgary, Alberta, Canada also made two dragons!  She used such bright, fun colours!  I love the green felt on the purple yarn, and the purple felt on the hot pink yarn.  I really love that hot pink…I don't think I've ever seen a hot pink dragon before!  These two look very well-made…what a cute pair!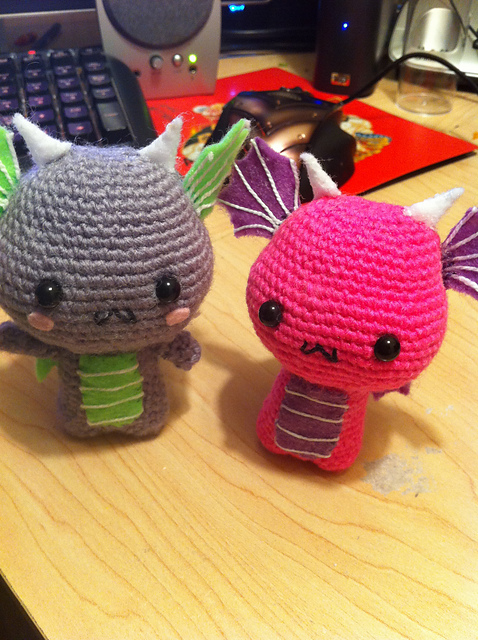 And as a fun surprise, Puchitomato also added some wings to his back!  They look awesome 🙂  This will give him some extra help getting off the ground!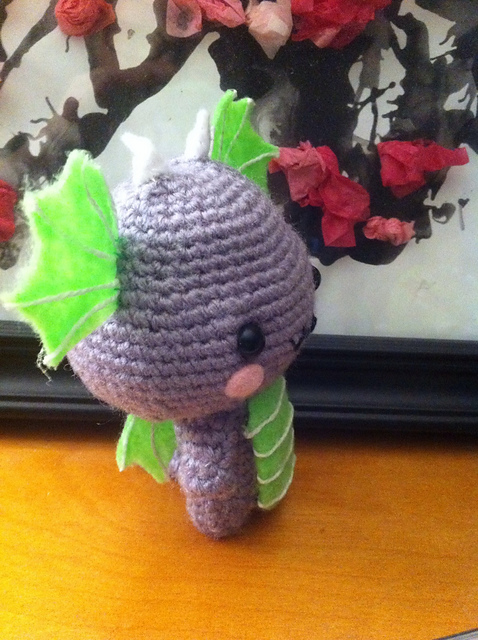 If you haven't already seen my amigurumi Dragon, check out my step-by-step blog post here and the free pattern here.  It's been such a pleasure seeing all your photos, everyone!  I still have MANY more photos of yours to include, but I'll save them for another Crochet Corner post 🙂  Hope your Year of the Dragon has been going well!