I am so excited to introduce you to a very crafty duo from Vancouver if you haven't heard of them already!  Erica and Diana of craftedvan make absolutely adorable bookmarks, and I first saw their work on Instagram through Momomints (another creative duo from Vancouver who I featured in my very first Craft Chat HERE)!  I've always had a love for bookmarks as I used to collect them when I was younger and I have fond memories of picking out my favourite bookmarks whenever the Book Fair came to our school!  I absolutely fell in love with Erica and Diana's designs when I first saw them as they have an uncanny knack for making everything cute by putting faces and expressions on them (reminds me of amigurumi)!  
I was very excited to place my first order, and it was hard limiting myself as everything was just too adorable!  I went with the "Dessert Mini Magnetic Bookmarks" since I have a sweet tooth, and the little macaron and cupcake were irresistible!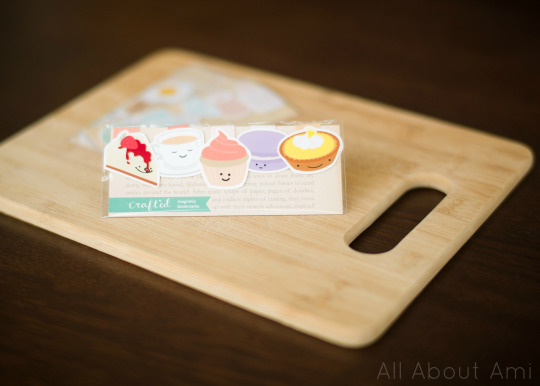 Being a crafter, I also HAD to get the "Craft Mini Magnetic Bookmarks" (similar HERE) as the ball of yarn and spool of thread were just too cute!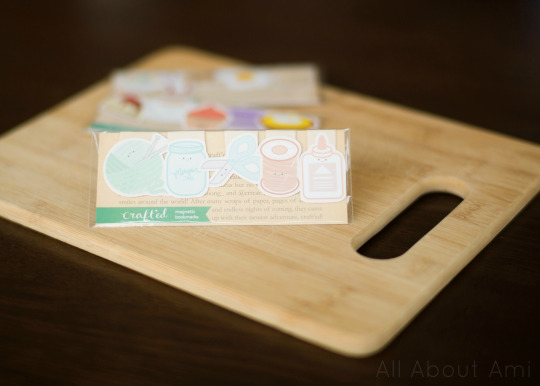 I also picked up the "Breakfast Mini Magnetic Bookmarks" for a friend 🙂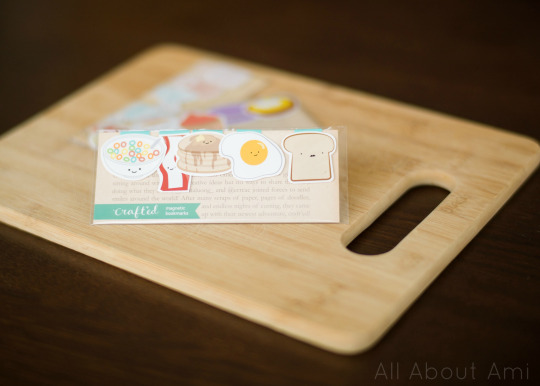 In case you're curious what the backs look like, they have designs on them too!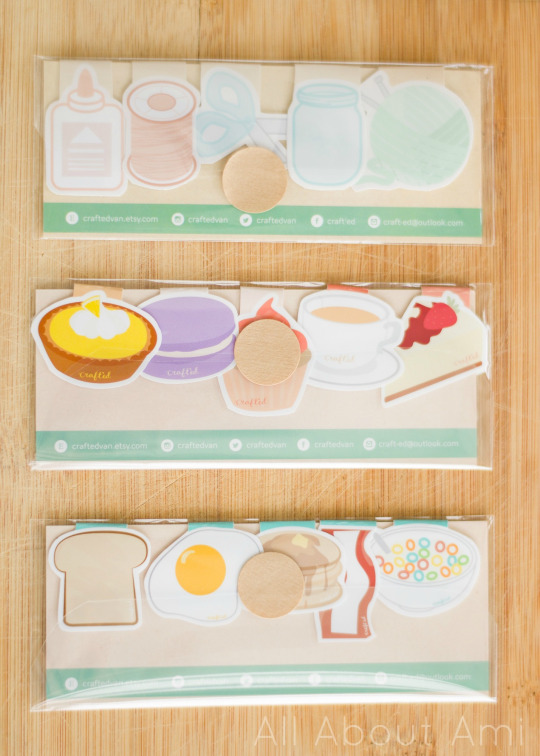 Here is my cute macaron holding my place in a crochet book!  Anyone recognize what book this is?  I'm working on an amigurumi from this kawaii book and will definitely blog about it in the future!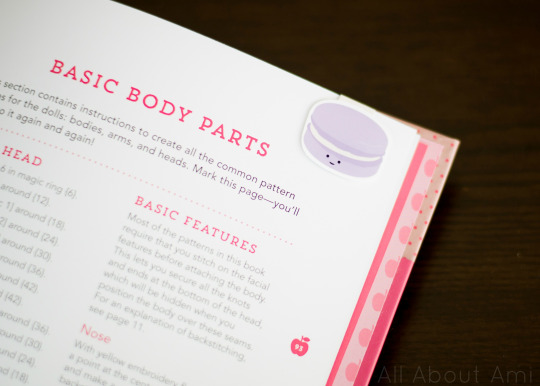 They also make kawaii additions to your planners!  I started using this gold kikki.K planner a couple months ago when they were half price, and it's been so fun decorating it and filling it with washi tape, page flags, stickers and cute bookmarks!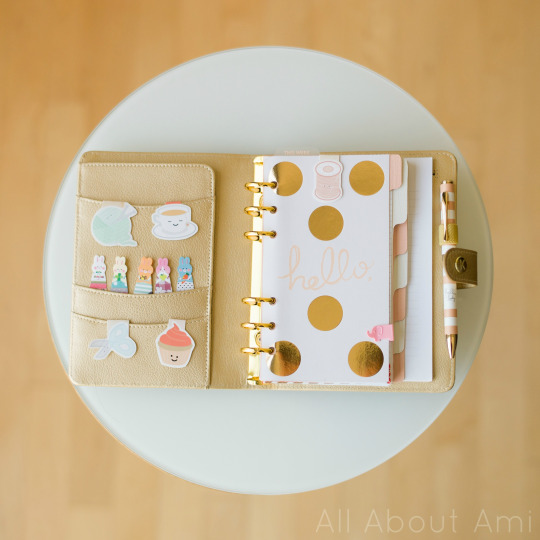 For those of you in the planner community looking for bookmarks for your agendas, check out these newly released bookmarks that Erica and Diana made in collaboration with "The Reset Girl" (see HERE and HERE)!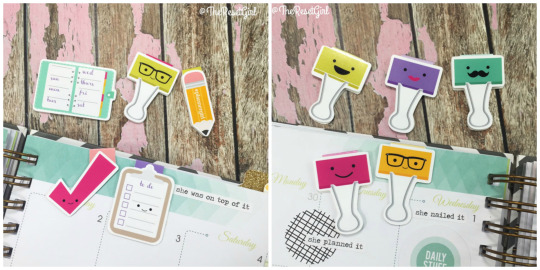 Here are two more bookmarks that I think are adorable since I LOVE bubble tea and of course we all love crocheting (they added this to their shop after I placed my order otherwise I totally would've purchased this too haha)!  You have to check out their store to see if any of your favourites have been turned into bookmarks: you can spot wizards, princesses, and anime characters in their shop!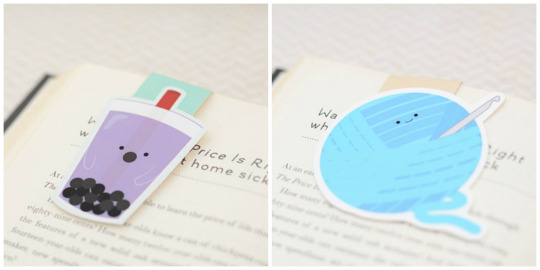 Now that you've seen some of their work, let's get to know them better with these questions that I asked Erica and Diana!
                                                   *****************************************
1) How did you two decide to start your company "craftedvan" together?  How did the name "craftedvan" come about?
We both went to the same high school and we used to randomly craft (mostly scrapbooking!) together for years before we decided to start a company. Along with scrapbooking, we used to craft a lot for our boyfriends/friends, but we soon realized that there are only so many occasions to create things for and we wanted more reasons! We thought, what if we were to try and sell some of the things we make? And that's exactly what we did! 
Craft'ed came about because the "e" represented Erica and the "d" represented Diana. When we realized that "craft'ed" was a pretty much impossible name to search for or grab social presence for – we decided to add a "van" because we're proud to be local, handmade and the from beautiful Vancouver! Therefore craftedvan became our official name and we've learnt to love it! Ps. Make sure the name you choose for your company is available on social media first!
(2) What were some of the products that you experimented with for your shop?  Did you have that special "aha" moment when you decided upon magnetic bookmarks and fridge magnets?
At first, we experimented with tons of different items: glue, paint, jars, yarn – anything we could get our hands on. We literally went to the dollar store, spent $50 and went home and tried to make some things (you can read an old blog post here from that day). Eventually we narrowed down to knitted things, notebooks and bookmarks (the first batch of bookmarks was a present for Diana's boyfriend). Once we realized bookmarks were a hit, we decided to do only bookmarks and must say that was one of the best decisions we could've made!
(3) Were you both crafty as children?
Yes!!! Diana loved being crafty as a child. That's what childhood is all about! She loved origami, painting rocks, making cards for her parents. Erica was very crafty too and always had a love for fine arts and fine art classes!!! She loved making ornaments, pottery, cards, learning how to knit and crochet from her grandma, and ALWAYS COLORING.  Guess you could say it has carried on into craftedvan!!!
(4) I really enjoyed your blog post entitled "5 Reasons Why We Find Crafting So Addictive" (read the post HERE)!  Besides the crafting you do for your shop, what other crafts or hobbies do you have?
Diana is currently taking a pottery class! You may have seen some photos on instagram! She also loves wrapping presents, which is kind of a hobby! 😛 Erica loves knitting and crocheting still 🙂  WE'RE  CURRENTLY OBSESSED WITH ESCAPE ROOMS!!
(5) How do you divide up the work?  And how do you handle all the cutting and packaging for big events like craft fairs?
We constantly see the benefits of having a a business partner because what one person can't do, the other person rocks at! We are always messaging each other when we're not working together, and when we do have the time to meet up – we get way more work done than we ever could alone. Diana does the design work and Erica does a majority of the production, but we really depend on each other for support. We also get a LOT of help from our friends and family – especially before craft fairs! We still can't believe they enjoy cutting/packaging just as much as we do! We'd probably get no sleep without them.
(6) What have your craft fair experiences been like?  If you could participate in a craft fair in any city around the world, where would you go?
CRAFT FAIRS ARE ALWAYS MINDBLOWING!!!! We get no sleep a few nights before and are over-excited zombies during the craft fairs 🙂  Everyone is so amazing and nice. We love making connections with other crafters and entrepreneurs. People are just so creative and passionate! 
If we could participate in any craft fair around the world…. hmmm… we don't know many more except for local craft fairs in Vancouver. We have our eyes on Make It Edmonton!! It'd be fun to travel somewhere far like San Fran or New York or even France!
(7) Where do you get your inspiration for designs from?
Anything and everything that makes us smile, especially customer suggestions that we get through Etsy and on Instagram!!! If anyone has any more, shoot us an email on Etsy!
(8) Do you have a favourite bookmark that you created or that you use all the time?
Our favourite bookmarks used to be the Paris one, but it looks like the milk and cookie pair has taken the lead for our favourite! We designed them together on our way home from our little business trip to Victoria. We made the cookie and thought it would be cute to have it drink milk. Then as we were giggling away at the creation, a milk eating a cookie came out of it! It was a memorable moment and we're happy to have a pair of bookmarks to represent that awesome trip!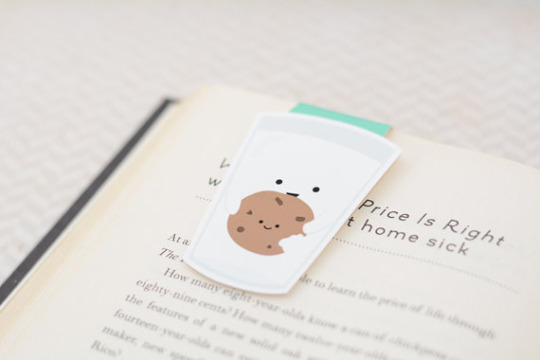 (9) Do you do custom orders?
Yes we do!! We love hearing what people have in mind to accompany them while reading 🙂
(10) Do you craft full time?
We do not craft full time, as we both have full time jobs outside of craftedvan. Erica works as a Nurse at Vancouver General Hospital and Diana as a Community Creative Coordinator at Hootsuite. This means our craft sessions are very limited and we cherish every opportunity we get to craft together!
(11) You run such a successful shop with over 9200 sales and always stellar reviews!  What advice do you have for people who are interested in starting their own Etsy shops?
If you make something – anything – and you're even the slightest bit curious about how your items would do on Etsy, we encourage you to just plop them on there! It's easier than you think! There is an great community of people on there looking for handmade goods. It wasn't until 1 year after opening an Etsy account, that we finally got the courage to put something on it. When we finally got the guts to do it – we realized how easy it was. It costs almost nothing to put your items up ($0.20 per listing), so really you don't have much to lose. Once you get your stuff up – encourage anyone interested to buy directly off of etsy. Even friends and family who could easily just pay you in cash, get them to order online. Although it may cost you a bit more in etsy and transaction fees, it allows you to get a "sale" on your Etsy and an opportunity for your friends/family to leave a stellar review on your shop. This allowed us to kick start our shop and give it some credibility. If you're interested in selling your stuff – we highly recommend you give Etsy a try 🙂
                                              *****************************************
Thanks so much for taking the time to answer my questions, Erica & Diana!  Since we all have a love for things cute and kawaii, I knew that I had to introduce you to this crafty Canadian duo and their adorable bookmarks.  I'm sure you'll fall in love with their work just as I did!  They make very affordable gifts, perfect for birthdays or upcoming graduations or Mother's Day!  
Erica & Diana have also offered to host a GIVEAWAY for my readers [NOW CLOSED– Congratulations, Nur!]!  One lucky reader will win a jumbo cookie and jumbo milk bookmark- this is such an adorable set, and Erica & Diana's favourite designs (I love how the giant cookie has a little milk moustache- ahhh too cute)!  To enter, please fill out the Rafflecopter widget below!  For the mandatory entry, please visit the craftedvan shop HERE, take a look around, and come back and leave a comment stating which bookmark is your favourite!  Once you do this, then all of the other entries will be unlocked.  This giveaway is open worldwide and will close on Sunday, April 19 at midnight MST.  Don't forget to follow craftedvan on social media as they are constantly updating their shop with new designs: you can find them on Instagram, Twitter, and Facebook!  Have fun and good luck!