***You can purchase an INEXPENSIVE AD-FREE PDF of this pattern on Etsy HERE! This beautifully formatted PDF includes the step-by-step pictures and 2 patterns (Chunky Double Crochet Cowl & Long Double Crochet Cowl) and is a total of 7 pages including the cover page!  This pattern is also available in the "Crochet Cowls & Scarves PATTERN BUNDLE" which includes over 20 beautiful designs at a discounted price – check out the bundle HERE! 
Winter officially begins on Friday, but it seems like winter has been in full swing for weeks on end where I live!  Winter is always the perfect time for cozy scarves, hats and mittens, and after blogging about the puff stitch cowl that I made for my sister, I really wanted to make myself a big chunky cowl that would help keep me warm!
There are many cowls out there using solely double crochets, but instead of using double crochets all throughout, I decided to incorporate some chain 1's!  This helped the cowl work up more quickly and also give it a looser feel.  I had just finished crocheting many baby hats where I crocheted in the spaces of the previous row, and I loved the look of the staggered rows as well as how quickly the projects went by!
Knowing that I would be extremely busy after having a baby, I completed this cowl about a week before giving birth.  Interestingly enough, I edited and added the instructional text to the step-by-step photos and typed out the pattern the day before I started having contractions!  I'm so glad I prepped this post ahead of time- all we then had to do was take final shots and write the story behind this cowl!
I wanted to look for a soft yarn in a neutral colour so that my cowl would be able to match most of my jackets.  I found this beautiful yarn called "Loops & Threads Cozy Wool" in the colour "Mushroom"!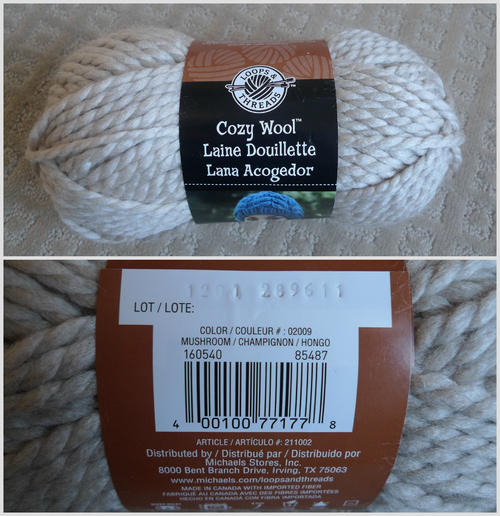 Using the biggest crochet hook I own (10 mm), I made a series of chain stitches, trying to judge how big I wanted my cowl to be.  I love crocheting with chunky yarn and a big crochet hook!  It's such a different feel from crocheting my small amigurumi with a 2 mm hook 😉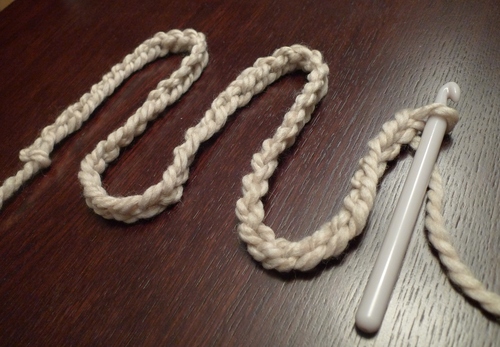 I joined the ends together with a slip stitch to form a circle.  I decided to crochet in rounds rather than rows so I wouldn't need to stitch the ends together at completion.  Working in rounds also gives this cowl a more continuous look with no clearly visible seam 🙂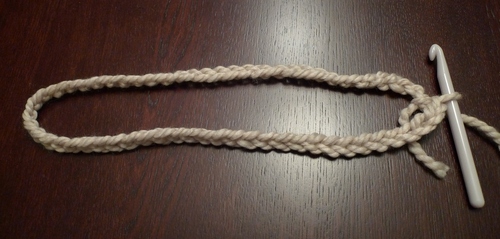 To bring the round to the appropriate height, you chain 4 and then continue double crocheting and chaining 1 all around.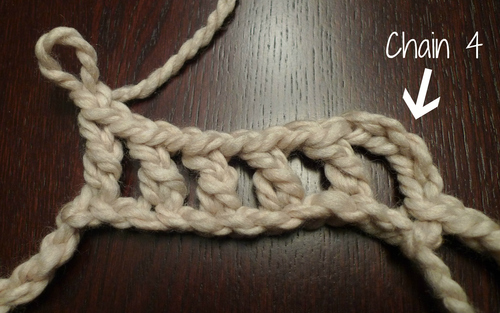 Once you've repeated this pattern all the way around, slip stitch to the 3rd chain from the Chain 4 that you started with.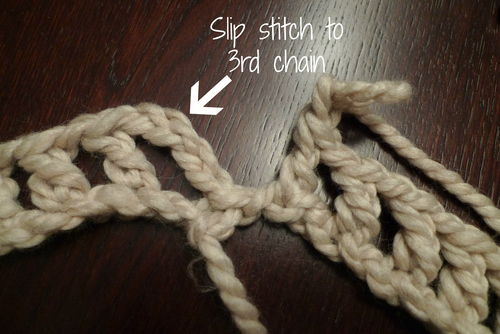 Now you've completed the first round!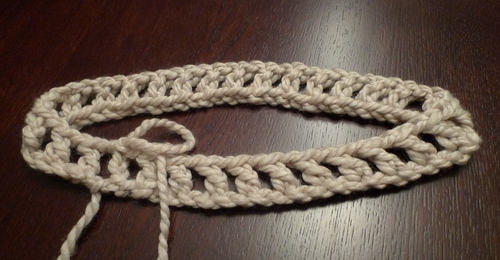 Next you slip stitch into the space…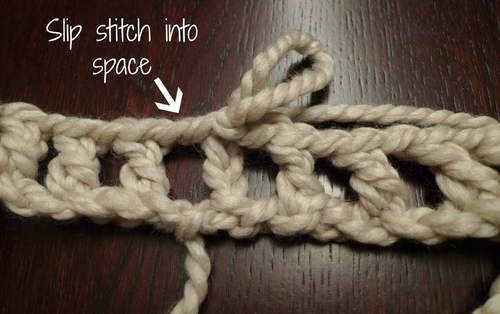 This gets you into the correct positioning so you're ready to start Round 2!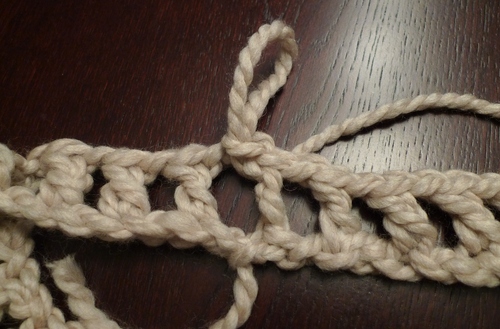 You chain 4 once again to build the appropriate height…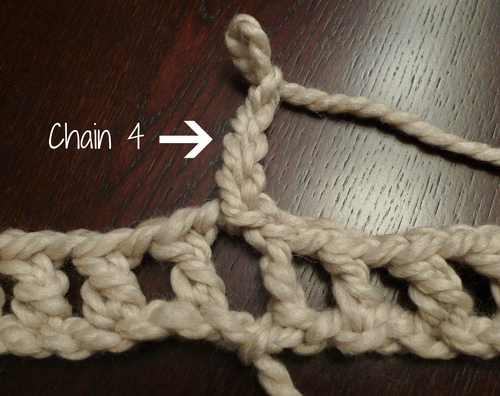 And then continue on as you did with Round 1, double crocheting in the spaces and chaining 1 in between.  Working in the spaces makes the project go by incredibly quickly!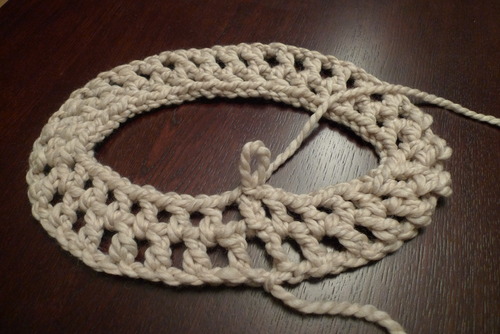 I was able to crochet 9 complete rounds using 1 ball of yarn!  You could definitely stop here if you wanted to use only one ball 🙂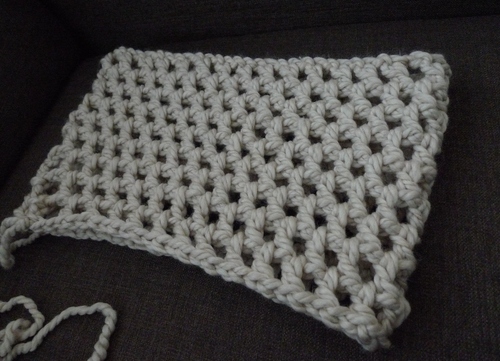 I wanted my cowl to be bigger, so I used another half ball of yarn to add 4 more rounds.  In total, my cowl was 13 rounds in height!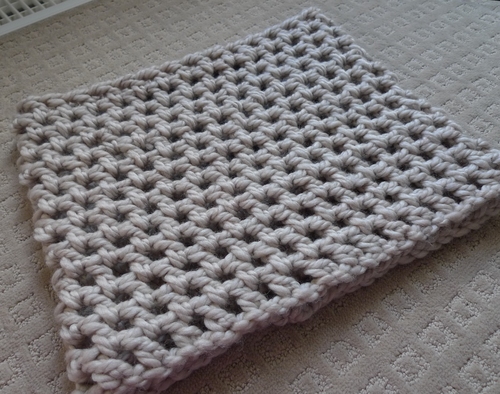 This close-up view of the staggered rounds of double crochet shows the beautiful, chunky texture!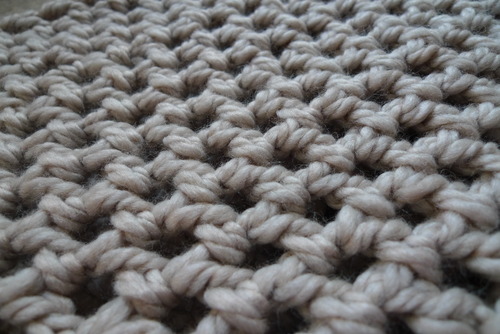 Here is the official pattern to my "Chunky Double Crochet Cowl"!
*****************
Materials:
Chain 60.  Join with slip stitch to first chain, being careful not to twist the chain.
Round 1: Chain 4 (first 3 chains counts as double crochet), *Skip 1, Dc, Ch 1* around, slip stitch to 3rd chain of initial Chain 4 (30 dc).
Round 2: Slip stitch into Ch 1 space.  Chain 4.  *Dc into next Ch 1 space, Ch1* around, slip stitch to 3rd chain of initial Ch 4 (30 dc).
Round 3-13: Repeat Round 2
Fasten off and weave in ends.
Finished Dimensions: 11.5"/29 cm tall, 14"/36 cm wide (when flat), 29"/74 cm circumference
[IMPORTANT NOTE & UPDATE: I used "Chain 4"  since theoretically the first 3 chains counted as a double crochet and the 4th chain accounted for the "Chain 1".  However, this leaves a slightly larger than normal space at the seam compared to the other chain 1 spaces.  If you would like to make the gap smaller and more inconspicuous, "Chain 3" wherever it says to "Chain 4" in the above pattern and "Slip stitch to 3rd chain of initial Ch 3" to finish off each round.  Thank you to Karen for pointing this out- you can read her blog post about this HERE.]
*****************
I love wearing my super soft Chunky Double Crochet Cowl!  It's always so special wearing items that you made yourself 🙂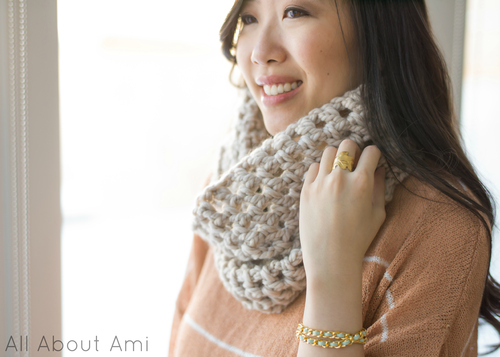 [Gold oak leaf wrap ring by CoutuKitsch, Double Wrap Bracelet in Mint Green by Mikaylove]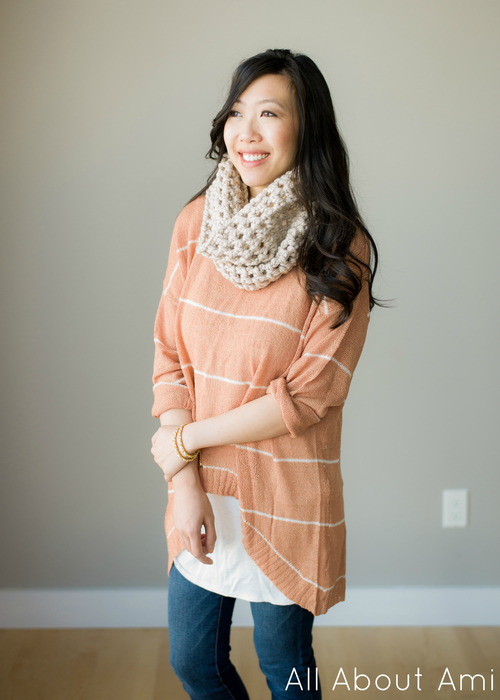 You can adjust the look of this chunky cowl by altering the number of initial chains and rounds.  If you want the cowl more fitted around your neck for extra warmth, chain less than 60 stitches.  If you want the cowl to have a fuller look with more folds, add more rounds.  Try adding big buttons for some beautiful detailing too!  Another option is to crochet this cowl row by row (not going around in a circle) and use big buttons for closure– the chain 1 gaps between the double crochets would be perfect button holes!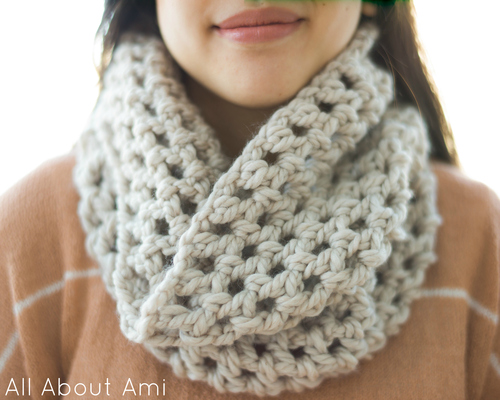 I love wearing cowls with my hair up as I feel it helps accentuate the look of the cowl…that plus my hair tends to get "staticky" when it's down as it rubs against the yarn 😉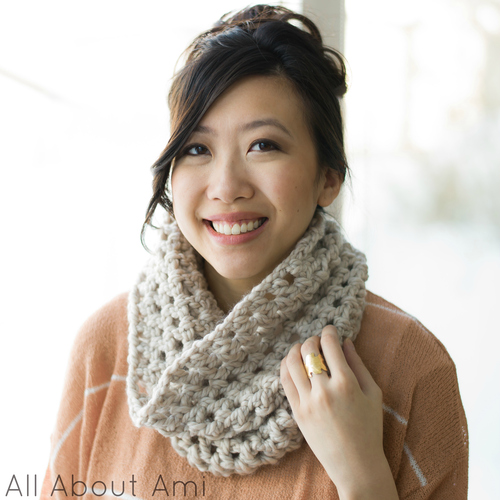 Here's a photo from my Instagram (@AllAboutAmi)!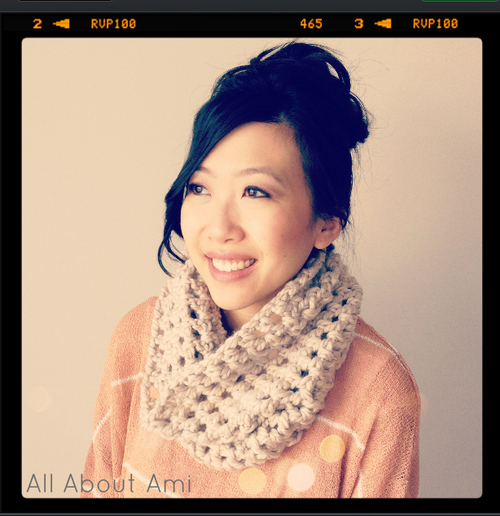 We took some outdoor shots to show this cowl worn with a winter coat!  It's such a chic, warm winter accessory 🙂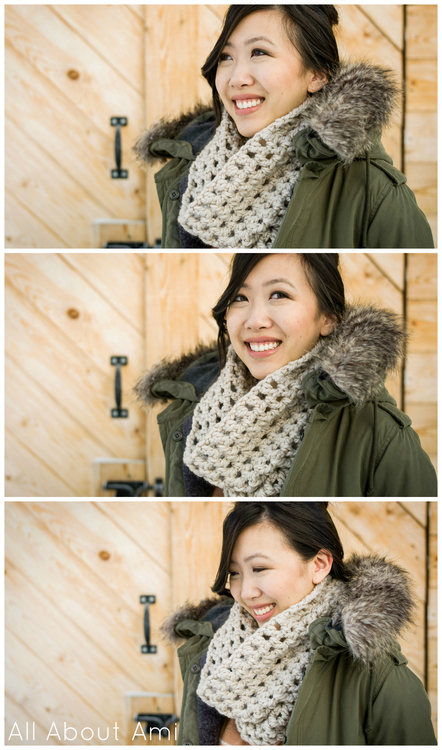 One of the best parts about wearing scarves and cowls is being able to burrow your face for warmth- gotta prevent your nose from falling off when the temperature drops >.<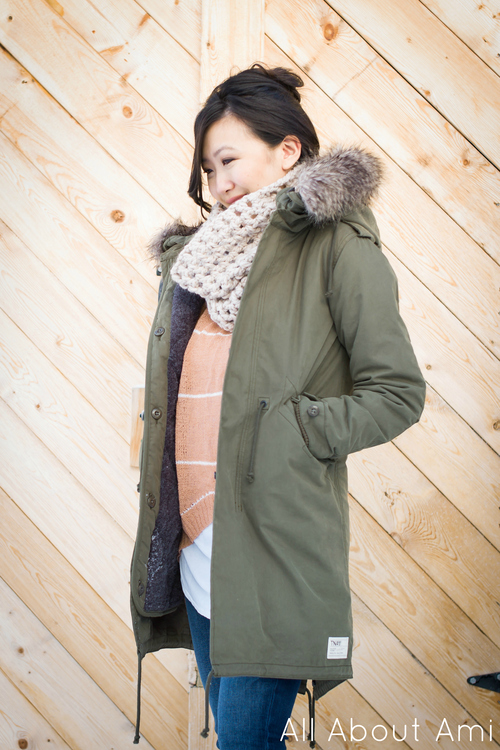 [Pink Dip-Back Striped Knit Top: Yesstyle, Jeggings: American Eagle, Green Parka: Aritzia]
Check out my other crocheted projects that will also help keep you warm this winter!  From left to right there is the Puff Stitch Cowl, Urban Jungle Slouchy Beanie and the Knotted Headband.

I want to give a big thank you to baby Myla's Uncle Corey for taking care of her while we took these photos 🙂  This "Chunky Double Crochet Cowl" is a very quick and easy project, and it would make a great last-minute gift if you're scrambling to find or make one!  Cowls and infinity scarves are always so popular, and they instantly glam up any winter outfit!  Let me know if you will be making this cowl this winter and send me pictures of your finished products through e-mail (all_about_ami@hotmail.com), Facebook, Twitter (@AllAboutAmi)  or Instagram (@AllAboutAmi)!  I would love to compile a blog post showcasing how you all style your cowls!  Stay warm this winter, everyone 🙂  Thanks for reading!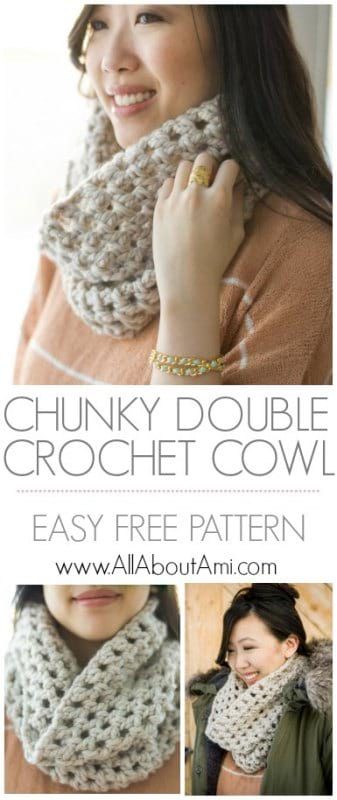 [Check out my "Long Double Crochet Cowl" pattern as it is a similar design worked in turned rows! See the step-by-step tutorial and free pattern HERE.]
This pattern is an original pattern by Stephanie Lau of All About Ami. Please do not claim this pattern as your own. If you wish to share this pattern, you may link to this pattern but please do not reprint it on your site. You may keep a copy for your own personal use but please DO NOT sell the pattern or distribute it.
You may sell products made from this pattern but please clearly credit the design to me, Stephanie Lau of All About Ami, and provide a link to my blog www.AllAboutAmi.com. Permission is NOT granted for mass production or factory manufacturing of any kind. Thank you for being respectful and for your understanding!