Carry-All Trays are so handy to have around the home, and I have designed trays of various shapes and sizes for you to try out depending on your needs! These trays use the very unique Rewind tape yarn which works up beautifully with its lovely stitch definition and it does not pill or fuzz up. Each tray requires only one skein of Rewind yarn (you can make two square trays with one skein) as I love a good one skein project! The free patterns can be found below: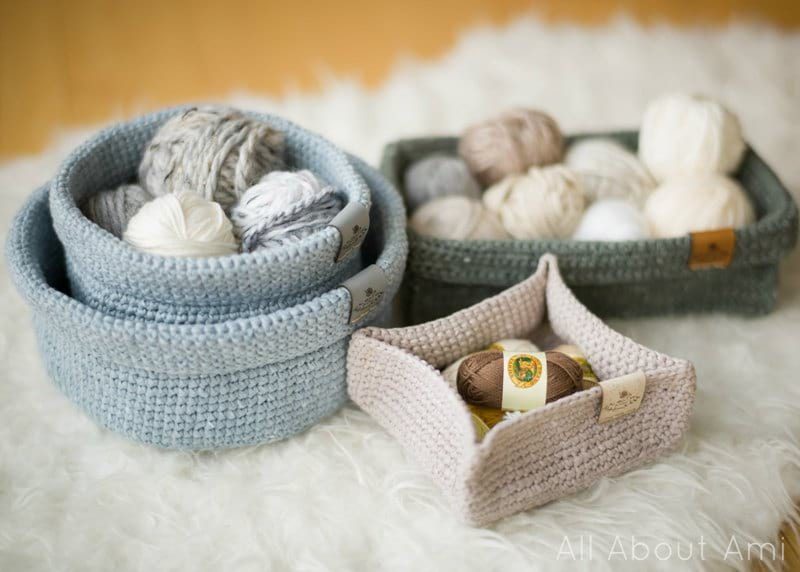 Here are the dimensions so you can compare and decide what size you would like to make:
Square Carry-All Tray: Base: 5.75″/14.6 cm x 5″/12.7 cm, Height: 2″/5 cm
Rectangular Carry-All Tray: Base: 8.5″/21.6 cm x 4.5″/11.4 cm, Height: 3.75″/9.5 cm (unfolded), 2.75″/7 cm (folded)
Circular Carry-All Tray:

Taller/narrower: Base: 6.5″/16.5 cm diameter, 20.5″/52 cm around, Height: 6″/15 cm uncuffed, 4.75″/12 cm cuffed
Shorter/wider: Base: 7.75″/19.7 cm diameter, 25″/63.5 cm around, Height: 4.75″/12 cm uncuffed, 3.5″/8.9 cm cuffed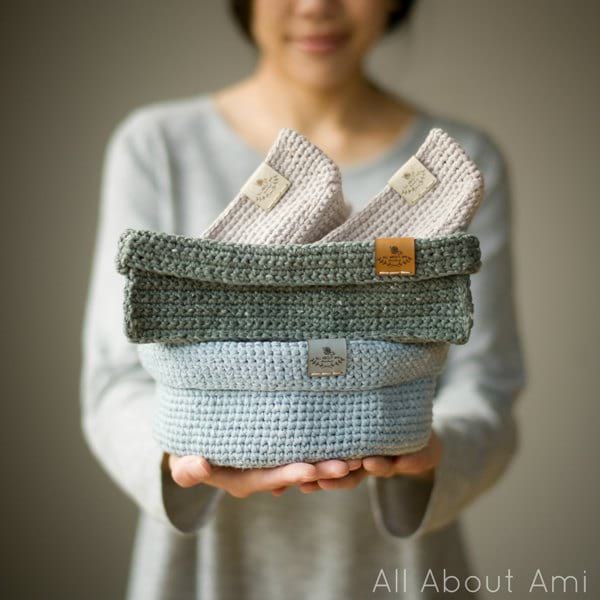 I hope you will keep these trays in mind if you are looking for a quick gift for friends and family! You could even fill these trays with small items (e.g. tea bags, towels, jewelry, chocolate, etc) when you gift them! If you would like a concise version of all three patterns that is easy to print out and contains all the step-by-step photos, check out my ad-free PDF (total of 9 pages) on Etsy HERE and on LoveCrochet HERE! These patterns are also available in my "Home Decor Crochet Pattern Bundle" on Etsy that contains 7 patterns for less than the price of 2 patterns – check out the discounted pattern bundle HERE!
This set of Carry-All Trays is also available as a convenient kit HERE on the Lion Brand Yarn website, and it contains all the patterns as well as 3 skeins of Rewind Yarn so you can make: 2 Square Carry-All Trays, 1 Rectangular Tray, and 1 Circular Tray (or of course you can mix and match however you would like)! I hope you've enjoyed this series and I love seeing these trays already being put to use in your homes!