A couple months ago some friends of ours told us that they would be traveling to Guatemala and visiting the children they had been sponsoring through Impact Ministries.  They asked us if we could perhaps crochet something for their little girl.  I took this as the perfect opportunity to try out a free pattern I had been eyeing on Ravelry.  I love bunnies (see my Spring Bunnies, Sweetheart Bunny and this bunny by Ana Paula Rimoli), so when I saw the "Boxy Skirt Bunny" pattern by Minazara, I knew had to make it!
I thought it was neat that this bunny was not your typical shape…it was rectangular and hence "boxy".  I first started crocheting the head.  For some reason I had difficulty making the stitch count work and look even in Row 2, so I did this instead: "Turn, and then work 2 sc in the 2nd chain from hook, then 13 sc, 2 sc in next, then 13 sc [here, you're working along the bottom chain] (30 sc)".  At the beginning it looked like we were making a sock cell phone cozy 🙂  We then added the eyes and Ryan did a beautiful job stitching the pink nose!

My least favourite part about making amigurumi is attaching all the pieces together, so I loved how the legs are simply a continuation of the body!  No need to attach them later on 🙂  Here it looks like we're crocheting a little tooth…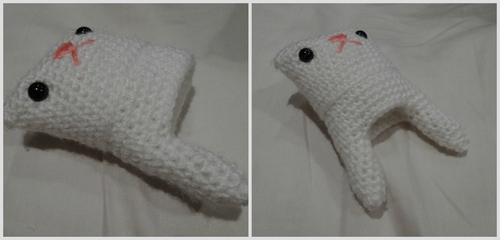 Next I sewed the gap between the legs shut after the fiberfill was stuffed in!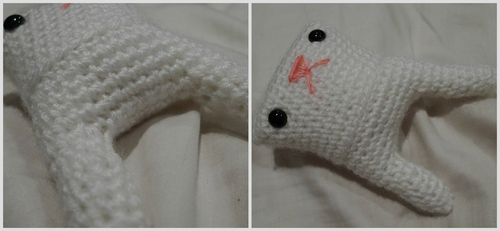 I then crocheted the rest of the parts: the two dainty little ears and arms.  Now she's looking more bunny-esque and less tooth-like 🙂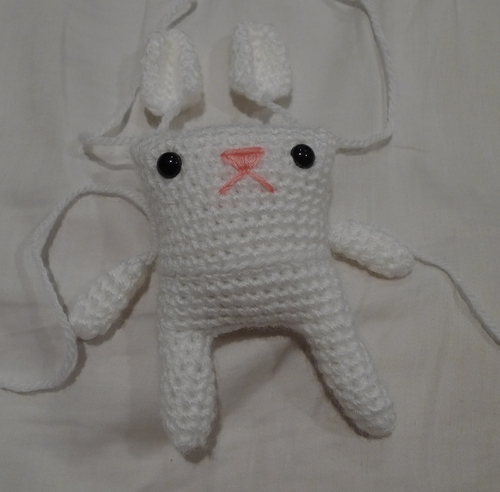 After attaching the ears…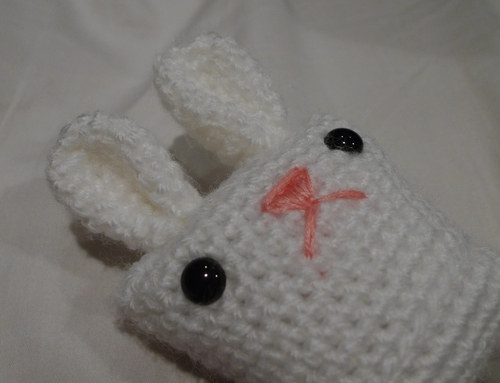 You'll notice that there is a line around the bunny's body where I crocheted in the back loops only.  This is where the skirt will be attached!  I love how there's no guess work of where it should be attached, and this makes it a lot easier picking up stitches for the skirt 🙂  Great design!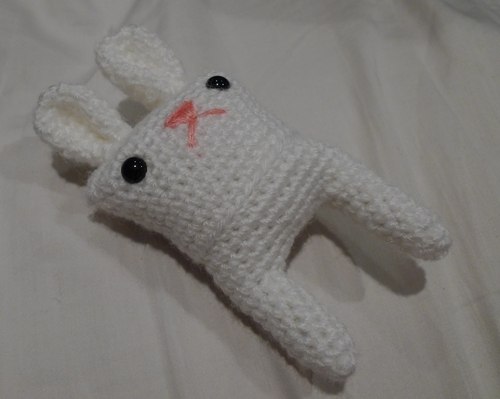 I used this coral colour for the skirt (left over yarn from Myla's granny square baby blanket!) and began crocheting around the body.  I did 30 sc for Rows 1-3 and 60 sc (2 sc in each sc around to increase) for Rows 4-6.

I then attached the arms after the skirt was completed!  Ryan embroidered this little pink heart on the skirt, and then I crocheted a tiny yellow bow using embroidery floss and attached it to one ear.  Doesn't she looks oh so pretty and cute?  Very ladylike!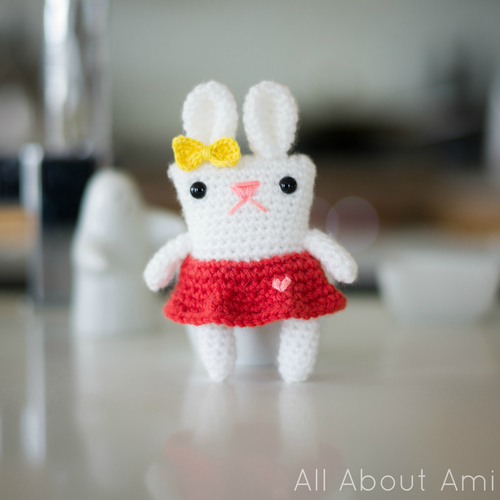 I liked this bunny so much that I decided to make one for Myla too 🙂  I was curious how this Boxy Skirt Bunny would turn out if I used thinner mercerized cotton (I used worsted weight acrylic yarn for the first bunny).  Here is how our second little bunny turned out with a tiny mint green bow!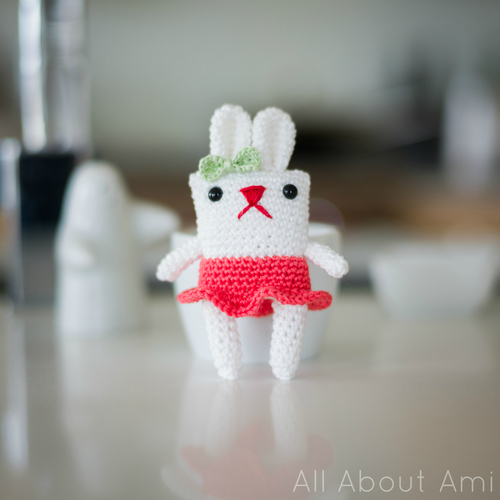 Here is a side by side comparison so you can see the difference in size!  The same pattern can yield very different results when you use different yarn!  I also used a 3.5 mm crochet hook for the first bunny and a 2.00 mm crochet hook for the second bunny.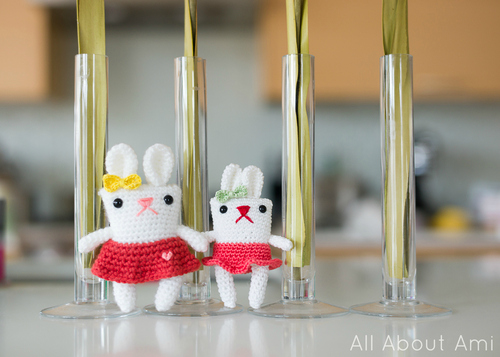 Here's a pic to show how big they are when I'm holding them!  They're both pretty small and dainty 🙂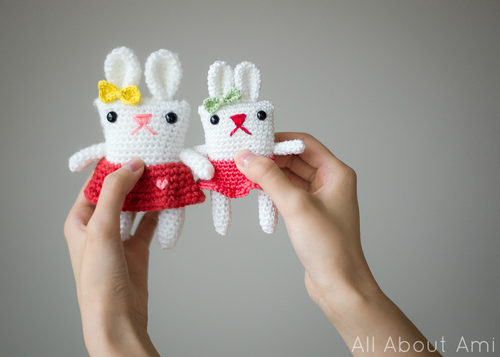 Haha, I wanted to pose them somewhere cute, so we put them in our kleenex box.  Looks like they're saying farewell and about to set sail on a big adventure!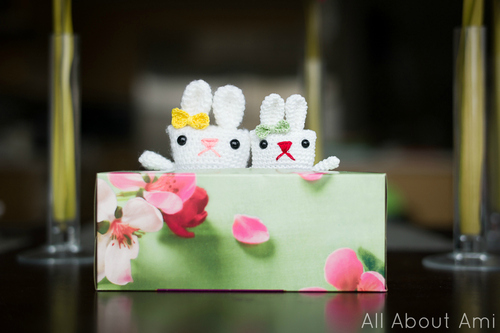 Our first Boxy Skirt bunny did go on a long journey to Guatemala!  I asked our friends to take a picture once they delivered the little bunny to their sponsor child, and here it is 🙂  Our friends had a very memorable, touching time meeting the children they sponsor in person, and they said that she loved it!  It's neat to think that something we crocheted is so far around the world and being loved by this special little girl.  I am so happy and proud of our friends for the work they do in showing God's love and grace to these children through Impact Ministries.  Can't wait for them to get back to hear more of their stories!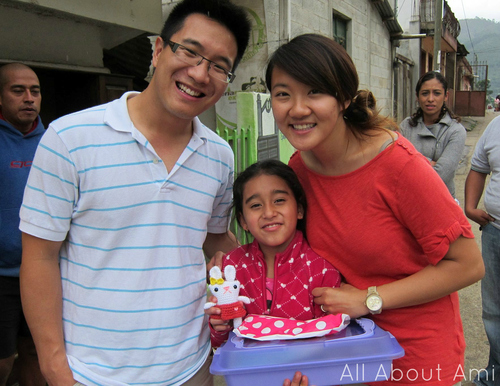 The Boxy Skirt Bunny pattern is a great, versatile pattern as you can use any colour for the bunny, skirt, and nose…you can add buttons, beads or bows to the ears or skirts, and you could make a wavy skirt, miniskirt or even shorts!  Making this into a little ballerina bunny by adding lace-up pointe shoes with a frilly tutu would be so cute too!  You could easily change the ears to make this into a Boxy Skirt Bear as well 🙂  The possibilities are endless!  Check out Minazaram's free pattern on Ravelry HERE.  Hope you liked seeing how we made ours!