I have LOVED rediscovering the beautiful art of knitting, in large part due to We Are Knitters!  Their kits come with the yarn, knitting needles, and pattern needed to make contemporary and gorgeous items.  I started off with a beginner project called the "Cucho Scarf" this past winter (see blog post HERE), and I also used their Peruvian wool to design my crocheted Moss Fringe Scarf (free pattern HERE).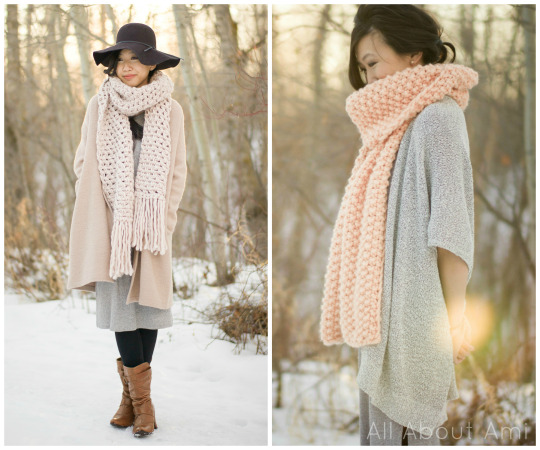 I was ecstatic to try knitting an item from their Spring/Summer collection since I had a chance to work with their beautifully soft 100% Pima cotton from Peru!    It really is some of the softest cotton I've ever worked with, and the colours they have available are gorgeous!  I decided to try their beautiful Bahia Sweater as I loved the length of the sweater and I knew it would look lovely paired with leggings (a long sweater + leggings is my go-to outfit during those cold winter months)!  Here I am excited to delve into my project and begin knitting with these cotton balls of goodness!  This particular kit comes with seven balls of the main colour and two balls of the contrast colour- you get to choose any colours you want!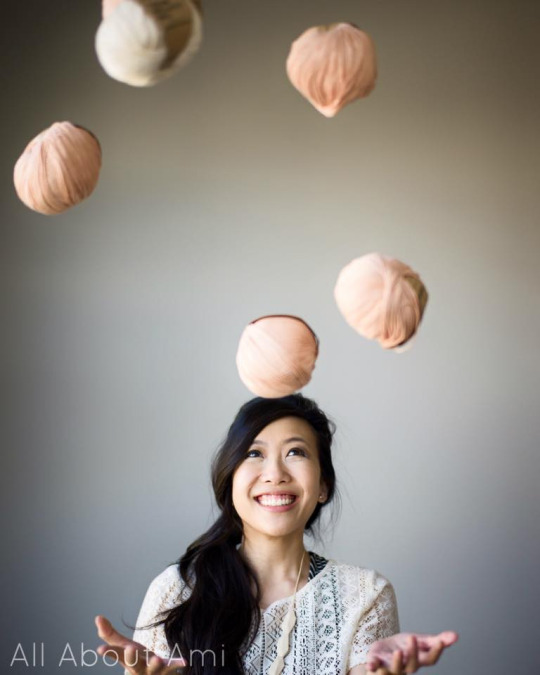 This sweater is knitted with double stranding, so you hold two strands of yarn together to increase the thickness.  It was neat knitting with smaller knitting needles compared to the 15 mm's of the Cucho Scarf.  The original pattern calls for most of the sweater to be in reverse stockinette, but I love the look of stockinette.  Thus, after I was done the ribbing, I just made everything stockinette!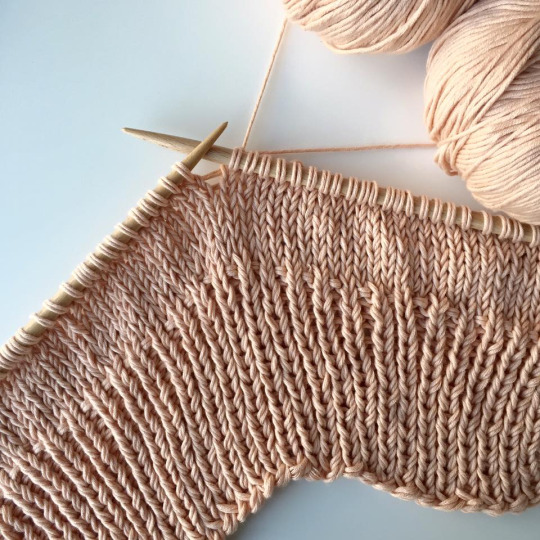 Adding the stripe with the contrast colour!  I love how you can choose any colours for your kits to really make it your own: I went with this beautiful Light Salmon and Natural colour!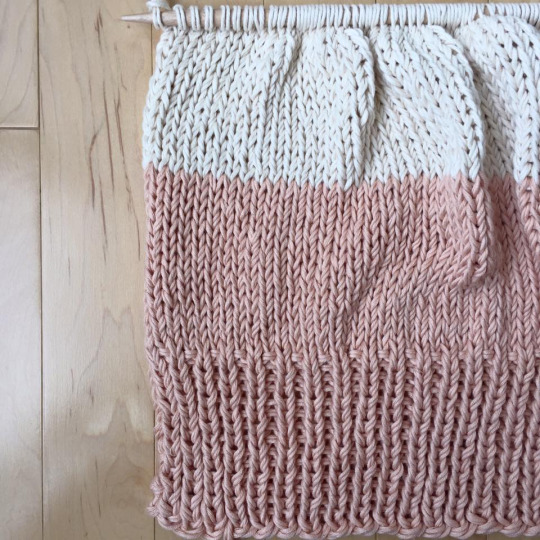 I was sooo happy when one panel was finally complete!  I loved imagining what my full sweater was going to look like, and the length was looking good!  Then, I had to repeat the same pattern and make the second panel!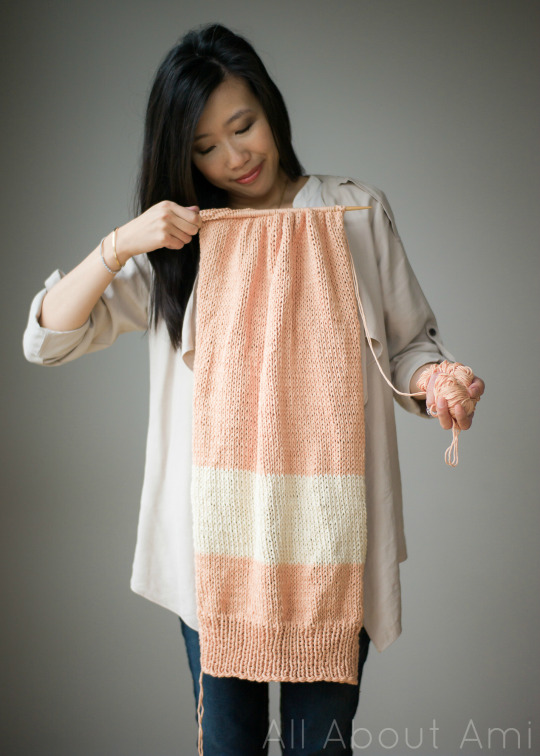 Knitting takes a lot longer than crocheting for me, so it took a while to complete this project.  Of course, I was designing other crochet pieces along the way too as I love having many projects on the go!  I enjoy having at least one knitting project and at least one crochet project to work on depending on what I'm in the mood for.  This was my knitting project for the past couple of months!  On a recent road trip back from Calgary, I took the opportunity to work on my Bahia Sweater!  I was done both panels and tackling the first sleeve which required gradual increases.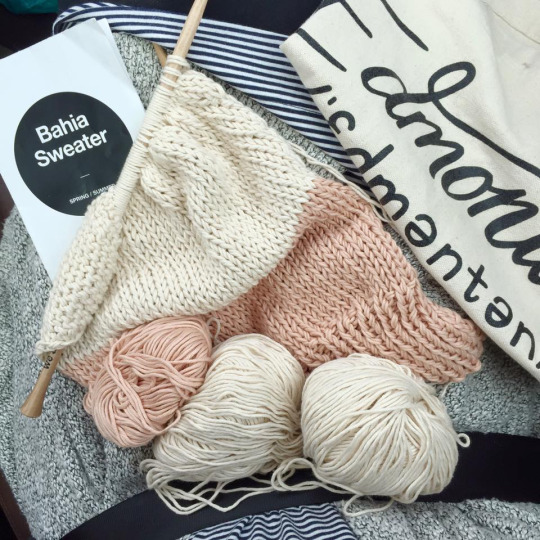 After completing both panels and both sleeves, the knitting portion was done!  I was surprised because I actually had two balls of the Light Salmon left and a decent amount of the Natural left as well.  I will use the remainder of this soft cotton wisely for a future project!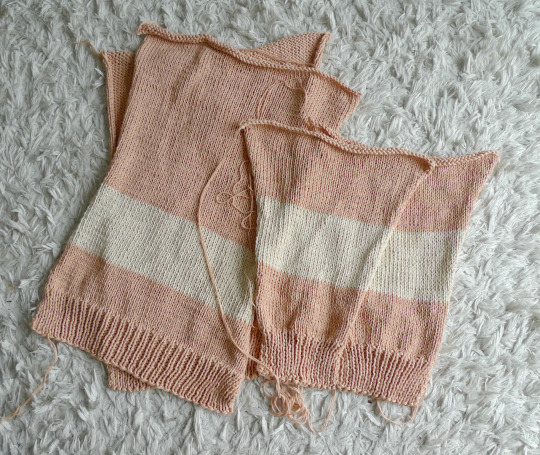 It was then time to seam everything together!  I really was itching with excitement as I was so close to trying on my very first knitted sweater!  I took great care in seaming the sleeves and panels together as I did not want anything to come apart after repeated wears.  I spent one whole evening sewing all the pieces together and felt such a great sense of accomplishment when it was complete!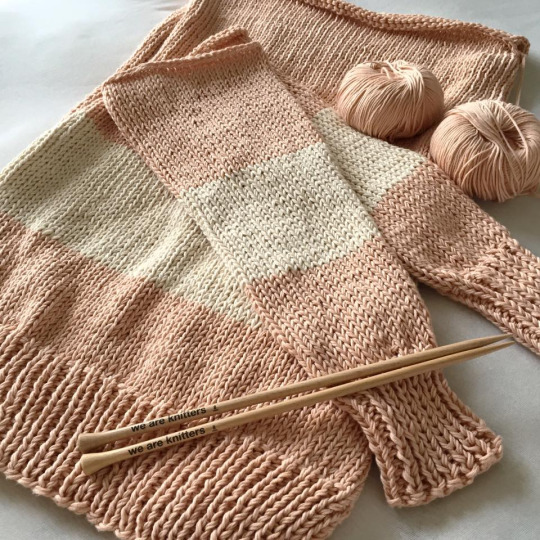 I sewed on the cute little "We Are Knitters" tag that comes in the kit as a finishing touch!  Since the front and back of this sweater look identical, this is a great way to indicate which side I designated to be the front!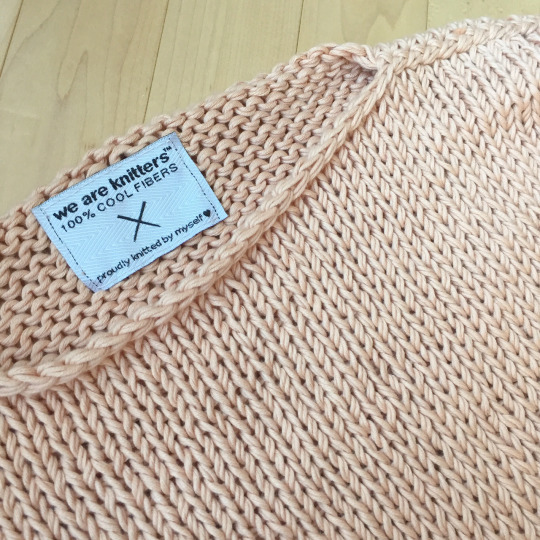 I was so happy when I tried this sweater on for the first time and it fit beautifully!  This particular kit is one size fits all, so I was unsure what the final sizing would be like.  It drapes gorgeously, is long enough to wear with leggings, and feels amazing against the skin since their Pima cotton is so luxurious and soft!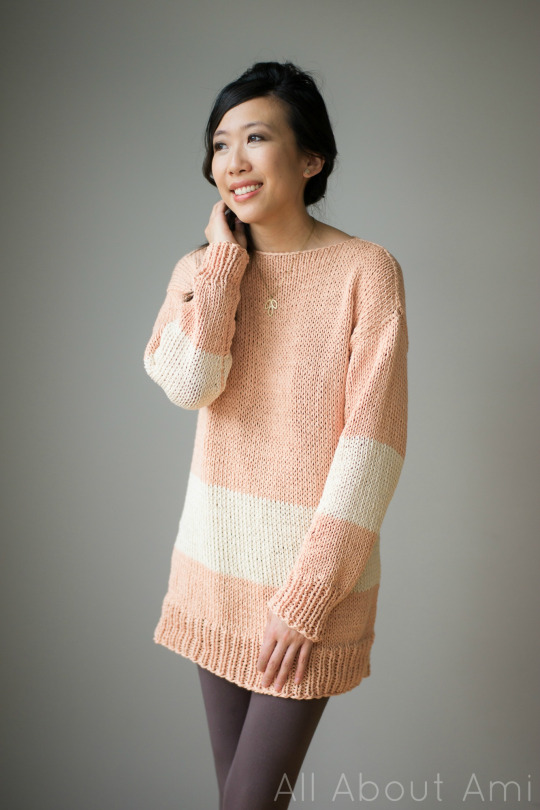 When I first started knitting this sweater, it was still chilly out.  However, it is now definitely too warm to wear this sweater out as we're approaching Summer!  I know I will get a lot of wear out of this sweater in the Fall and Winter months, and I am so happy that I have added this handknit pretty pink sweater to my wardrobe!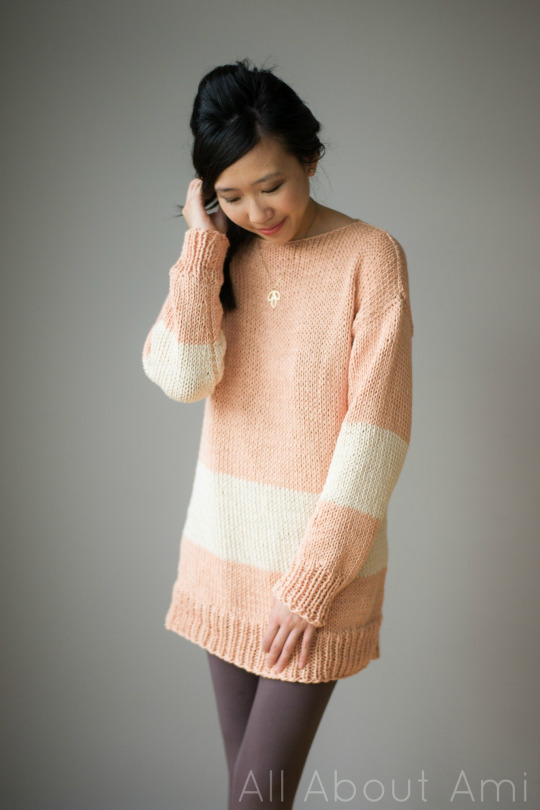 As we were taking these photos, Myla ran in and wanted to pose with me!  Isn't she such a little darling?  She is now 3.5 years old and growing up so quickly!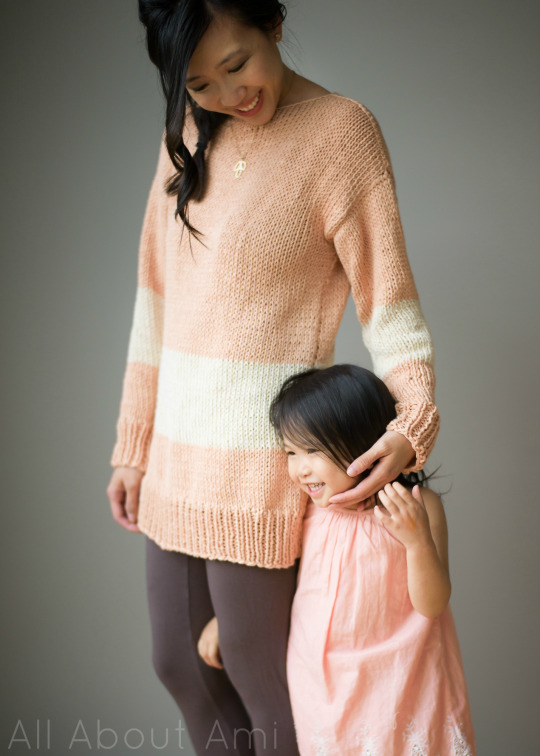 She is such a little lady who loves mermaids, princesses, and fairies!  She has also begun "crocheting" beside me when I'm working on my projects as she wraps the yarn around and around her hook!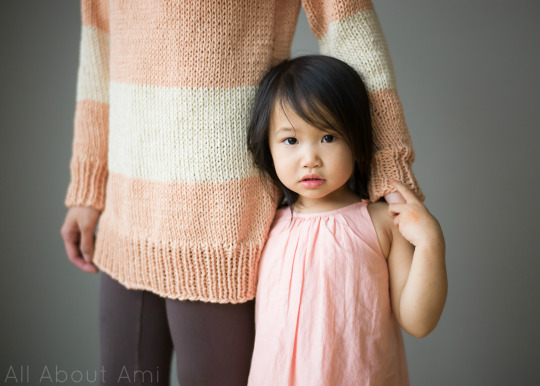 She is also a wonderful big sister to Brielle!  Our hearts burst every time we see them playing together and giggling nonstop!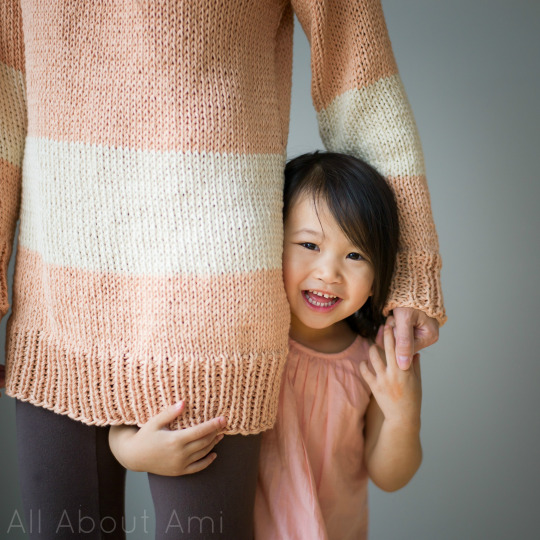 I only recently rediscovered knitting, and I am so glad that I was brave enough to tackle a sweater!  We Are Knitters kits make it so convenient since they include all the materials.  I intentionally chose an "Easy Level" sweater since I knew I could probably handle it after knitting my Beginner Level Cucho Scarf.  If you are new to knitting, I think this sweater is doable as the construction is very simple and only requires basic knitting and purling.  The sleeves require some increases, but other than that, everything is very straight-forward.  The videos on the We Are Knitters website are very helpful, and I referenced them numerous times!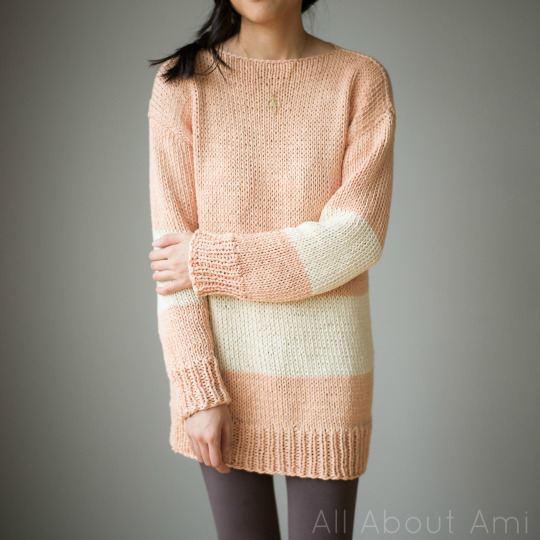 If you are interested in purchasing your own We Are Knitters kit, they have given me a 15% off coupon code for my readers: use "WAKABOUTAMI" at check out (good until June 16)!  Below are some of my favourites from their Spring/Summer collection that uses their Pima cotton: the Laguna Sweater, Acadia Sweater, Yellowstone Cardigan, and Abruzzo Sweater!  It's important to note that you can actually choose your sizing (S, M, L, XL) from their most recent Spring/Summer 2016 collection (see HERE) whereas items from their prior collections are one size fits all (like my Bahia Sweater)!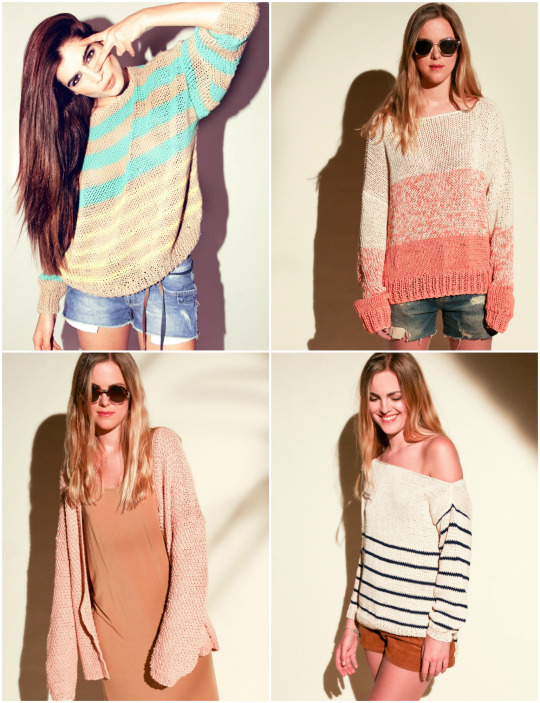 You can also enter to WIN a We Are Knitters Cotton Kit of your choice too!  To enter this GIVEAWAY, you must sign up for the We Are Knitters newsletter HERE (this is mandatory– if you've already done so in the past, you're good to go)!  Then, you can receive another entry by leaving a comment below telling us which cotton kit you would like to win!  You can receive further entries through Facebook, Instagram, and Twitter as well!  This giveaway is open to residents of the USA, Canada, and Europe and will close on Saturday June 11th at midnight MST!   Enter using the Rafflecopter widget below!  [Note: Sometimes Rafflecopter has difficulty loading: if you are unable to add your entries, please come back and try again at a later time or day!  Thanks for your patience!]
Note: Thank you to We Are Knitters for sending me this cotton kit to try!  All opinions expressed are 100% my own!