As I'm sure my fellow crochet and yarn enthusiasts can relate, it is difficult finding ways to store yarn.  When new projects, ideas, or patterns come along, there always seems to be a need to buy more yarn and different colours, and our stashes continue to grow and grow!  I myself used to store my yarn in a nice box, but it soon became brimming with yarn and I found myself just storing them in bags around my workspace.  This made it difficult finding particular yarns and colours as I would have to rummage through my box and bags, and I would often forget what I already had in my stash!
Two years ago I blogged about my workspace HERE and showed this picture of it below: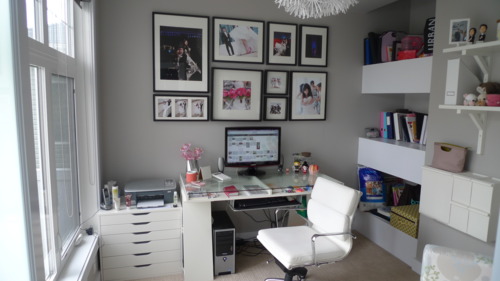 It is not quite as clean and immaculate as it once was (understatement of the year!) since Myla and I play in here and it is now filled with children's books, puzzles and toys.  I really enjoy being in my workspace as it is filled with natural light during the day and it came with some built-in shelving units that are great for storage!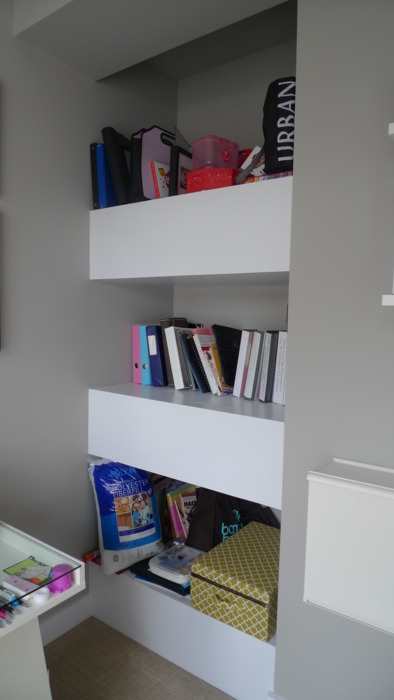 Here is a close-up of the shelving.  As you can see, the shelves are quite deep.  I decided to rearrange the contents of these shelves and move my binders upwards in order to clear out the middle shelf for my yarn!  The bottom shelf continues to store my craft books, fiberfill, embroidery floss and other craft supplies.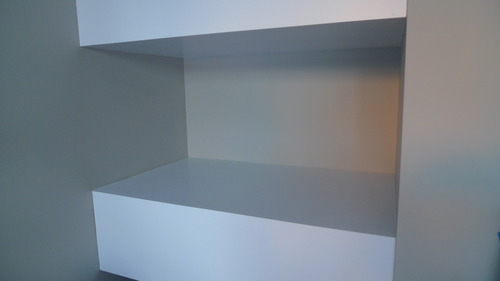 A deep and empty shelf all ready to be filled with yarn!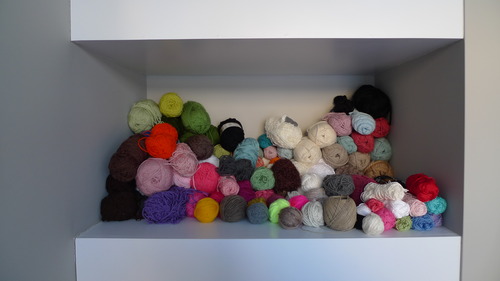 For a while I just placed all my skeins of yarn on the shelf like so!  However, there was still a lot of yarn getting lost in the back and underneath so I knew this wasn't a great solution.  It just looked like one big mess of yarn!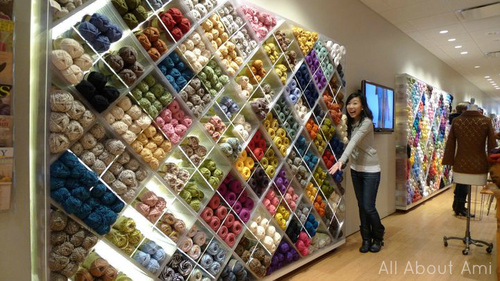 Four years ago we paid a visit to the "Lion Brand Yarn Studio" on our trip to New York City.  I had just rediscovered my love of crochet and began making my first amigurumi during the months prior.  I ended up starting my blog "All About Ami" during the following month in January 🙂 Visiting this beautiful studio was high up on my to-do list, and as soon as Ryan and I walked in, we were in awe of all the Lion Brand yarn displayed so beautifully!  It was a yarn lover's dream!  I hoped that one day I would be able to have something like this in our house…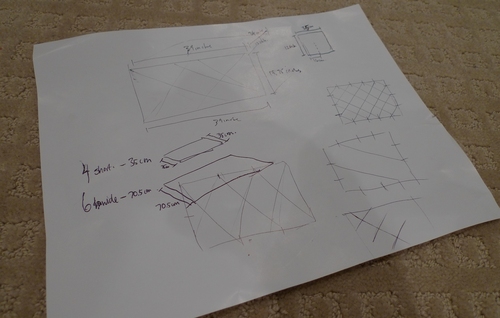 After I cleared my shelf, Ryan and I began brainstorming ways to display my yarn.  We looked up storage units such as wine racks and shoe and tie dividers but we knew that to get the perfect fit for our particular shelf, we would have to build our own dividers.  Ryan measured the height, length and depth of my shelf and did some calculations…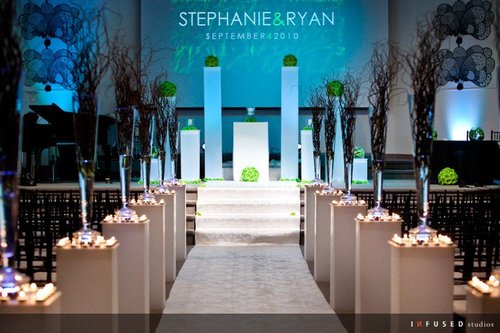 Ryan knew exactly what material he wanted to use!  Three and a half years ago, we planned our dream wedding and handmade as much as we possibly could….we had so much fun and had no idea that it was just the beginning of our crafting journey together!  Ryan actually made all the pillars you see in the photo above including the aisle pillars (on which the candles, vases and curly willows are sitting atop) and the various pillars on the stage.  He made them all using a special material called corrugated plastic!  Thus, Ryan was very familiar with this material and already had a lot of experience working with it…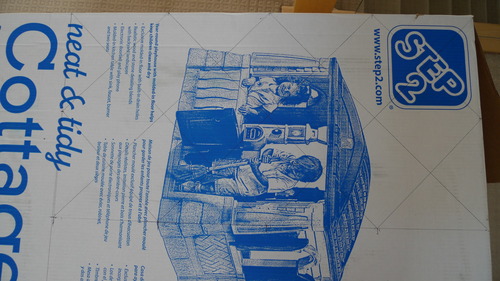 Ryan actually drew out the dimensions of my shelf onto a large box that we had from Myla's playhouse.  That way, he could map out the cross-sections and visually see how big each compartment would be.  He could then measure each diagonal line and see exactly how long we had to cut each piece of corrugated plastic!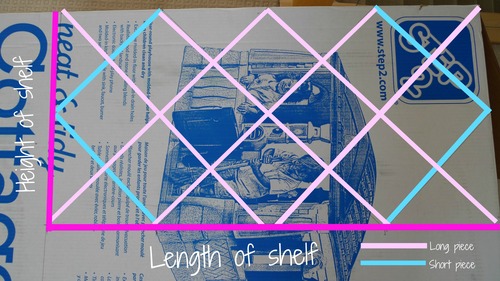 From this, we could see that we needed six long pieces (the light pink lines) and four short pieces (blue lines).  Remember that we are looking at our dividers straight on with this view.  Our measurements for each piece in this view equates to how long each piece should be.  The width of each piece should remain a constant as it equates to the depth of the dividers (as determined by your personal preference).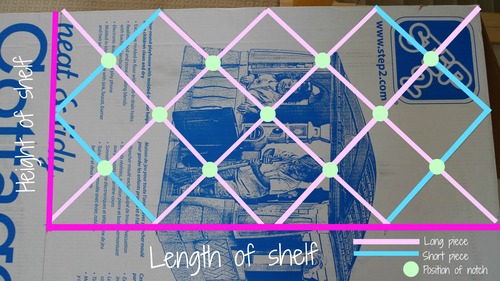 In addition, each piece needed to have notches made in them so that they could be later connected together.  A notch was needed wherever the lines intersected as represented by the green dots in the picture above.  As you can see, the short pieces (blue lines) each needed one notch while the long pieces (light pink lines) each needed three notches.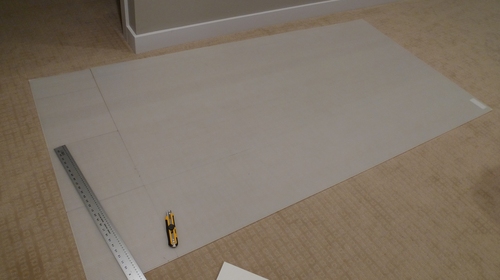 With our measurements in hand, Ryan drew out our lines and began dividing up our sheet of corrugated plastic into six long pieces and four short pieces.  One sheet was enough to make all our dividers and it costed about $22 from Home Depot (see HERE).
He used an exacto knife and ruler to cut each piece in order to make them as straight as possible!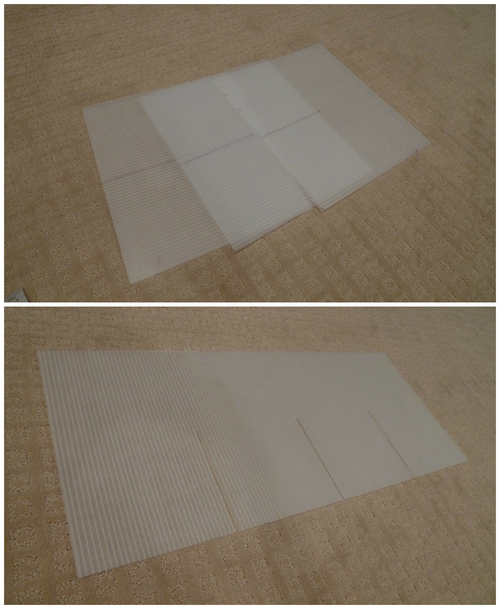 As mentioned above, each piece needed to have notches so that they could be later connected together.  Ryan told me the measurements and I marked off where each notch needed to be.  We made our notches 5 mm wide and cut them halfway up each piece.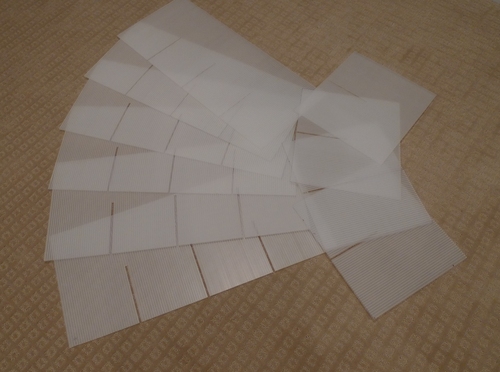 SIx long pieces and four short pieces all nicely cut up with notches!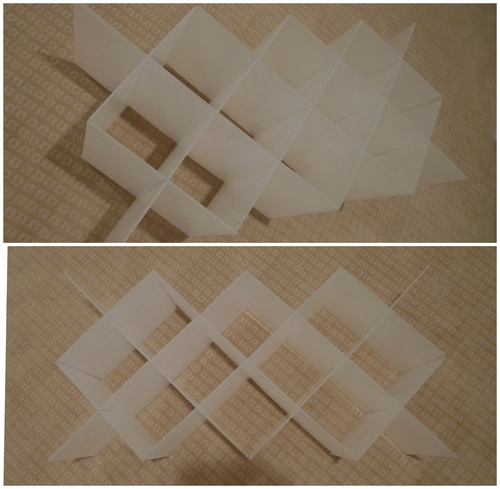 The next part was fun as we assembled all our corrugated plastic pieces together!  It looked great and only took us about an 1.5 hours to do (during one of Myla's Saturday afternoon naps)!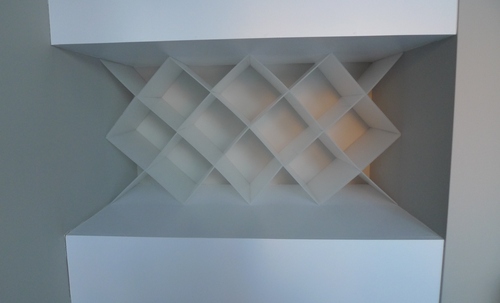 The moment of truth was next: Ryan carefully and slowly pushed our corrugated plastic dividers into our shelf.  It was a perfect fit as it was not too small and not too big!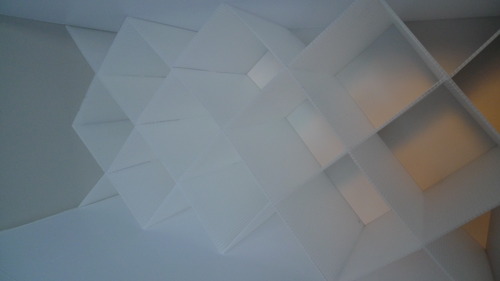 The compartments looked beautiful and I could not wait to begin filling them with all my yarn!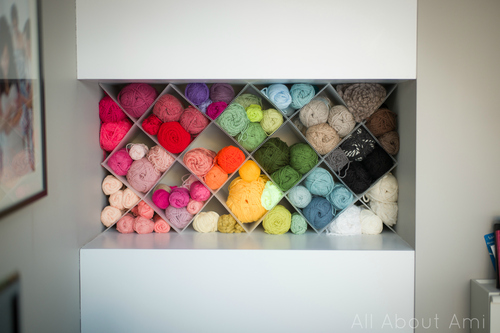 Ta-da!  Here is our finished product!  My yarn is organized by colour with each compartment able to hold quite a few skeins!  Now I am able to see what yarn I have very clearly which makes working on projects that much easier.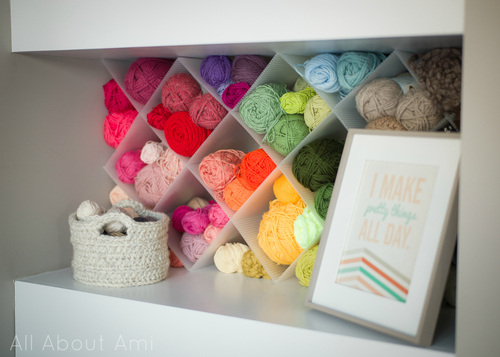 I also have quite a few little yarn balls left-over from projects and for now I store them in my crocheted basket (see blog post HERE).  If you're interested in my beautiful "I Make Pretty Things All Day" print, check out my friend Leonora's Etsy store called "Yellow Heart Art" HERE– she is an uber talented graphic designer with tons of beautiful items in her shop!  Isn't this just the perfect print for us crafters?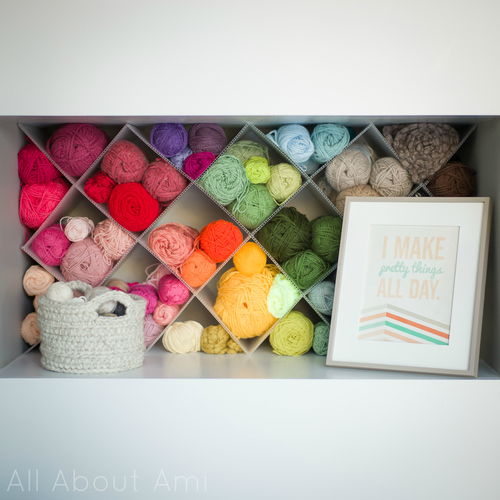 I absolutely LOVE my new yarn storage solution and it makes me so happy whenever I look at it!  It's such a beautiful and efficient way to store yarn, and I adore going to my shelf to choose the perfect yarn for my next project.  It just so happens that my friend Sarah and fellow crochet blogger of "Repeat Crafter Me" also blogged about her yarn storage this week, and the results are similar since we were both inspired by the "Lion Brand Yarn Studio"!  It's not the first time that we've been on the same wavelength for projects, and it's neat to see how similarly we think!  You can check out her blog post HERE and see how she also stored her buttons and other craft tools 🙂  In case you missed the post about my workspace, you can also check it out HERE to see where I store my other crafting supplies!
We enjoyed hearing about how you currently store your yarn on our Facebook, Twitter and Instagram!  We hope this gives you some inspiration on a cheap way to store your yarn and that you enjoyed seeing the step-by-step process!  It's great because you do not need to be incredibly handy with tools or a professional carpenter to make these shelf dividers as corrugated plastic is easy to work with!  Happy crocheting and yarn storing!