When I was asked if I wanted to review the new "Peanuts Crochet Kit" and host a giveaway on my blog, I happily accepted!  I know there are many Peanuts and Snoopy fans out there, and I was curious about these new amigurumi kits that I had recently seen on the market.  I have fond memories of reading the comic strips and watching "A Charlie Brown Christmas" on television growing up!
The Peanuts Crochet Kit has been put together by Kristin Rask and contains the designs of four amigurumi artists: Twinkie Chan, Denise Ferguson, Kandice Soraya Grote and Rachelle Smith.  It contains 12 patterns including Charlie Brown, Snoopy, Linus, Franklin, Lucy, Sally, Peppermint Patty, Pigpen, Flying Ace Snoopy, Schroeder, Woodstock and Marcie.  All the finished sizes of the characters range from about 3.5-5″ tall.  It also includes a bonus paper template for Snoopy's Doghouse.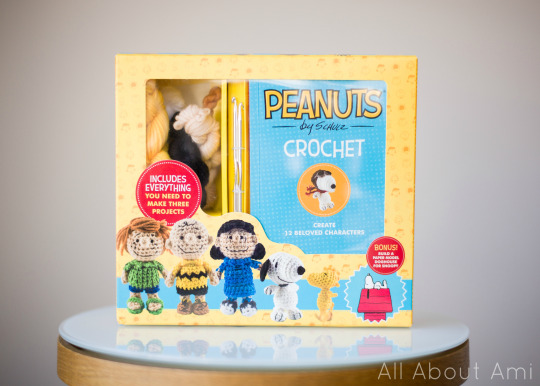 The kit states that it comes with everything you need to make three patterns in the book: Charlie Brown, Snoopy and Woodstock.  The kit itself includes:
2 crochet hooks:size 4.00 (US G/6) and size 5.0 (US H/8) (in the style of tapered Boye hooks)
fiberfill for stuffing (hidden beneath the book in the picture below)
a tapestry needle
black embroidery floss
5 yarns: yellow, brown, black, beige and white; feels like an acrylic level 3 yarn
Book with basic crochet technique instructions and 12 patterns with accompanying pictures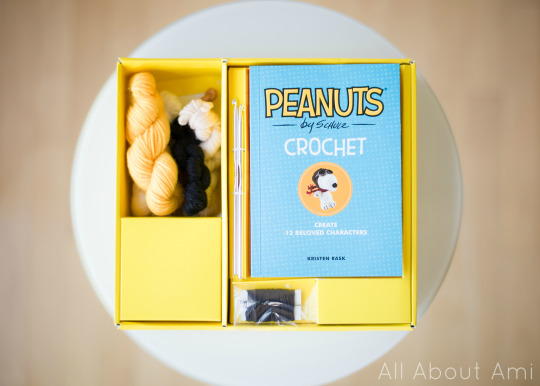 I thought I would give one of the patterns in the kit a try, and it was a no-brainer which character I would make: Woodstock!  I always thought Snoopy's avian sidekick was such a cutie with his funny way of communicating!  Rather than use the yarn provided in the kit, I went with my own yellow yarn in my stash as I had plenty left over from my Despicable Me Minion project from four years ago.  Thus, I used my Red Heart Super Saver yarn and my trusty ergonomic 3.5 mm Clover Amour hook to make this project.  I then began making this Woodstock which was designed by Twinkie Chan– I loved how the head shaped up!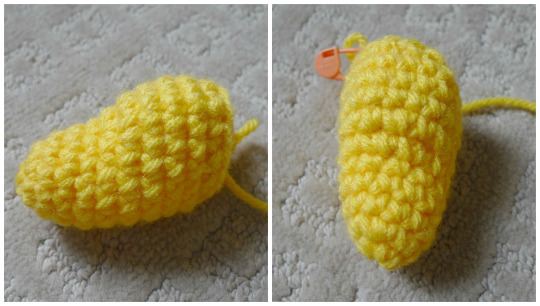 Ryan helped me embroider Woodstock's eyes!

The feathers were then surface crocheted ontop of Woodstock's head- I made them a bit longer than what the pattern called for.
Next up was the body- I also adjusted this a bit as I prefer a smaller body with a larger head for my amigurumi!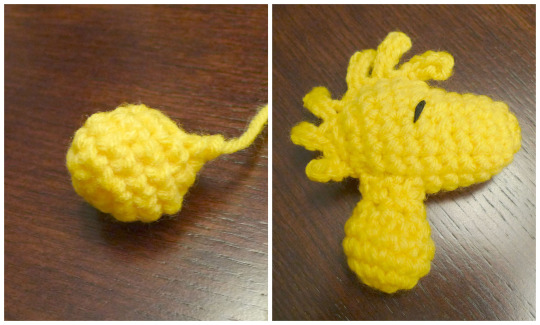 Then I crocheted the wings and attached them to the sides of the body.

The legs and feet were next!  Don't they look so funny by themselves pre-attachment?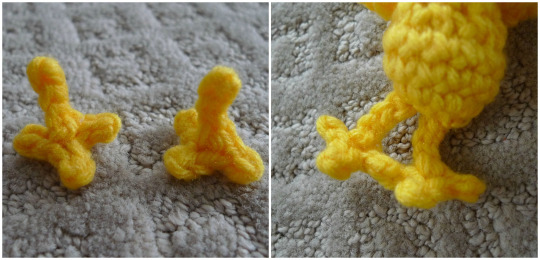 Lastly, I crocheted the tail and attached it to Woodstock- this was a very quick project!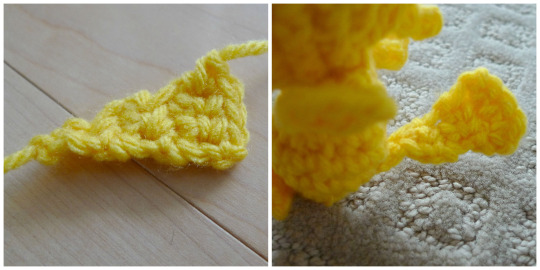 Here is our completed Woodstock!  I love how he turned out 🙂  You all were so good at guessing who he was with the sneak peek I posted!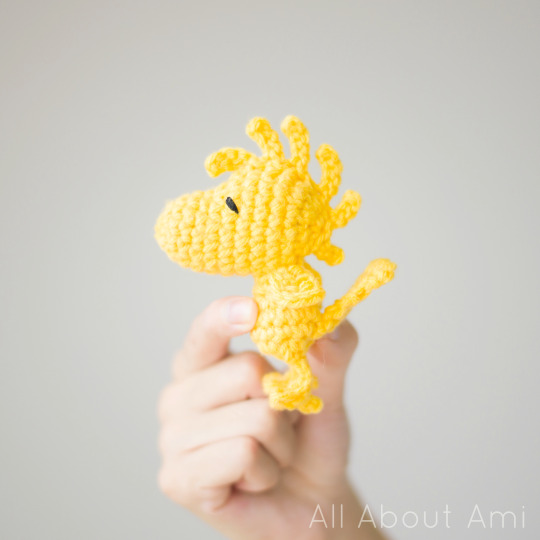 How amazing is it that we as crocheters can bring our favourite characters from cartoons, video games and movies to life with our yarn and hooks?  Yay for the art of amigurumi!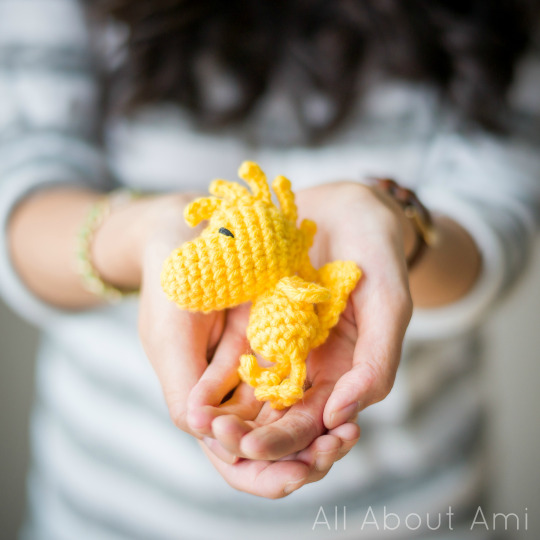 Woodstock is such a cute little bird with so much personality!  He is definitely a must-make if you're a Peanuts fan 🙂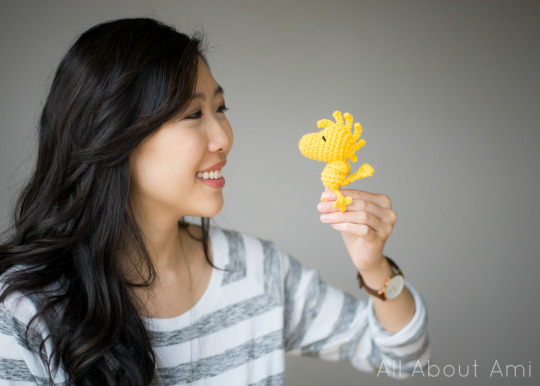 These crochet kits have become very popular recently as there is a Star Wars kit, a Wizard of Oz kit, and Disney kits (I saw many of these crochet kits being sold at Costco recently).  It's wonderful how these kits include the patterns as well as some of the basic materials needed to make these amigurumi, particularly if you are new to this art and you don't know where to begin.  Here are some of my thoughts about this Peanuts crochet kit in particular: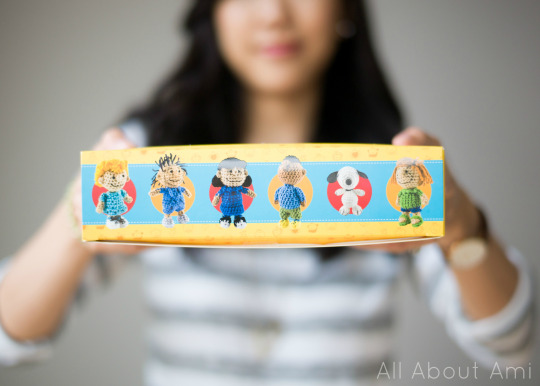 The yarn included in the kit is on the lighter side (I would say closer to a level 3 than a 4) even though the patterns call for worsted weight yarn.  In my personal opinion, the hooks included in this kit are quite large for the given yarn since you typically move a couple hook sizes down when making amigurumi to ensure you get tighter stitches and so that the stuffing is not visible.  However, this is personal preference, and if you are newer to amigurumi, it is definitely easier to work with a larger crochet hook.  And of course you are free to use whatever hook you want if you already own a range of hook sizes!
Some reviewers on Amazon stated that the yarn included was not enough to make 3 projects.  If you are serious about making many of these characters included, I would recommend going out and buying your own yarn so that you don't run out halfway during a project and so that your characters all have a consistent look.
These patterns may not be geared to beginners as some include higher-level techniques such as surface crocheting, doing French knots (which is how the eyes are created instead of using safety eyes), embroidering features such as the smiles, and attaching the hair.
I really like Twinkie Chan's designs (Charlie Brown, Sally, Peppermint Patty).  However, I feel like there are some inconsistencies in some of the character designs overall since four separate artists made the patterns.  There is technically a "right side" and a "wrong side" of amigurumi (see my blog post HERE)- it is personal preference and up to each artist which side they like to have showing outwards.  In this kit, 3 of the artists used the "right side" while one of them used the "wrong side" which gives two of the patterns a different look compared to the others (the stitches and texture look different depending on which side is facing outwards, and the sizing also turns out differently).  I think having one artist would give a more cohesive look since they are all "Peanuts" themed or perhaps the same base pattern could be used for the heads or bodies.  For example, Mei Li Lee, author of "Hello Kitty Crochet", gave all her Sanrio characters a similar look and feel since she has a "Basic Body Part" section with each character having slight variations.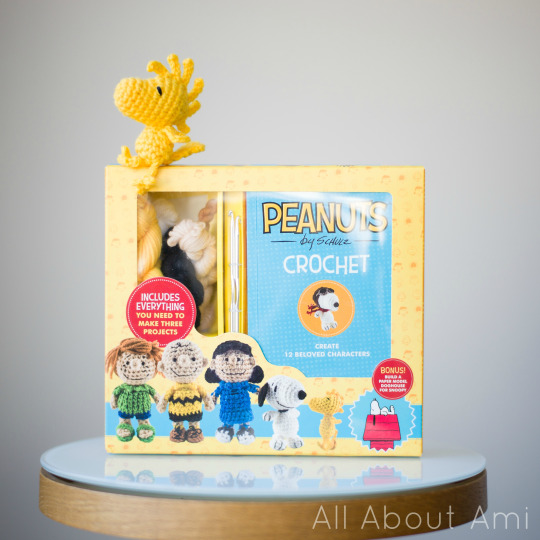 If you are a Peanuts fan, you will enjoy being able to create so many beloved characters, and this is just in time for the Peanuts movie coming out on November 6th too!  If you are interested in this kit, you can check out more reviews on Amazon HERE (overall it is rated very highly with 4.4 out of 5 stars)!  One reader will be able to win this Peanuts Crochet Kit for themselves in a GIVEAWAY!!!
Please enter this giveaway using the Rafflecopter widget below- this giveaway will close on Sunday, September 20th at midnight MST and is open WORLDWIDE.   If you want to leave a blog comment as one of the entries, let us know who your favourite character in the Peanuts series is!   I hope you enjoyed seeing the making of my Woodstock and hearing about this fun kit!  [Note: Sometimes Rafflecopter has difficulty loading: if you are unable to add your entries, please come back and try again at a later time or day!  Thanks for your patience!]