Ever since I took up crocheting again, I wanted to make myself a hat. Crocheting amigurumi is fun and all, but once in a while it's nice being able to wear something you've crocheted rather than having it sit on a shelf 🙂 Crochet Pattern Central has a great directory of free hat patterns here. I wanted to find a pattern for a modern, trendy hat, and after looking at countless photos, I found this absolutely beautiful pattern found HERE by Vicki Howell for CARON Yarns. The "Urban Jungle" is a slouchy beanie that is fairly simple to make because it essentially uses one stitch: the puff stitch! Once I learned how to do the puff stitch (see this video HERE), I became obsessed with it and made several other items using this beautiful stitch. Puff stitches look gorgeous with their texture and staggered rows. Since I'm used to making amigurumi with only the single crochet, it was nice learning and using something so different 🙂
Before getting to the puff stitches, however, I needed to make a ribbed band. The ribbed look is created by crocheting in only the front loops. In Vickie's pattern, she provides instructions on how to make a small/medium hat or a large/extra-large hat (number of stitches required for larger hat in brackets in her pattern). I went with the large/extra-large instructions because I notice that many hats sold in stores are a tad too tight for me. That's one of the benefits of crocheting your own hat! You get to customize the size PLUS the colour 🙂 I decided to go with this beautiful mustard colour (Lion Brand Vanna's Choice in Mustard) which I thought would contrast with my hair nicely and still be easy to match with given its earthy tone.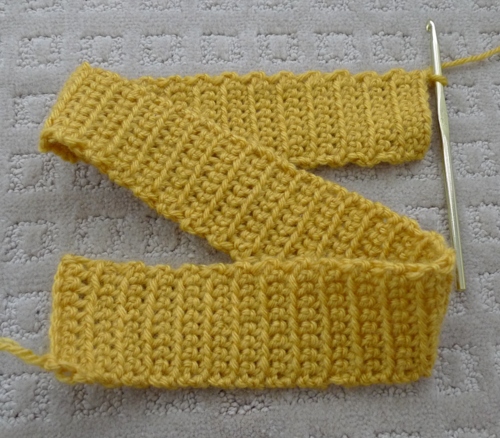 And so, once the strip measured about 22″ (56 cm), I sewed the short ends together to form a band.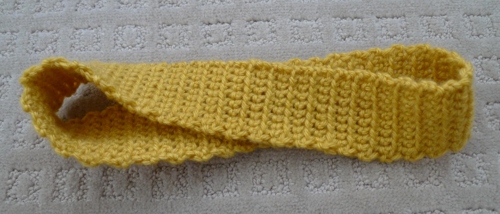 Next I worked single crochets around the edge of the band. Then came the fun part: the puff stitches! I continued with these puff stitches row after row.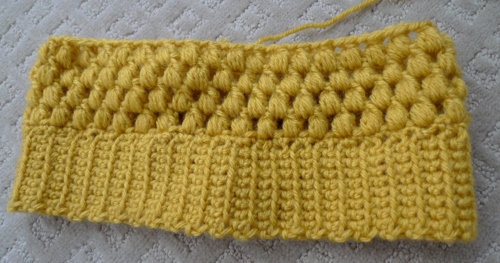 Aren't the puff stitches gorgeous? I love the texture!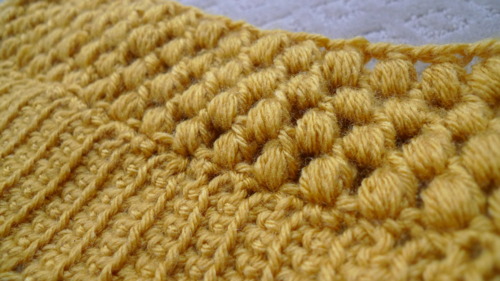 About 16 rows of puff stitches and one and a half balls of yarn later, I was ready to close off the top of the hat!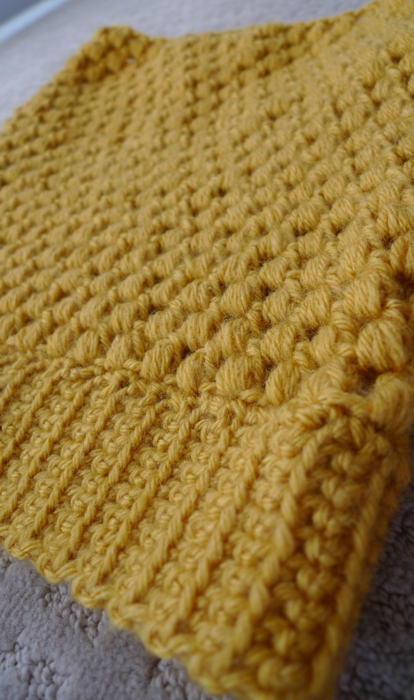 You close off the top of the hat by pinching the edges and single crocheting or slip stitching them together in a star formation. Alternatively, you can use a tapestry needle and weave a piece of yarn back and forth through the top of the stitches and pull tightly- see a video demonstration of this below!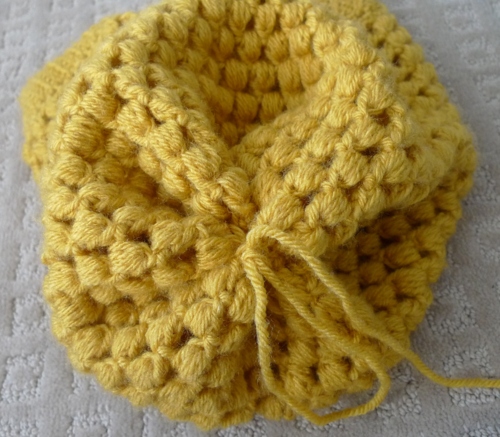 Here is my hat all seamed up! I love the look of the scrunched-up, gathered ends 🙂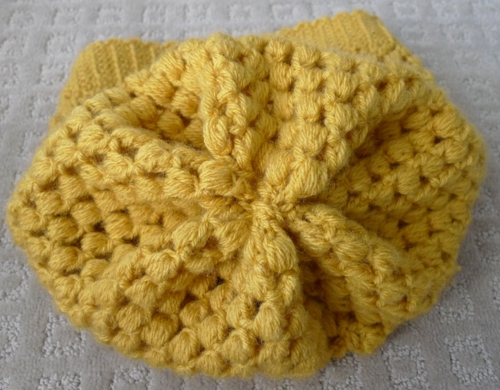 By now I was itching to try it on…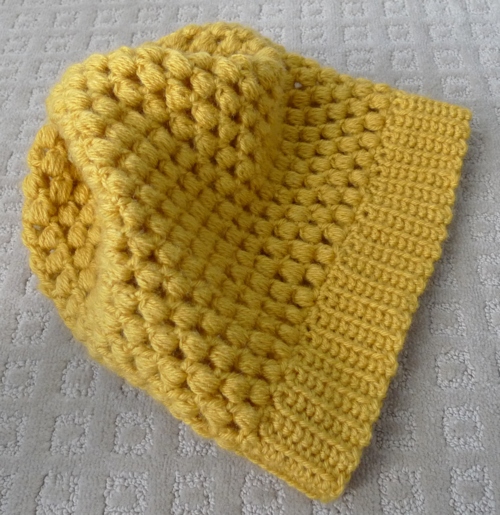 So we did a little photoshoot with Ryan as my photographer! In addition to reading craft blogs, I'm an avid reader of numerous fashion blogs, so I took this opportunity to style some outfits to show off my brand new Urban Jungle slouchy beanie 🙂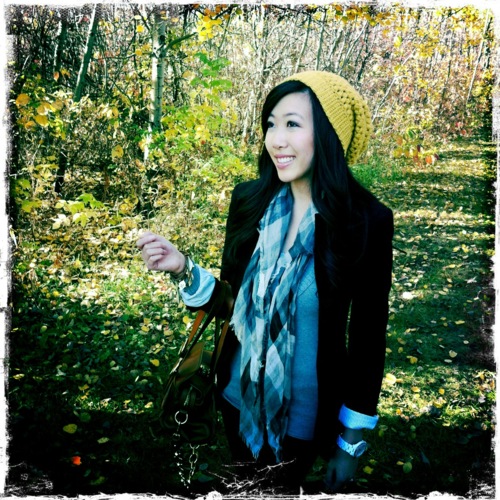 I thought this old fence had so much character- I had to pose beside it!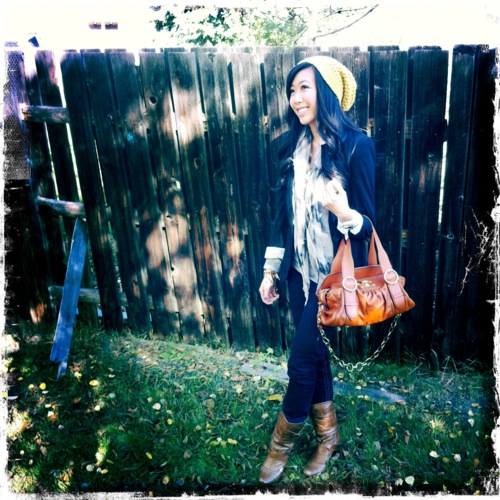 In case you're wondering, we used the Hipstamatic app for the iPhone to take these pictures. I love the vintage feel it gives to photos 🙂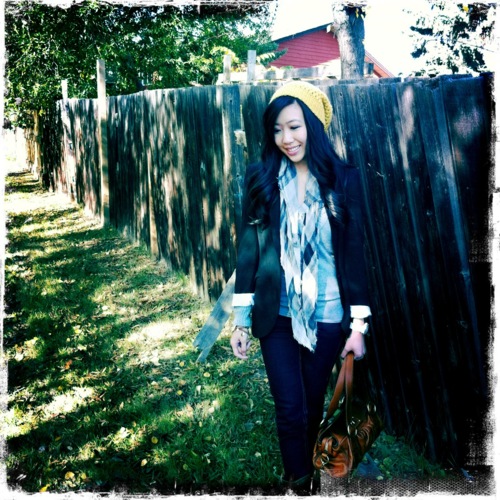 I wanted to capture the beautiful fall colours of our surroundings before winter came! I'm so glad we did because we had our very first snowfall this past weekend. Doesn't my hat complement the fall colours beautifully?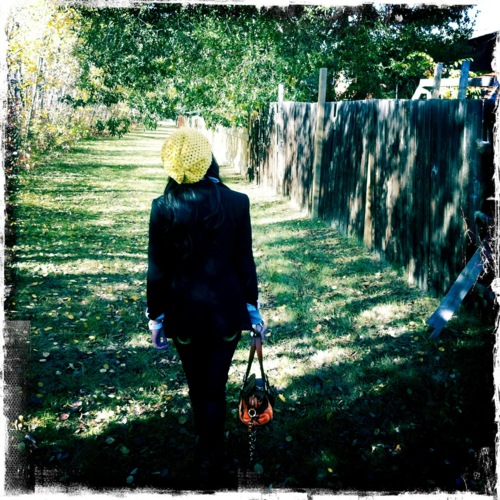 I absolutely love the slouchiness of this hat! It feels very modern with a touch of grunge…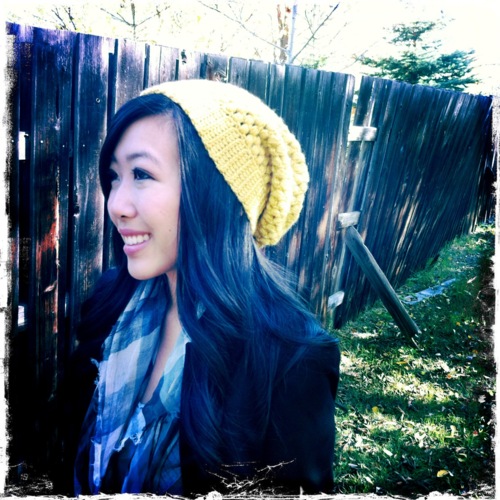 (Blazer: Zara, Sweater: American Eagle, Scarf: American Eagle, Jeans: True Religion, Boots: Aldo, Purse: Marc Jacobs, Hat: Stephanie Jessica Lau & Vickie Howell, heh heh).
My sister Ashley liked my hat so much that she wanted one for herself! We went and chose this purple yarn and I quickly whipped one up just for her 🙂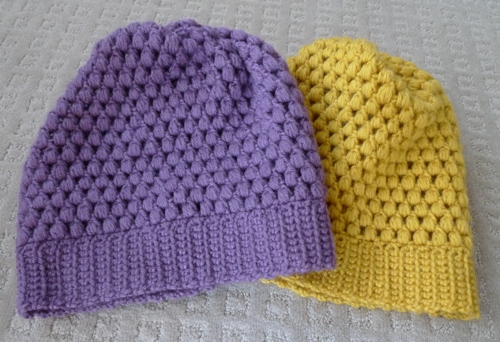 And we did another photoshoot! We thought it'd be cute modeling it together as Urban Jungle twinsies 🙂 I love this trail covered with leaves…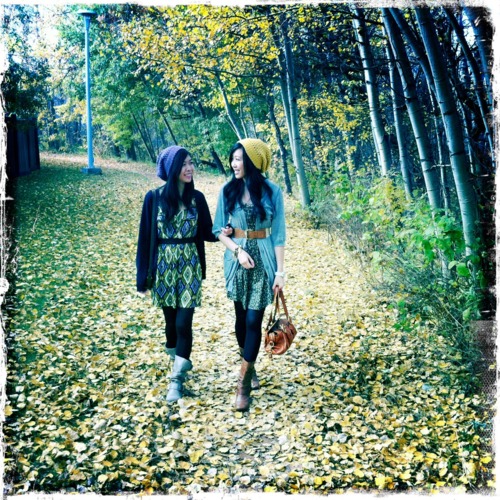 Ryan said we also looked like garden gnomes, haha…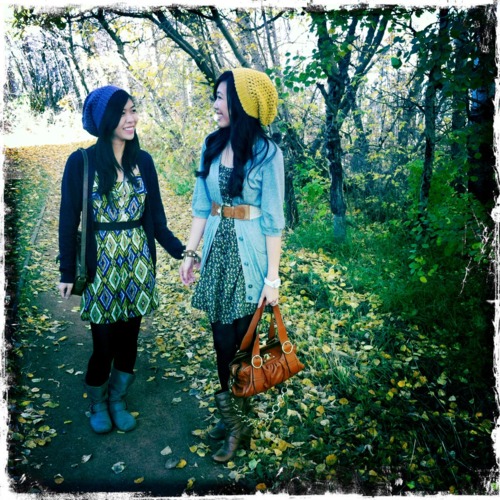 (On Ashley, Dress: Forever XXI, Sweater: Forever XXI, Boots: Aldo, Purse: Accessorize. On me, Dress + Belt: Papaya, Sweater: American Eagle, Boots: Aldo, Purse: Marc Jacobs, Bracelet: H&M)
I really think these hats are gorgeous from the back..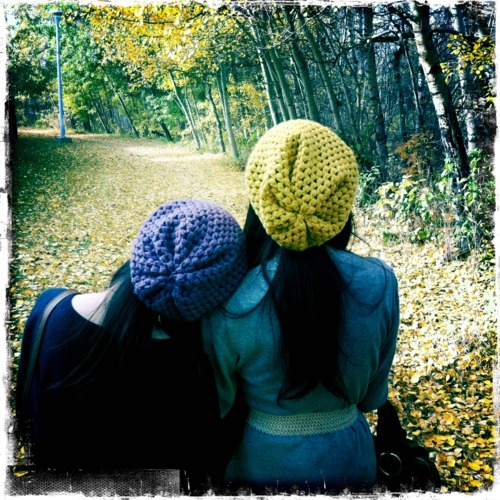 Funny story: my brother Corey came along with us on this photoshoot and hopped in some of the pictures…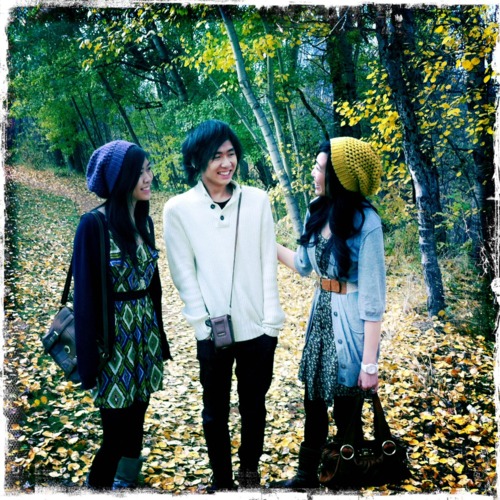 We took a few pics without our hats and told Corey to hold them for us. We were joking around a bit, saying it'd be funny if Ryan and Corey wore our hats. Corey ended up putting on Ashley's hat and looked FANTASTIC in it! I told him he looked like he stepped out of a Japanese magazine. He's totally rocking the Urban Jungle beanie if I do say so myself. Who knew it'd look so great on guys too?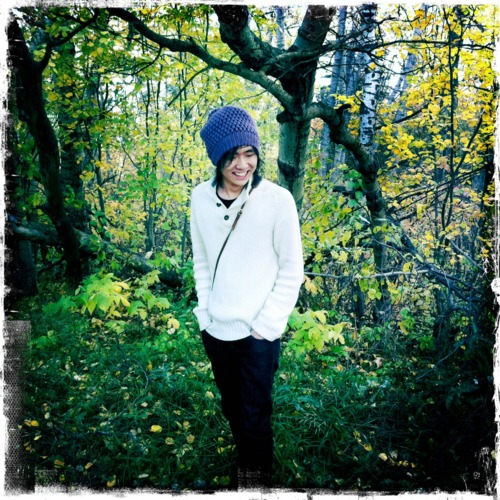 So then of course Corey requested I make one for him, so we went back to the yarn store and picked up some of this beautiful taupe yarn.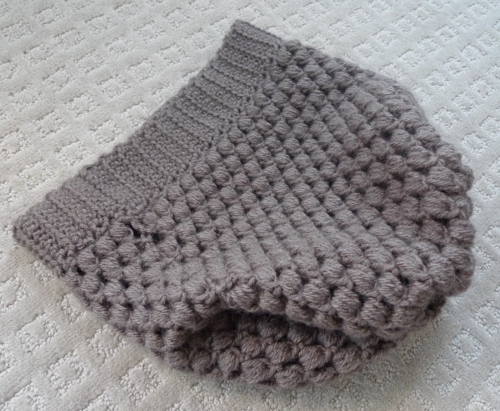 Try making these beautiful hats for yourself or perhaps for a loved one! I think they'd make wonderful Christmas gifts, don't you? And now you know both women AND men can rock these beanies 🙂 Once again, the free pattern can be found HERE. Now you have a very stylish way to keep warm, and you can proudly say that you made this hat yourself if anyone asks! The materials I used for this project can be found below!


[Update: I've made a Puff Stitch Scarf that you can crochet to match with this Urban Jungle Slouchy Beanie! Get the free pattern HERE!]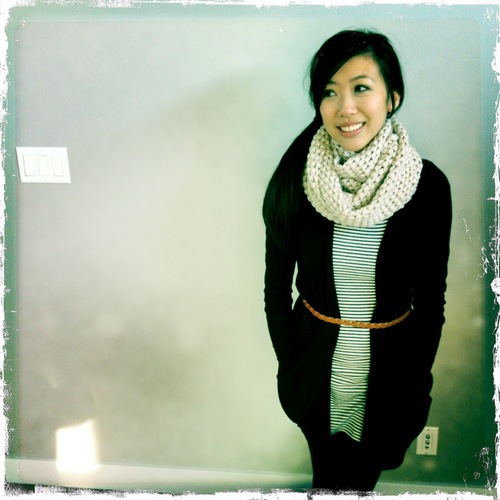 I've also designed a "Jumbo Puff Stitch Cowl" with bulkier yarn that you can check out HERE! I also show you how to achieve a nearly invisible seam when working puff stitches in the round so that your seam does not slant towards the right!