Amigurumi lovers, I have a treat for you!  I would like to show you a crochet book put together with plenty of love and hard work by two individuals from Calgary, Alberta, just a few hours south of where I live!  Phillip Ha and Jeff Wiehler are the masterminds behind "
The Crochet Wildlife Guide
", a complete illustrated guide to amigurumi wildlife from around the world!  This book contains 12 unique designs geared for beginners to experts with plenty of technique and assembly illustrations.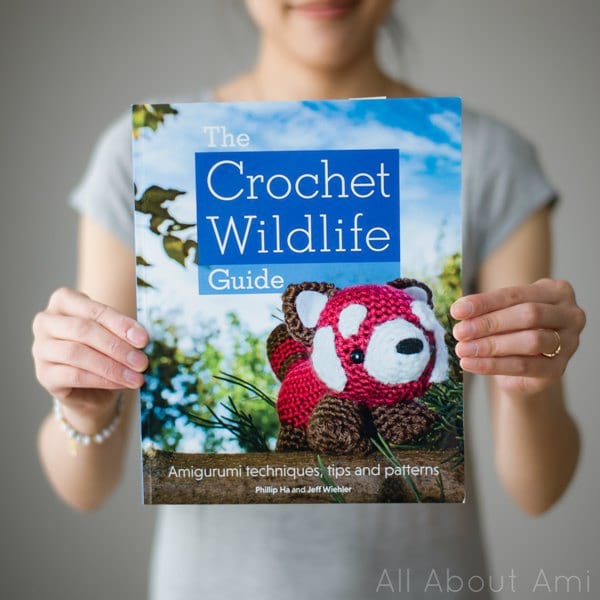 Phillip (left in picture below) is a teacher who started crocheting in 2011 and was originally a knitter- he tried to knit a Pokemon named Umbreon with double pointed needles but was not happy with the result.  Thus, he browsed around online and came upon a crochet pattern for the same Pokemon- he did not know how to crochet at the time, but he read every tutorial he could find!   Phillip mastered the magic ring and through much perseverance, he crocheted his first Pokemon!  He came upon my blog and even crocheted
my Dragon
!  Phillip became obsessed with amigurumi and continued crocheting his favourite Pokemon while learning new techniques and experimenting to create patterns of his own.  This is exactly how I started to design my own amigurumi as well: I worked through others' patterns, added new techniques to my repertoire, and when I became confident in how to create different shapes, I started bringing my own designs to life!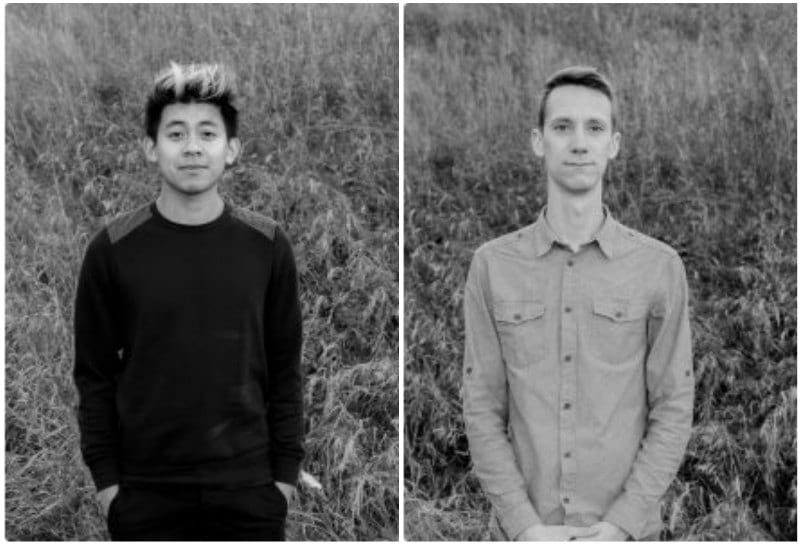 The idea to write the book was actually Jeff's idea- Jeff is a writer and communications specialist.  Jeff and Phillip talked about designing patterns for animals that are not commonly found in crochet books.  With Jeff's background in writing and layout design, they embarked on putting their book together!  Their goal was to make a beginner-friendly book that showed readers tips and techniques with plenty of pictures and explanations, thereby taking away the feeling of intimidation that some people might feel about learning to crochet amigurumi.  Both Jeff and Phillip have science backgrounds and are big animal lovers, so they wanted to include some small details in the book, such as the Latin name and interesting facts about each animal.  They wanted the pictures in their book to show the animals in their natural habitats, so Jeff and Phillip traveled all over Southern Alberta and British Columbia to take photos during their camping and hiking trips!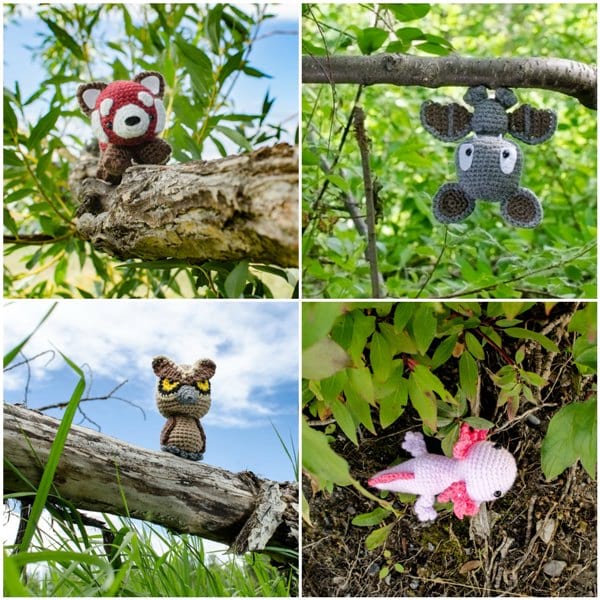 The Crochet Wildlife Guide
is a collaboration of Phillip and Jeff's skills!  Phillip designed all the patterns, crocheted all the pieces, and developed all the tutorials.  Jeff did the photography, layout design, and researched how to print and publish the book.  This was a year long project, and they ended up publishing the book themselves and printing the books locally in Calgary!  The 12 unique designs included in the book are:
Fennec Fox, Rabbit, Brown Bear, Red Panda, Mountain Blue Bird, River Otter, Flying Squirrel, Raven, Grey Bat, Axolotl, Great Horned Owl, and Three-Toed Sloth
.  They are all very adorable, and I've always admired Phillip's style.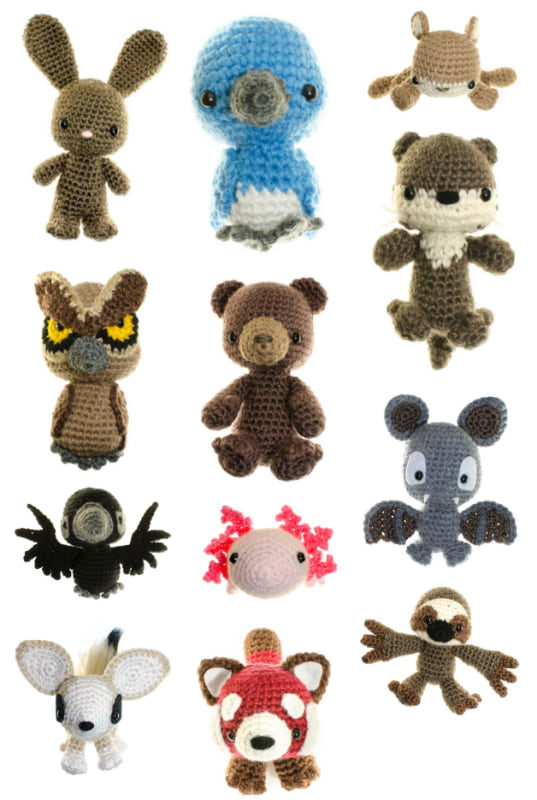 The patterns are clear and easy-to-understand with helpful process pictures and instructions along the way.  I love how Jeff and Phillip took pictures of their amigurumi in nature during their hikes- I wonder if there were any curious onlookers!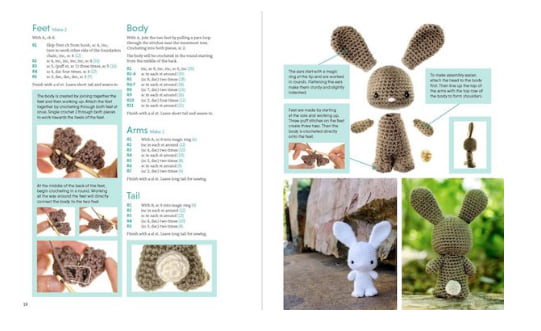 The Flying Squirrel caught my eye as I love how he is lying flat on his belly with his limbs and wings extended outwards!  I enjoyed working through Phillip's pattern, and the parts were quick to work up!  Here are some process pictures of my Flying Squirrel!  Look at this adorable little face!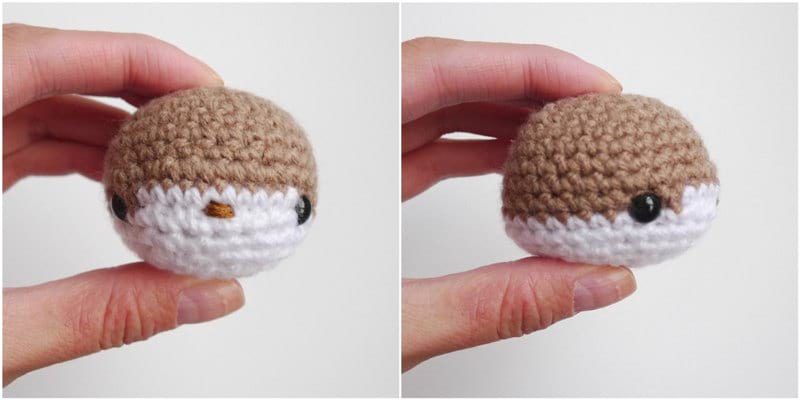 All the parts crocheted and ready to be attached!  Amigurumi look so cute in this phase when they are ready to be brought to life!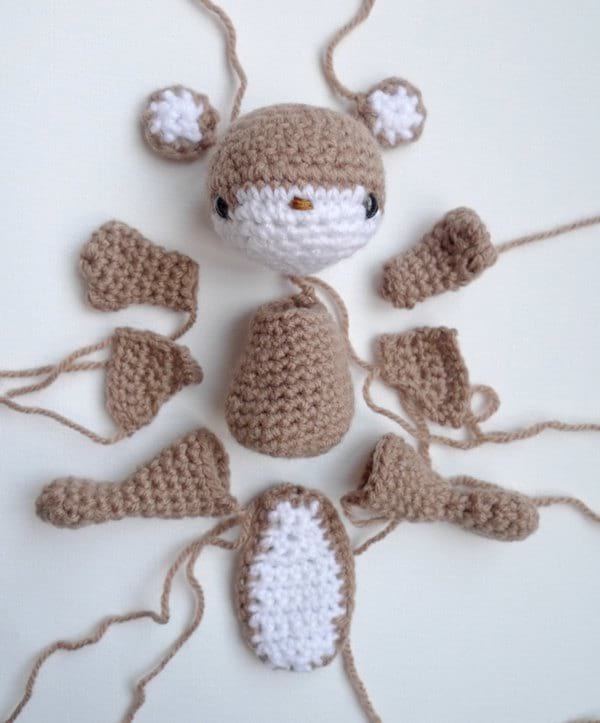 Typically the animals I make have arms and legs….it was neat how this squirrel had wings!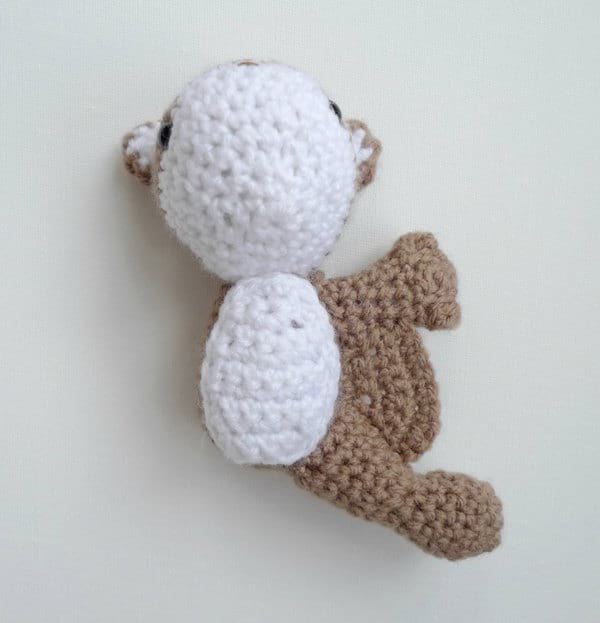 Here is our finished Flying Squirrel!  I think he is so cute, and I love how he is lying flat on his belly!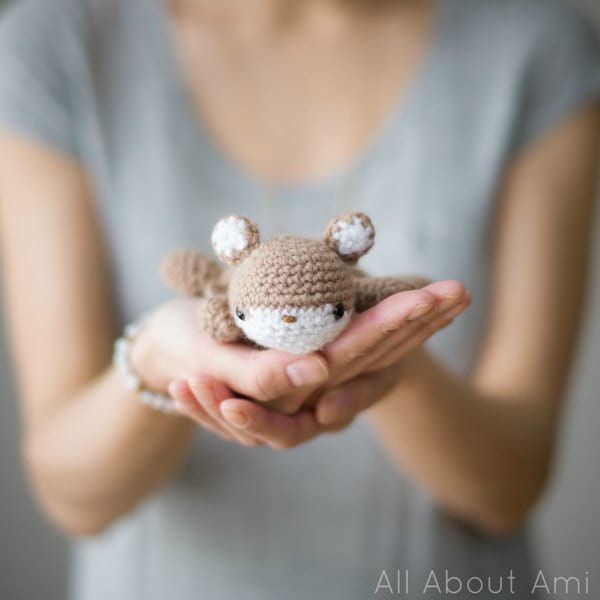 The girls love flying him around in the air!  Myla actually brought this little guy for show and tell, and the other children thought he was so cute!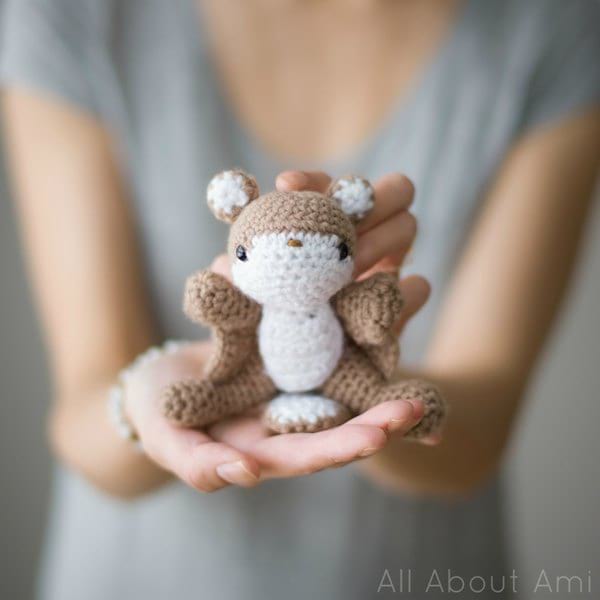 There are definitely some unique animal designs that you will not be able to find in any other amigurumi book!  I love the facts about each animal and the photos depicting the amigurumi in their natural habitat in the wild!  If you are an animal and wildlife lover, I highly recommend you check out Phillip and Jeff's book!  "
The Crochet Wildlife Guide
" has 12 clean, adorable, and easy-to-understand designs!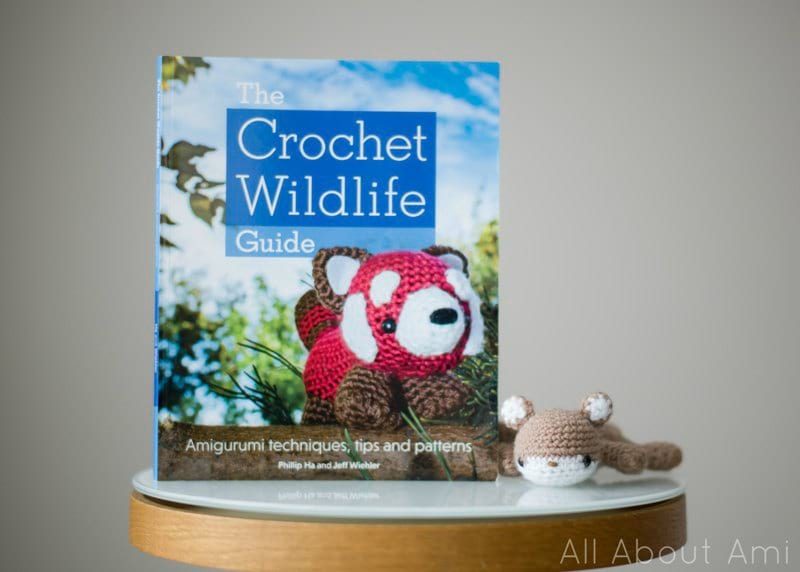 *You can purchase this book on
Amazon HERE
and on
Etsy HERE (digital copy)!
  The digital copy is very well-priced at only $7.99 Canadian for 12 patterns!  You can also check out the Crochet Wildlife Guide website
HERE
which has some helpful resources, videos, and a free pattern when you sign up for their newsletter!  We are partnering together for a
GIVEAWAY
!!!  Three winners will each receive a
digital copy of "The Crochet Wildlife Guide"
so you can try making your own unique animals!
***To enter, please leave a comment below stating what animal you are most excited to crochet from The Crochet Wildlife Guide (e.g. red panda, flying squirrel, sloth, etc)!  This giveaway is open WORLDWIDE and will close on Sunday, April 15 at 8 PM MST!  You can also enter through Instagram and Facebook for more chances as we will be choosing one winner from each platform!
Follow along with Phillip's work on his website HERE where he posts free amigurumi patterns, his Sir Purl Grey Etsy shop HERE and his Instagram (@sirpurlgrey)!  Interesting fact: I actually met Phillip in person years ago when he and his friend recognized me at the Edmonton Expo!  Myla had fallen asleep on me as we were sitting at a table, and it was so amazing chatting with them and meeting fellow amigurumi lovers in person!  I love how years later, I can now review Phillip's book!  You can also find Jeff's website HERE!
Note: I was provided a copy of "The Crochet Wildlife Guide" for review!  All opinions expressed are 100% my own!