Twinkie Chan is the queen of whimsical and cute crocheted food, and when I came across her "Swirly Cupcake Hair Clips" pattern and video tutorial, I was immediately intrigued.  I absolutely loved the swirly frosting ontop and had always wondered how to achieve this neat design.  I quickly searched through my stash to see what sort of "candy-coloured" yarn I had on hand and dived right in!
Using Lion Brand Yarn's Vanna's Choice in "Pink Poodle" and "White", I crocheted this parallelogram.  The raised rows were created by crocheting in the back loops only- this texture is instrumental in giving the frosting that amazing swirled look later on!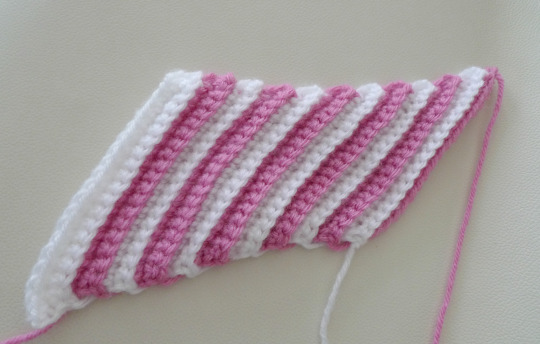 The width is then sewed together to form this roll.  As you can see, the rows are now running diagonally since the original shape was a parallelogram!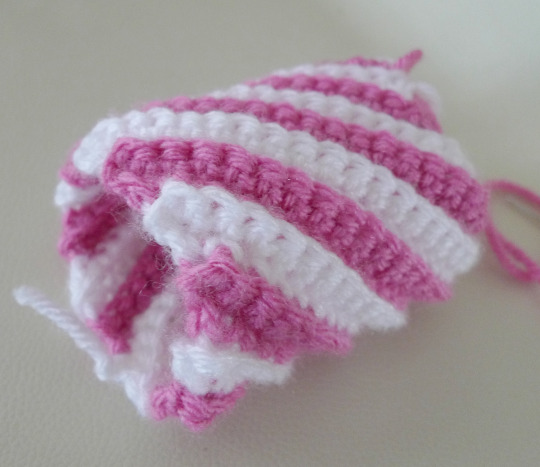 Next, you do a running stitch through one open end and pull it tight.  This results in this swirly look!  Ingenious, isn't it?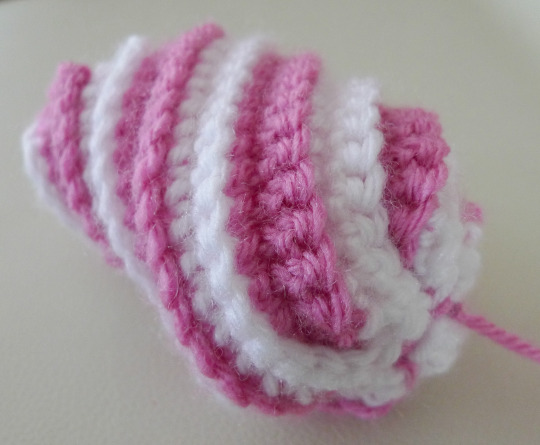 You do the same thing to the other open end and voila, you have perfectly swirled frosting!  Those alternating pink and white ridges all meet nicely in the middle as you pull the yarn tight!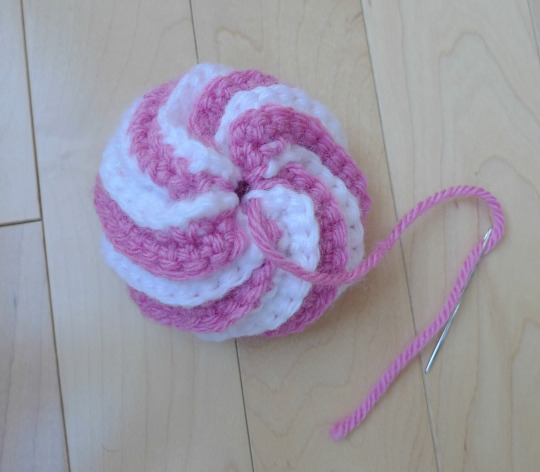 For the cake base I used Vanna's Choice in Mint!  Haha it just so happened that I had the exact colours that Twinkie Chan used on hand 🙂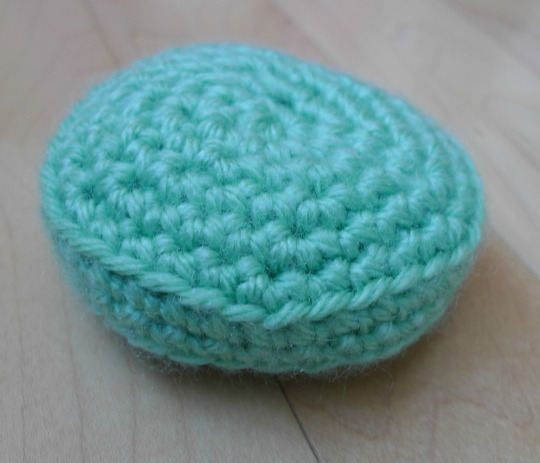 And lastly I crocheted a tiny cherry.  I thought it was very clever how Twinkie Chan used the initial yarn tail to stuff the cherry (as opposed to fiberfill since it's so tiny) and the resulting yarn tail as the stem!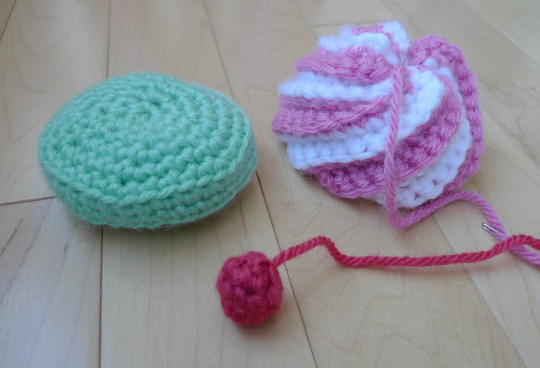 I then used hot glue to attach the swirly frosting to the cake and then glued the cherry ontop of the frosting as the finishing touch!  Here is my finished Swirly Cupcake!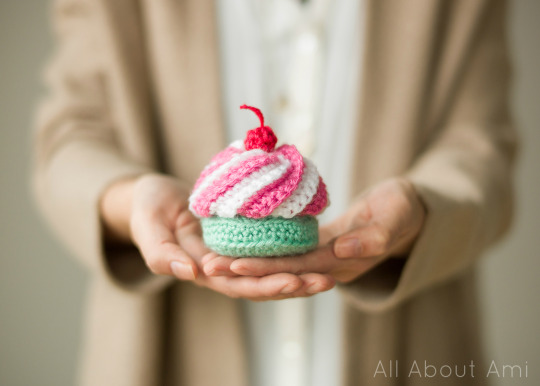 I adore this pattern as it was very simple to follow and the construction was so ingenious!  Now I know how to make beautiful swirls like this, which will be helpful in making ice cream cones or other desserts with piped frosting or whipped cream ontop!  It really does look like freshly piped frosting, doesn't it?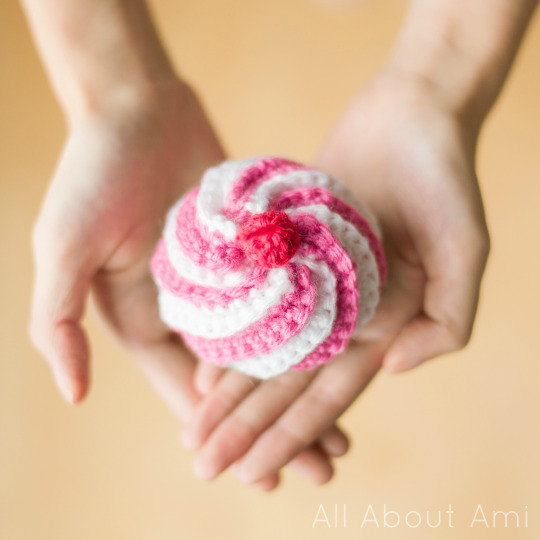 This sweet treat is a great toy for pretend play!  You can never have enough cupcakes at a tea party, right?  I'm trying to crochet a couple more of these cupcakes so that the girls can play with them in the future.  Here are Myla and I having a tea party on our trusty Ikea Latt (see how we added cushions to the seats and plexiglass to the table HERE)!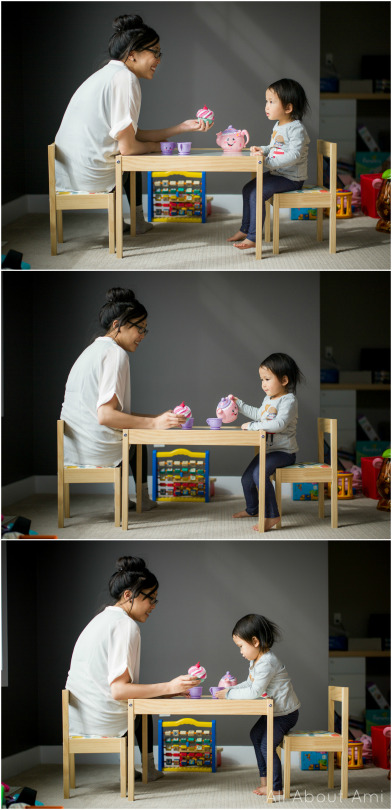 For now, I am using this beautiful swirly cupcake as a pin cushion, but for my yarn needles!  It sits atop my desk and I can easily access my yarn needles when I need to sew something for my amigurumi or other crochet projects!  And in case you're curious about this gorgeous wooden crochet hook you see below, check out BQueen Collection on Etsy!  I'll be blogging about them later this month 🙂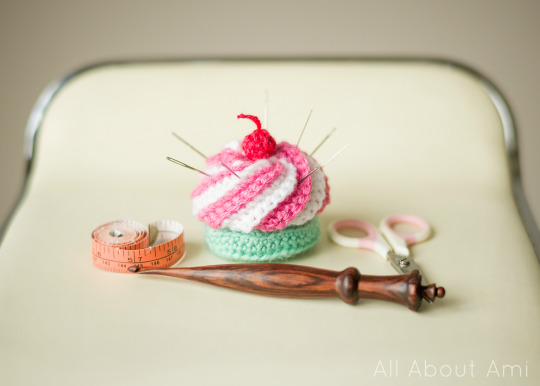 I always enjoy following Twinkie Chan's patterns as they are well thought-out and so fun and cute!  I found the YouTube video that Twinkie Chan made HERE very informative and helpful as well, especially since this construction is so unique.  You may remember that I followed her pattern last year to make this "Cupcake Bib/Dishcloth" HERE!  You could make a matching cupcake bib and cupcake toy!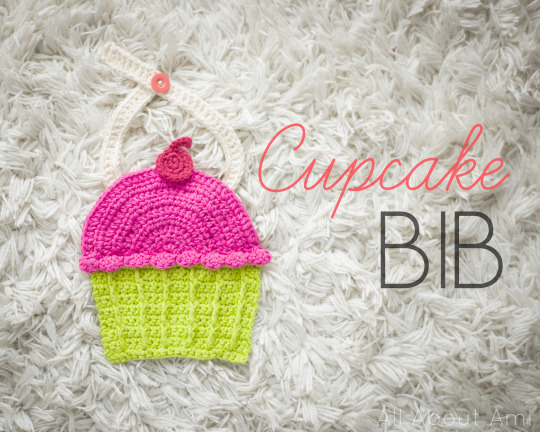 Give this pattern a try as it was loads of fun to make!  They make great toys or pin cushions, or as Twinkie Chan uses them- as hair clips!  Find the free pattern HERE and have fun 🙂  Happy cupcake making!