***You can purchase an INEXPENSIVE AD-FREE PDF of this pattern on Etsy HERE! This beautifully formatted PDF includes the step-by-step pictures and 4 patterns (Puff Stitch Scarf, Puff Stitch Cowl, Jumbo Puff Stitch Cowl & Child Puff Stitch Cowl,) and is a total of 13 pages including the cover pages. This pattern is also available in the "Crochet Cowls & Scarves PATTERN BUNDLE" which includes over 20 beautiful designs at a discounted price – check out the bundle HERE!
My mom absolutely loved the beautiful puff stitches of the crocheted slouchy beanies I made for myself and my brother and sister.  Because my mom does not wear hats, she asked if I could make her a scarf using puff stitches!  I thought this was a great idea as I loved the texture and staggered rows of these stitches, so I knew that a scarf using them would turn out beautifully!
My mom and I went to Michaels together to pick out the yarn for her scarf.  One of our biggest pet peeves is "itchy" material for scarves and sweaters: we went down the aisles in search of soft yarn that would not irritate the skin.  She also wanted a neutral colour that would match with all of her outfits.  In the end, we bought the wonderfully soft and luxurious Bernat Satin yarn in "Sandstone".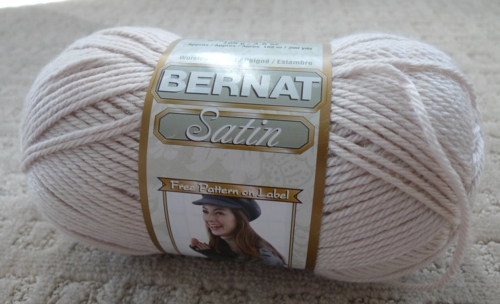 I made up my own pattern for this scarf and started off making a series of 26 chain stitches.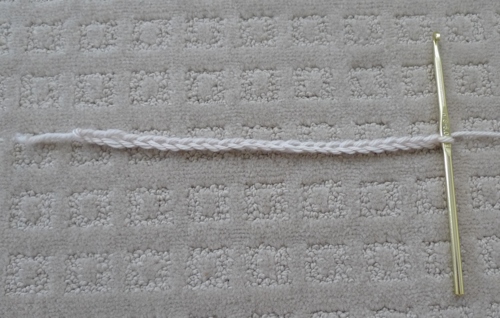 Next I worked 12 puff stitches in the first row with ch-1's in between.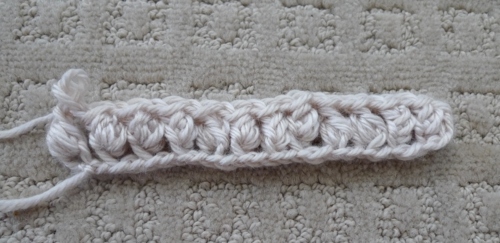 Then I worked twelve puff stitches in the chain-1 spaces.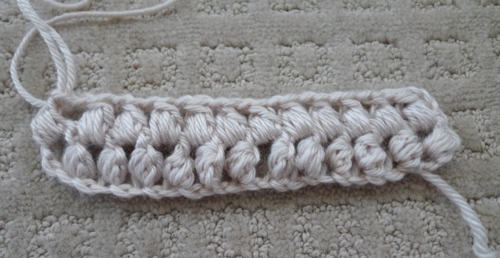 I continued with this simple pattern for a couple more rows…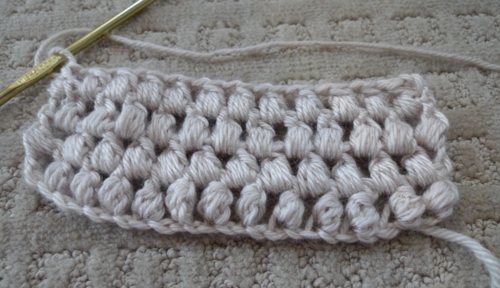 And then many more rows…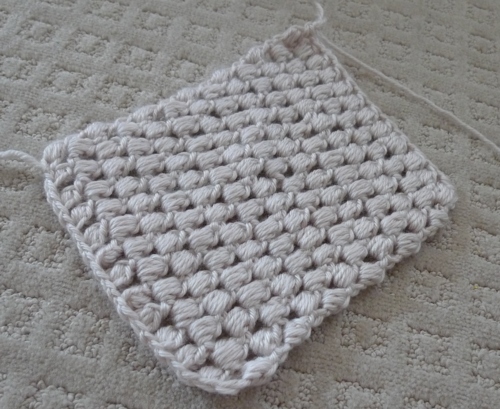 Until the scarf was our desired length!  If you want, you could always add some fringe to the ends of your scarf.  See a simple video on how to do this here.  My mom did not want any fringe, so we left it as is 🙂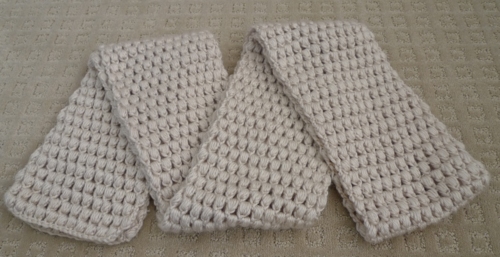 Can you guess how many balls of yarn I used?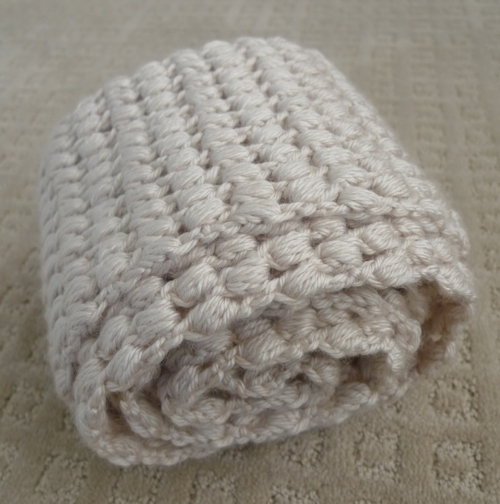 My mom wanted her scarf quite long.  After three balls of yarn, it ended up being 94″ long.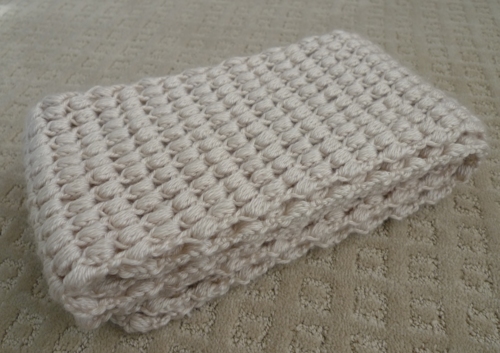 Here is the very simple pattern I made up for this Puff Stitch Scarf.
*****************
Materials:
Puff Stitch: Yarn over, insert hook in indicated stitch and draw up a loop (3 loops on hook), [yarn over, insert hook in same stitch and draw up a loop] 3 times (9 loops on hook), yarn over and draw through first 8 loops on hook, yarn over and draw through remaining 2 loops on hook.  *Watch video showing how to make puff stitch here.
Chain 26.
R1: Work puff stitch in fourth chain from hook.  *Ch 1, skip next ch, puff stitch in next ch*, rep 11 times (12 puff sts).
R2: Ch 3, turn. *Puff stitch in next ch-1 sp, ch 1*, rep 11 times.  Puff stitch in last ch-3 space (12 puff sts).
Repeat Row 2 until desired length (for my scarf, until Row 150 or 94″).  Finish off and weave in ends.
*****************
Before I gave my mom her scarf, I thought I'd model it so you all could see what it looks like on!  We went for lunch at a Japanese restaurant and I loved the beautiful floral pattern of this booth 🙂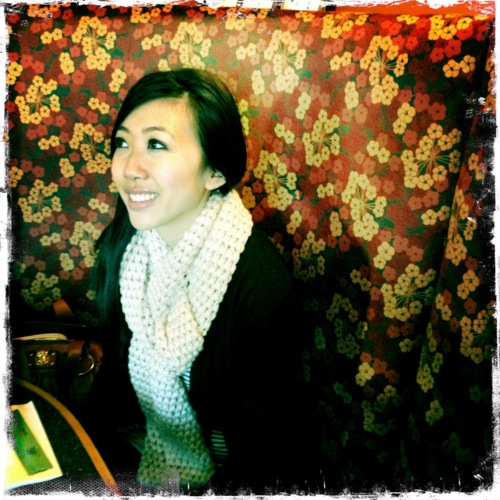 It was a good thing I brought this scarf along because it turned out to be quite chilly and windy that day…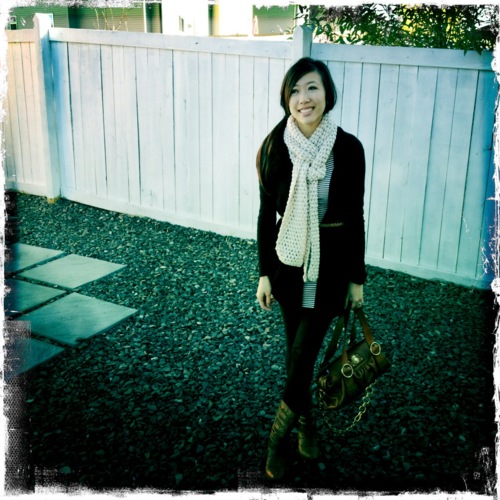 If you're like me, you've probably been wearing your scarves in a limited number of ways.  I highly recommend checking out Wendy's "25 Ways to Wear a Scarf in 4.5 Minutes" video if you haven't seen it yet!  Who knew there were so many different ways to wear a scarf?  Wendy of Wendy's Lookbook is one of my favourite bloggers because of her exhuberant and quirky personality, impeccable style, and creative and beautifully-edited videos and photos.  She also has a great story behind her as she overcame so much growing up in foster care to get where she is today.  Check out Wendy's inspiring blog and her helpful videos 🙂
Here I am wearing my scarf a number of different ways: this is "The Twist & Pull"!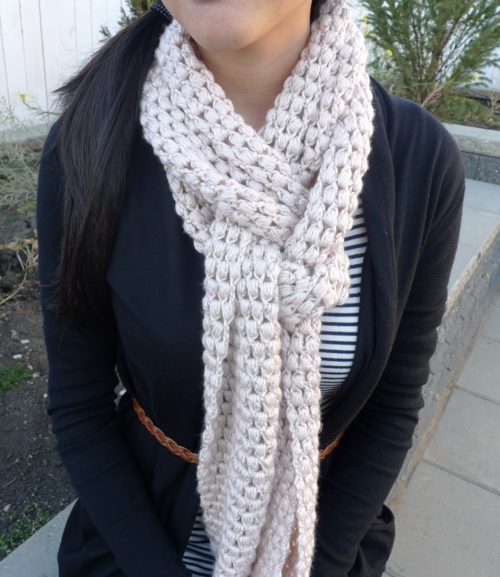 Next up is "The European Loop"…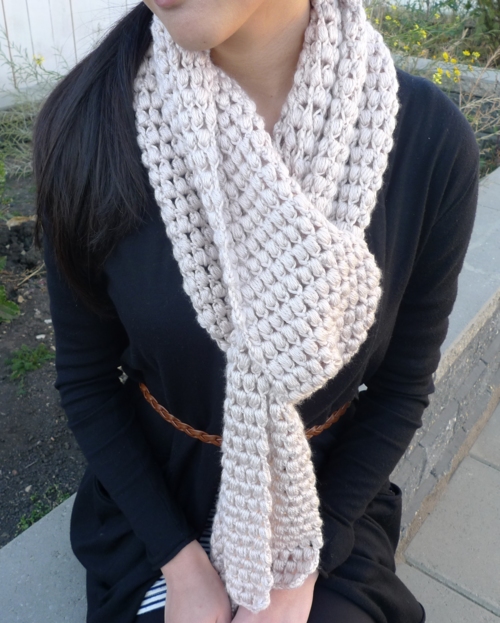 Here we have "The Basic Loop":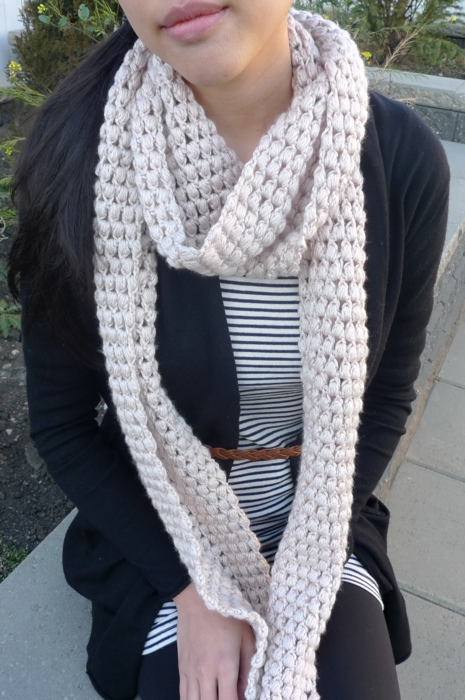 And here I wrapped the scarf around multiple times since it's long enough to do this 🙂
Another great option is to sew the ends together to create a circle or infinity scarf, which is very popular nowadays.  The textured look of the many folded layers really frames the face nicely.  I absolutely love wearing circle scarves this season!  I just may have to crochet myself one of these, maybe in a bright pink or green or some other fun colour 🙂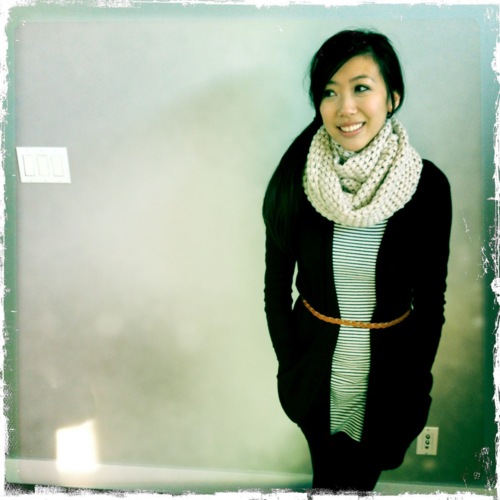 [UPDATE: I made a "Puff Stitch Cowl" for my sister where I did sew the ends together.  Check it out HERE.  It is 2/3rds the length of the original scarf I made for my mom!]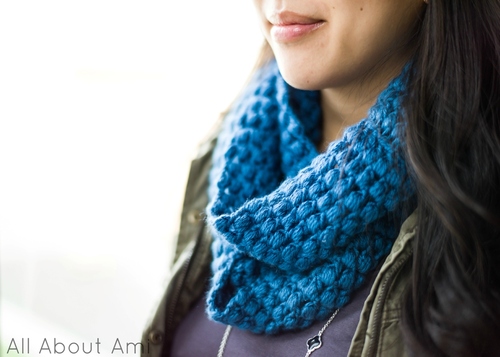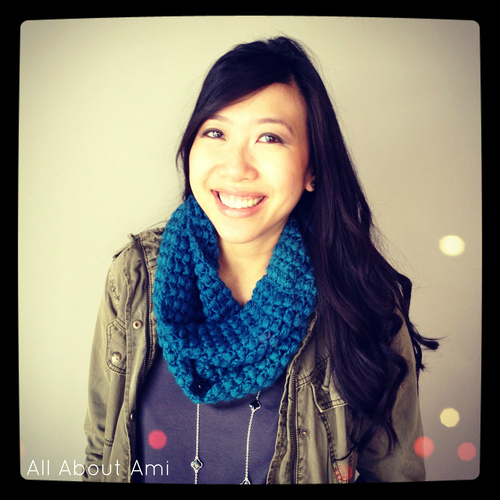 You can also check out this "Jumbo Puff Stitch Cowl" that I made if you are interested in working the puff stitches in a round with bulkier yarn!  The free pattern and step-by-step tutorial can be found HERE!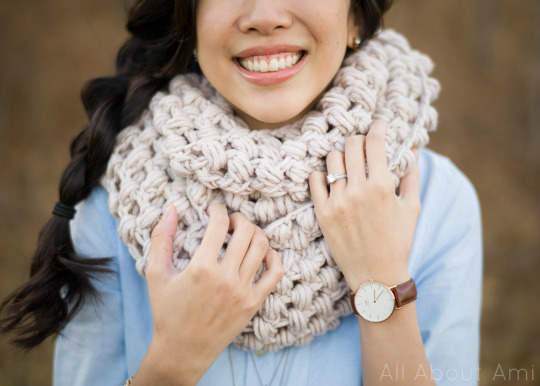 Do check out my "Urban Jungle Slouchy Beanie" post here if you haven't seen it!  This beanie also uses the puff stitch, and a free pattern is available on-line.  You can create a matching set with the puff stitch beanies and my puff stitch scarf 🙂  They'd make great Christmas gifts!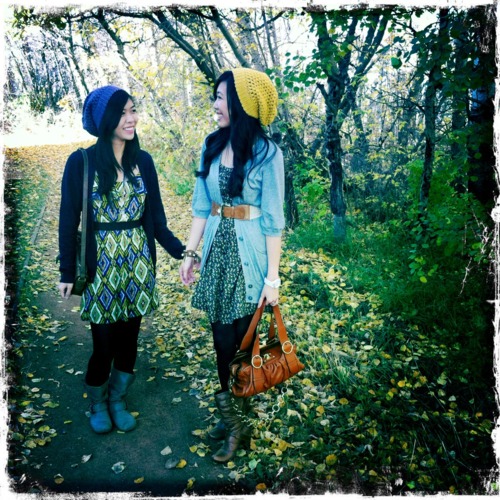 Happy crocheting!
This pattern is an original pattern by Stephanie Lau of All About Ami.  Please do not claim this pattern as your own. If you wish to share this pattern, you may link to this pattern but please do not reprint it on your site. You may keep a copy for your own personal use but please DO NOT sell the pattern or distribute it.
You may sell products made from this pattern but please clearly credit the design to me, Stephanie Lau of All About Ami, and provide a link to my blog www.AllAboutAmi.com.  Permission is NOT granted for mass production or factory manufacturing of any kind.  Thank you for being respectful and for your understanding!