This week we will be starting a new series called "Craft Chat" in which I will feature different crafting artisans who I have personally connected with and who are passionate about what they do!  I always find it fascinating learning about how people got started on their crafting journeys and what motivates them.  Nowadays with social media, blogs, YouTube and the internet in general, crafting is being taken to the next level as we can teach and learn from one another and connect with other crafters from around the world who we would normally never be able to meet!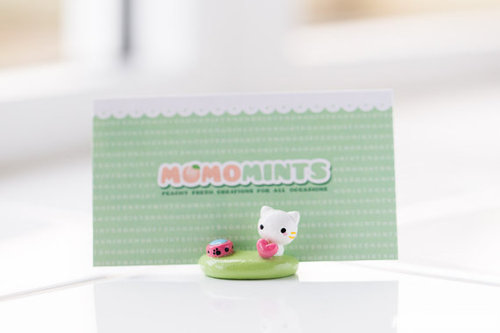 I am very pleased to feature "Momomints" in the very first edition of "Craft Chat"!  Hailing from Vancouver, British Columbia, Canada, Sami and Marissa are the crafty duo behind "Momomints", specializing in amigurumi crochet stuffed toys and keychains as well as polymer clay keycharms.  I first connected with them on Twitter and Instagram and was very impressed with their work!  Our love of all things kawaii and crafty bonded us and we became fast friends and great supporters of each others' work!  It's always amazing finding people who share the same interests as you in your own country or who live near you too, so it was neat for me to connect with these fellow Canadians 🙂
When Sami and Marissa found out that I was celebrating my 3 Year Blogiversary, they wanted to send something special.  They knew that Myla absolutely adores cats, so they sent us one of their signature "Meowchi" amigurumi cats!  Their Meowchi's typically have big bows (see HERE), but they included a special "3" to help commemorate my blogiversary.  I love the shaping of their Meowchi, the blush cheeks and the beautiful hang tag!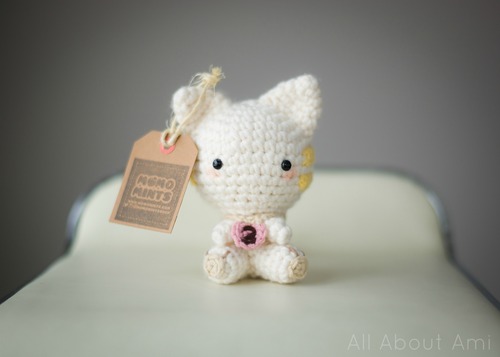 This side view also shows Meowchi's adorably long tail, cute yellow stripes and lovely "Momomints" label.  Marissa is the one who does all the crocheted work of Momomints, and I think she did a great job designing these Meowchi's with all their details!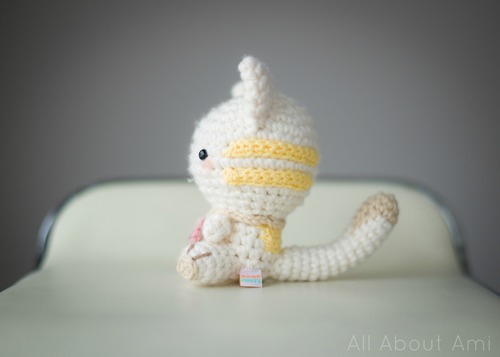 Marissa also crocheted this mini Meowchi keychain for Myla as well!  I love the dainty feet, and Myla enjoys having a "big Mama cat" and a  "small baby cat" 🙂  These mini Meowchi keychains are a new product in their Etsy store, and they come in different editions.  Marissa and Sami were so sweet to name the pink mini Meowchi the "Myla edition"!  You can read all about these cuties and the different editions in their blog post HERE!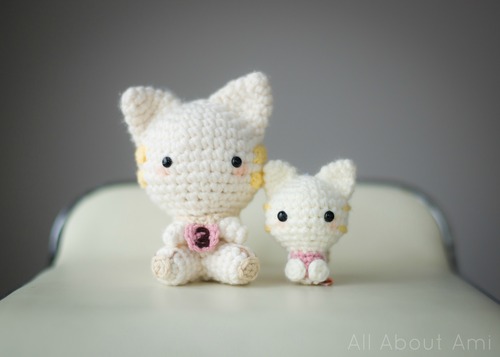 I love how you can take these mini Meowchi's anywhere you go!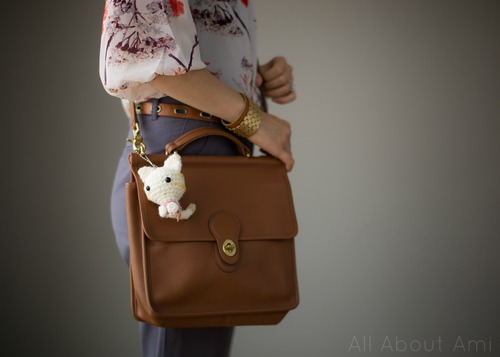 When Myla has her own backpack or little purse, we know what we'll be attaching to it!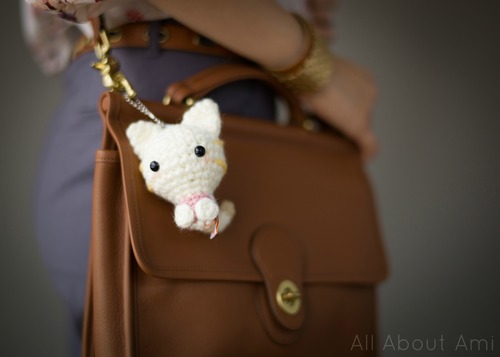 We were so excited to show Myla these handcrafted cats that were crocheted especially for her!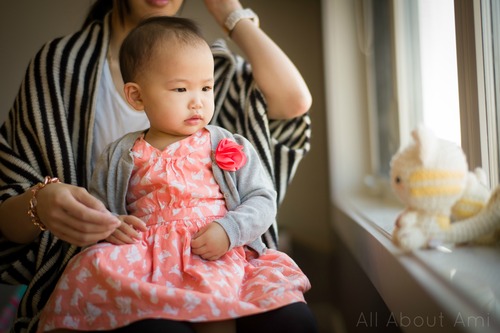 Myla was thrilled and immediately said "meow meow" when she saw them!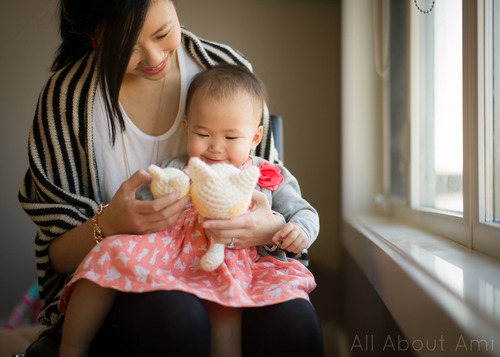 Myla is very gentle and sweet with her stuffies- she frequently gives them lots of hugs and kisses!  Thank you for crocheting these cats with so much love, Marissa- Myla will treasure these stuffies for years to come!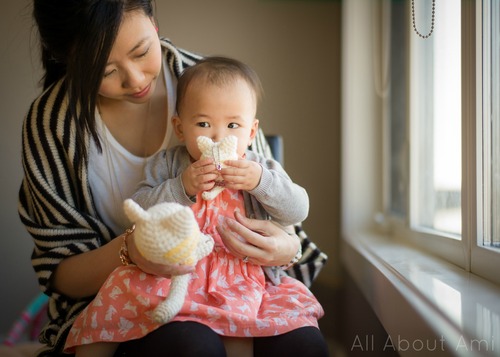 I was very surprised to discover another gift from the generous duo of "Momomints".  Sami, who does all the polymer clay creations, made me these custom polymer keycharms!  When I first saw these adorable teddies, I squealed with delight!  Upon closer inspection and seeing the ball of yarn and crochet hook that the white bear was holding and the scarf that the beige bear was wearing, my jaw dropped as I realized that these were my "Fluff Bears", Coco and Mochi!  Sami did a wonderful job including the details and giving the bears a textured look to simulate their fluffiness!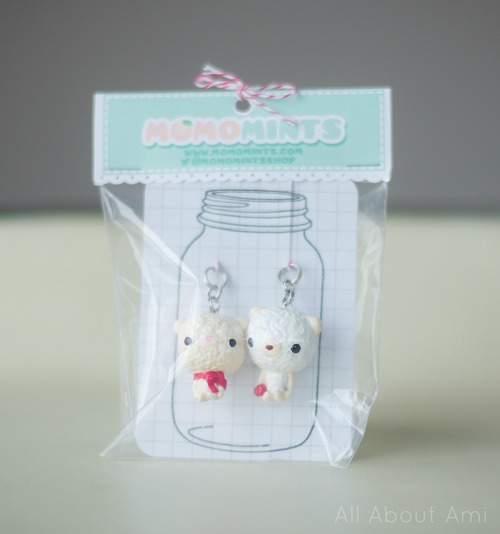 Here are my Fluff Bears (free crochet pattern found HERE) with their polymer keycharm counterparts!  How special is this?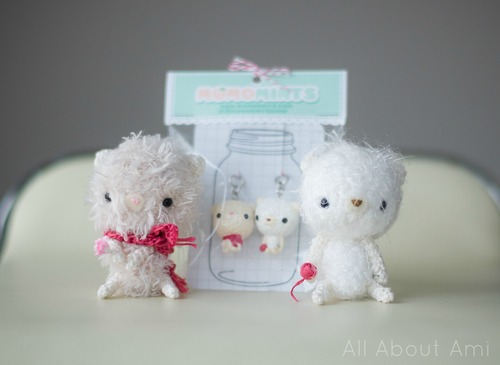 I can't wait to attach these Fluff Bear charms to my keychain or purse and take them wherever I go!  Thank you for these special teddies, Sami- your work is impeccable!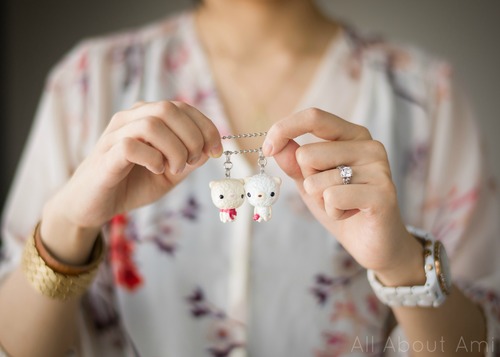 Now that we've seen some of their work, here's our chance to get to know Sami and Marissa of "Momomints" a bit better with the following questions that I asked them:
***********************************************
1)  Where did the name Momomints come from?
Sami: Momomints was an original name that Marissa and I had come up with. "Momo" translates to peach in Japanese, while mint is Marissa's favourite colour (one she really wanted to incorporate into our branding). Combined, these two words form "Momomints", a play on words that sounds like "mo-mints" or "moments". Overall, we really wanted to create a handmade gifts business with unique and cute products for all those special moments in people's lives. And so we like to say: "Momomints – peachy fresh creations for all occasions". It may be a bit cheesy, but we think it really defines us!
2)  Describe your store in 5 words.
Cute, Japanese-inspired, Minty!, Handmade, Gifts
3)  When did your love of crafting first begin?  How did you learn your craft?
Marissa:  For as long as I can remember, I've loved doing arts & crafts.  When I was younger I remember watching Mr.Dress Up and always looked forward to the craft times where he would make things with ordinary craft supplies. And of course watching Martha Stewart on television!  I actually didn't learn how to crochet amigurumi dolls until later on when I was in University.  I was browsing through some craft sites and stumbled upon the cutest fuzzy Panda Bear amigurumi pattern on Craftzine by Roxycraft.  From that moment on I was hooked on amigurumi!
Sami: Like Marissa, I have been crafting since my toddler days. I remember always trying to reinvent my toys, creating dolls and doll houses out of paper and cardboard, and doodling my own story books. I first discovered polymer clay charms through Oborocharms on deviantART. The first keychain I created was a replica of a special little ghost charm I received as a birthday present, and since then I've been creating them as special presents for other people =).
4)  Where do you get your inspiration from?
Marissa: Cute packaging, nature and anime/cartoons. Lots of things inspire me at any place or any time.
Sami: Besides all the random things I'm inspired by in my day to day, I'm inspired by Marissa! I can say it without hesitation that she is the most crafty person I know. She has great taste and judgement.
5)  Do you craft for a living?
Sami: At this moment both Marissa and I work full-time jobs outside Momomints. I always like to say that Momomints is actually our second full-time job. We invest every other pocket of time we have into making products, promoting them and just growing Momomints into something more than just a hobby. Running Momomints and crafting for a living would be a dream but we understand that it will take some time and definitely lots of perseverance to get there. We're just getting started!
6) What are some of your favourite crafting blogs or resources?
Martha Stewart, Craftzine, Mochimochi Land, Life Ann Style, Oh My! Handmade … way too many to list here!  And of course All About Ami 😀
7)  What advice do you have for people who are thinking of starting their own store or business?
Marissa: Do lots of research (read through Etsy forums, reach out to fellow established crafters, join craft meet-ups). If you're truly passionate about it just go for it and have fun in the process 🙂
Sami: When starting it's important to plan things out. Think about what products you'd like to make and how you could possibly expand on this in the future! Don't limit yourself from the start!  Think big!  Also do understand that starting your own business does require actual work! and of course focus. Keep at it and don't give up =).
***********************************************
I hope you enjoyed reading about these Canadian crafters who are producing such cute and high quality amigurumi and polymer keycharms!  They not only have an Etsy store, but also a blog in which you can keep up with their news.  They recently posted their FIRST FREE AMIGURUMI PATTERN for this incredibly adorable sheep named "Fluufie" HERE!  I think Fluufie is too cute for words and I know that many of you will be excited to make your own 🙂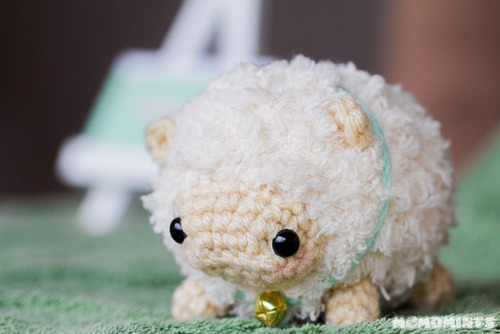 Visit the "Momomints" website HERE and follow them on their Facebook, Twitter (@momomintsshop) and Instagram (@momomintsshop) to see all the cute crafting that they're up to!  Thanks for being a part of this "Craft Chat", Sami and Marissa, and we are excited to see where your crafting journey will take you