When I dove back into the world of crochet and amigurumi after getting married in 2010, I looked everywhere for great resources on blogs, websites and books.  I purchased a number of amigurumi books and really enjoyed working through them as I practiced basic skills like increasing, decreasing and attaching body parts.  Many years later, I am delighted that I can introduce you to a brand new amigurumi book that is about to be released:  Lalylala's Beetles, Bugs and Butterflies by the extremely talented Lydia Tresselt!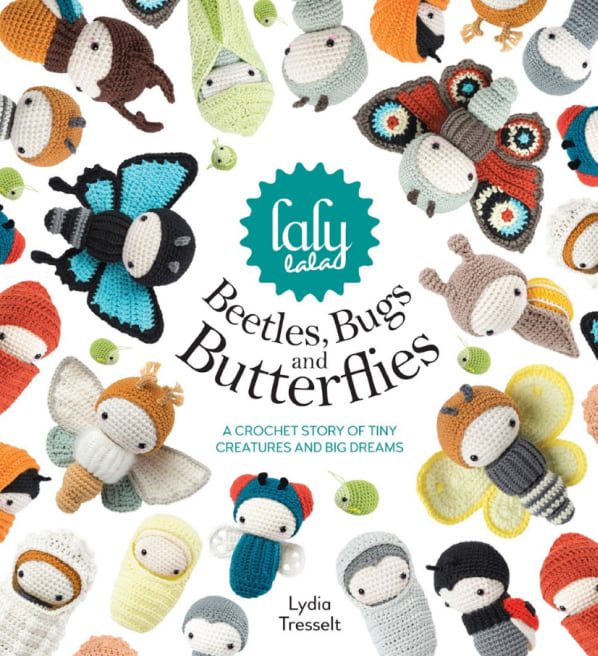 Lydia is a passionate crochet designer and illustrator living and working in Leipzig, Germany.  She is well-known for her signature style of amigurumi, and you can find all of her adorable and whimsical designs in her Etsy shop HERE.  I particularly love her seasons amigurumi (see Easter, Christmas, Winter, etc).  Her brand new book focuses on insects as it is "A Crochet Story of Tiny Creatures and Big Dreams".  This book is a fantastic collection of absolutely gorgeous designs.  The book is divided into three sections: the first part is a narrative story that features Lydia's crochet creations and the adventure they go on.  The second part of the book gives detailed instructions for the techniques and stitches required.  The last part of the book has the written crochet patterns for: eggs, caterpillars, cocoons, brimstone butterfly, peacock butterfly, ulysses butterfly, golden daydream moth, beetle larva, beetle pupa, ladybird, stag beetle, fly maggot, fly pupa, fly, snail, aphid, venus flytrap and leaf.  This is a wonderful theme for a book since bugs transform during their life cycles- this allows us as crocheters to create them at different stages as well!  For example, pictured below we can see how the beetle larva becomes a pupa, and then a ladybird/ladybug!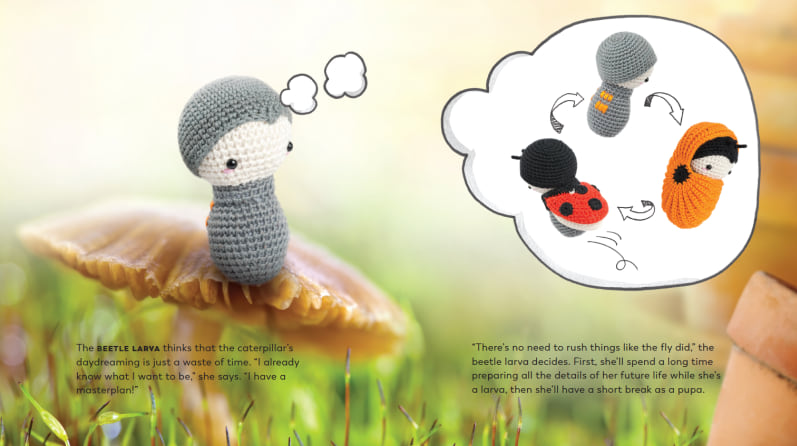 I decided to try crocheting a caterpillar from the book who would later transform into a beautiful butterfly!  Lydia's patterns are very well-written and easy to understand as I had absolutely no difficulty with them.  I appreciated her detailed and clear instructions.  I used some 24/7 Cotton and Modern Baby by Lion Brand Yarn that I had in my stash with a Clover Amour 2.75 mm hook!  I love the shaping of the body with the decreases and increases to form the round sections!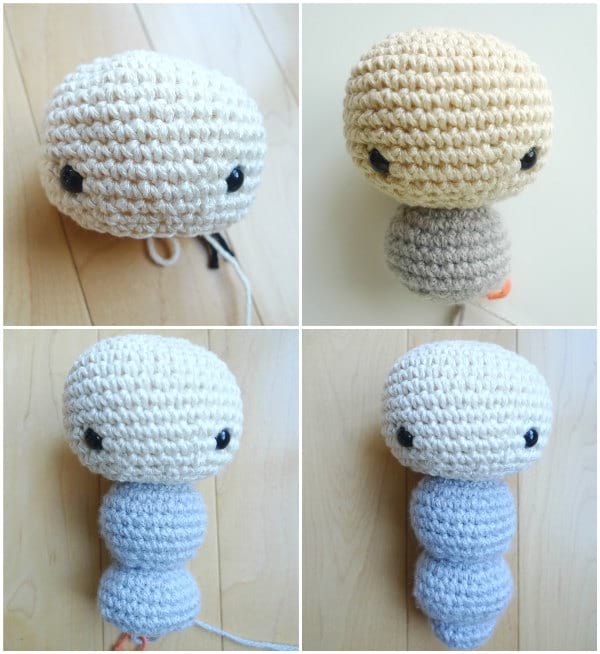 Next it was time to crochet his adorable hat which is such a cute accessory!  I added the antennae later on!

The wings are beautifully shaped and very sturdy since each upper and lower left and right wing are comprised of two pieces!  I sewed them onto the belt so that the wings could be attached to the caterpillar!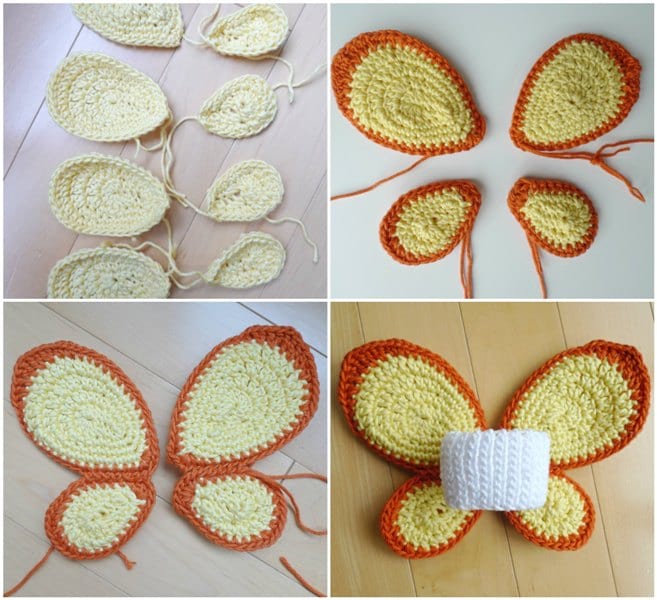 Here is my delightful little caterpillar!  In the future, I might crochet him an egg or cocoon too- I love the variety of options available in Lydia's book!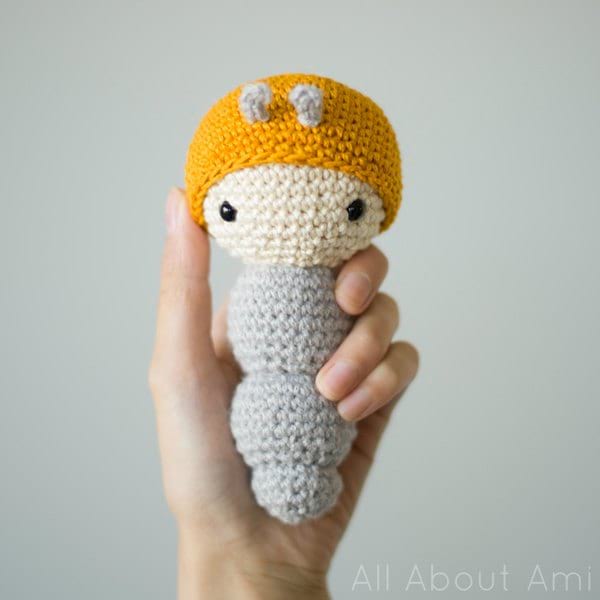 He is ready for his transformation!  Brie has taken a liking to this cutie pie and adores changing him back and forth!  This design is fantastic since children can easily remove the hat and wings all by themselves!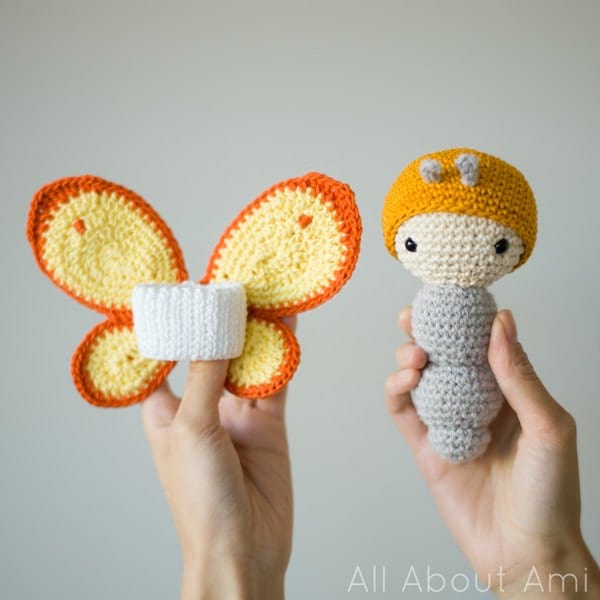 After sliding the wings onto the caterpillar, we now have a beautiful butterfly with stunning, colourful wings!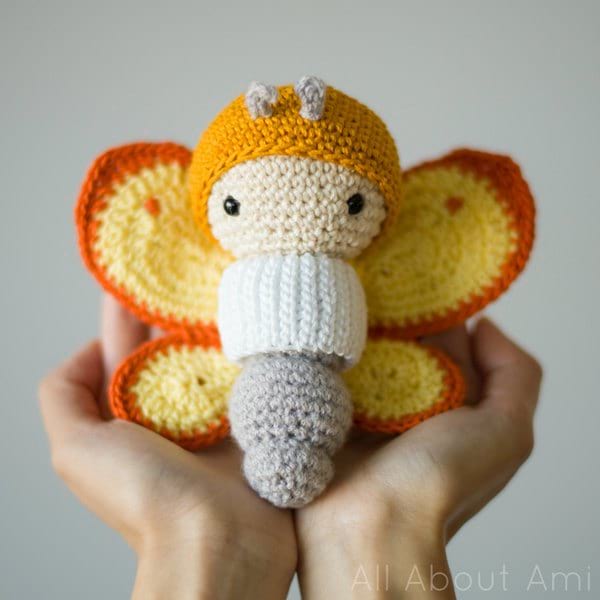 Lydia has provided so many different butterflies for you to try as shown below!  I love how easy it is to switch up the colours of the wings and body to really personalize these butterflies and make them your own!  You could use your favourite colours, your child's school colours, or the colours of a sports team!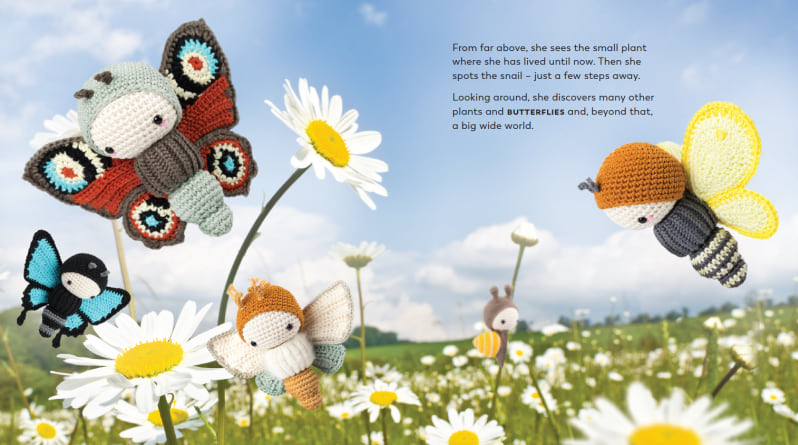 Aren't these eggs and larvae so sweet?  I am beyond impressed with all of Lydia's designs and it's incredible how she made all the beetles, bugs and butterflies look so adorable!  She is such a brilliant designer, and there are so many amigurumi designs to try in her brand new book!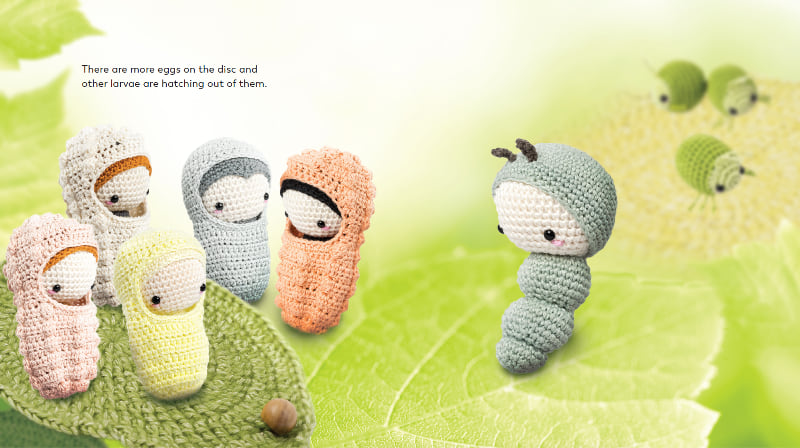 I highly recommend checking out Lalylala's Beetles, Bugs and Butterflies as it is an amazing book with well-written patterns, clean and cute designs and beautiful photography.  This book will keep you engaged as there are so many different types of bugs to try, and the transformation aspect with removable parts is very unique!  You can purchase this book on Amazon HERE and on Lydia's Etsy HERE.  We are giving away three digital copies of this book so you can try making your own beetles, bugs and butterflies!
***To enter, please leave a comment below stating what bug you are most excited to crochet (e.g. peacock butterfly, snail, caterpillar)!  This giveaway is open WORLDWIDE [NOW CLOSED] and will close on Sunday, October 29th at 8 PM MST!  You can also enter through Instagram and Facebook for more chances as we will be choosing one winner from each platform!
Note: I was provided a digital copy of Lalylala's Bugs, Beetles and Butterflies for review!  All opinions expressed are 100% my own!