Hello everyone!  I wanted to share about an exciting feature that my amigurumi Dragon has in a beautiful new bookazine called "Hand Made Toys"!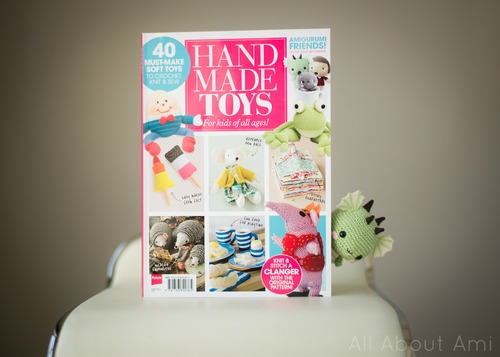 When Helen, the editor of "Hand Made Toys", asked if my Dragon could be included in this special edition, I happily said yes.  Helen is an editor at Future Publishing in the UK, and this publishing company is behind "Simply Crochet" and "Mollie Makes".  As some of you may remember, Dragon was also previously featured in the premier issue of "Simply Crochet" magazine last year!  I was very impressed when I received my own hard copy of this bookazine as all the projects included are incredibly cute and whimsical!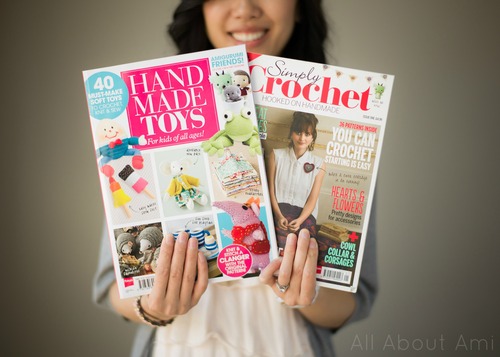 "Hand Made Toys" contains 40 toy designs to crochet, knit and sew.  I loved seeing the different crafts put together in one magazine, and some of the sewing designs really caught my eye…I have already forgotten how to use my sewing machine, but there are some hand-stitched toy patterns that I could possibly try!  The crocheted hedgehogs seen on the cover look absolutely adorable too- I might have to make some 🙂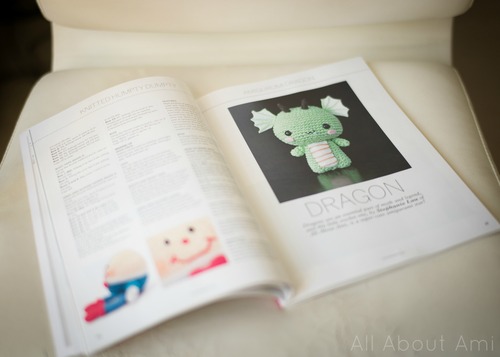 The bookazine is divided into 5 sections: (1) "Once Upon A Time" containing fairytale and rhyme characters including my Dragon; (2) "Busy Bees" containing indoor toys for children; (3) "Special Friends" containing a variety of adorable animals; (4) "Let's Pretend" containing delicious play food and treats; and (5) "Just For Fun" containing mini toys for big craft and play happiness!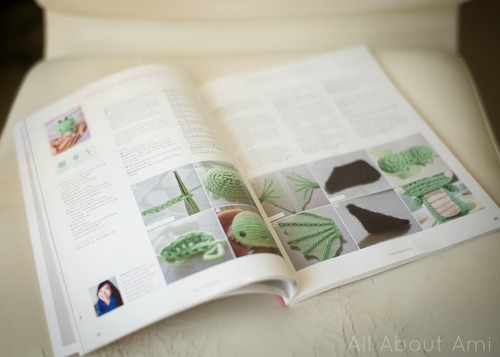 I am so happy to have my amigurumi Dragon featured in "Hand Made Toys" along with some of my other crochet blogger friends including Mei of "Amigurumei" and Tanya of "Little Things Blogged"!  Thank you for including my work in your bookazine, Helen!  It truly is a delightful magazine with such a wide variety of cute toys!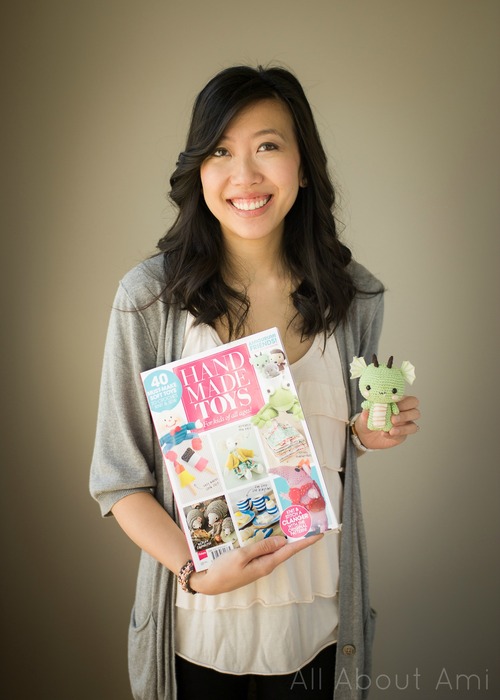 If you're interested in getting your hands on your own copy, you can order "Hand Made Toys" by mail HERE or find copies in WH Smith stores and leading newsagents in the UK and in Barnes & Noble stores in the US.  You can also buy a digital copy of "Hand Made Toys" through the Apple Newsstand (download the free Simply Crochet container app, and the digital version of Hand Made Toys will be available there).  I think it's so special how people all over the world are continuing to discover my amigurumi Dragon pattern, often through features such as these, and I truly adore seeing all the Dragons who have been crocheted with so much love ❤