I've had so much fun sharing not only my crochet projects through my blog, but also my love of travel, food and fashion/style.  I enjoy putting together outfits for my photoshoots and figuring out what would best highlight and complement the crocheted pieces that I've designed, and also writing up maternity and nursing style blog posts! 
I had admired Daniel Wellington watches on some fashion bloggers that I follow, and I was very surprised when this Swedish company reached out to me and asked if I wanted to collaborate with them as they said they liked my style, outfits, and photos.  They allowed me to pick any watch from their collection, and I chose the beautiful "Classic St. Andrews Lady" in "Rose Gold" pictured below!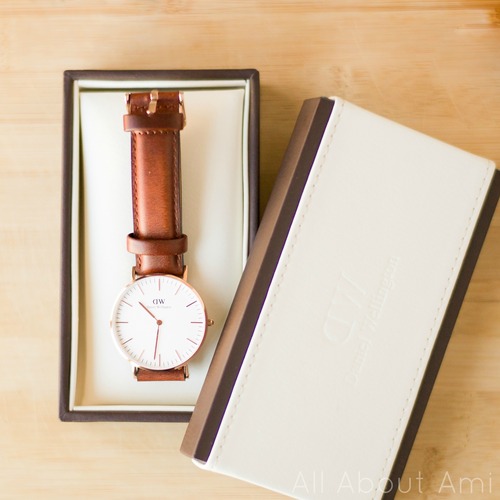 Daniel Wellington watches truly are a modern classic as they have such clean, elegant, and minimalist designs.  They look very classy and sharp when worn, and I particularly love the juxtaposition of the rich brown leather against the rose gold of my watch!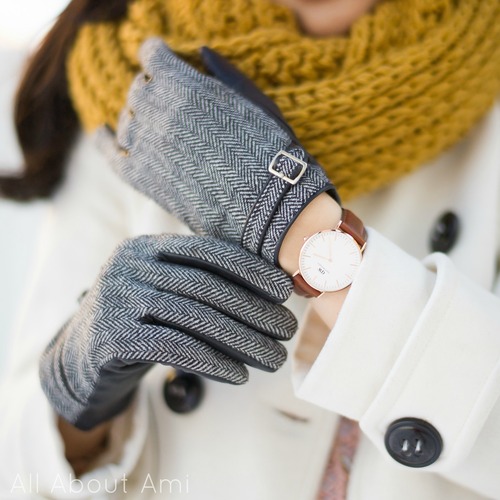 My watch arrived very quickly, and I was so excited to try it on!  If you order a watch through their website, there is free shipping worldwide, and it takes only 2-3 days for orders within the US/Canada since it goes through Express shipping.  The people at Daniel Wellington have also provided a discount code for my readers!  You can use the code "Holiday_allaboutami" to get 15% off all products on the Daniel Wellington site until Dec 31!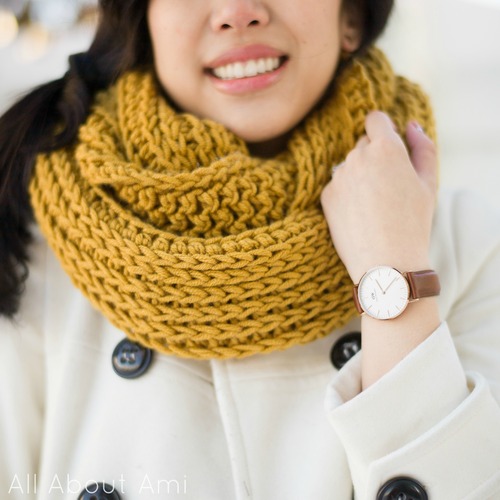 You may also notice the beautiful gold cowl that I'm wearing- do you recognize it?  It's my "Triple Luxe Cowl" that I blogged about a few weeks ago!  I mentioned that I was itching to make another one, and I managed to find some time and snatched up some "Woolspun" in the colour "Honey" when it was on sale!  This time, however, I chained 110 and did 18 rounds with 3 balls of yarn to get a cowl that drapes closer to my neck.  I think this colour is so rich and gorgeous, don't you?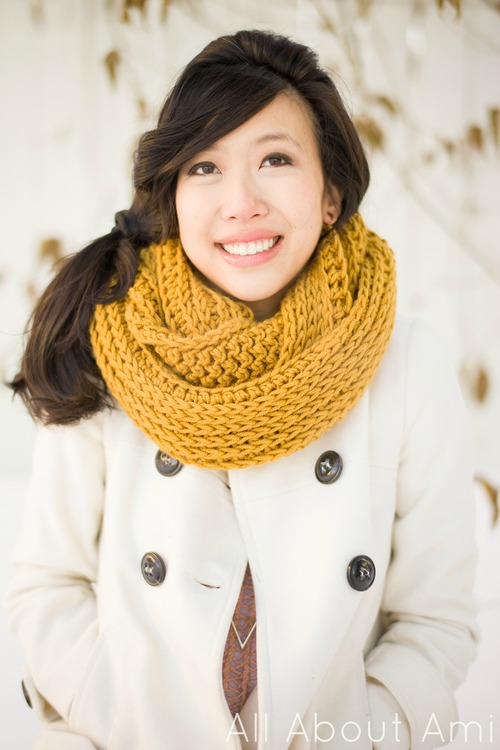 I also crocheted this "Triple Luxe Cowl" below for a friend using two balls of "Woolspun" in this striking green colour called "Peacock".  I chained 95 in the beginning and managed to get 14 rows.  I wanted to try out this option in case you want to use only two balls of yarn instead of three!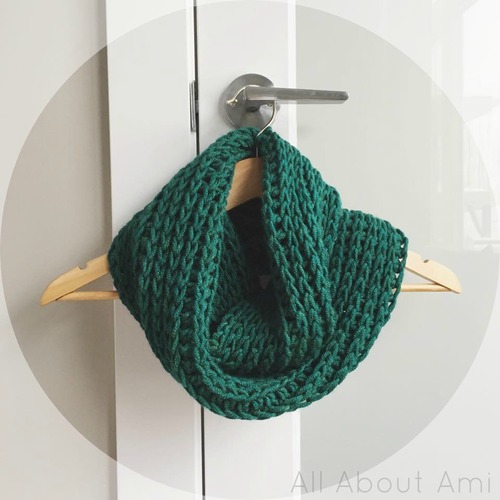 I know that Daniel Wellington has been working with many style and fashion bloggers around the world during this time, and I want to thank them for reaching out to me, particularly since I'm primarily a crochet/craft blogger!  Opportunities such as these are fun and totally unexpected.  If you've been in the market for a classic and chic watch for yourself or for your friends, I would highly recommend checking out the Daniel Wellington site as they have a great selection of watches to choose from.  Be sure to follow them on Instagram (@danielwellingtonwatches) and their hashtag #danielwellington too if you like their watches to get ideas on how people style them and to see some beautiful photos from around the world!  Once again, don't forget to use the discount code "Holiday_allaboutami" for 15% off if you decide to place an order!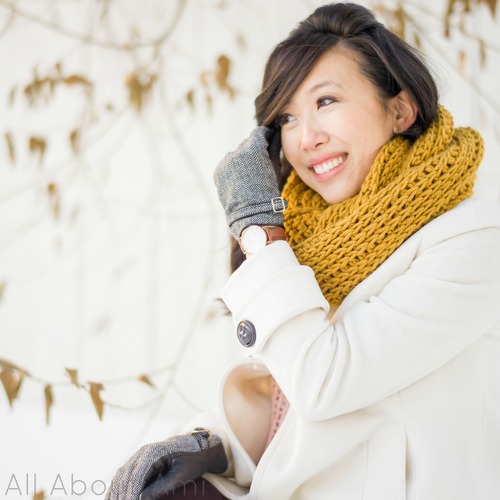 [White Coat (old): Zara; Gloves (old): Mexx; Daniel Wellington watch: Classic St. Andrews Lady in Rose Gold]