One day while shopping for yarn at Michaels, I came across this free adorable "Cupcake Dishcloth" pattern designed by Twinkie Chan.  Twinkie Chan is the queen of yummy and deliciously cute crochet (check out her site here), and I had seen her mention this project before on her social media.  I excitedly took a copy of the pattern home and began working on it right away with some Bernat cotton yarn that I already had in my stash!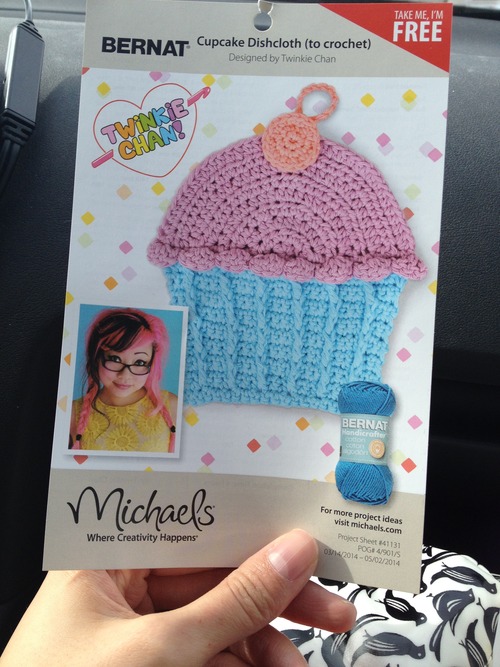 I was very impressed with this pattern and how this cupcake was designed.  The pink frosting part involves using a magic ring, but rather than working continuously around the circle, you turn your work in order to achieve this semi-circle shape.  The pink edging hanging over the green cake liner adds a pretty and whimsical touch.  My favourite part though was achieving the cabled effect on the green cake liner by working front post half triple crochets (FPhtr) around stitches found in rows below.  I thought this technique was brilliant and I love how it turned out- I'll have to keep this in mind for future projects!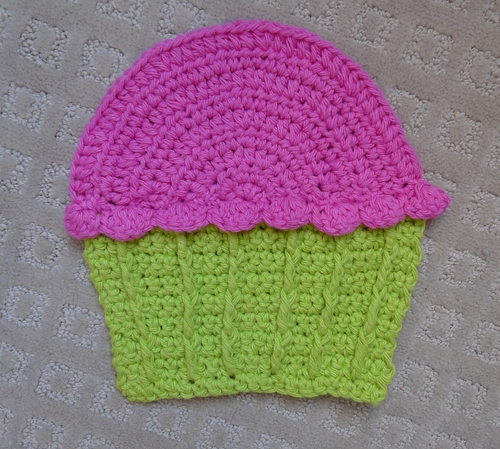 The original project includes the pattern for a circular cherry with a loop on the top so that you can easily hang your dishcloth.  I wanted to make this dishcloth convertible into a bib as I wanted to gift it to a newborn baby girl!  Thus, I did not include the loop on the cherry- instead, I crocheted a little stem.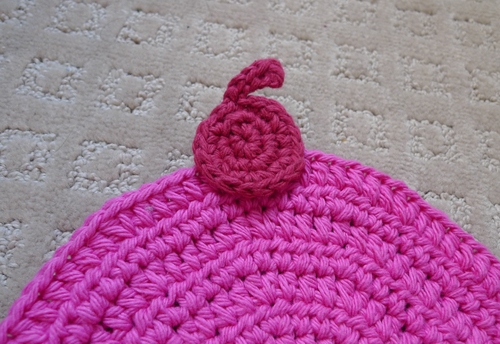 After following the pattern for the cherry, I did not fasten off.  I did the folllowing:
Ch 6.  Sc 1 in 2nd chain from hook.  Sl st in next 4 chains.  Sl st in next 2 stitches of circle.  Fasten off and leave end to attach cherry to cupcake.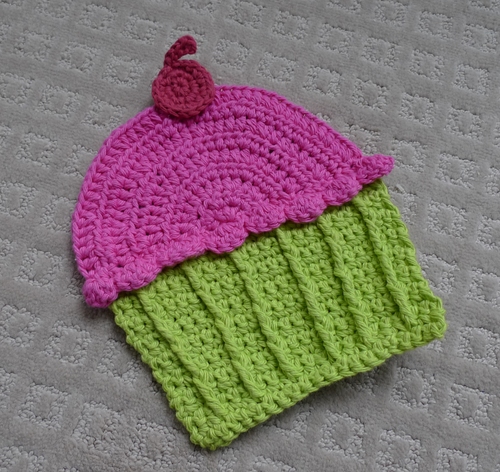 In order to make this cupcake convertible into a bib, I added these two straps to the back of the pink frosting so that I could run a long neck strap through them: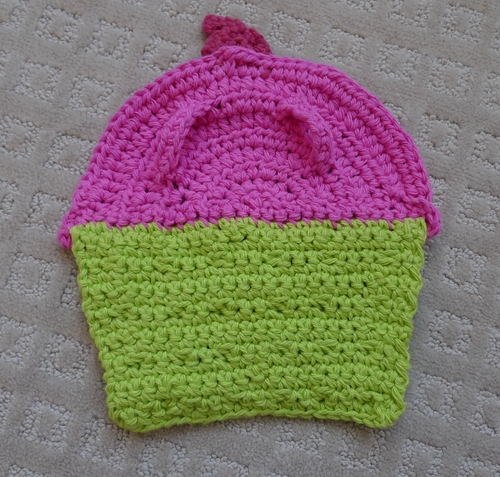 To crochet these:
Ch 7.  Sc in 2nd ch from hook and in each chain across (6 sc).  Fasten off and leave ends to attach straps to frosting.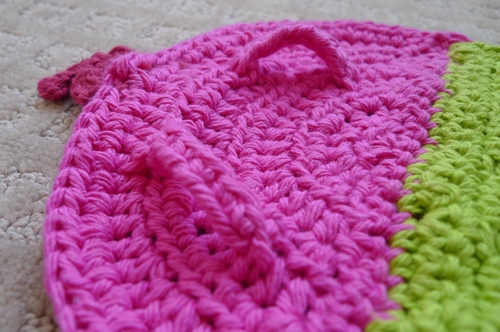 Next I crocheted the long neck strap consisting of double crochets with a button on the end.  By using double crochets, this made the strap adjustable since the button can fit between any of the stitches!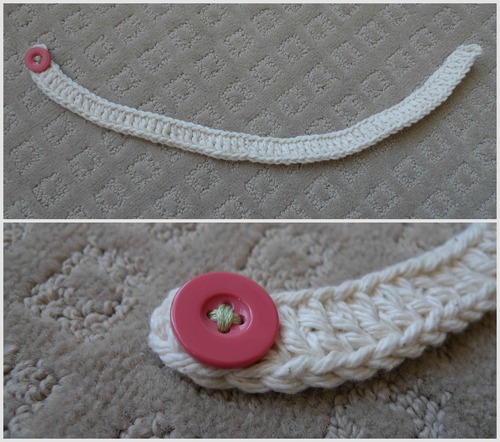 To crochet the neck strap:
Chain 70.  Dc in 4th ch from hook and in each chain across (68 dc).  Fasten off and weave in ends.  Sew button firmly onto one end.  (My strap measured approximately 17 inches).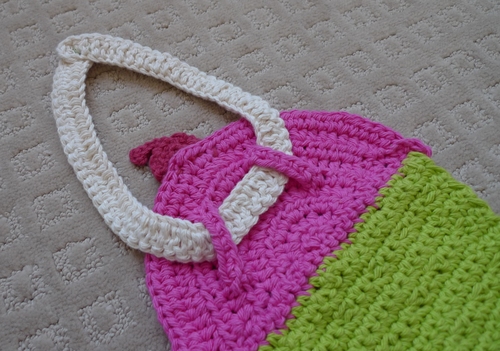 After feeding the neck strap through the pink straps, this is what my cupcake bib looked like!  I thought that the family could use it at first as a bib, and when their baby daughter no longer needed to use a bib, they could remove the neck strap and continue using it as a cute dishcloth in their kitchen!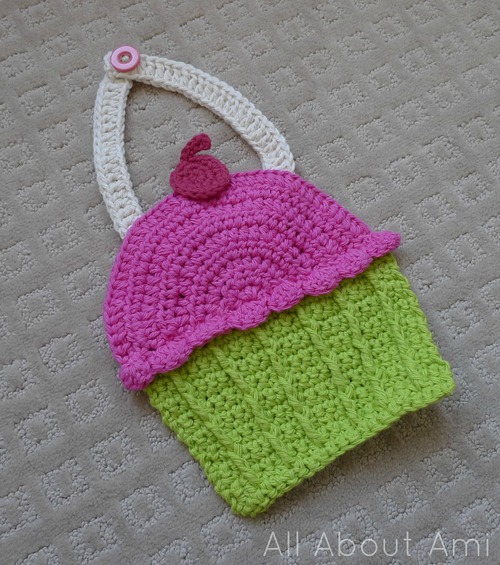 Cupcakes are so pretty and whimsical- I'm sure a Cupcake Dischcloth or Bib would be a welcome addition into many homes and kitchens, especially for those with a sweet tooth!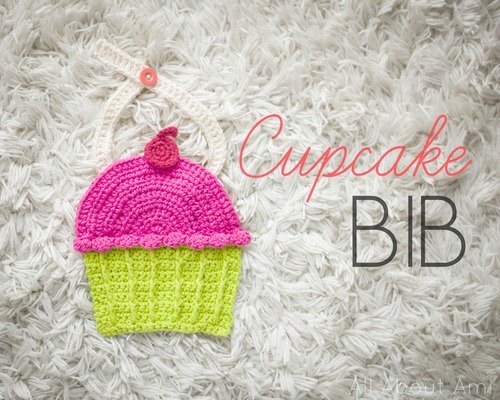 Myla absolutely detests wearing bibs now, but we managed to get her to wear this Cupcake Bib for a split second to capture this photo before she ripped it off, haha!  Isn't the bib adorable?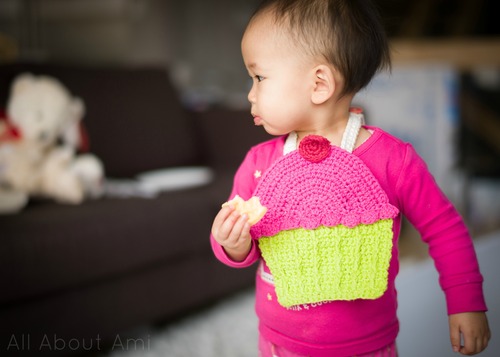 To make your own Cupcake Bib or Dishcloth, check out Twinkie Chan's free pattern HERE!  Her post also includes a very informative YouTube video in which she shows you how to crochet the entire project as well 🙂  Have fun, and happy crocheting!