The right tools are important for any craft, and hooks are one of the basic necessities for our beloved crochet!  Ever since picking up crocheting again a couple of years ago, I had been using aluminum hooks.  I was unaware of the many different types of hooks available as well as the basic anatomy of the crochet hook.  Nerdigurumi put together a very handy guide addressing these topics HERE.  I first caught a glimpse of the beautiful and colourful Clover hooks when Jo of "A Morning Cup of Jo" posted a picture of them on her facebook page as she had received them as a surprise birthday gift!  They looked so fun and comfortable!
As many of you know (and often question, haha), I usually use a very small 2 mm hook when crocheting my amigurumi.  I like to have very small, tight stitches and I just grew accustomed to using my skinny aluminum 2 mm hook.  At times I did notice that my hand would cramp up as I crochet quite tightly and I had to take breaks since I did not want to develop any injuries.  In addition, since becoming a new mom, I learned that "Mommy thumb" (or De Quervain's Tendonitis) is quite common, especially to people who engage in repetitive hand or wrist movement (such as crocheting and lifting a baby!).  When Mother's Day rolled around, Ryan said he wanted to get me a very special gift….a new set of ergonomic crochet hooks!
At first I wasn't sure if I should get the Clover set I had previously seen since I had slowly been accumulating hooks over the years…none of them were ergonomic, but was it worth it since I already owned many of the same hook sizes?  We decided to take the plunge since I do crochet a lot and they could prevent future injury!  I started researching Clover Amour hooks and discovered that there seemed to be two sets, each with varying sizes.
The "Clover Amure" set consists of 8 hooks ranging in size from 2, 2.3, 2.5, 3, 3.5, 4, 5 and 6 mm (see here).  The "Clover Amour" set consists of 10 hooks, ranging in size from 2.25, 2.75, 3.25, 3.5, 3.75, 4, 4.5, 5, 5.5, 6 (see here).  With the "Clover Amour" set, you have the option of purchasing it as a basic set or as a gift set with a case (price difference of about $10-15).  I decided to go for the "Clover Amour" set since it included more hooks and I liked the range more ….and I had to get the case too since I knew it would be a great way to store my hooks!  I compared sellers on eBay and went for the cheapest one at the time.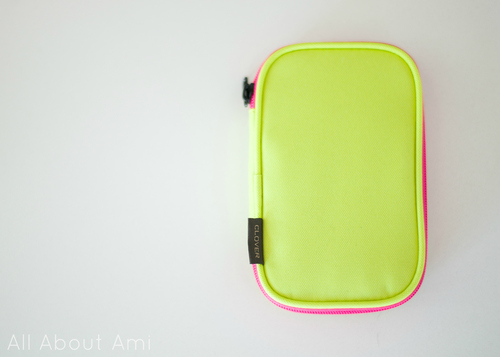 I excitedly checked the mail everyday, waiting for my crochet hooks to arrive!  When my Clover Amour gift set finally came, I ripped open the package to examine my new Mother's Day gift!  I absolutely love the bright green case with pink edging- what a fun and eye-catching colour combination!  The back of the case has a zipper compartment that you can use to store stitch markers or needles too.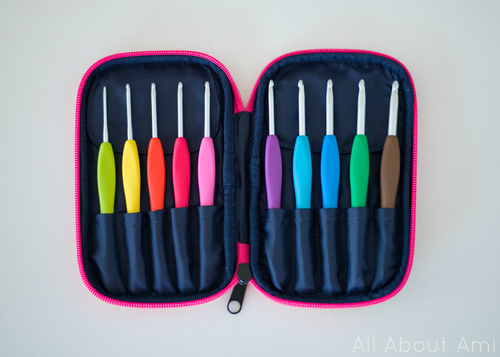 When you unzip the case, you can see all ten of the beautiful Clover Amour hooks that were made in Japan!  It makes me happy seeing all these fun colours whenever I reach in to grab a hook.  The colours help me remember which size is which as well (e.g. I always remember the red one is my 3.5 mm hook!).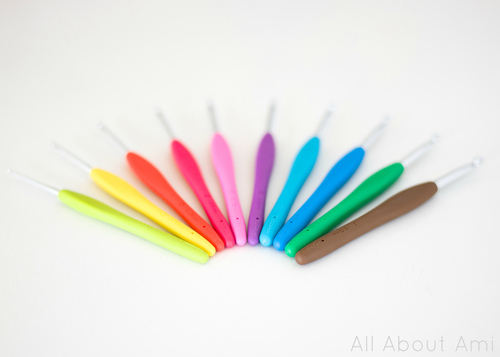 As soon as I started using one of my new Clover Amour crochet hooks for a project, I could immediately feel the difference.  The soft, rubbery handles are very comfortable and easy to grip.  It felt so different holding the rubber handle compared to the hard aluminum hooks that I was accustomed to.  I noticed the biggest difference when using the smaller hooks since my previous aluminum 2 mm hook was so skinny and difficult to grip.  Even though the hook size may be small, the Clover handle is big, making it so much more comfortable.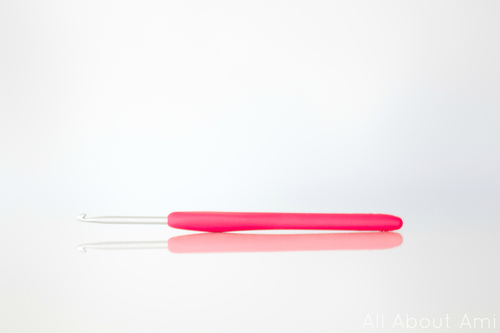 The smooth aluminum hook glides through the yarn easily and is more "inline" compared to the previous hooks I was used to (read about the difference between "inline" and "not inline" hooks here).  I feel I can grip and hold the yarn well without much splitting of the yarn because of its shape!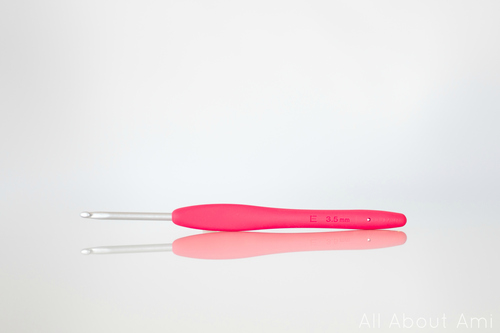 These hooks look so sleek, and I really like the shape and contour of the elastomer rubber handle.  I use the knife hold when crocheting (see knife hold vs. pencil hold here), so the flat wide part in the front is a great thumb rest.
Here are the pros of these Clover Amour hooks: they are very comfortable, easy-to-grip and oh so pretty.  The cons are that they are expensive (especially if you buy the whole set) and once you start using these you cannot go back to using your other non-ergonomic crochet hooks because your fingers will notice the difference!  My Clovers were in another room recently so I started a project using my old aluminum hook.  It felt so foreign and I was wondering why my fingers were hurting, haha!  I wish the range of sizes was a little larger too as I don't know how much use I will get out of the 2.75 or the 3.25 mm hooks.  Having larger hooks than a 6 mm would be great too!  [UPDATE: Clover has now added a jumbo range to their Amour series including sizes 6.5, 7, 8, 9, 10, 12, and 15 mm!  Read my full review about these new larger hooks HERE!]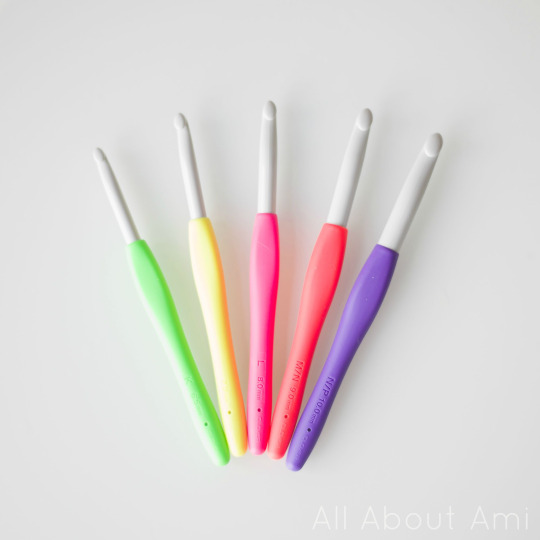 If the sets seem like too much of an investment, you can also purchase the Clover Amour hooks individually so you can simply buy the one or two sizes that you use the most (see here).  Be sure to check different sellers on eBay, Etsy and Amazon to scout out the cheapest prices for the sets or hooks at any given time (we bought our set on eBay)!
I LOVE my Clover Amour set and have been using them for the past couple of months.  My hands, fingers and wrist do not get as tense as they used to and it feels so comfortable whenever I'm working on my projects.  I think they are worth the investment and I get excited whenever I get to use them!  Let me know about your experiences with different crochet hooks, whether you also have any Clover Amour hooks, or if you're interested in getting them too!  I'd love to hear about it!
***If you end up purchasing the Clover Amour hooks through Amazon, you can check out my affiliate link below:  Thanks 🙂