While browsing the many lovely images on tumblr, I came across a picture of a beautiful chunky crocheted basket.  I was delighted to see that a free pattern was available through a wonderful blog called "Crochet in Color".  Liz has three free patterns for baskets, and I decided to try this one here.
I immediately went out and bought the super bulky yarn Liz recommends to create a stiff and sturdy texture for the basket.  With this pattern, you hold two strands of yarn together, so if you use a smaller weight yarn, you will need to hold three or more strands together.  I used Lion Brand's "Wool-Ease Thick & Quick" in the colour "Wheat".  I made the smaller basket, so I only needed two skeins (Liz recommends 3 in her pattern), and I even had left-over yarn.  The pattern also calls for an 8 mm crochet hook– I was tempted to use my 9 mm crochet hook, but Liz recommends not using a larger hook as the stitches need to be tight so that the basket will be stiff and stand up properly.  And so, I went out and bought an 8 mm crochet hook as well!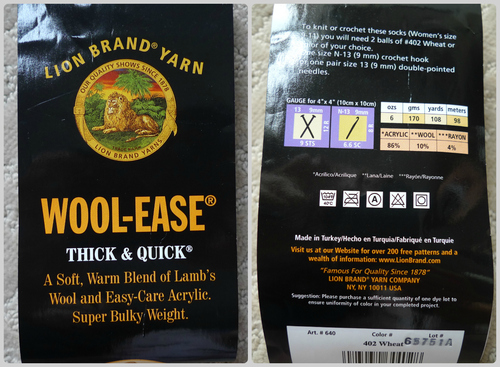 I started off by crocheting the base of the basket by crocheting round after round.  I don't think I've ever seen a bigger Magic Circle before!

To create the first row of the body of the basket, you work in the back of each half double crochet.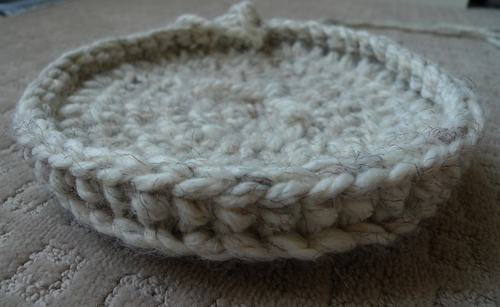 This creates a lovely seam separating the base of the basket from the body of the basket!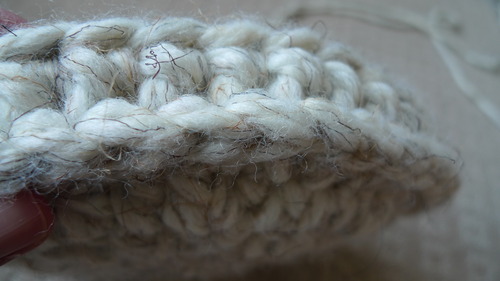 Adding more rounds…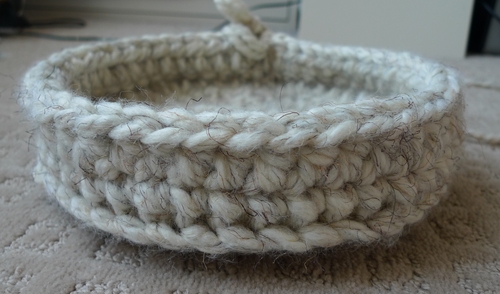 And more rounds..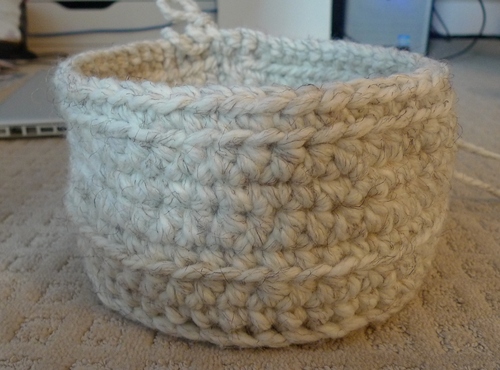 And now the fun part: making the handles!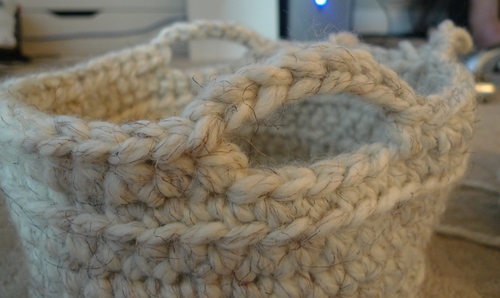 Add another row after making the handles, and the chunky basket is complete!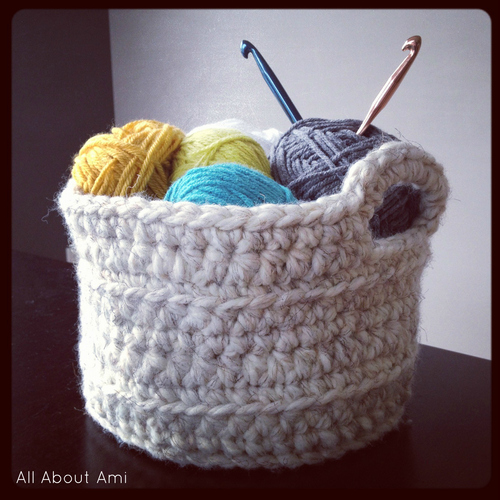 This basket is incredibly practical as you can use it anywhere around the house to store anything!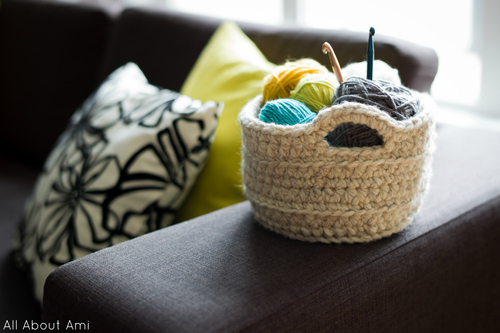 Right now I'm using it to store yarn that I'm using for current projects.  However, I could see myself using this basket in the baby room to store little socks, mittens and hats!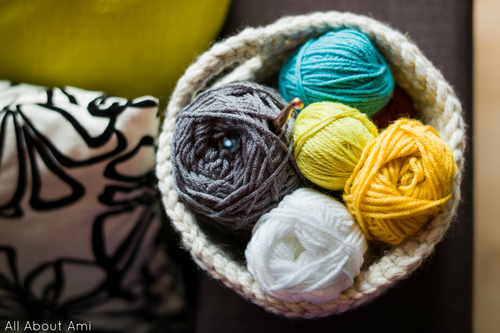 Here's a pic to show the relative size of this basket!  Liz also includes modifications to her original pattern so you can make a larger basket if you prefer.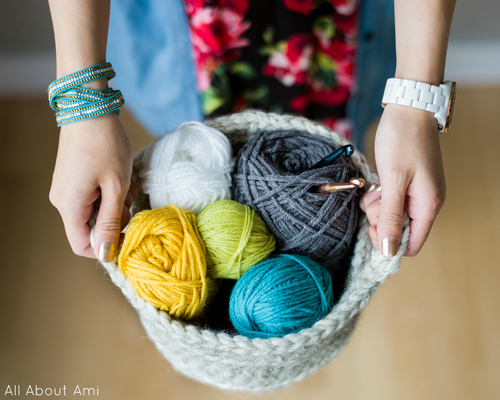 This is an absolutely wonderful pattern with great instructions and clear step-by-step photos, and I'm so happy that I stumbled upon it!  With 15 rounds, this project goes fairly quickly although it can be a challenge trying to crochet tightly with two strands of bulky yarn.  I tried to take breaks in between so my hands and wrist wouldn't cramp up too much.  I love the look of this basket, and I am itching to make another one!  Liz's most recent basket pattern, the Ombre Basket, found here is stunning, and I would definitely like to make one, possibly for our nursery to store books or toys!  Some readers commented how these would also make great gift baskets!  Imagine receiving a lovely crocheted basket that could be used again and again filled with goodies!
Check out Liz's blog "Crochet in Color" for other free patterns as well 🙂  I hope you liked seeing the making of my basket and hopefully you've been inspired to make one for yourself too!