When our dining table and chairs first arrived after we moved into our new house, one of the first things we went out and bought were circular felt protectors.  We stuck these felt protectors onto the chair legs to prevent the scuffing of our hardwood floor.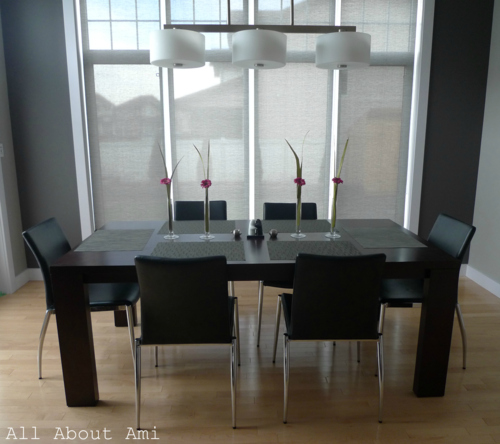 However, the felt pads did not adhere very well to the chair legs as they would frequently fall off when the chairs were slid in and out, leaving behind a sticky mess on the floor.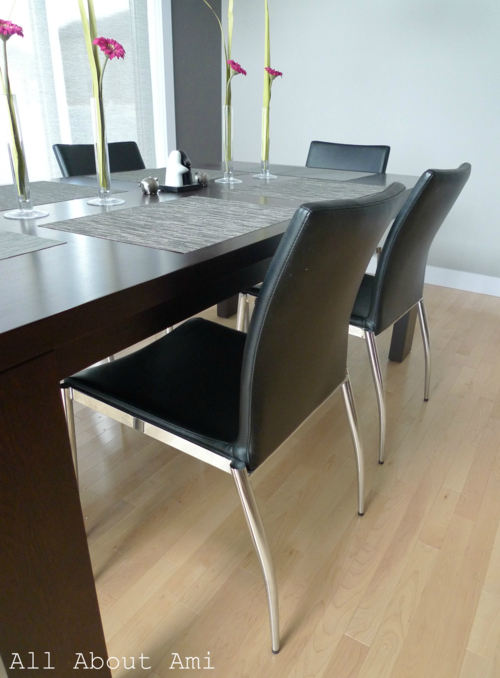 And so, I turned to my hobby for a brilliant solution: crochet chair socks!  I had seen some colourful knitted chair socks on-line before (seen here and here), and I was excited to try crocheting some.  I decided to stick with black since the bottom of our chair legs were already black, which would make the chair socks fairly inconspicuous and tie in with the colour theme of our dining room.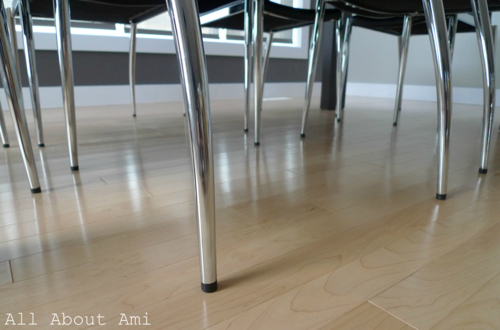 I tried to judge what would be an appropriate size: the chair socks needed to be snug enough so that they would not fall off when lifting or moving the chair.

I decreased towards the top, making it more narrow to ensure a snug fit.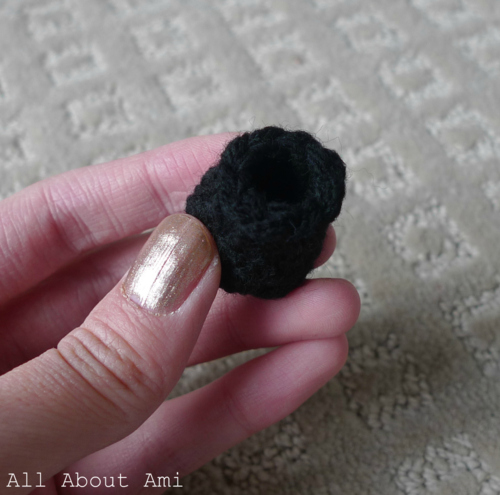 It was nice how quick it was whipping these up!  Here is my army of chair socks…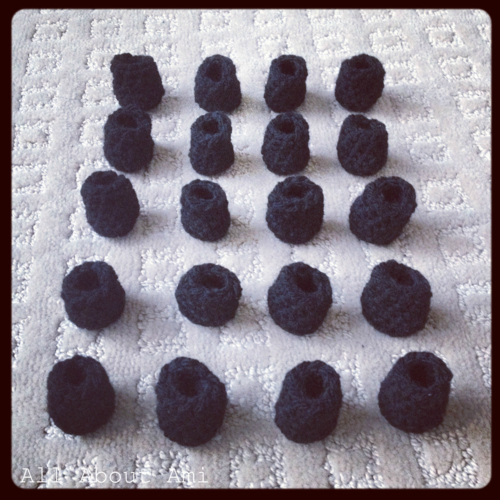 I was very excited putting these chair socks onto the legs as they fit perfectly!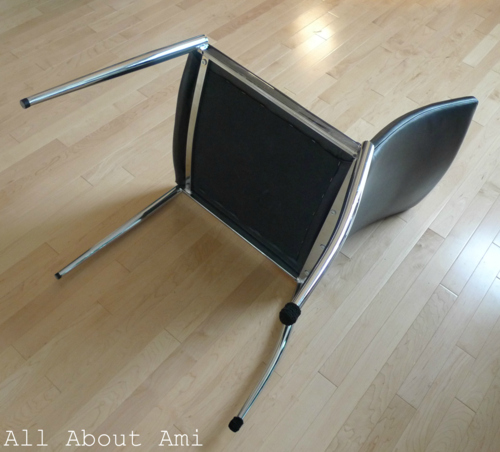 Here is a chair with all four legs protected 🙂  Our chair still retains its modern and sleek look!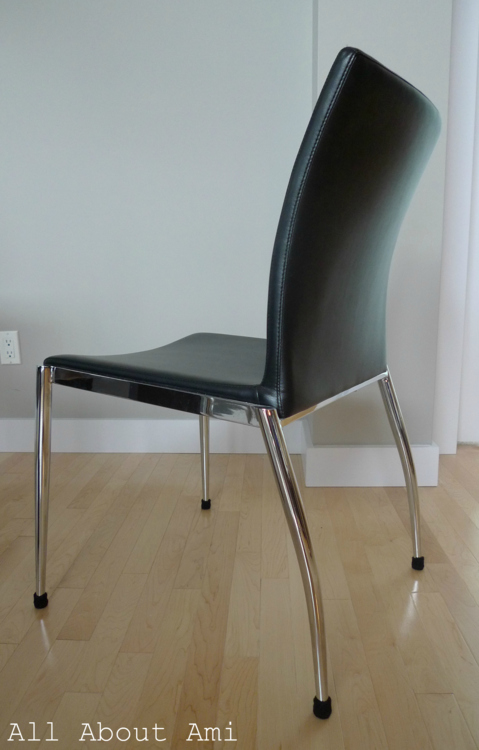 Here is a photo showing the difference between chair legs with and without the chair socks: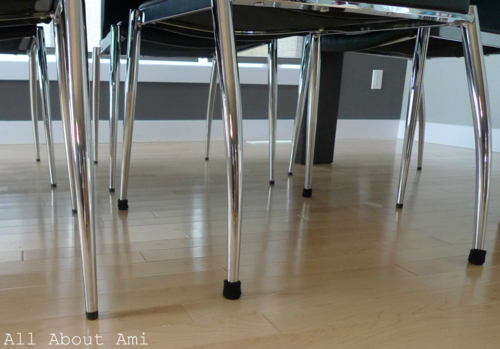 And here we have ALL the chair socks in place!  When the chairs are pushed in and out, we no longer cringe as there is no more screeching noise 😉  Our hardwood floor is protected, and the chair socks also provide grip against the floor (the chairs do not slide around).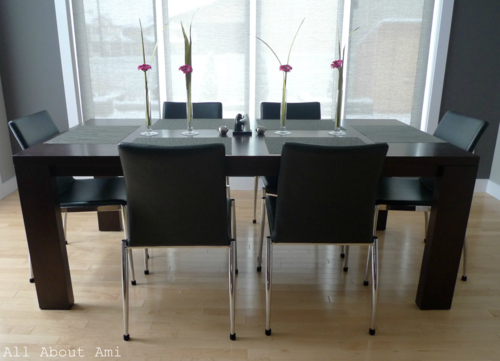 Good job to those of you who guessed what the crocheted items were in the picture below!  Thank you to everyone who put forward their guesses: I loved reading your responses 🙂  I really have no idea what that tiny thing on the chair is, so I had a good chuckle when some very observant and imaginative people guessed it could be a very hidden amigurumi (believe me, I did not intend to trick anybody by secretly hiding something there)!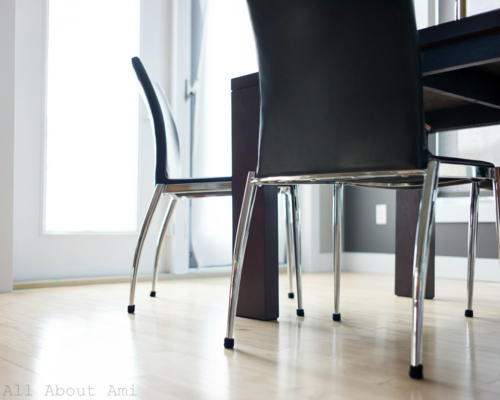 Of course, everybody's chairs are different, but I thought I would include the pattern I made up just in case!
**********


Using a 3.5 mm crochet hook and medium weight yarn,
R1: 6 Sc in Magic Ring (6 sc)
R2: 2 sc in each sc around (12 sc)
R3: In back loops only, Sc 12
R4: Sc 12
R5: *Sc 2, dec 1*, rep 3 times (9 sts)
R6-7: Sc 9
Finish off and hide end.
**********
It's wonderful being able to crochet something so functional and practical for the house!  You could always use fun and bright colours or make them striped if you want them to stand out or make a statement in your dining room.  Or, of course, you could make them black or a more neutral colour as I did if you want them to blend in more.  Let me know if you'll be making some chair socks and what colours you'll be using!  Happy crocheting, everyone 🙂