A year ago I did a series of blog posts showing some simple ways to crochet cell phone cozies.  Cozies made using Tutorial #1 had crocheted edges while Tutorial #2 showed the "sock method".  Tutorial #3 involved the use of fabric lining- the pink cozy with wooden button (the one I actually made for myself) was made using this method.  Back then I made it to fit my future iPhone which I did not get until several months later.  I love having a handmade cozy to protect my iPhone in my purse.  It's fun popping it in and out too 🙂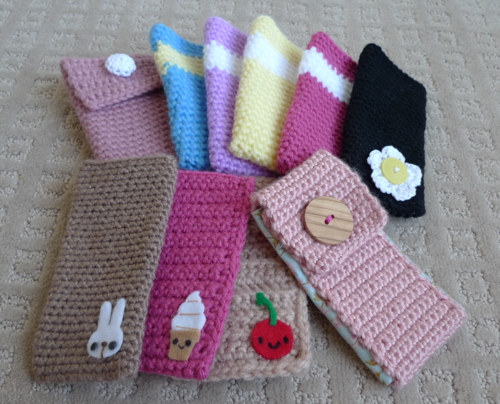 Let's take a look at some cell phone cozies that people have made for their own cell phones!
Audrey of Audrey's Corner from Germany made three cell phone cozies using my tutorials!  She used the crocheted edges method and made some for her friends as well.  I love how she used a different yarn colour for crocheting the edges.  It gives the cell phone cozies a nice two-toned colour variation!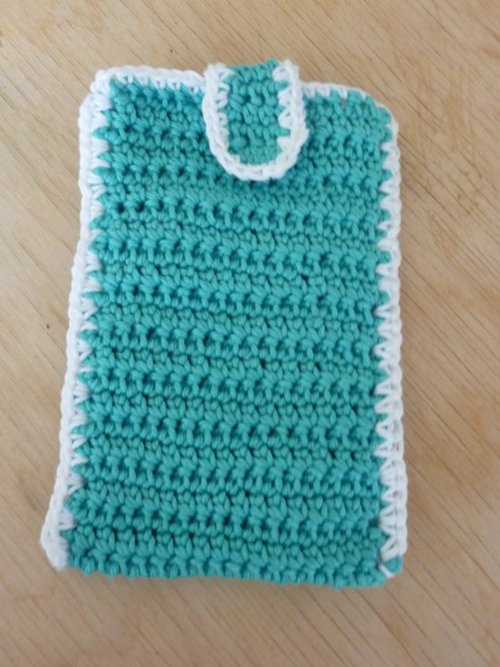 Audrey added a dainty flower to the bottom of this delicate cozy…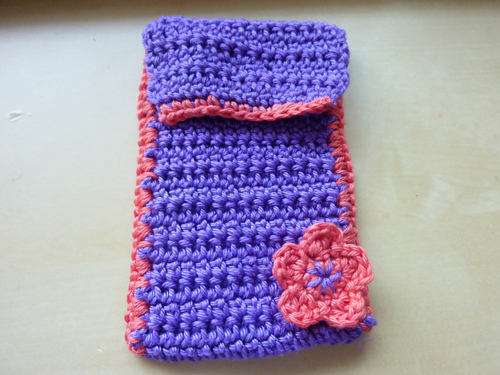 And she added a cute cherry button in the corner of this cozy which she made for herself!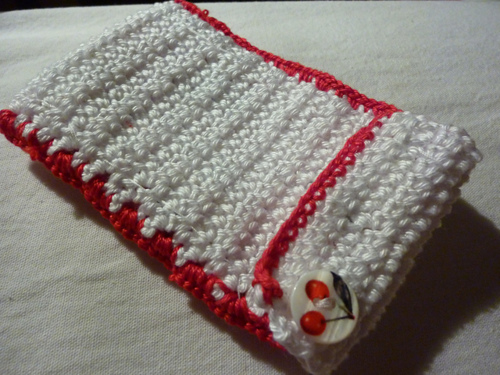 Kai Yee of Alberta, Canada learned to crochet recently and has become a big supporter of my blog 🙂  She started by making cell phone cozies and has now learned how to read amigurumi patterns and make some beautiful amigurumi!  I love this bright green she used and how she added a cute giraffe and elephant on the bottom.  She used the sock method described in Tutorial #2.  It's wonderful how so many young people are taking up this awesome hobby 🙂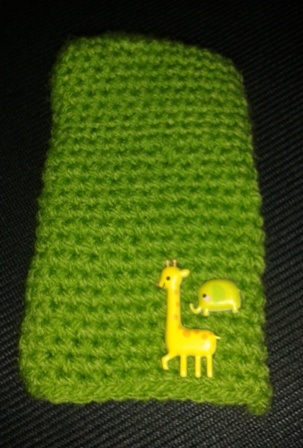 Tiffany made a front flap and crocheted button for her cozy using the sock method!  The stitches in Tiffany's cell phone cozy have a different look because she crocheted in the front loops only.  You can see the lines on the flap since the back loops are not crocheted in.  There are many variations you can do with these cell phone cozies!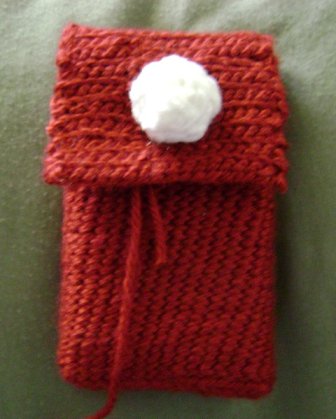 Rahmeh of Exceptionally Ordinary of Jordan also made a cell phone cozy with a front flap and crocheted button using the sock method.  It's nice having that extra protection of the front flap so you really know your cell phone won't accidentaly pop out!
Kristi is a friend of mine who was interested in learning how to crochet.  I sent her some youtube videos and had her over a couple of times to give advice or answer any questions she had.  Kristi totally blew me away as she picked up crocheting so quickly and really took off with it.  She's made some awesome creations, from adorable hats and baby bear suits to amigurumi food.  I absolutely love the cell phone cozy she made below.  The fuscia pink and lime green work so nicely together, and the added wristlet is a great way to carry this cozy around.  The little green heart is so adorable.  Learn how to crochet a heart here.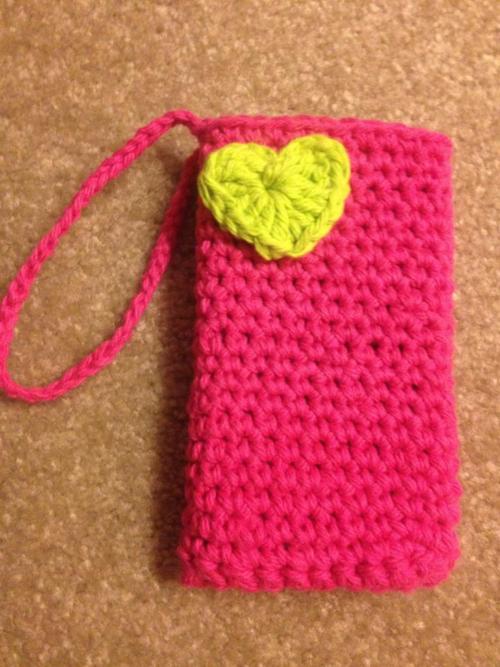 Kristi made these two as well: she used a technique called the "reverse single crochet" or "crab stitch" to do the unique top edging on the cell phone cozy on the left.  It gives a kind of roped effect.  See Planet June's tutorial on how to do it here.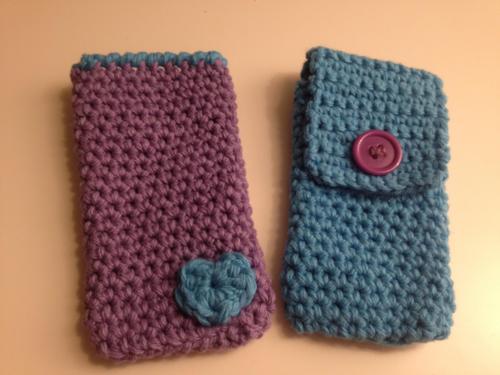 Brittany of Georgia, USA was a newcomer to crochet and she tweeted me this photo of her first cell phone cozy!  I think her cozy looks so mod with the colours and pink button in the corner. Brittany followed my third tutorial and used a beautiful pink lining to contrast the bright green.  Wonderful job, Brittany!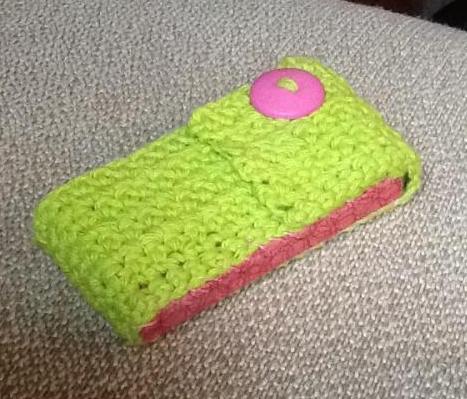 Babby tweeted me a photo of the cell phone cozy she made for her mom's birthday!  She also used the fabric lining method and said her mom loved it!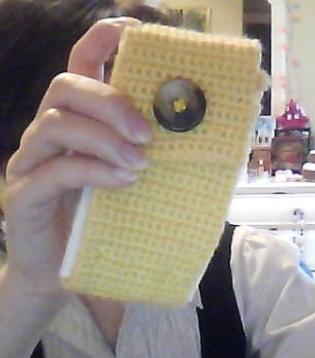 Višnja of Serbia used a flower lining for her cell phone cozy and an animal-print button to pop against the pinkness!  You can get so creative choosing different colours, fun buttons and unique fabric- it's neat seeing it all come together!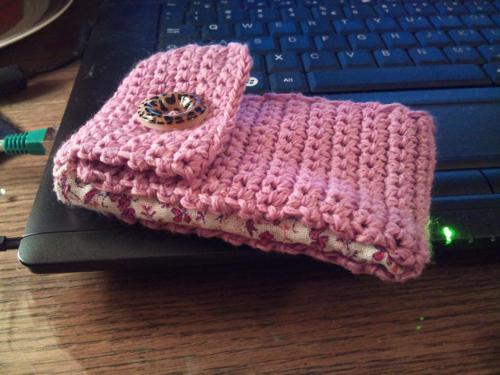 Amanda of Wisconsin was new to amigurumi and crochet when she stumbled upon my blog.  She sent me many photos of her work as she has grown to love her new hobby.  I included her "Sweetheart Bunny" in my last Crochet Corner post.  Here, you can see her yellow cell phone cozy.  Sometimes it's hard to add charms to phone nowadays, but you can add charms to your cozies as Amanda has done!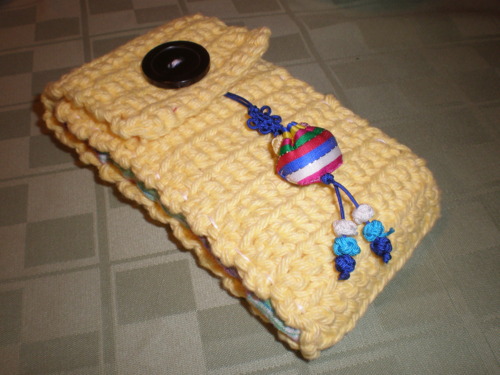 Frau Shizzle tried crocheting again for the first time since elementary school to make these cozies.  She made one using fabric lining and one using the sock method- she says she likes the sock method most.  I love her colour choices as the taupe yarn, greenish button and beautiful lining work so well together in her first cozy.  The striped earth tones of her sock cozy look wonderful together as well!  I love them both 🙂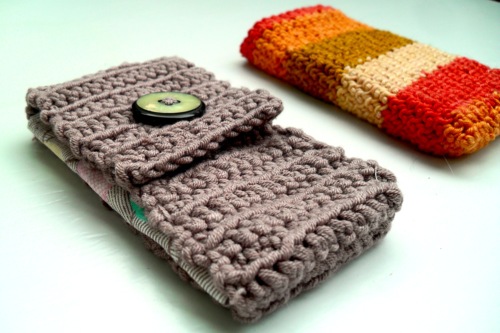 Lastly, here's a great way to "amigurumi-fy" your cell phone cozy!  Studio Ami took inspiration from my tutorials and made this ADORABLE cell phone cozy based on the cat from Kiki's Delivery Service.  The front flap serves as the face with the large round eyes and cute nose.  She also added triangles on the top of the flap for the ears.  How creative!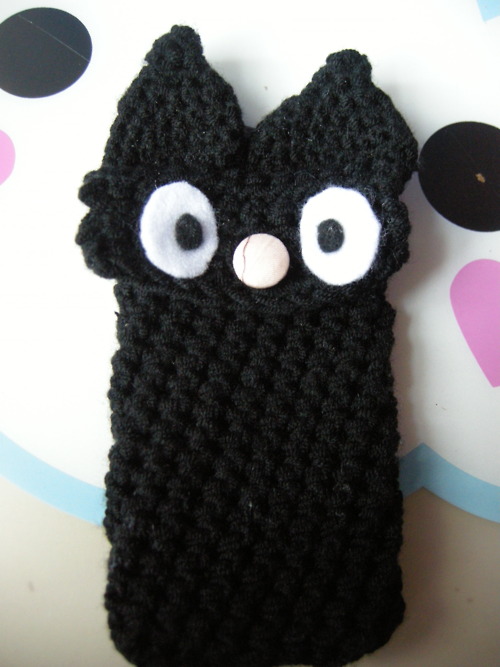 If you're new to crochet, these cell phone cozies are a great beginner project since you do not need to know how to read patterns.  They are very practical and functional, and they also make great gifts for friends!  These would also make great last-minute Mother's Day gifts too 🙂  Check out all three of my tutorials here to see the different methods and to learn how to make one for yourself!  Keep sending me photos of your work through my facebook page, twitter or e-mail!  Thanks, everyone 🙂