A couple of months ago, I received a lovely e-mail from a fellow mom and crocheter named Makenzie.  Makenzie introduced herself and told me that her and her husband Brian had started making their own crochet hooks and selling them in their Etsy store called "BQueen Collection"!  She wanted to know whether I would try out one of their hooks and give my opinion on their design. Makenzie had definitely piqued my curiosity and interest as the thought of making crochet hooks by hand had never crossed my mind before.  When I clicked the link to their store, I was astonished to see some absolutely gorgeous and unique wooden crochet hooks in their "BQueen Collection"!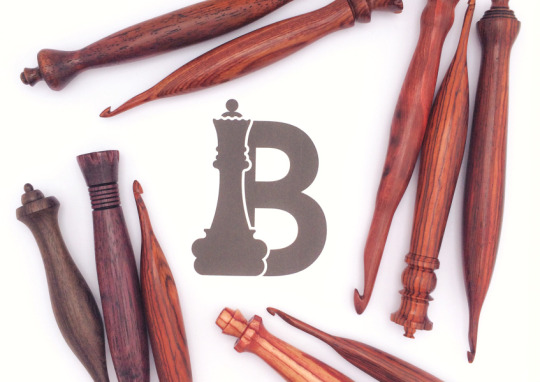 The name "BQueen Collection" comes from Makenzie's childhood nickname of "Boo Queen" and her longtime love of chess.  When Makenzie was 40 weeks pregnant, Brian bought a wood lathe to start a new hobby of making tobacco pipes on a whim.  Shortly after, Brian surprised Makenzie with a crochet hook that she absolutely fell in love with, and now they are working together and sharing their talent and beautifully crafted hooks with the world!  I think it's astonishing that a crochet hook can be made from a block of wood!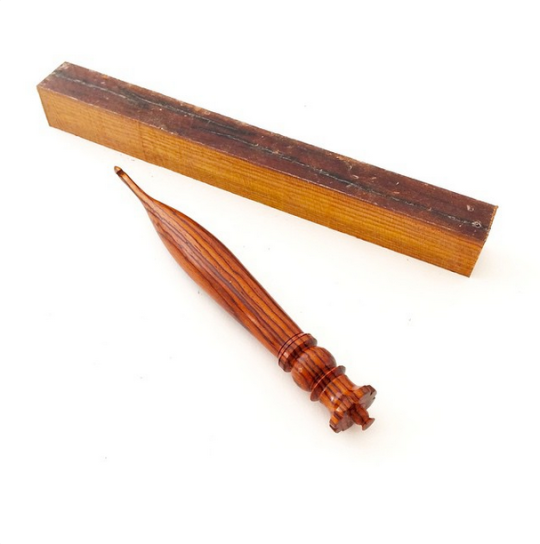 I asked Makenzie if I could try a 5 mm hook since I tend to use this size frequently for hats and other projects.  When my handcrafted hook came in the mail, I was in awe of its beauty as it took my breath away.  Never before had I held a crochet hook like this, and it almost felt like I was holding a magic wand out of the Harry Potter series, haha.  I loved how the tag showed that it was made of Burmese Rosewood with a description of this particular wood from Southeast Asia.  Brian and Makenzie use a variety of different woods such as redheart, cocobolo and yucatan.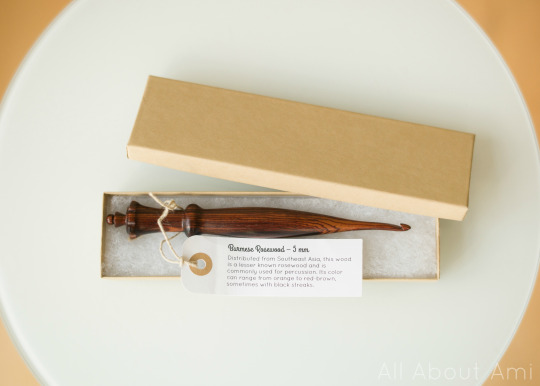 The beautiful and ornate crown tip was so unique and elegant.   I began taking my new crochet hook for a spin and writing down my thoughts so I could relay them to Makenzie!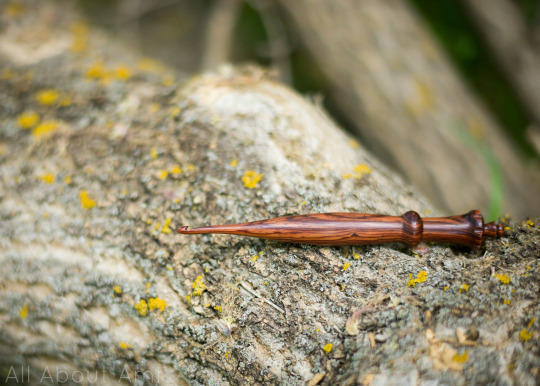 As you know, I am a die hard Clover Amour fan, so using this hook felt different and took some adjustment as does trying out any new item when you are so used to doing things a certain way.  Everybody has their own preferences for their crochet hooks: some prefer metal vs plastic, inline vs tapered, pointy tip vs rounder tip.  I myself am used to more tapered hooks as I currently use my Clover Amour hooks (which are a hybrid between tapered and inline) and prior to that I had used my tapered Boye hooks.  I posted the below photo to Instagram and received many different opinions on what people preferred!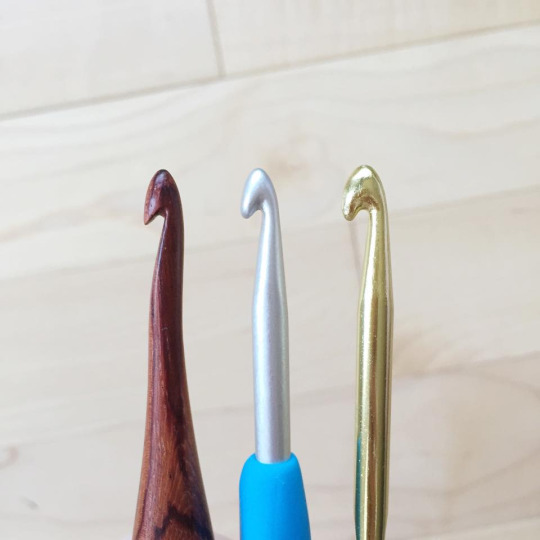 The larger handle was ergonomic as less pressure and strain was required to hold this hook compared to your typical thin metal hooks.  I personally found the handle to be a little bit too big for my own hand, but I knew this would vary based on people's preferences.   I told Makenzie that thumb rests were a great option for comfort as it is nice having a place to rest your thumb and to orient the hook in the right direction.  Furthermore, I noted to Makenzie that having a tapered shaft could be tricky for people not used to having consistent gauge as their loops could slide downwards and increase in size.  
The beauty of making your own crochet hooks is that you are able to customize everything and make different options available so that people can develop their perfect, ideal crochet hook!  Makenzie and Brian tested out different possibilities and rolled out three new options in their "Modern Style": a longer shank, a thumb rest option and a sleek design.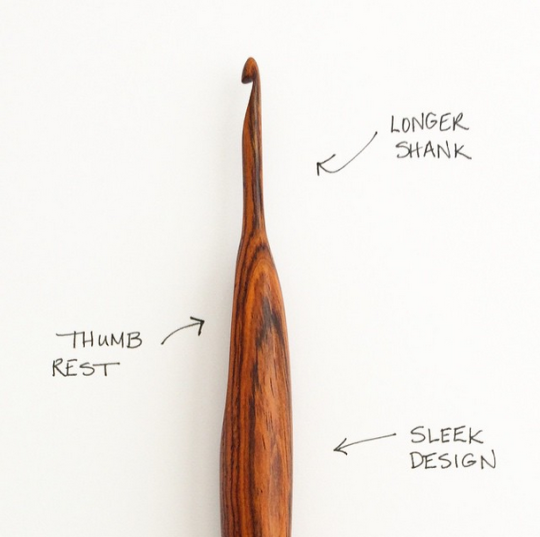 They sent me their new "Modern Style" hook to try and I love it!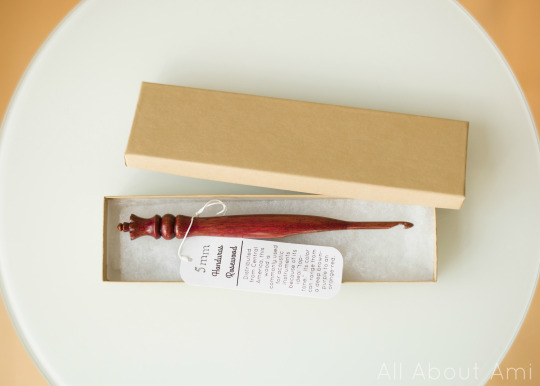 The hook is lightweight, smooth to the touch and easy to maneuver. This particular hook is made of Honduras Rosewood and it has a stunning reddish hue and beautiful grain.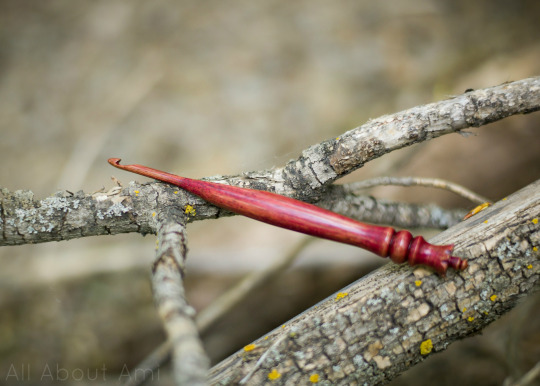 The yarn glides effortlessly off this hook and it feels very comfortable when I crochet with it!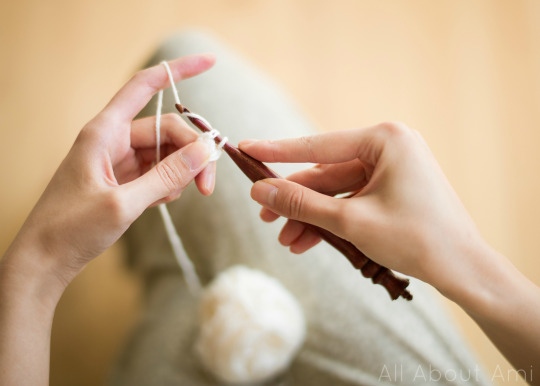 I personally prefer the "Modern Style" compared to their "Traditional Style", but take a look at both options to see which one you like!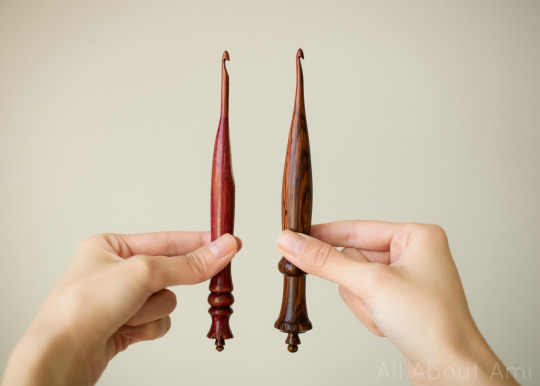 I was in the market for a MASSIVE crochet hook, so when Makenzie first asked me what size crochet hook I was interested in, I told her 23-25 mm!  Look at this beauty!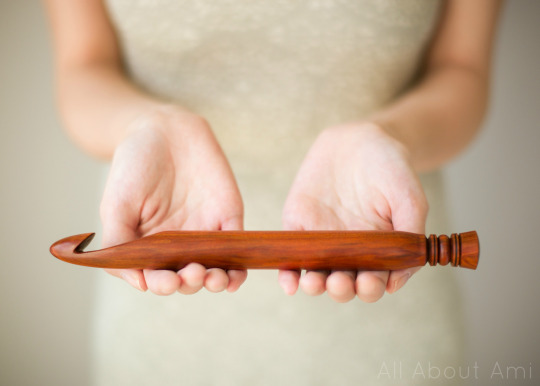 She is made of Redheart from Mexico and is incredibly light.  What will I use such a massive crochet hook for, you ask?  Why, crocheting massive oversized cowls, poufs, blankets and rugs, of course!  Stay tuned- I'm excited to use it for upcoming projects!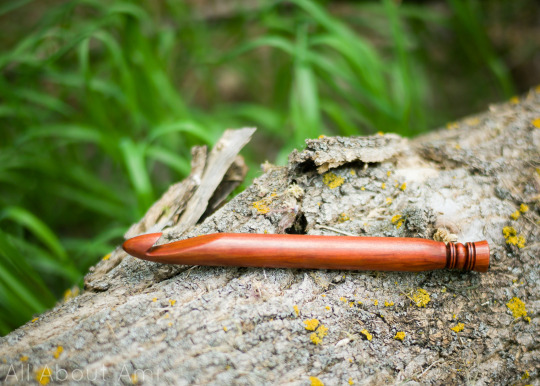 Makenzie and Brian are always trying new and exciting things- have a look at this stunning ivory coloured crochet hook!  Isn't it amazing?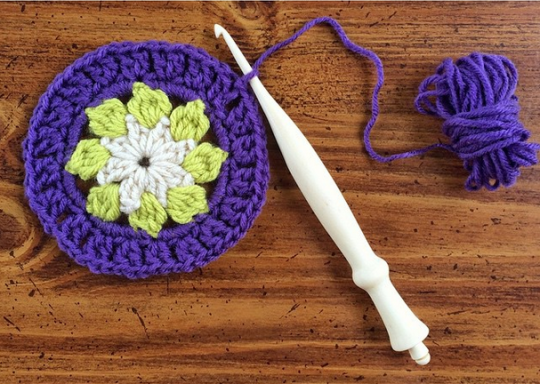 Makenzie is now the one who is doing the hook tips, and she is currently offering a hybrid mix between tapered and inline (their new standard)!  Wooden hooks are no longer simply just for the inline crowd (although they still offer inline upon request)!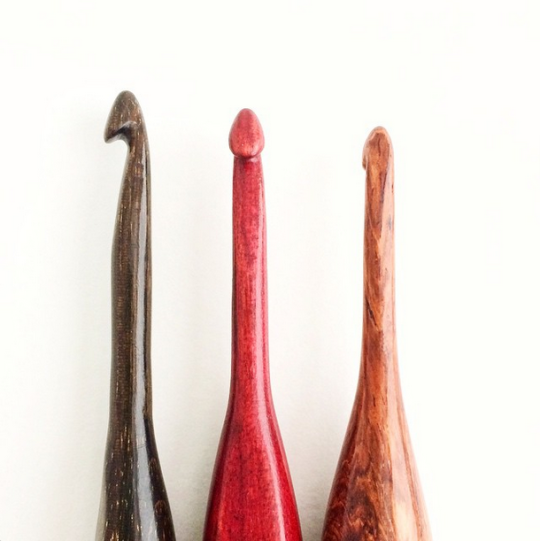 These luxury hooks can be custom made and the sizes from 4 mm to 25 mm are available!  Click HERE to see how you can start building your own fully customized crochet hook.  You can also look into purchasing a custom 2 or 3 hook set!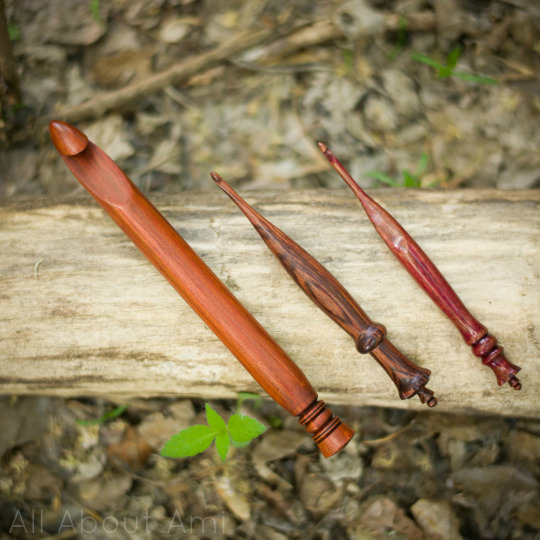 These hooks are truly works of art, handcrafted with so much precision, care and love.  Every single hook is unique with its own special grain and coloration and it's neat to think that no two hooks are exactly alike!  Even though these hooks carry a larger price tag than your standard big brand aluminum or metal hooks, I see these as beautiful heirloom pieces that can be passed on from generation to generation.  BQueenCollection's prices are actually quite competitive compared to other handmade wooden hooks on the market!  They would make wonderful gifts for the crochet lovers in your life or as a special treat for yourself too!  Makenzie has been an absolute pleasure to work with as she focuses heavily on providing great customer service as she strives to ensure that her customers find their perfect crochet hook match!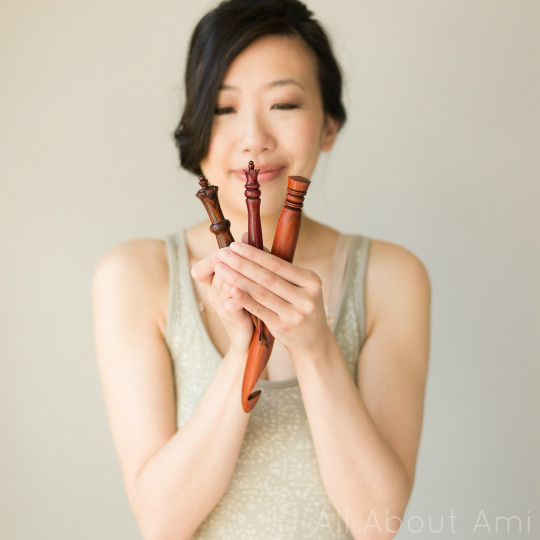 In addition to making their beautiful crochet hooks, Makenzie also has a blog where she shares her free patterns (check it out HERE)!  She has an amazing sense of humour (see her poetic "The Story of the Sad Pillows") and enjoys transforming projects into yarny crocheted projects!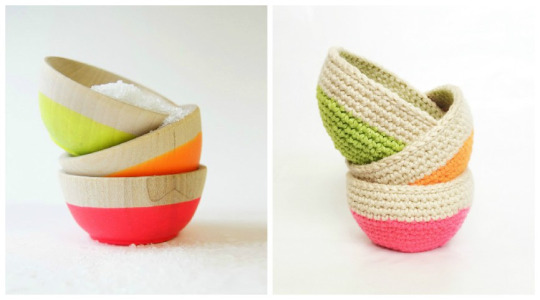 And here is the very exciting part!  Makenzie and Brian are generously offering to give away a CUSTOM MADE crochet hook!  Please see how to enter using the Rafflecopter widget below: there are three mandatory entries:
(1) Liking the BQueen Facebook page
(2) Visiting the BQueen Collection blog
(3) Visiting
BQueen Collection on Etsy 
Take a look around and see what hook you would choose if you won the giveway (traditional vs modern, size, thumb rest, type of wood, etc).  The rest of the entries are optional (e.g. sharing on Facebook, following on Instagram) but give you more chances of winning!  This GIVEAWAY is open worldwide and will close on Sunday, May 31st at midnight MST.  I am so happy that I am able to introduce you to these luxurious hooks so that you know of more options when you're in the market for a new hook!  Don't forget to follow BQueen Collection on Facebook and Instagram (@BQueenCollection) to keep up with their work!  Thank you for reading, and good luck in the giveaway!