This past weekend we had our baby shower!  Ryan and I had an absolutely wonderful time gathering with our friends and family, and we played some fun games and were showered with very thoughtful gifts.  I thought I would share about the decor at our baby shower as it was very inexpensive and simple to make!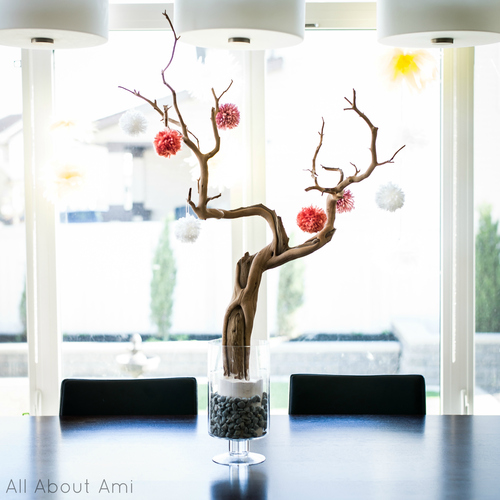 There was a pom pom theme as we had both yarn and tissue pom poms that created a fun, playful and colourful atmosphere!  I remember making yarn pom poms when I was little, so it was fun revisiting how to make them again 🙂  Instead of wrapping the yarn around my fingers (which is how I made them in elementary school), we used another technique…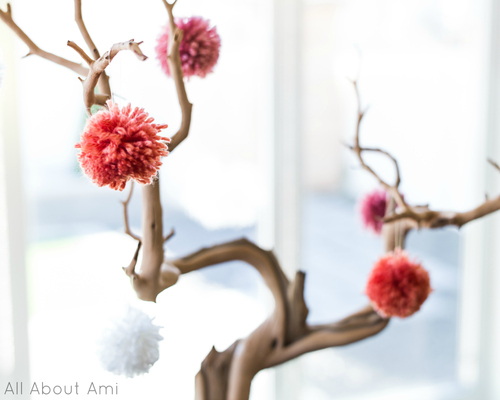 You can actually buy pom pom makers (see here) or make your own pom pom maker! See this video HERE to make your own pom poms 🙂  Essentially, you cut out two doughnut shapes out of sturdy cardboard (we used Ikea boxes).  To make pom poms of our size, our cardboard doughnut had a diameter of 8 cm or 3.15 inches, and the hole had a diameter of 3.5 cm or 1.4 inches.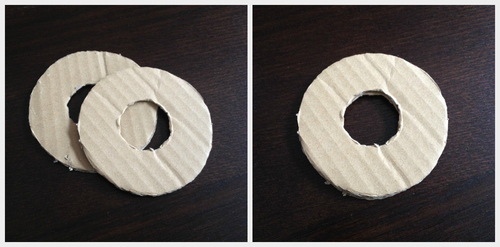 You wrap the yarn around the cardboard doughnuts and then snip the yarn around the edges.  Next you use a piece of yarn to tie the center together by sliding it between the cardboard doughnuts.  To finish off, you simply fluff up your ball and trim any extra long pieces!  Check out the link above to see step-by-step photos of this process.  As you probably know, I've amassed quite a bit of yarn because of all my crochet projects, so it was nice being able to use yarn as a part of our decor and for non-crochet purposes!  We used clear jewelry cord to attach the yarn pom poms to our tree.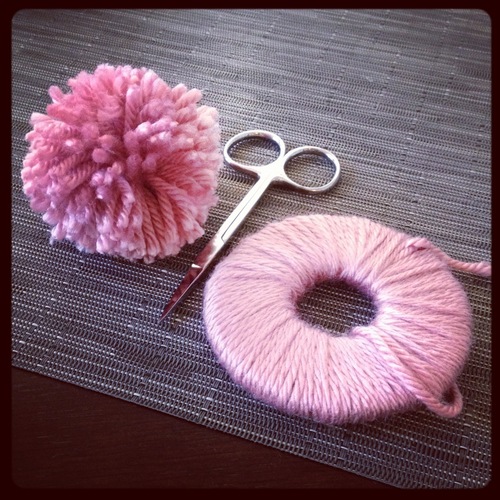 You might be wondering where such a beautiful tree came from!  We actually purchased two of these manzanita trees from a gift trade show for our wedding two years ago!  Here you can see how it was decorated on our special day.  We hung crystal garlands from the trees with rocks and moss at the base in a vase to help decorate our guestbook table during our ceremony and on the stage around our headtable during our banquet reception.  It was nice being able to use one of the manzanita trees again for our baby shower as the table centerpiece 🙂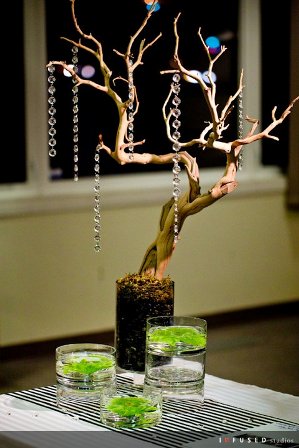 The other type of pom poms we had at our shower were tissue pom poms.  We connected yellow and white pom poms with twine and had them cascading down our windows.  Don't they look so lovely and ethereal?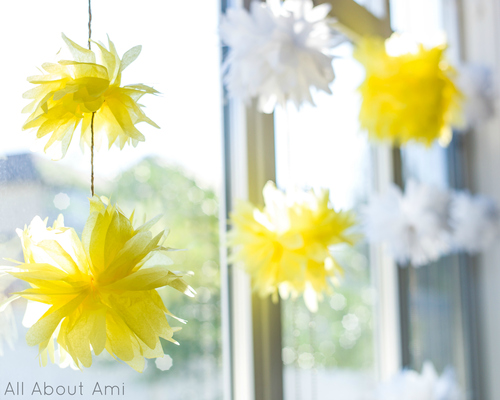 We used this awesome step-by-step tutorial here by Crafty Moods to learn how to make these tissue pom poms.  You fold sheets of tissue paper together to form an accordion and tie off the center using thin galvanized wire (we twisted the wire into the shape of a hook so we could hang them easily).  Next, you cut the edges into either a round or pointy shape which gives the overall pom pom different looks (below you can see three different pom poms we made by varying the shape).  After gently separating one sheet at a time, you get a beautiful fluffy pom pom!  Once again, check out the tutorial above to see step-by-step photos.  I bought a pack of tissue paper from the dollar store for $1.50, and we were able to make 12 pom poms from just one pack!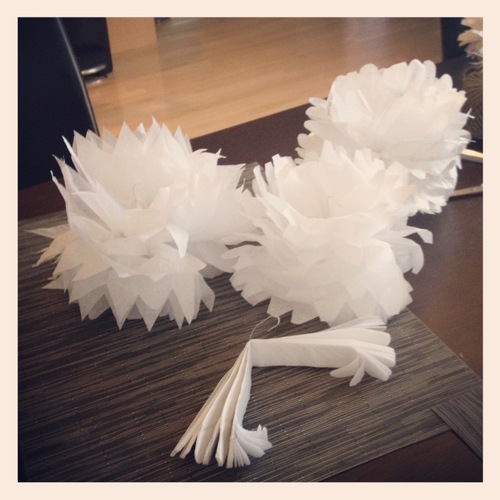 Here is our pom pom tree surrounded by the food we prepared!  I made some of my favourites, including my layered jello (I used peach and cherry to give an ombre effect) and white chocolate cranberry cookies, both of which I previously blogged about!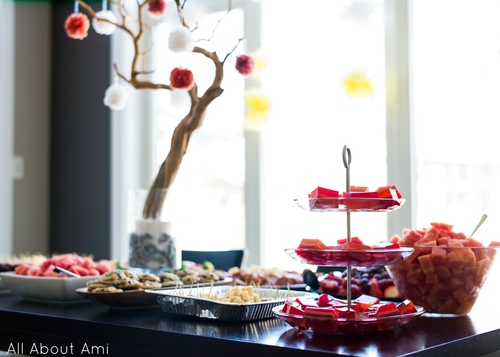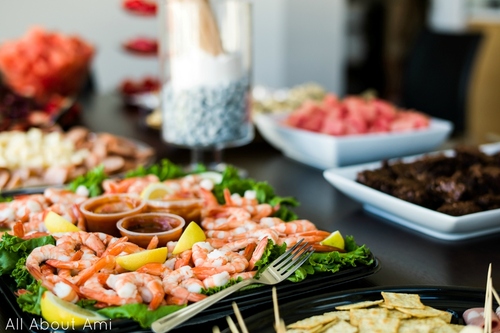 Ryan's sister Sharon baked these absolutely beautiful cookies and shipped a box full of them all the way across the country just for the baby shower!  They ended up coming a day too late, but we wanted to show our appreciation to her for all the time and effort she put into these gorgeous cookies!  Thank you so much, Sharon, and we will enjoy these cookies with friends who will be coming over this week!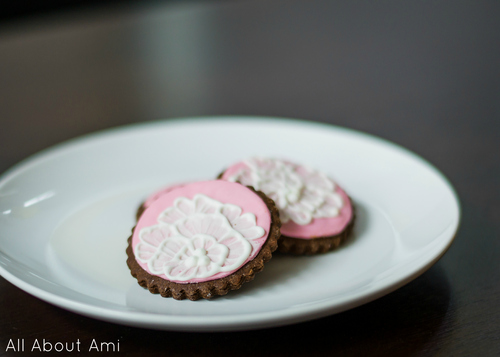 Since we had a co-ed Jack & Jill shower, we played games that were conducive to big groups.  The games were definitely one of the highlights of the shower, and I was bursting at the seams with laughter all throughout!  Here are the games we played:
Guessing how big my belly was by ripping off a length of toilet paper- whoever was closest without being too short was the winner! 
Scooping cotton balls into a bowl placed ontop of the person's head while blindfolded!  Hilary ensued…
Matching the baby picture of guests with their adult pictures- celebrity baby pics were thrown in for bonuses!
Ripping a baby out of a piece of paper- Ryan and I judged which ones we liked the best!  Some people did silhouettes of babies or babies in utero, swaddled babies, and there was even a 3-D baby that sat up and was sucking their thumb.  I love seeing how creative people can get with these games!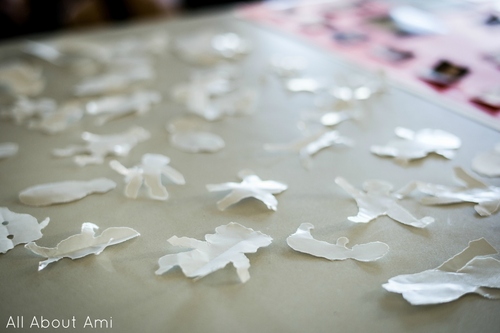 We had such a fun time at the shower, and we felt incredibly loved and blessed to be surrounded by all our friends and family.  I had difficulty napping afterwards because I was still so energized from all the excitement of the afternoon!  We want to extend a big thank you to my family who helped buy, chop up and prepare much of the food and also make and hang the tissue pom poms!  They were great hosts as they greeted guests and replenished the food and drinks when needed.  We also want to thank all our friends who came out and showered us with their love and gifts.  We sincerely appreciate everyone's prayers and know that our baby is already so loved and cared for and we hope that we as a family will be a blessing to you all!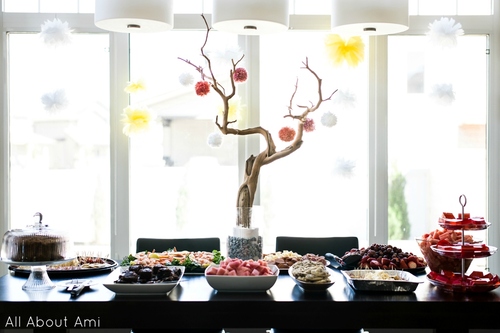 I hope this post gives you some ideas of how you can decorate a baby shower, bridal shower, wedding or any event with some inexpensive pom poms!  Since you can get tissue paper and yarn in a vast array of colours, it's very easy to tie in these pom poms with any colour theme!  Have fun being creative with these pom poms and stay crafty 😀