Hello, everyone!  I am very excited to share about our experience at Anime Expo 2014 in Los Angeles last month!  It's been our dream to attend one of these big anime conventions, and we thought going to Anime Expo (AX) would be perfect since we could also visit Disneyland in Anaheim while we were in California 🙂  Anime Expo is the largest anime and manga convention in North America, and we excitedly bought our 4-day badge months in advance and were so excited to attend it!
As we drove up to the Los Angeles Convention Center, we saw a MASSIVE line-up that seemed never-ending as it winded its way around the building.  We hoped that this was not the line-up that we would have to wait in since we had already purchased our badges on-line, but sadly, it WAS the line-up to pick up our actual badges.  It was a scorching day as the sun beat down on us and we knew there was no way that Myla would be able to wait in this line-up.  Thankfully, the AX staff let Myla and I wait inside the convention center as Ryan and my brother Corey lined up to pick up our badges.  In total, they waited a whopping 3.5 HOURS!  Here is a glimpse of the line-up and all the people waiting to get inside…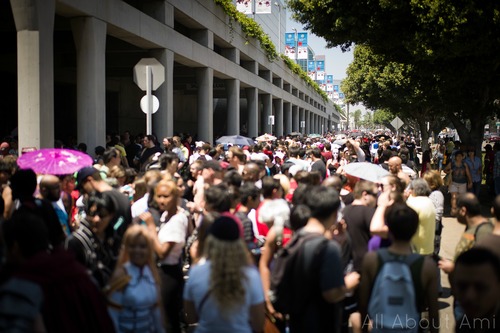 Many people were cosplaying in the line-up, such as this Wolverine Joker – this was Ryan's favourite cosplay of the day!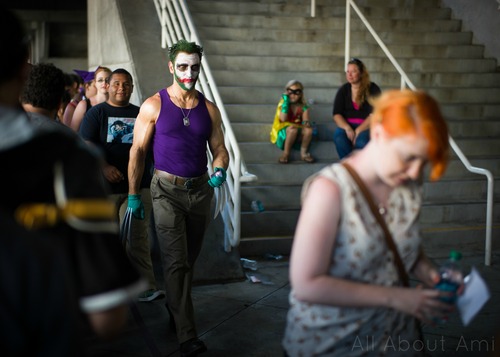 Towards the end of the line, people were getting excited that they were finally approaching the entrance to the convention center, so they were giving each other high fives!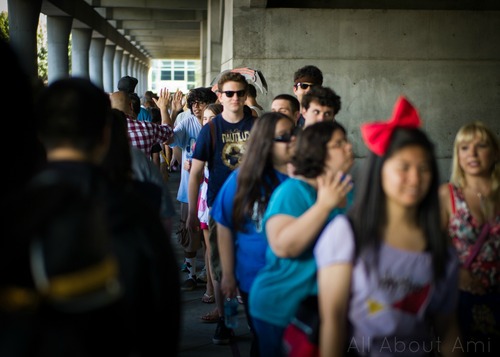 Myla and I rewore our Mei and Totoro costumes from last year on Day 1 of AX!  Check out my blog post HERE to see how I put together this very simple costume and crocheted the cherry balls for my hair.  Last year Myla couldn't even walk, so it was sooo sweet that I could hold my little Totoro's hand and have her walk around in her cute costume complete with a leaf headband!  Just look at that adorable smile 🙂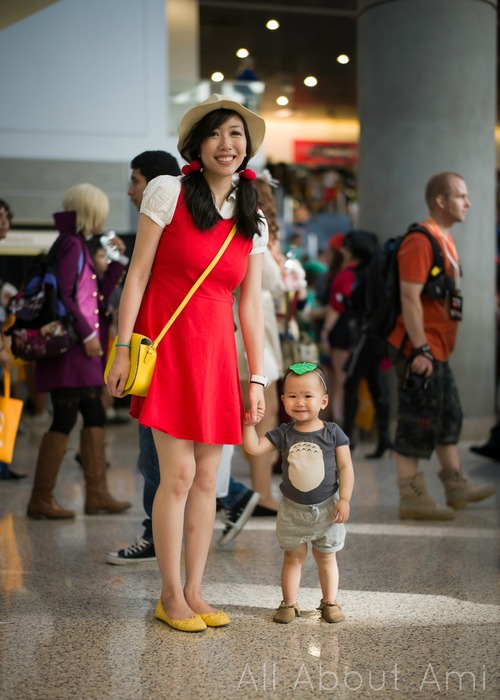 Now Myla actually knows who Totoro is as she enjoyed the movie and likes to play with the Totoro stuffies we have at home (last year she was oblivious to who Totoro was)!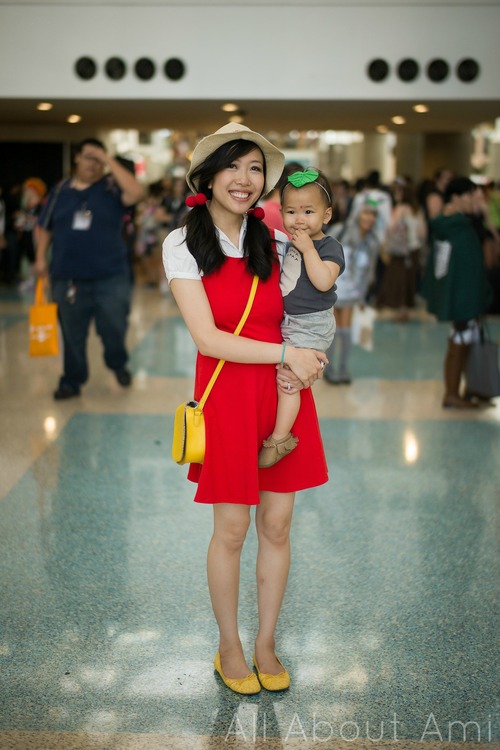 On Day 2 of AX we wore another matching mommy-baby cosplay outfit as we dressed up as Togepi and Misty!  I loved playing and watching Pokemon growing up, so it was fun dressing up as these two.  I bought this yellow tank and jean shorts from H&M and made the suspenders out of ribbon.  We bought Myla's white dress from a gently used kids' clothing store and glued these blue and red felt triangle shapes onto it.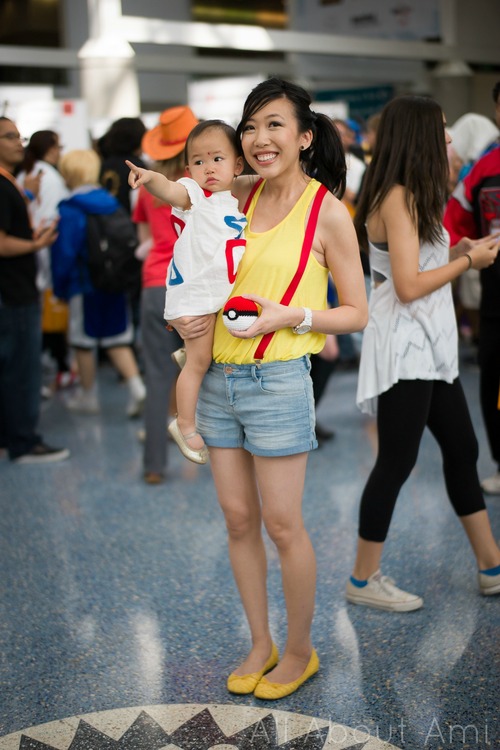 Notice the pokeball I'm holding in the picture above?  It was fun adding a touch of crochet to this costume by using Makayla's free pokeball pattern found on her blog "Planet Yarn" HERE!  It was very quick and easy to work up, and Myla really enjoyed throwing it around!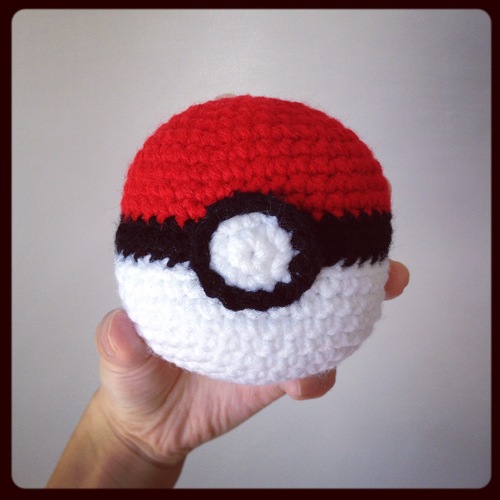 Myla was ecstatic to find this big Totoro!  Too bad we weren't dressed in our Mei and Totoro costumes that day that we encountered this giant cutie 🙂  As you can see, Myla is clutching her pokeball as she stares at Totoro!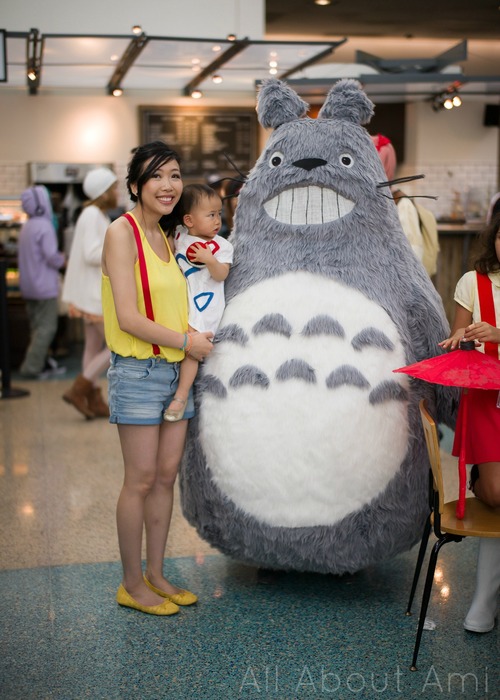 On Day 3 of AX, Myla dressed up in her "Attack on Titan" Mikasa costume that we worked so hard on!  It was amazing seeing her wearing it after all the hours we put into this costume!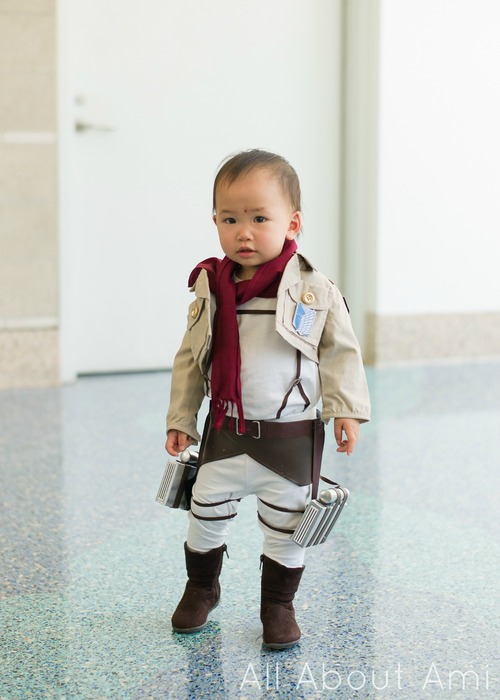 To read more about how we made this costume and to see plenty of step-by-step pics, check out the blog post I wrote about it HERE!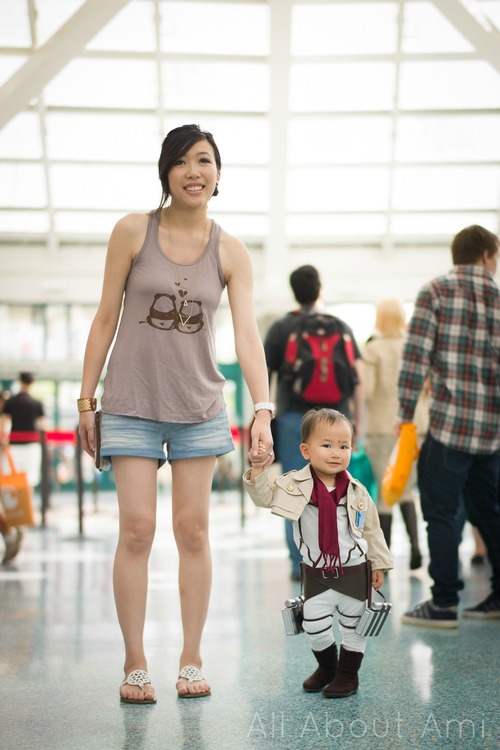 Here are a couple of other cosplay photos that Ryan snapped!  It truly was amazing seeing all the effort and love that people put into making their costumes and showing them off to everyone.  People spend the whole year working on them, and it was so neat seeing people's creativity in their costumes.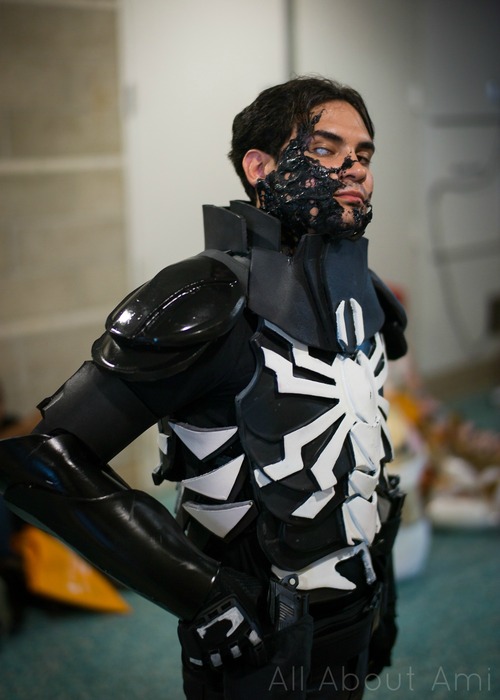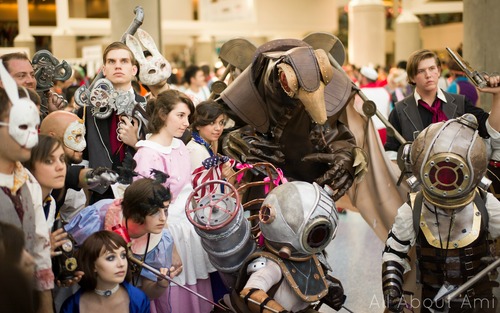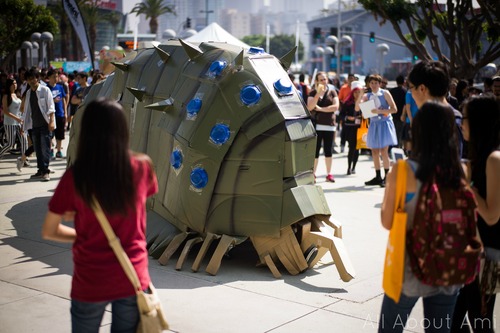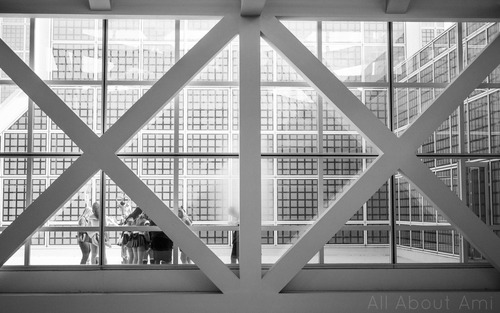 Besides seeing all the cosplayers, I was VERY excited to explore the exhibit hall as it had the largest collection of Japanese culture goods in North America with over 240 vendors and exhibitors.  I knew I would be able to find tons of kawaii and unique items!  Check out these adorable panda, Ariel and bunny socks I picked up 🙂  I can't wait to wear them and see Myla's face when she sees my feet, hehe…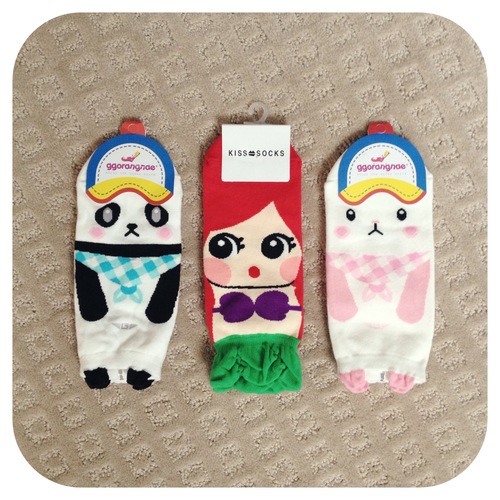 I immediately fell in love with the adorable jewelry designs by Faheema of "Unicorn Crafts".  For starters, check out this extremely cute packaging!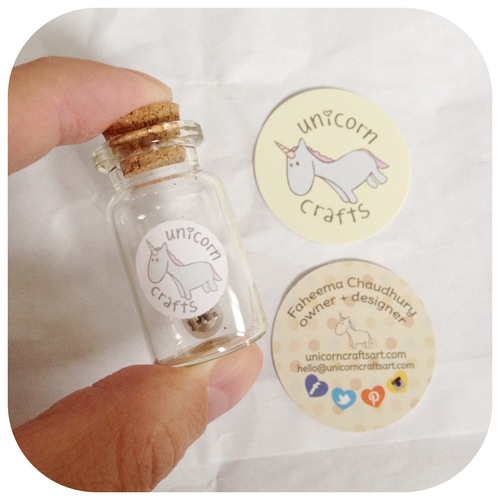 I ended up buying these kawaii "Milk and Cookie Earrings"!  Faheema has other cute earring sets such as "Bacon & Egg" and "Mac & Cheese", so be sure to check out her Etsy store HERE!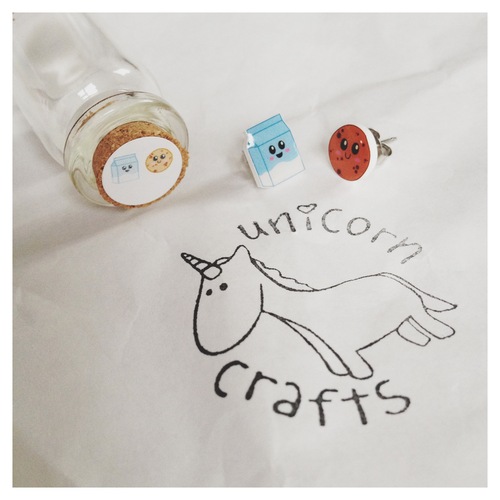 I loved this Cat t-shirt by "Lokisa" when I first saw it!  It has so many cute cat expressions, and the colour is very vibrant.  Myla enjoys pointing to the different pictures as we talk about how each cat feels. Lokisa features originally designed and handmade items manufactured in the US- you can check out their site HERE!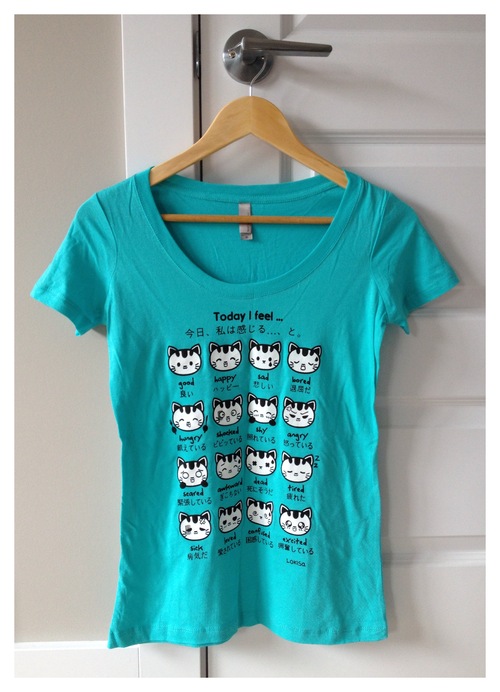 I connected with Stephanie of "The Steppie" last year when I discovered her extremely cute clothing line (see me wearing her "Arrow x Heart Flowy Tank Top" in my "Fluff Bears" blog post HERE).  Stephanie is a very talented designer and entrepreneur, and it was such a pleasure being able to meet her in person!  Her booth was packed full of panda and ninja goodies, from tote bags and onesies to tank tops and phone cases.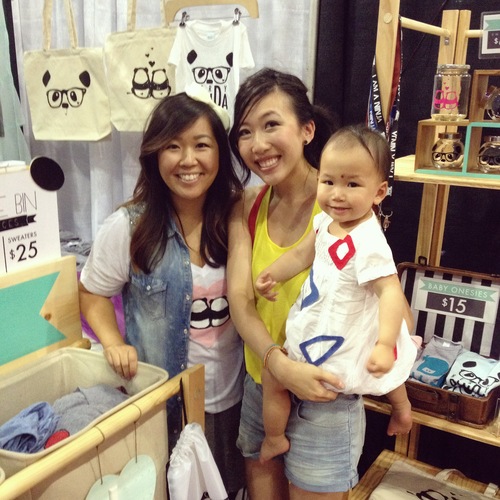 I picked up this "Panda Bums Racerback Tank" and let me tell you, it is one of the comfiest tanks ever because of its very soft material.  The racerback and flowiness of the tank is very flattering, and I've already worn it many times!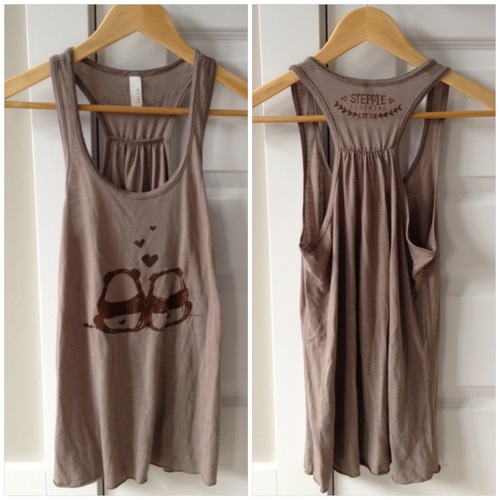 I was also really excited to pick up this "Nerdy Panda Gradient Tank Top", Stephanie's new summer tank!  The pretty rose pink to baby blue gradient is gorgeous, and I couldn't resist the cute nerdy panda face too!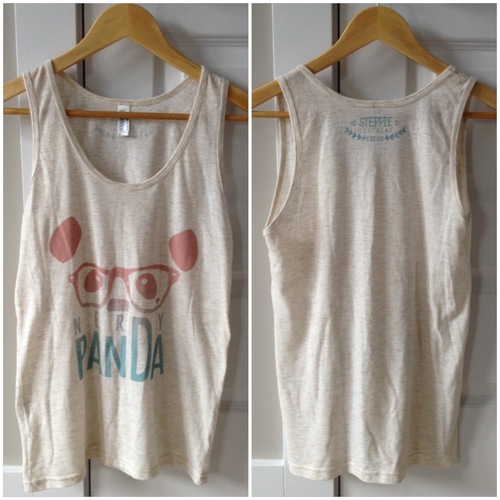 The last Steppie item I brought home is this "Panda Face/Nerdy Panda Ceramic Soup Mug"!  I love how huge this mug is and how one side has the normal panda face while the other side has the nerdy panda face 🙂  I use this mug when I drink my milk tea in the mornings, and Myla loves seeing the different faces!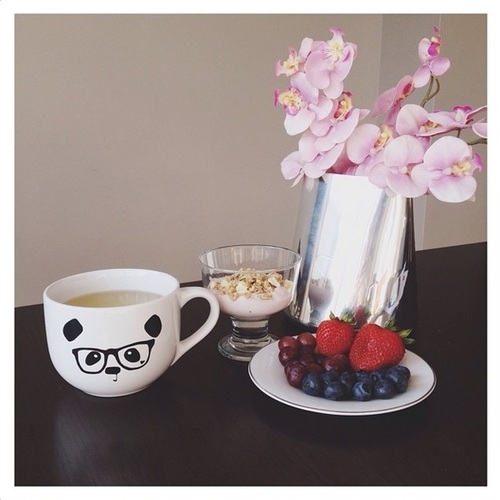 As you may know, I am a huge "Legend of Zelda: Ocarina of Time" fan (see the amigurumi Link I crocheted HERE), so I got really excited when I saw this "Triforce of Courage Tank Top" by Geeky U!  I had actually seen this shop on Etsy before, so I was really happy to see them in person since I wouldn't have to pay for shipping.  Shipping to Canada on this tank would've been a whopping $15, almost as much as the tank itself!  Sigh…so sad when shipping costs are so high…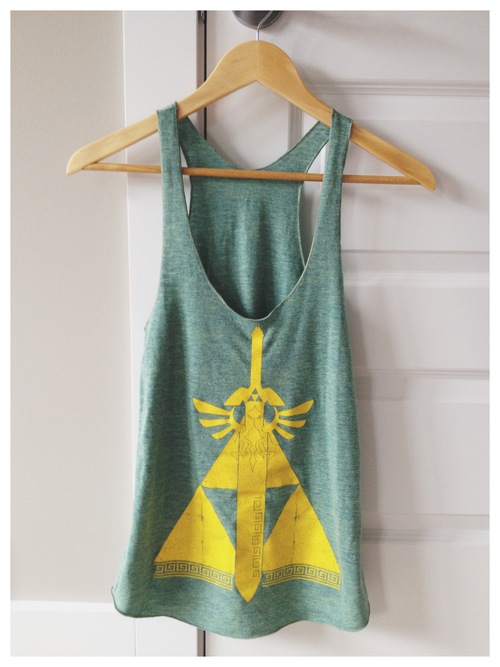 One of my favourite items that I picked up from AX are these "Kawaii Star Wars Group Leggings" by "WeLoveFine"!  I used to watch the Star Wars trilogy a lot growing up, and these chibi Star Wars characters were too cute to resist!  I really can't wait to wear these comfy leggings to an upcoming convention 🙂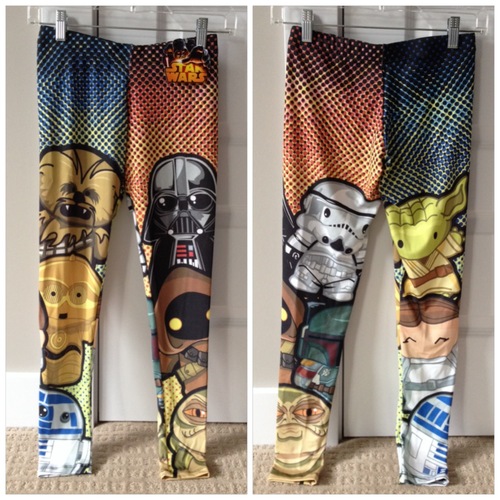 We had a blast exploring Artist Alley as there were so many incredibly talented artists showcasing their artwork and crafts.  I was very excited to meet Sharon of "Ami Amour", a fellow amigurumi artist who is a staple at AX's Artist Alley.  She started selling her plushies and patterns five years ago in her shop HERE.  Sharon is incredibly kind and gracious, and it was such a delight meeting and chatting with her.  She was the only amigurumi artist in the whole Artist Alley, and she gifted me with the cute amigurumi Soot Sprite that I'm holding in the picture below!  Be sure to check out Sharon's facebook page and blog to see more of her work and access her free patterns as well!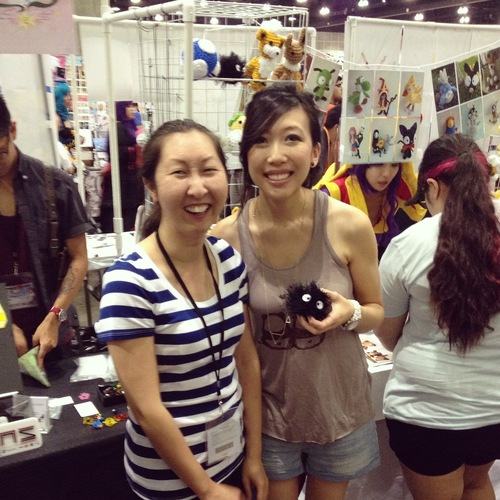 We purchased two prints from Artist Alley, the first being the gorgeous one below by Jo of "My Rolling Star".  We immediately fell in love with all of her dreamy, whimsical, ethereal pieces, and it took us a while before we decided which one to take home.  I love this beautiful piece depicting a girl bringing her imagination and creativity to life through her artwork.  We can't wait to frame it and find a place for it in our home!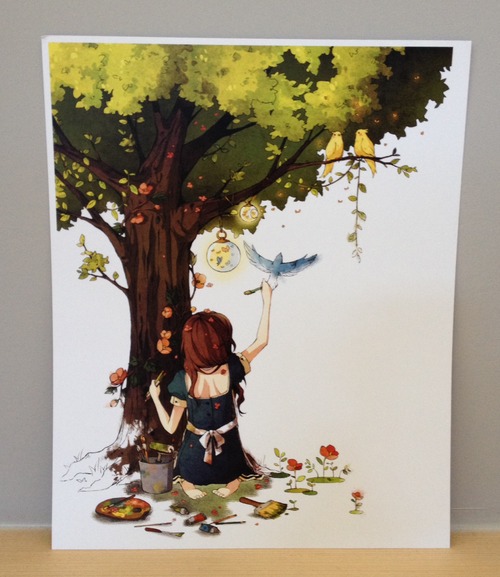 As soon as we saw this stunning piece showing Studio Ghibli characters on a trek through a mystical and mysterious forest, we knew we had to take it home!  Unfortunately, I put the artist's business card in the pocket of my jean shorts- I then proceeded to wash said shorts at home forgetting that I had anything in the pocket.  Needless to say, her card has now disintegrated.  If you know who the artist of this piece is, please let me know so that I can give her credit and update this blog post!  Thank you to Christine who helped direct me to the artist!  This gorgeous piece is by Brigitte of "Relatively Serious" and you can see the process gif for this print HERE!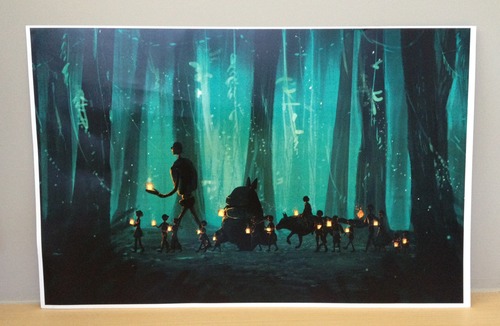 Overall, we had a wonderful time at Anime Expo despite the rocky start during registration (I saw some people on Twitter calling AX "linecon" since so much of the convention was spent lining up!!!).  There is a certain camaraderie and spirit present during conventions such as these, and everyone was so friendly and kind.  The love of anime, manga, and Japanese culture was such a unifying factor in bringing people together from all different backgrounds and ages.  We really enjoyed seeing all the creative cosplayers, meeting all the exhibitors and artists of AX, and also preparing costumes and dressing up ourselves!  We hope you enjoyed reading about our experience there and seeing what we picked up (I thought that chances are if you like kawaii amigurumi, you'll probably enjoy seeing some of the adorable items I picked up too :D).  Hopefully we can attend another Anime Expo in the future!  Let me know if you've ever attended an anime convention and if you like any of the items that we brought home with us 🙂