We love dressing up as a family and cosplaying at events!  Last year, we went with a Totoro theme as you can see HERE!  It's neat because as the girls are getting older, they understand more, so they are excited to dress up with us!  This year, we decided to go with another Studio Ghibli film that we love: Kiki's Delivery Service!  It's such a lovely movie that is a favourite of many, and the music is so beautiful.  Here are some pictures of the characters in case you've never seen the movie before!  Kiki is the main character as she goes off on a special journey with her loyal black cat named Jiji!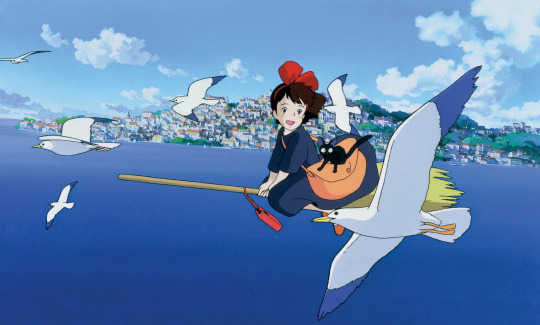 Kiki's love interest is a boy named Tombo who wears thick black glasses and a red and white striped shirt!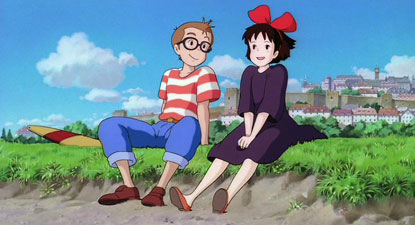 The two adorable cats in the movie are named Jiji and Lily!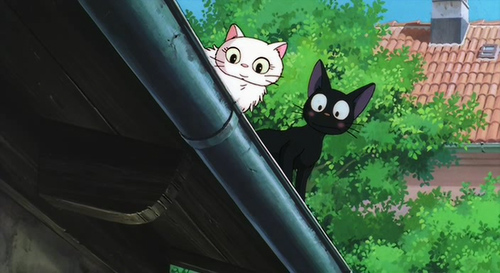 I knew I wanted to implement some crochet elements into our costume, so I decided to crochet Kiki's giant bow headband (which I'll share more about in a separate blog post), and my own Jiji!  I searched online to look for a Jiji pattern to see what was already out there, and  I decided to go with Anne Gee White of "A Gamer's Wife's" free Jiji pattern which can be found HERE on Ravelry!  Lion Brand Yarn's Vanna's Choice has a great colour selection, and I used their "Black" and "Scarlet" colours for my Jiji!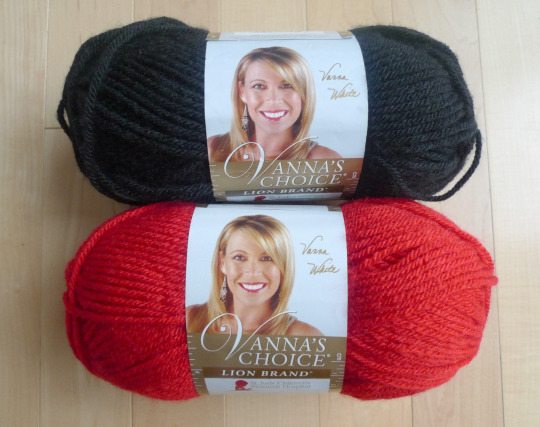 This pattern is interesting because it is worked from the top down as a whole piece.  That is, the head, neck and body are one continuous piece!  Here I am crocheting the top of Jiji's head!  For reference, I used a 3.25 mm hook to get tight stitches.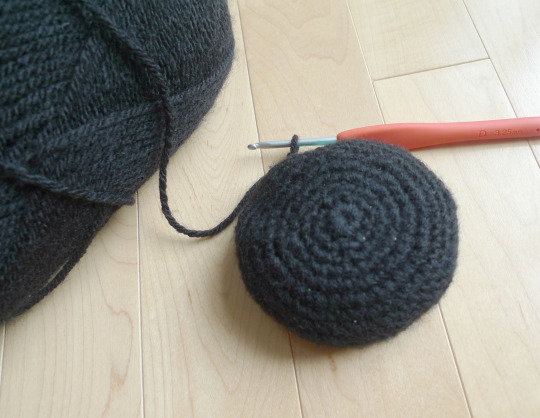 The head is complete, and now it is time to crochet the neck and body!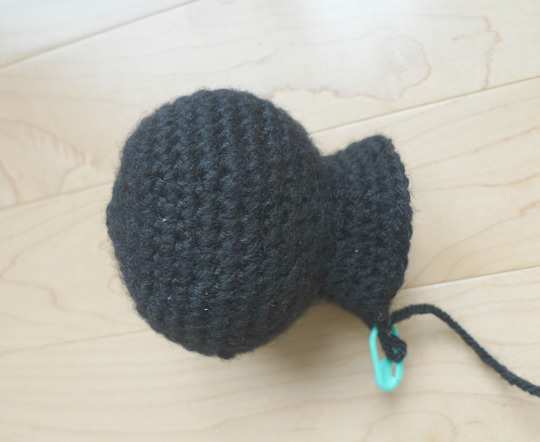 I followed the pattern exactly in terms of stitch counts and did not change anything!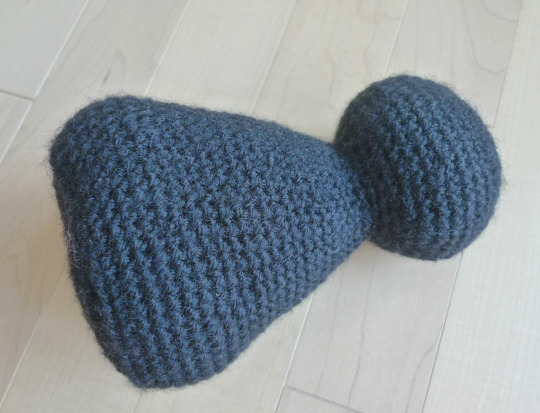 Here is the relative size of the body and head as you can see when I'm holding it!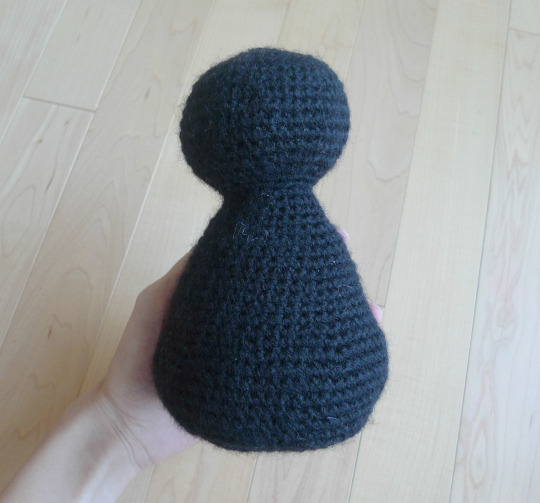 We decided to make his tail poseable so that it could curve upwards!  Thus, we used wire and bent it into a circle with a long extension.  We inserted this circle into the bottom of Jiji before closing him up.  The wire that extends outwards is where we will add the tail (see my Monkey pattern HERE for more pictures and tips on adding wiring to amigurumi).  Keep in mind that wiring should be avoided if the amigurumi is for a baby or small child!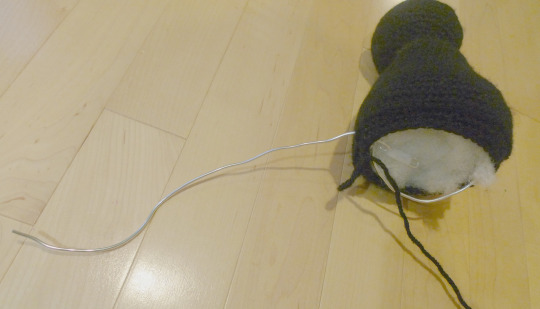 Then I crocheted the ears, front legs, and tail!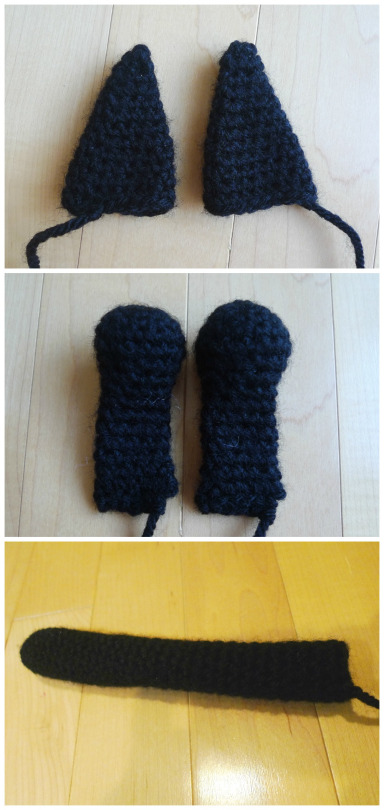 Ryan and I finished Jiji late one evening, and I did not take too many progress photos towards the end.  After attaching the ears, front legs and adding the tail to the wiring, it was now time for the felt details!  We used black and white felt for the eyes, white felt for the lining of the ears, and pink felt for the nose.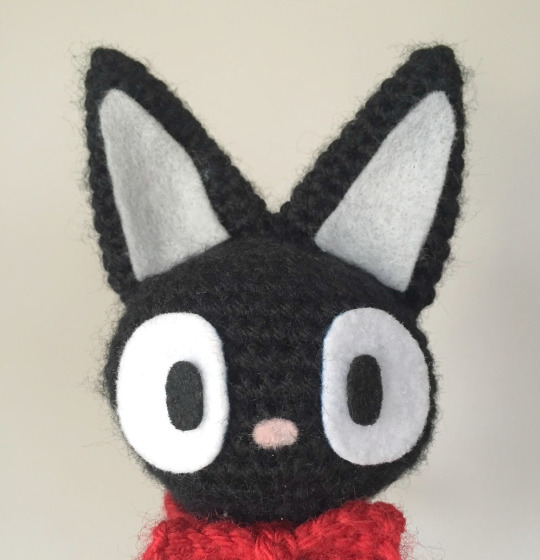 We decided to crochet an adorable red bow for our amigurumi Jiji as a nice finishing touch too!  I've written out the pattern I made up for the bow below!
**********************
Jiji Red Bow Collar Pattern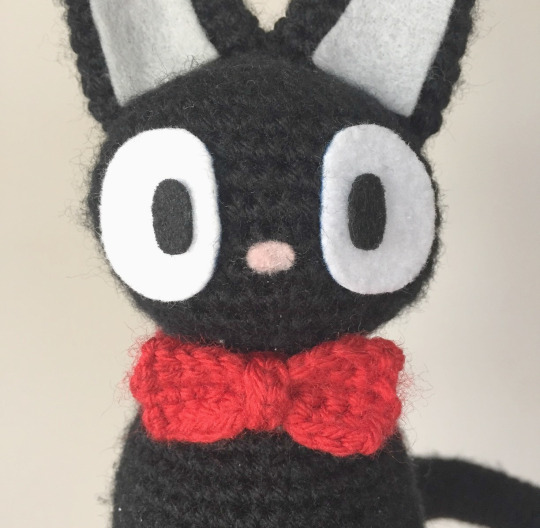 Using 2.75 mm hook and Vanna's Choice yarn in "Scarlet",
Rectangle:
Chain 10
Row 1: Starting from 2nd chain from hook, Sc 9 (9 sts).
Row 2: Chain 1, turn.  Starting from 2nd chain from hook, Sc 9 (9 sts).
Row 3: Repeat Row 2.  Fasten off.
Middle Knot:
Chain 8
Row 1: Starting from 2nd chain from hook, Sc 7 (7 sts)
Fasten off and leave long end for sewing.  Sew around middle of rectangle.
Collar
Chain 25.  Sew one side onto back of middle knot of bow.  Wrap around Jiji's neck and sew other side onto back of middle knot of bow.  Alternatively, use hot glue to attach collar onto bow.
************************
I am delighted with how my amigurumi Jiji turned out!  The felt details make him look so adorable with his huge eyes and dainty little nose.  Ryan did all the precise felt cutting, and he always does an amazing job!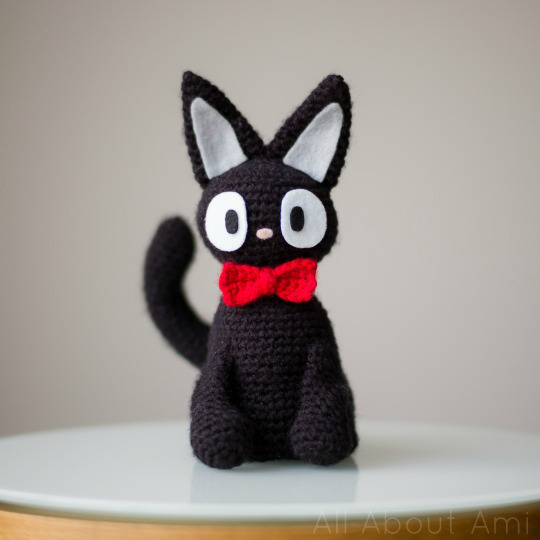 The little red bow collar is such a cute touch and a bright pop of colour!  It also makes him match with the giant bow that I was wearing too!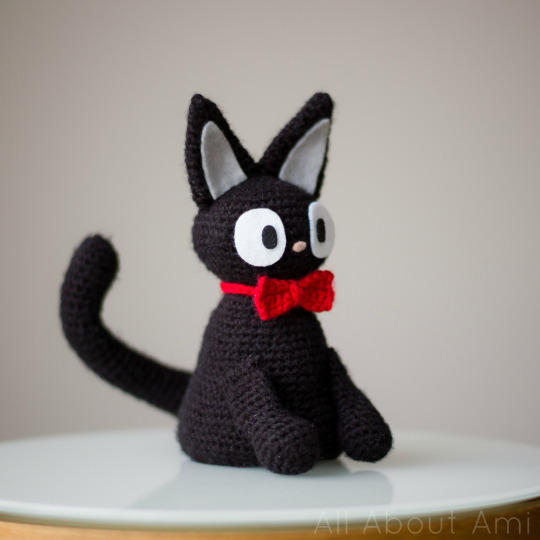 Adding wiring to the tail makes it very fun since you can bend and pose it in so many different ways!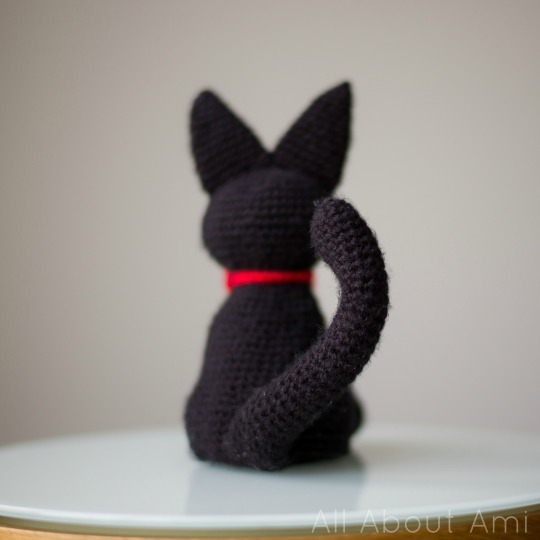 Here are some pictures of us wearing our Kiki's Delivery Service costumes before heading out to the Edmonton Expo!  Ryan is Tombo, I'm Kiki, Myla is Jiji, and Brie is Lily.  Myla is holding a plush Jiji that my parents bought for her from Japan (an official Ghibli souvenir), and my crocheted Jiji is on the floor haha…because Brie dropped him!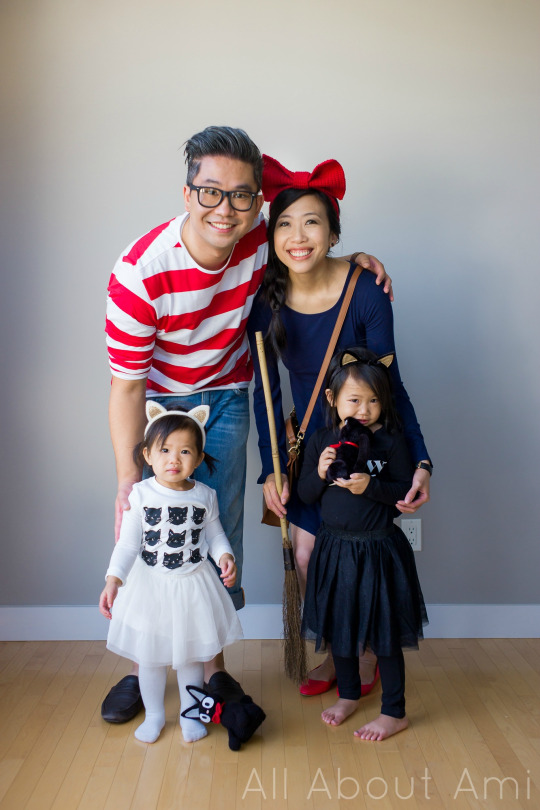 Here we are about to head into the Expo!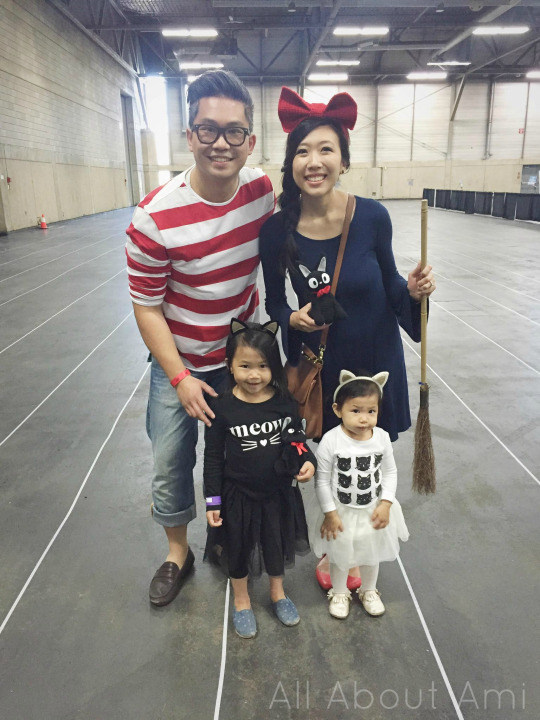 It's so much fun dressing up, and I'm glad I could add some crochet to my costume!  As you would imagine, Ryan got mistaken as Waldo a lot and people frequently exclaimed, "I found Waldo!" as they passed by Ryan haha.  Only astute Ghibli fans knew who we were dressed up as and they loved how the girls were involved too!  I'll be blogging about the giant bow headband I made as I'd love to share the pattern with you in case you'd like to make one too!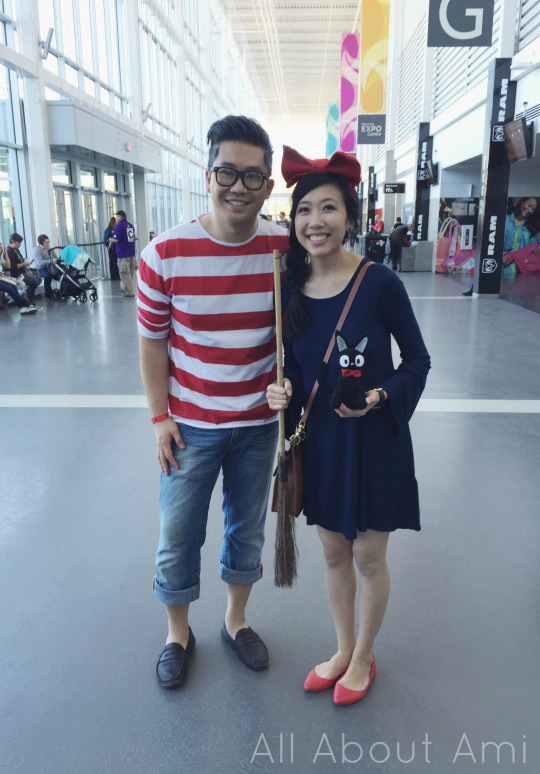 If you're a fan of Kiki's Delivery Service, Jiji is a great amigurumi to work up quickly as it is a very straight-forward pattern.  If you don't know who Jiji is, this black cat would also make an adorable Halloween decoration for your home!  You can also use different coloured yarn if you're just looking for an amigurumi cat pattern too.  Once again, you can find the free pattern HERE!  Stay tuned for the bow headband pattern that I'll be sharing soon, and I'll also list where I got all the items for my Kiki costume!