Let me explain.  It was September 2010 when we returned from a whirlwind honeymoon after our dream wedding.  My husband Ryan and I had been meticulously planning this wedding for two years as we wanted every aspect of it to have our personal touch.  I had been immersed in excel files, printer ink and modpodge with our DIY items (including 900 bubble magnets and 300 damask boxes for our favours).
Now it was back to real life as we excitedly moved into our new house.  We took great joy in decorating our place, and whilst looking for the perfect pillows for our sofa, we stumbled upon some images of crocheted pillows.  That sparked the idea that I should take up crocheting again and re-engage my crafty side!
You see, when I was younger, I used to make friendship bracelets, do beadwork, macramé, knit, crochet and scrapbook.  All that was placed on the backburner as I focused on school.  But now that my schooling was finished and there were no more wedding projects on the go, I knew it'd be the perfect time to start crocheting again!  And so, I looked through google images to see what types of things people were crocheting these days.
My eyes widened with delight when I saw images and images of little crocheted animals called "amigurumi".  They were so incredibly cute!  I looked more into it and found out that "amigurumi" was the Japanese art of knitting/crocheting small stuffed animals.  Apparently, the fad for creating and collecting amigurumi began in 2003.  Although I was technically late in jumping on the bandwagon, my days of crocheting stuffed animals actually began wayyy back in 1995…
These were some of my previous crochet books.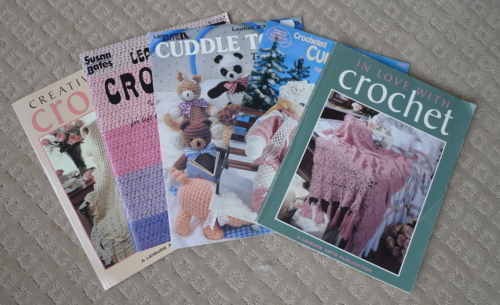 And these were some of my previous projects.  Keep in mind that most of these books were published in the mid-1990's, so I was about 10 years old…
Here we have a purse made up of daisy squares.  I used to LOVE this pattern.  Also note the little flower beadwork up the sides and on the handle.  Yup, I was pretty proud about that.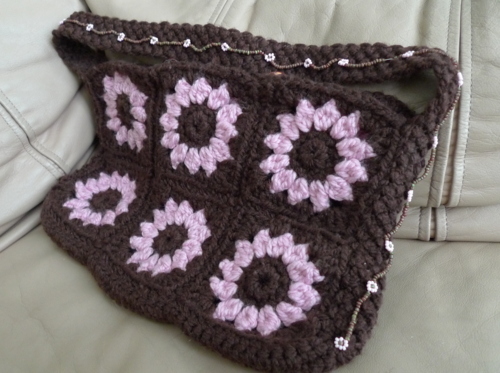 I also used to knit and crochet clothes for my teddy bears.  Here we have a beret and sweater.  They're a little rough around the edges, but hey, it kept my teddy warm and well-dressed 🙂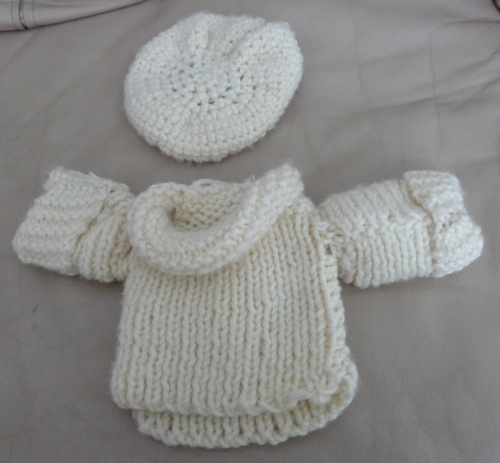 This book in particular focused on stuffed animals!  They look different than the current amigurumi because they didn't use safety eyes and their body parts are proportional to one another.  Amigurumi nowadays have oversized heads and undersized extremities.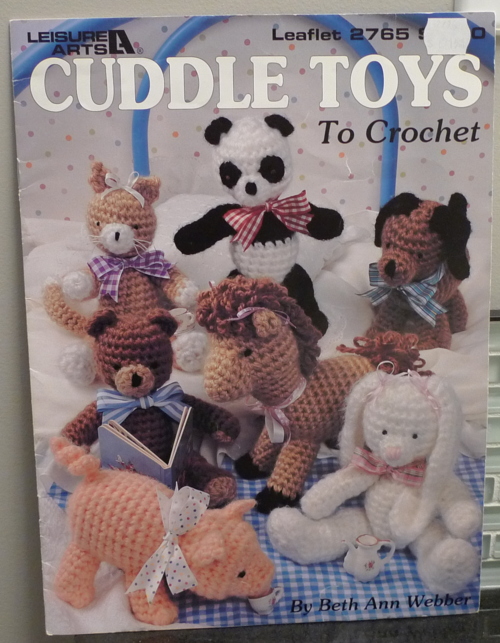 And here are some of my early crocheted stuffed animals that I made following their patterns (again, keep in mind that I was 10 years old).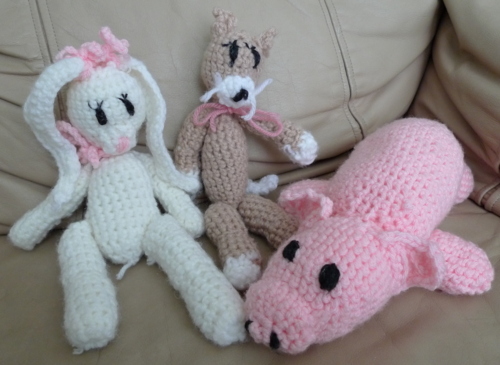 Please don't laugh.  These are a far cry from what I crochet now, believe me.  I think it's cute how I tried to give the bunny and the cat eyelashes and chic bows around their necks.  The cat was actually a gift for my younger sister, Ashley.  She brought me to tears when she pulled it out during her maid-of-honour speech at our wedding.
They are so floppy.  Look at how I attached the arms back then, ha ha.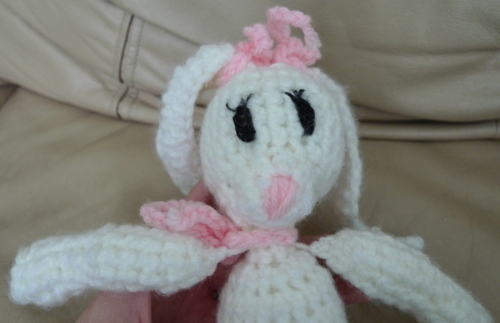 It's fun to look back at my very first crocheted stuffed animals.  The ones I work on nowadays look considerably different: they are smaller (which means they're also quicker to make), and I use a smaller crochet hook to get a tighter gauge.  I also now use beads, safety eyes, felt and embroidery floss for their faces.  I've also learned how to use a dog slicker brush to fuzz up yarn!
I've made quite a few amigurumi since I started a couple months ago, and I tried to take pictures of everything along the way.  I will blog about each project, writing why I chose to make it, where I got the pattern from, and showing pictures of their assembly.  Please join me along this journey as I rediscover my love of crochet in the form of ridiculously cute stuffed animals 😀