When we first moved into our new house last year, I was so excited to have my very own room set aside as my workspace.  We had a blast furnishing the main floor so that we could invite and host people over.  It was a challenge picking out pieces from different stores, trying to figure out how it would all look together.  We really focused our attention on the den as we knew I would be spending a lot of time in there, and it actually became the first fully furnished room of our house.  I absolutely adore my workspace, and it's where I do all my crocheting and blogging!   
We call my workspace our "Ikea room" because all the major items were purchased from Ikea, with the exception of my chair.  We love walking around Ikea and getting inspired by the beautifully designed and decorated rooms.  It was great starting with an empty room since we essentially had a blank canvas to work with!  Let me give you a tour around…
We love the look of various sized picture frames placed together on a wall, so we headed over to Ikea.  Ryan was running around the frame section trying to piece all the different sizes together to see if they would fit.  He did a great job and carefully hung them on this wall for me!  They remained empty for a while until we ordered our wedding photos.  I love how my fuscia bouquets and fuscia wedding shoes add a pop of colour to this wall.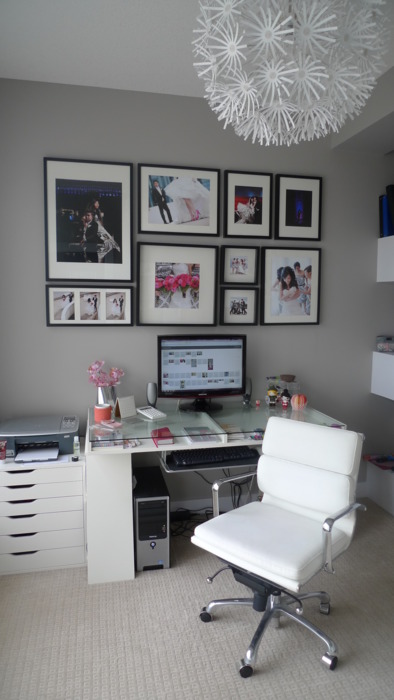 My desk has a glass top, and it's great because I can see where everything is and easily access them.  This is where I sit to crochet and do my blogging!  As you can see, Chinese New Year Doll and Link can also be found on my desk 🙂  I wanted some more storage space, so we purchased the drawer unit to the left.  I can also store some items on the sides of the legs of the desk.  You can never have enough storage space!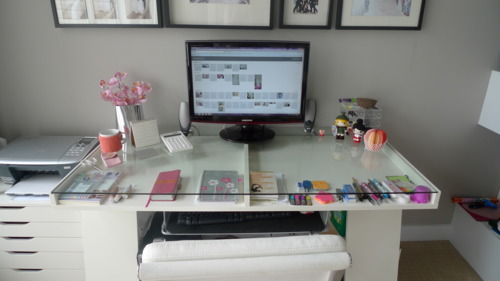 These shelves came built into the wall.  I love how chunky they are!  I store my work materials and work binders on the top two shelves.  I keep my fiberfill, crafting books, embroidery floss and scrapbooks on the bottom level.  Most of my yarn can be found in that green box, although I'm running out of space in there…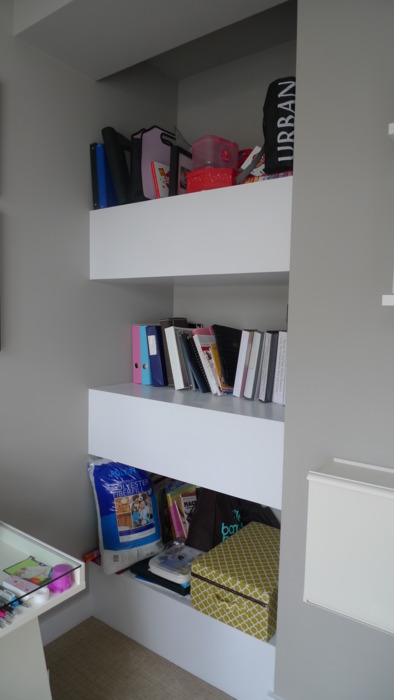 This is what the other side of my workspace looks like!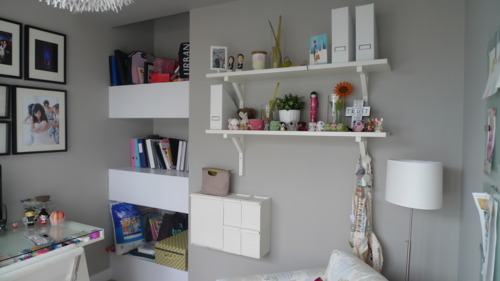 I love these shelves we got from Ikea!  As you can see, this is where I display my amigurumi.  I've given many away, but these are the ones I've kept.  I store loose papers (such as crochet patterns) in these white magazine files.  In the top left corner, there are two graduation figurines: Ryan surprised me with them when I graduated, and I was blown away by how much mine actually looked like me.  In the bottom right corner, there are two Vinylmation figurines from the Muppets series (I used to love the Muppet Show and movies).  These bring back fond memories because we got them on our honeymoon in Disney World!  You don't know who you'll get when you purchase them in a box, so we were delightfully surprised when we got Beaker (LOVE HIM!) and Rizzo the rat.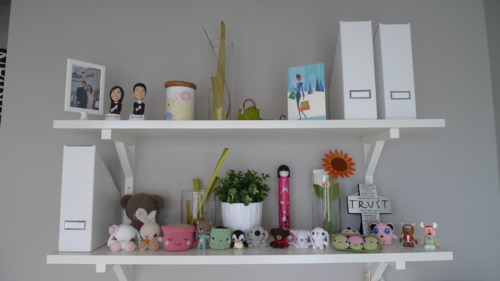 I wanted this light as soon as I saw it in Ikea.  Isn't it beautiful?  I love the paper shapes…it looks like a burst of flowers or snowflakes!  It was fairly easy to assemble and it looks beautiful when lit up as it casts shadows on the ceiling.  It's called the "PS Maskros pendant light" if anyone is interested (there is also a larger version available)!  However, it doesn't provide much light at night (otherwise the paper pieces might burn up!), so we got an extra floor lamp.  I need to see clearly, especially when crocheting!  We also purchased a small round side table where I can place my tea and my Kindle when reading.  You can also store small items in there as the top part pivots!  I also frequently photograph my amigurumi on this little table 🙂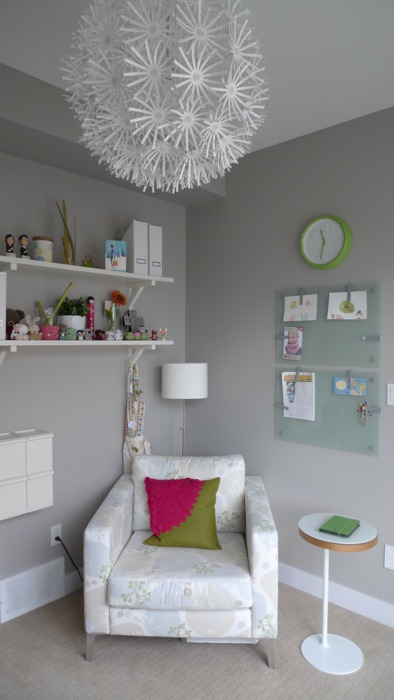 I wanted to have somewhere to sit, relax, drink tea, read and crochet in my workspace, so we picked out this armchair (the Karlstad).  I love the pattern of the fabric and how deep the chair is.  I can curl up in my armchair to crochet and read for hours and hours 🙂  We purchased the pink and green felted pillow, but I'm sure many of you talented crafty people could also make it!  The lime green clock adds a pop of colour to this grey wall.   We also added these glass noticeboards so I can display items of importance, such as cards, drawings given to me, and current crochet patters I'm working on.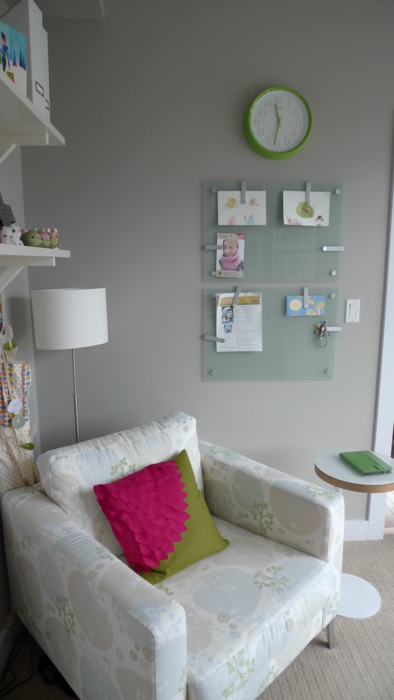 And because I wanted even MORE storage, we added these storange units that can be attached to the wall.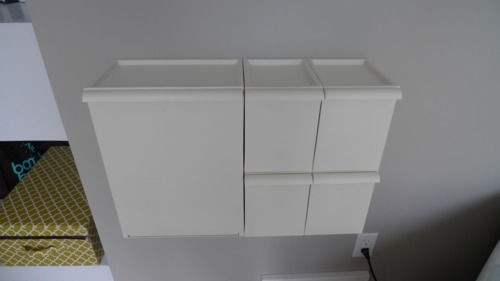 I place all my felt and fabric in the big drawer.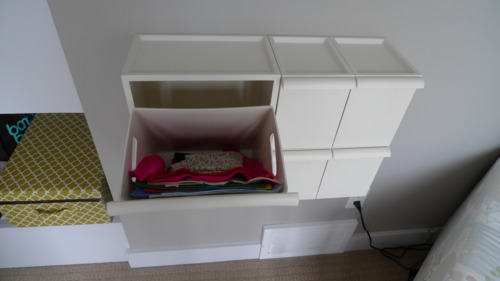 And in the small drawers, I store my works in progress.  It's great because the drawers can actually fully come out!  When I took this picture, I was working on Koala as you can see 🙂  There are always so many little parts when making amigurumi, so it's nice to keep them all together, safe and sound.  I also store smaller materials such as buttons and keychains in these drawers.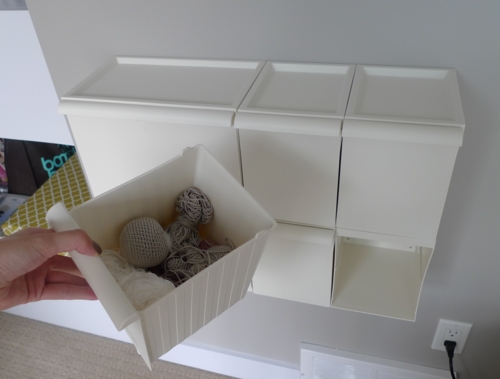 During the day, my workspace is very bright as it fills with light because of the large window.  I love the white, airy look and feel of my workspace, and it definitely keeps me motivated!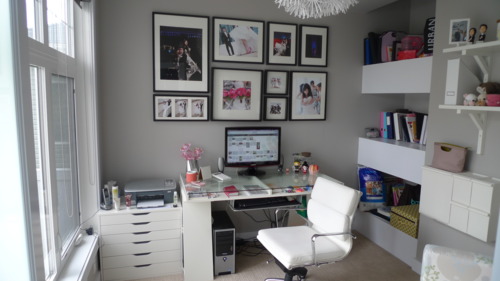 I think having your room reflect your own style and personal taste is very important, particularly if you spend a lot of time in there.  So if you've been thinking of redesigning or redecorating your rooms or house, I'd encourage you to go for it!  If you need some help imagining how your room will look, try using this free resource.  You can enter the dimensions of your room, choose furniture, change the colours, and see a top-down view of your room as well as a 3-D view.  It's pretty awesome!  I hope you enjoyed the tour of my workspace and maybe got some ideas for your own!  Thanks for reading 🙂