Hey everyone!  It's been a long time since my last Crochet Corner post, but I thought it'd be another great opportunity to highlight YOUR work based on my patterns since Valentine's Day was this week!  Valentine Teddy still remains very popular, and I absolutely love seeing photos of your teddies since everybody has a different take on him (see my first Crochet Corner post on Valentine Teddy here).  Here is my fuzzy cutie in case you haven't seen him before: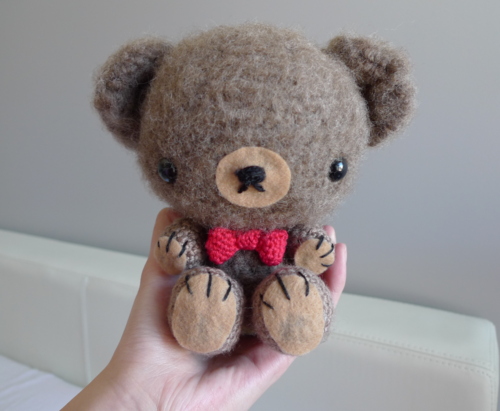 I love how Ziale of Florence, Italy gave her teddy red pants to match his red bow!  Her Valentine Teddy looks very suave and ready to go out on the town, doesn't he? What a great idea!  A matching girl teddy wearing a red dress and a red bow on her ear would be perfect!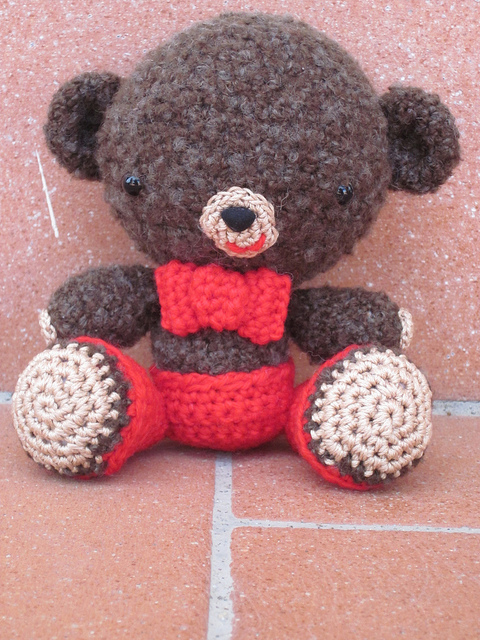 Emilee of California gave this sweetie to her Mom for Valentine's Day, and she tells me that her Mom absolutely loved it!  Who wouldn't? Emilee even used the same yarn that I did, which is why they look so similar!   She didn't have a dog slicker brush, so she fluffed up her little guy with a brush they use for their cats!  This is only Emilee's second amigurumi project and fourth crochet project ever.  She did such a great job!  Beginners can do absolutely beautiful work 🙂  I would've guessed Emilee had years of experience by looking at her Valentine Teddy!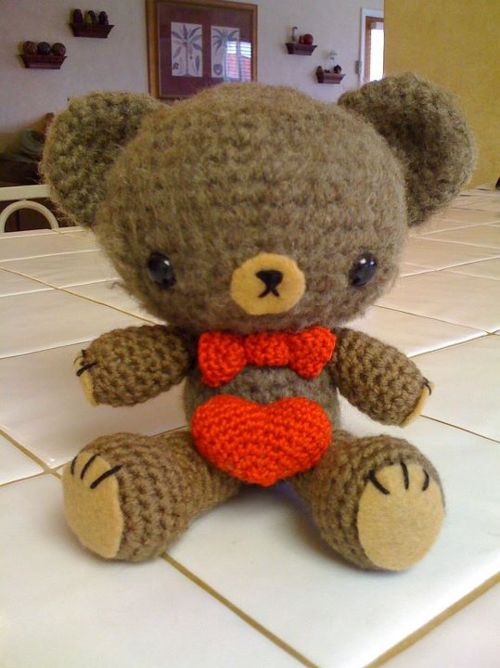 Shannen of Sweet N' Cute Creations is another amigurumi artist who I've become friends with since since starting my blog (we're both on tumblr!).  She is a sweet girl who is only 16 years old- she is definitely inspiring the younger generation!  Shannen provides many cute free patterns on her blog here, and is very prolific as she's done many many amigurumi projects!  Here's a big-eyed teddy that she made using my pattern 🙂   Keep up all your great work, Shannen!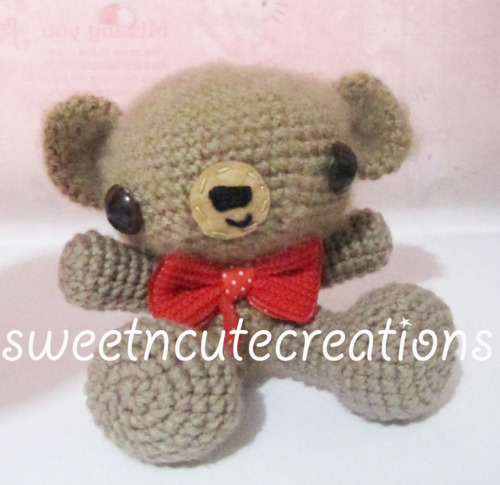 Julie of One Little Red Fox made a grey Valentine Teddy with a snazzy gingham bow. What a great idea to use a different colour!  Julie says that she loves to crochet since she finds it easy and because it helps her with her insomnia.  Crochet certainly helps pass the time away…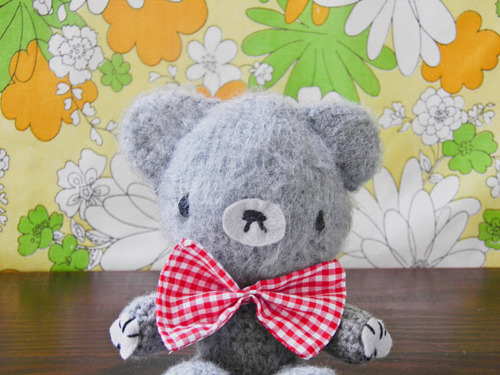 Lastly, Malarie from California was looking for a gift for her boyfriend, so she decided to give my pattern a try even though she was new to amigurumi.  Malarie loves to crochet, but her carpal tunnel hinders her from crocheting all the time.  And so, she spread out her crocheting over time and was very happy with the results.   Her boyfriend absolutely loved him!  You did a wonderful job, Malarie, and I love the little buttons you added.  Thank you for sharing your story with us!  Keep on crocheting with all your love and patience!
If you're interested in making your own Valentine Teddy, check out my free pattern here!  It's neat to think that these Valentine Teddies are being made and loved all over the world 🙂   Thank you so much to everyone who's taken the time to send me photos!  I still have more photos to share, so if you didn't see your work yet, it'll probably be featured in the coming weeks!   Happy crocheting 🙂