I was so excited for my friend and fellow amigurumi artist Mei of "Amigurumei" when she first released the news that she was the author of an upcoming "Hello Kitty Crochet" book last year!  I've always admired her extremely cute amigurumi style and adorable creations such as her "Sleeping Totoro" and "Mr. Murasaki Owl".  As an anime aficionado, Mei has also given us some amazing recommendations on what anime movies and series to check out!  I actually ordered my copy of Mei's "Hello Kitty Crochet" last September but was unable to find any time to work through it in the fall: I was so busy whipping up my cowls, sweaters and beanies and also in my third trimester, gearing up for the arrival of Baby Brielle!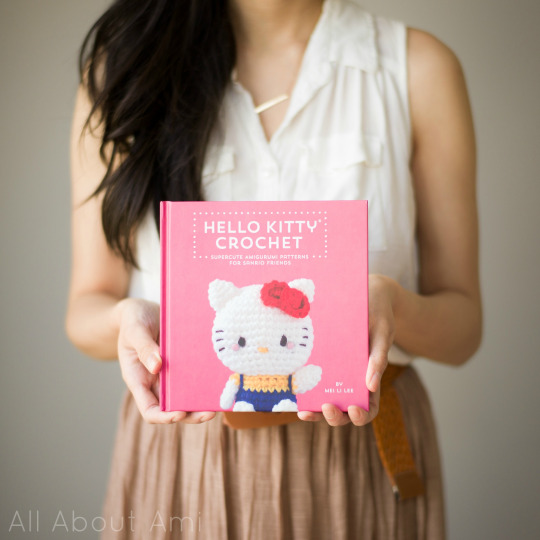 I finally found some time to go through the book recently, and I absolutely love it!  The book contains 24 Sanrio character crochet patterns and it is very well laid-out, bright and colourful with great photos of each amigurumi.  I adore how each amigurumi is so small and all around the same size, so you can build quite the cute collection!  Mei uses a very small crochet hook (2.3 mm) which is around the same size that I like to use as well- I feel that tight and tiny stitches give amigurumi a very clean and polished look.  Most of the amigurumi in Mei's book use the same basic body part patterns with each character having slight variations, which is a very smart design.  I also really like how the book lays flat so that you can follow the patterns easily as you are crocheting along (it's so frustrating when books keep closing and you need to keep opening them to follow a pattern)!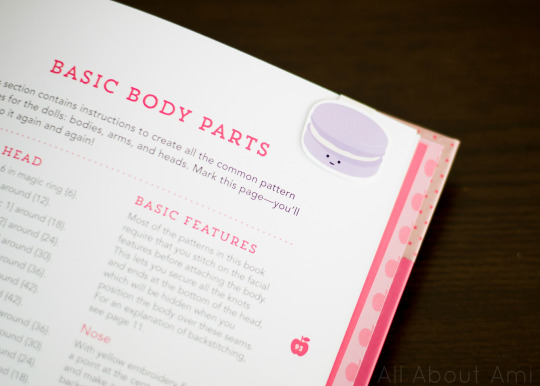 As soon as I received "Hello Kitty Crochet", I knew which character I wanted to crochet: Pochacco!  Pochacco has always been my favourite Sanrio character ever since I was a little girl-  he is such a cute puppy, and I had a Pochacco stuffie growing up as well as some other Pochacco items.  I was actually thinking of designing a Pochacco amigurumi a while ago, but when I heard that Mei was doing a Sanrio book, I knew that there would be a Pochacco pattern in it!  I happened to have some black, white and purple "Patons Grace" yarn in my stash, so I excitedly began without having to stop off at the yarn store!  Patons Grace is one of my favourite yarns as it is mercerized cotton with a beautiful sheen to it- it doesn't pill and the stitches look very well-defined!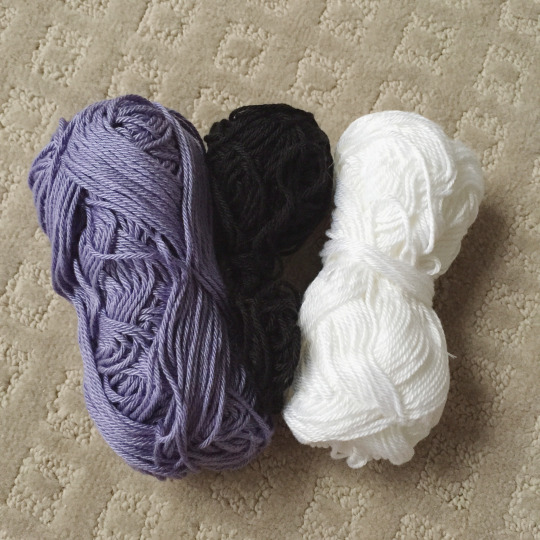 Whipping up all the body parts was surprisingly quick since these characters are so small!  I posted the below photo to Instagram and Facebook and asked you all to guess who I was making- many of you were split between Snoopy and Pochacco, hehe!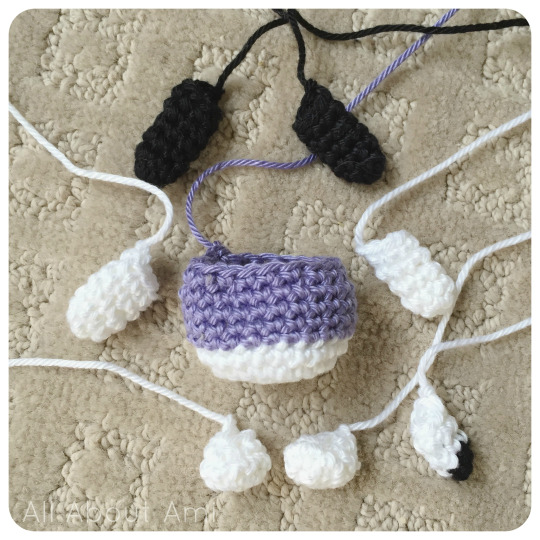 I looove Pochacco's little kawaii face!  This was my first time using oval eyes, and I think the effect is very sweet: I used 4.5 mm ovals for the eyes and for the nose (I bought them on Etsy HERE)!  Mei also uses pink brads for the cheeks, so we went out and bought some from Michaels- they came in a colourful pack of brads under the brand name "Recollections" and are about 4-5 mm in size.  I tried to search for them on Amazon and found this listing HERE  (which I believe is the same pack that I bought from Michaels) and also these smaller pink brads HERE (about 3 mm) if you're interested!  I love the sweet look that these pink brads give as prior to this we had only used pink felt to make rosy cheeks for our amigurumi.  It gives a very clean look and they are very secure, especially if the stitches are nice and tight.  Ryan also did some eye indentations (as Mei recommends) to give Pochacco's face more definition!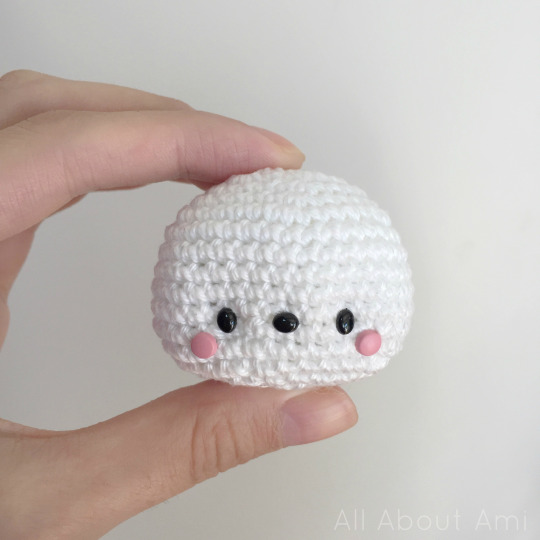 All the parts are ready to be attached!  Note that the head is a round ball, but Mei recommends doing a "head-molding" exercise in which you shape and squeeze the head to give the front a flattened appearance when it's time for stuffing.  Read more about this exercise HERE on Mei's blog!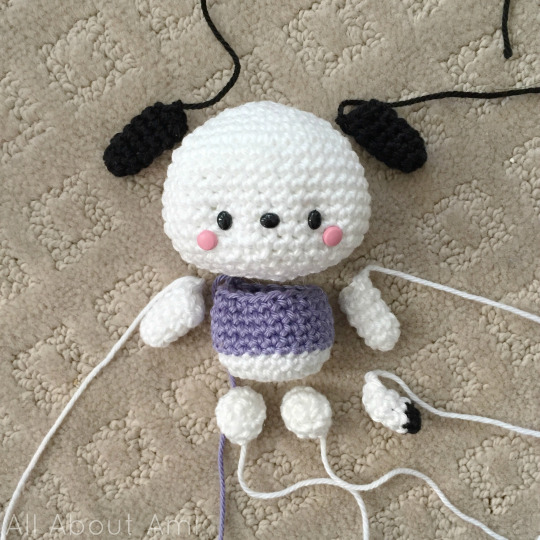 Isn't Pochacco incredibly adorable?  He looks so tiny when I'm holding him!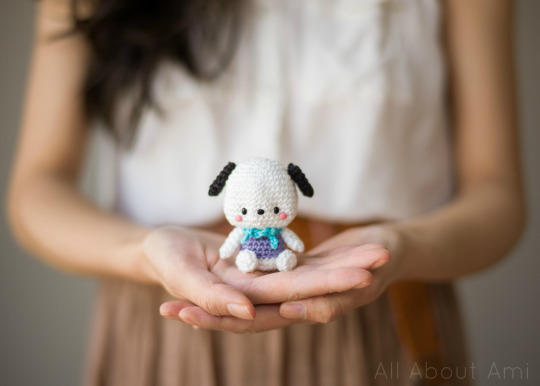 We added a tiny scarf for our Pochacco, made using a series of chain stitches!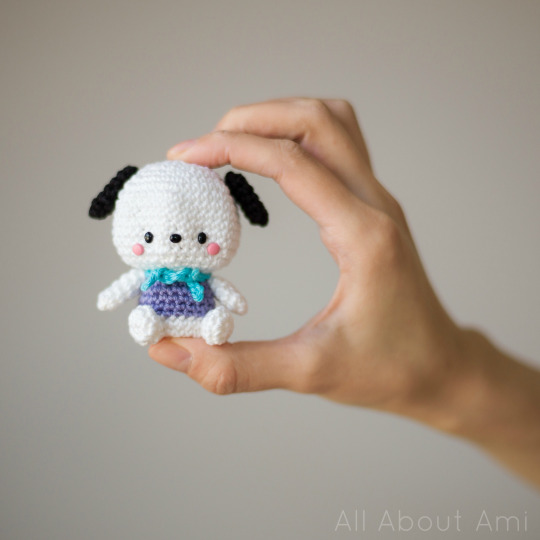 Here is my childhood Pochacco stuffie along with our new amigurumi Pochacco!  As you can see, we made this little ami a blue scarf so that he could match his larger counterpart!  Myla adores playing with these two as she calls this little guy a baby Pochacco ❤.  I am so glad that I saved all my childhood stuffies as Myla loves playing with them.  It warms my heart knowing that they are being played with once again and getting a new lease on life (reminds me of Toy Story 3)!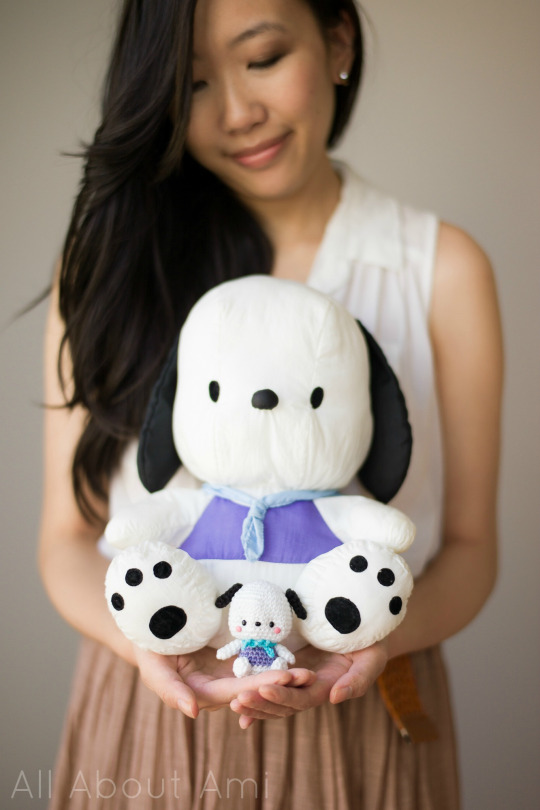 I love how our little Pochacco turned out!  He is so tiny and sweet and here he is eating some sweets himself!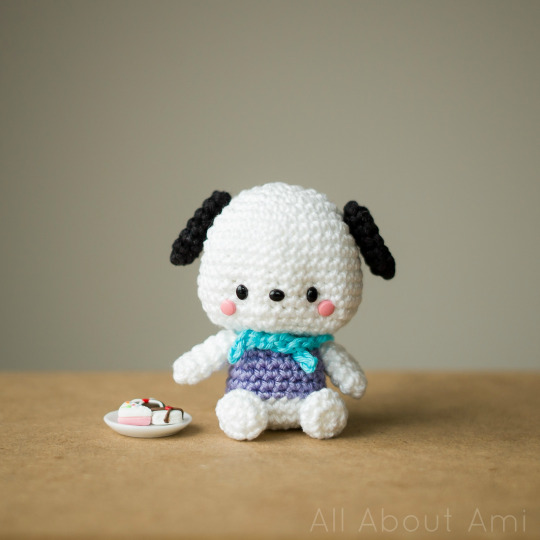 It was such a pleasure working through this pattern in Mei's book, and I am hoping to try out another one of my favourite Sanrio characters soon!  It sounds like many of you are also enjoying "Hello Kitty Crochet", and it's been great hearing who you've made and who your favourite characters are on social media!  Do check out this book if you haven't already as the designs are adorably cute and they work up quickly since they are so small and dainty!  I will be blogging about some other crochet books and kits and hosting some giveaways for them as well in the future, so stay tuned!