I had never participated in an art trade before, but I jumped at the opportunity to work with Kim Rountree of Oborocharms when she suggested that we do one (read about how I got to know Kim here).  I had a difficult time choosing what I wanted to ask Kim to make as her shop was full of adorable charms and stuffies.  What stood out to me in particular were her custom charms that were incredibly detailed.  I thought it would be so special to have little custom charms made based on my original amigurumi designs.  I e-mailed Kim, listing some suggestions of custom charms I would love to have, including Chinese New Year Doll, Valentine Teddy, Sweetheart Bunny, and Dragon.  I also told Kim that I completely didn't mind choosing items that were already in her shop (non-custom) if it was too much trouble.  Kim was so gracious and generous as she immediately replied, saying she wanted to make ALL of them!  I knew it would be a challenge, but there is nothing that Kim can't handle! 
As I excitedly began to work on Snuggles the Penguin for Kim based on one of her charms, I was treated to "sneak peeks" of my charms through Kim's facebook page.  Kim periodically posted photos of all her work in progress, and Ryan and I had a blast seeing our charms being made along the way and trying to figure out which ones were for us!  Can you identify any of my amigurumi designs in the photo below?  The next series of photos are all courtesy of Kim from her facebook page!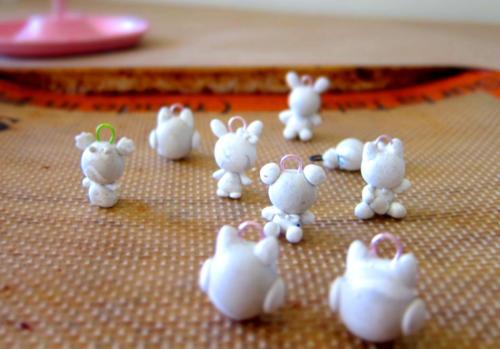 I thought I'd point them out to you just in case you couldn't see them all!  From left to right, we have Dragon, Sweetheart Bunny, Valentine Teddy and Chinese New Year Doll.  Haha, I don't blame you for not being able to identify Chinese New Year Doll since she's flopped over!  You can see the bun in her hair 😉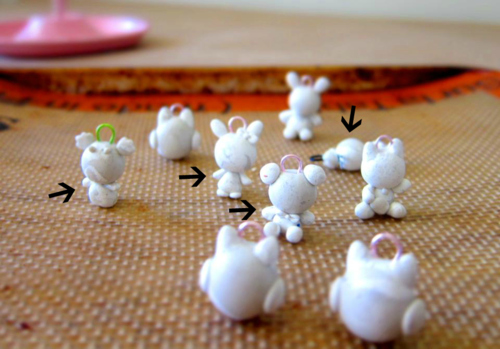 Next, Kim posted a photo of her charms drying after she had painted them!  Kim does such fine detailed work, and her painting is impeccable.  Here you can spot Dragon, Sweetheart Bunny, Valentine Teddy and Chinese New Year Doll too!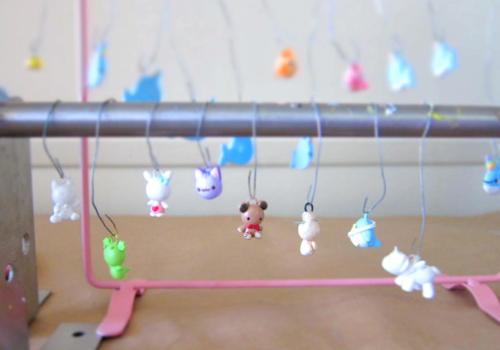 I was so excited when Kim posted this photo of the Dragon charm, as was everyone else on her page!  Kim had yet to add some more detail, but he was looking super cute already!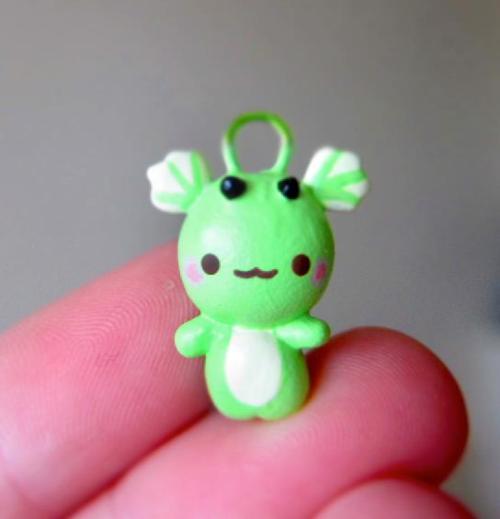 Here is the Dragon charm all finished, complete with his scaled body and tiny fang!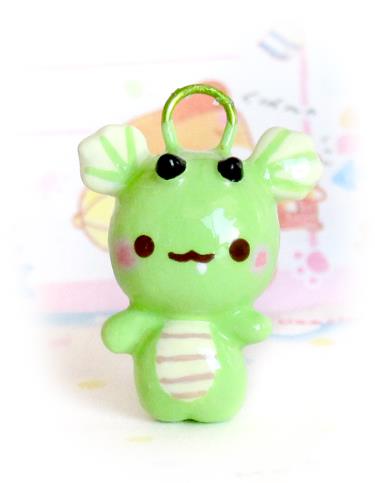 Kim drew a sketch of this baby dragon six years ago, and now he's an amigurumi AND an adorable charm 🙂  This charm seems to be very popular as Kim has been making so many of them!  I love how you can have them in any colour you want too- check out that blue dragon!  You can order your own Dragon charm by clicking here.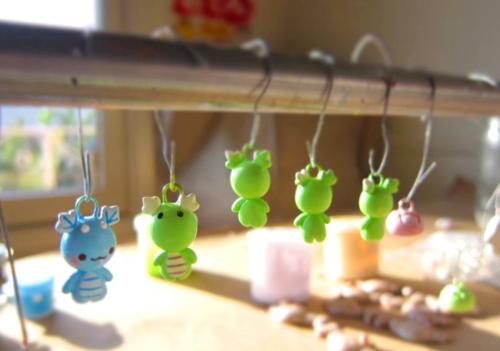 Kim also posted a photo of the finished Valentine Teddy charm!  Look how tiny he is compared to a penny!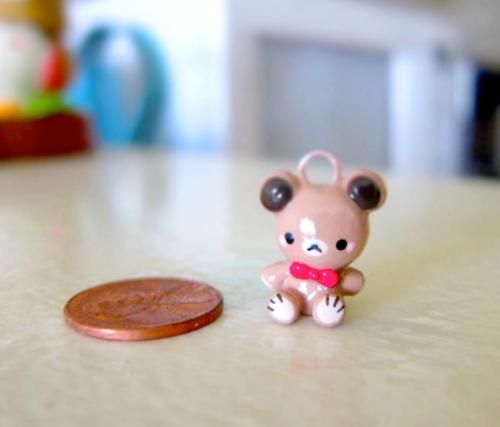 When Kim posted this picture of all four of my completed charms, I absolutely could not stop smiling and staring at the screen!  They were all SO CUTE and accurate, and I was so thankful that Kim had made all four for me 🙂  I asked her if she would attach them onto a bracelet for me as she had recently added a custom charm bracelet option to her shop.  Kim happily obliged and attached them onto the bracelet in the order in which I had designed and created them.  I was so excited when Kim told me that she had officially sent the bracelet off in the mail!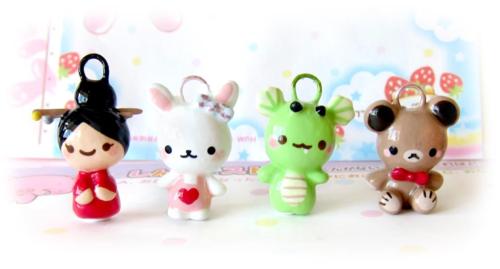 Kim also has a youtube channel here, and in this video she took the time to describe some new charms she had finished.  Kim talks about the charms she made for me between 0:43 – 1:34, and you can see what they look like from all different angles (Sweetheart Bunny and Valentine Teddy both have cute little tails and Dragon has some horns along his back).  I loved being able to see them "in action", which of course got me even MORE excited for my bracelet to come in the mail!
I excitedly checked the mail everyday and practically squealed with joy when I saw that my package from California had arrived!  I waited for Ryan to come home so we could open it together!  Inside the package was this adorable litttle box that contained my charm bracelet PLUS some cute pinback buttons that Kim had thrown in as an added bonus 🙂  Her strawberry octofruit, owl and baby narwhal are all popular items in her shop!  Don't my charms look absolutely adorable all huddled together in their little box?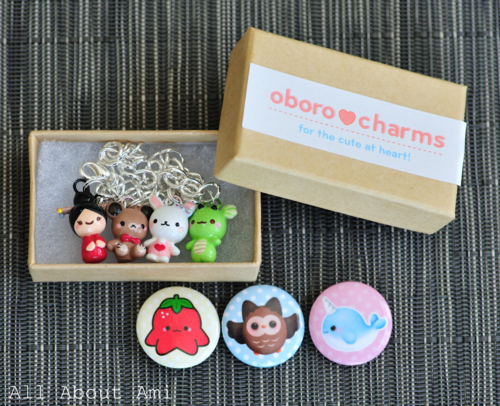 I immediately took out the bracelet and examined each charm carefully one-by-one.  I could not believe how tiny and detailed they were!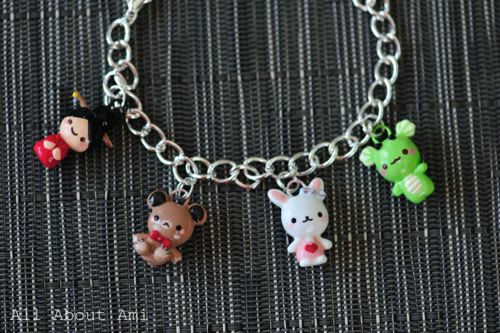 Here is the order in which we designed and created these little guys: Chinese New Year Doll, Valentine Teddy, Sweetheart Bunny, and Dragon!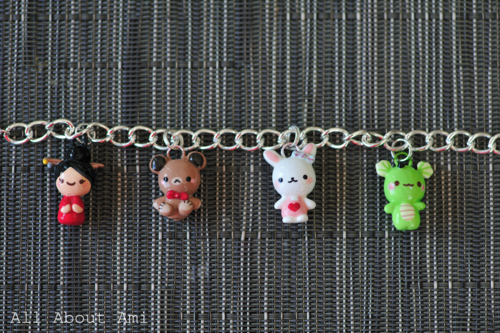 I thought I would show you what each charm looks like compared to my amigurumi creation in case you've never seen them!  For the Chinese New Year Doll, I was really impressed that Kim even included the tiny chopsticks in the charm's hair, complete with the yellow and grey decorative balls.  Her little bun, side part, rosy cheeks and winged lashes are all perfect!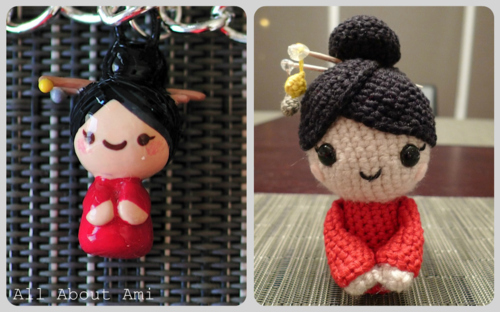 Valentine Teddy has his dapper little red bow and the stitching on his feet too!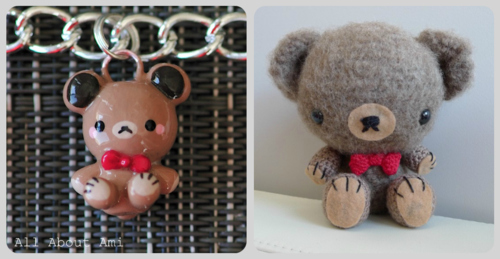 Kim did such a great job with the Sweetheart Bunny, from her detailed floral bow to her pretty pink jumper and her perfect little heart!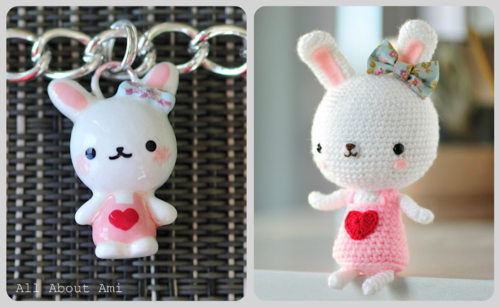 And of course, here are the two Dragons based on Kim's drawing from 6 years ago!  They both have their little wings, rosy cheeks, scaled bodies and sweet little fangs!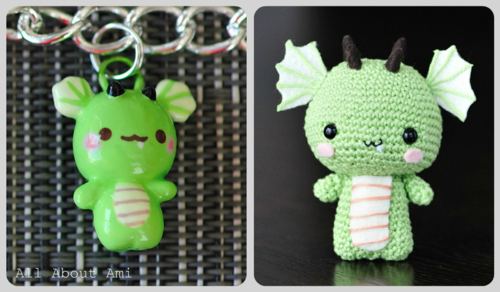 Here are all four of the charms that Kim made for me with their crocheted counterparts!  They're all so sweet!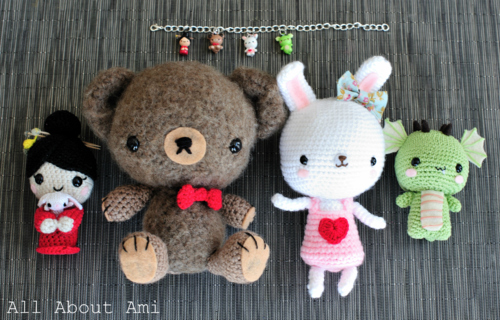 After examining each of the charms, I immediately asked Ryan to help me put the bracelet on!  Kim spaced each charm out perfectly so that I had a lot of slack left-over…I don't like bracelets that are too big since they always feel like they're going to fall off!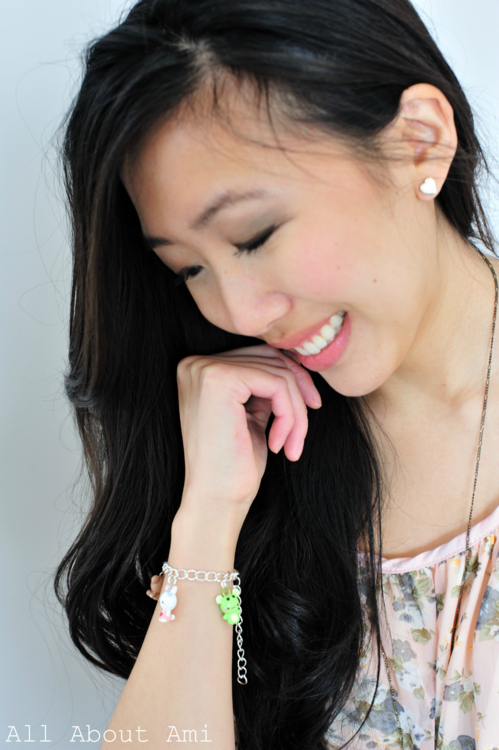 I absolutely love my one-of-a-kind charm bracelet, and it's neat to think that I'm the only one in the whole wide world who has it!  I wore it out already, and I couldn't help but smile when looking at it.  This bracelet reminds me of all the hard work we've put into our amigurumi creations, how people all over the world have crocheted their own versions, and how much fun my collaboration with the talented Kim of Oborocharms has been.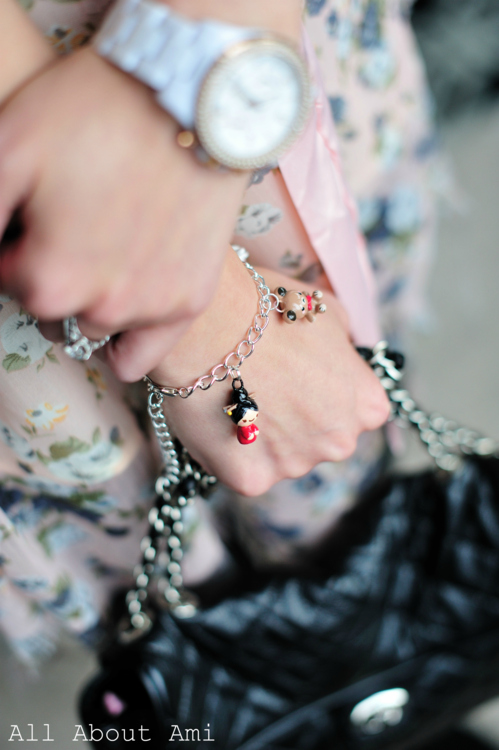 Even though we sent off our packages on different days, would you believe that Kim and I both ended up receiving each other's art trade items on the exact same day?  Kim posted this picture of the crocheted Snuggles I made for her with the little charm Snuggles sitting atop his head!  Snuggles looks right at home at Kim's place, and I'm so happy that he made it there safely! 
I hope you've enjoyed getting an inside look into our art trade!  The whole process has been so much fun, and it's a little sad that it's over.  We'll definitely try and do another one in the future though 🙂  You can crochet your own Snuggles by following the pattern here or crochet your own Dragon by following the pattern here.  You can also purchase a Snuggles charm here or a Dragon charm here.  If you have any custom charms that you would like made (e.g. your pets, favourite foods, favourite animals, etc.), be sure to contact Kim!  Her custom charms would make very meaningful gifts either for yourself or for your loved ones!  Thank you so much again for my personalized, beautifully-crafted charm bracelet, Kim 😀