With the sequel "Despicable Me 2" coming out in exactly a week, I knew I HAD to do another "Crochet Corner" post to feature the absolutely amazing minions that people have made using my free pattern!  After completing this ambitious and detailed project and writing up the pattern two years ago, I wondered how many people would actually take the time to make their own Minions.  I was blown away by how many people have put in hours upon hours to follow my pattern, and out of all the amigurumi pictures that people have sent me, I must say that I have been the most impressed with the incredible Minions that people have made!  As a refresher, this is how my Minion turned out (I wish we could take some new photos of him, but sadly he is on a different continent!):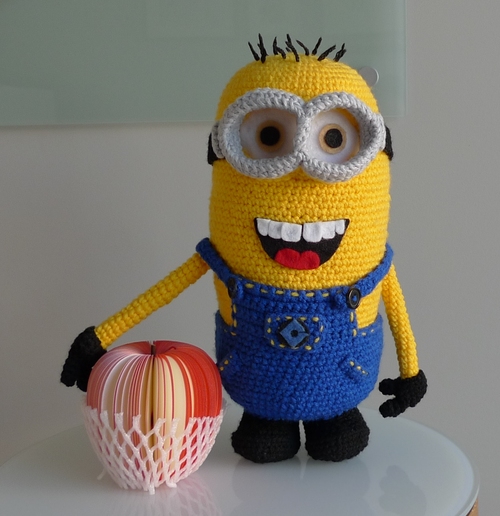 Michelle from New Zealand made this cutie named "Sebastian" by adjusting my pattern to make him smaller!  I love how Michelle gave him a lopsided grin with eyes gazing upwards too 🙂  As you can see from her pics, the overalls and goggles are removable!  Great work, Michelle!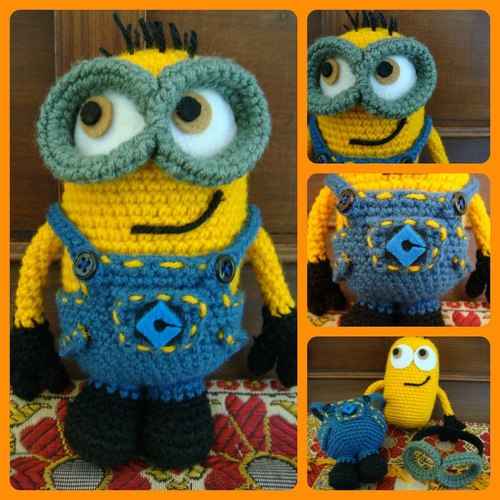 Jose only started crocheting in December 2012, but she says that she has fallen in love with her new hobby!  She has made my Spring Bunny, my Sweetheart Bunny, and of course, her own Minion!  Jose says that she had a lot of fun making all these amigurumi, and it is so impressive that she made this little guy with only a couple months of crocheting under her belt at the time!  Great work, Jose 🙂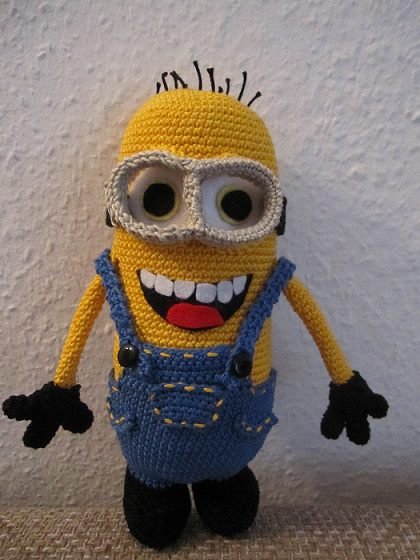 Gizem of Gizu's Doll World from Turkey made this lovely Minion, and she says that they're having lots of fun together!  He looks adorable holding a beautiful crocheted heart!  Love his sweet smile, Gizem!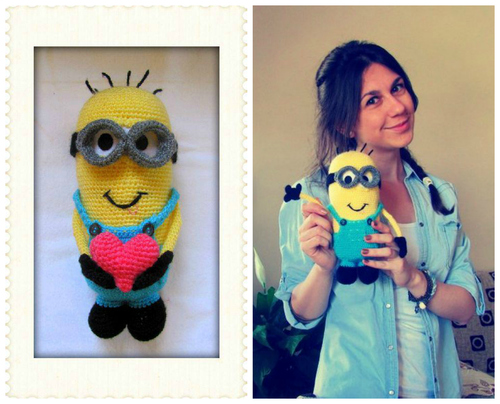 Pauline from Malaysia posed her beautiful minion with this big fluffy teddy bear!  She writes that she especially likes how his parts can be removed!  He looks like he could be an identical twin to the Minion that we made!!!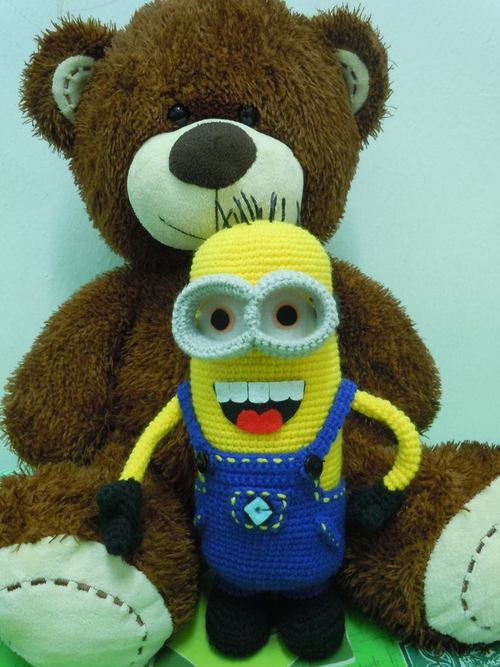 Yi Ting from Taiwan took two weeks to make her own Minion, but she says that it was so worth it when she was all done!  He looks wonderful, Yi Ting!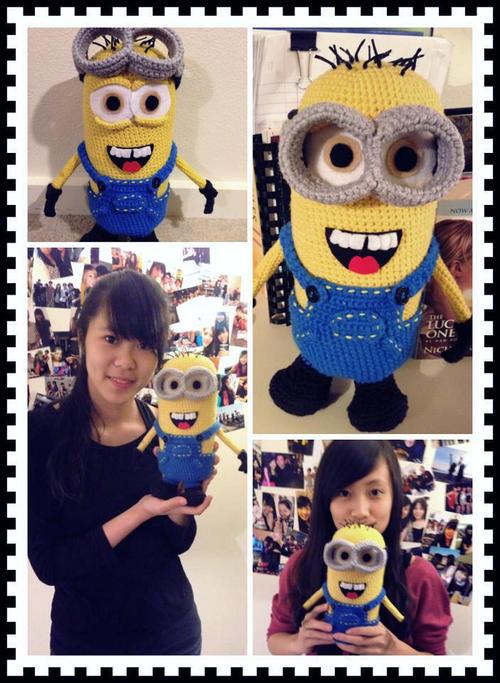 Priscilla from the Netherlands made the smallest Minion that I've seen using my pattern!  He looks so cute and dainty when being held!  She says that she will be working on a one-eyed Minion as well- can't wait to see him, Priscilla!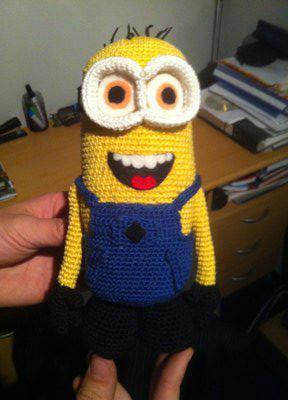 Many people have already made one-eyed Minions, including Bogee of "Safety Eyes Manila" from the Philippines!  Bogee was also featured in my first Minion Crochet Corner post as this is her second Minion!  I always get excited when I receive e-mails from Bogee as she always makes such beautiful amigurumi using my patterns.  She made this shorter, one-eyed Minion for a friend's birthday gift, and she says that she has a couple more Minions to make for friends before she can make one for herself to keep!  How generous and thoughtful of you, Bogee 🙂  She says that she finds crocheting very therapeutic and relaxing, and the look on people's faces when they receive their gifts is absolutely priceless!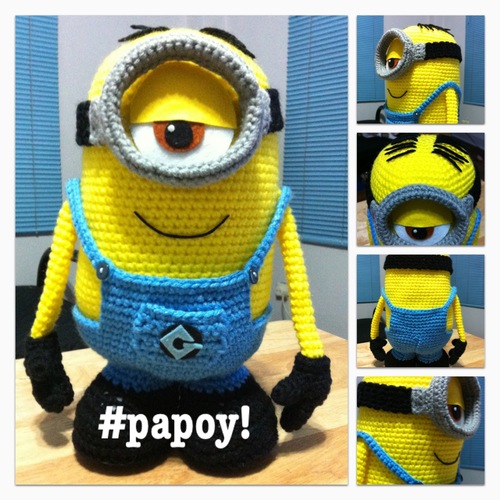 Denise from the United Kingdom also made a one-eyed Minion, and she says that her kids are incredibly excited to see the sequel too 🙂  Perhaps this guy will also tag along with your family to the theatre, Denise?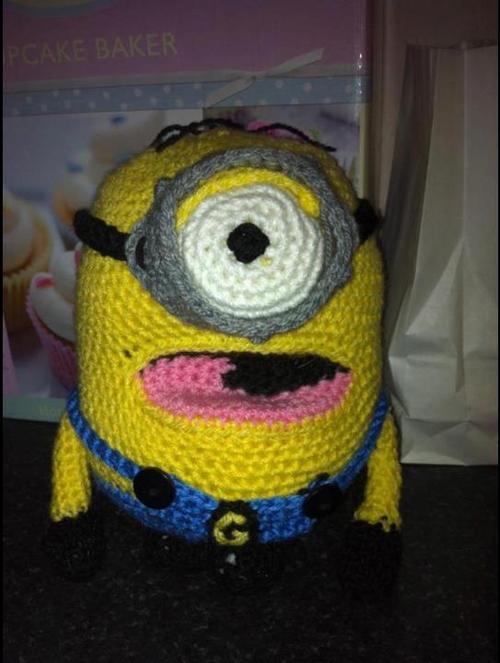 This next bunch of photos show both one-eyed AND two-eyed Minions!  Crocheting one Minion already takes a LONG time, but this didn't deter these Minion-lovers from making two of them!  Rachel from Australia wrote about this amazing pair on her blog HERE.  She first made the two-eyed Minion for herself, and her little cousin loved her Minion so much that she requested her very own!  Rachel adapted my pattern to make this shorter, one-eyed counterpart in time for Christmas, and her little cousin named him "Bobby"!  They both look so well-made, Rachel 🙂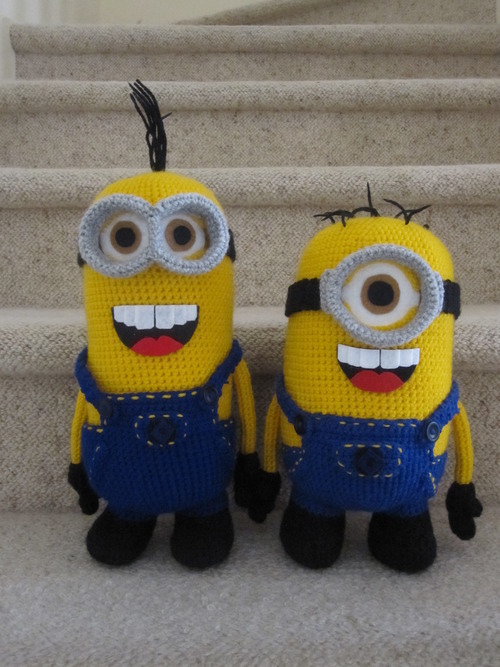 Jennifer made these Minions for her sister as "Despicable Me" is her favourite movie!  Her sister desperately wanted her own crew- she writes that she is "now contracted for enough Minions for her to try her own trip to the moon"!  It's amazing that these are actually Jennifer's first major amigurumi pieces, and she says that she found my pattern easy and fun to follow.  That is wonderful to hear, Jennifer!  You are such a great sister!
Jing Jing from the Philippines made this pair with demure smiles too 🙂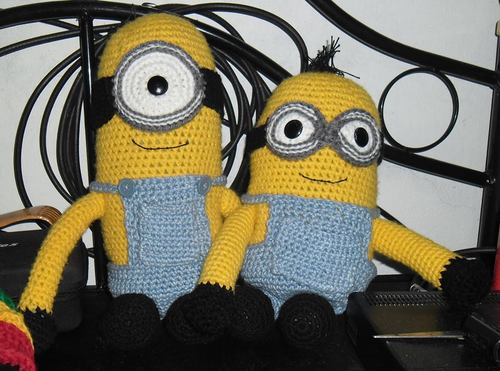 Zeynep sent me these lovely photos after seeing my first Minion Crochet Corner post last year!  She made her first Minion as a Father's Day present for her husband last year.  Then, her son requested a one-eyed Minion since he loves Minions so much!  I love how Zeynep posed the two of them hugging each other, high fiving each other and standing ontop of each other!  I can imagine all sorts of trouble that this pair could get into 😉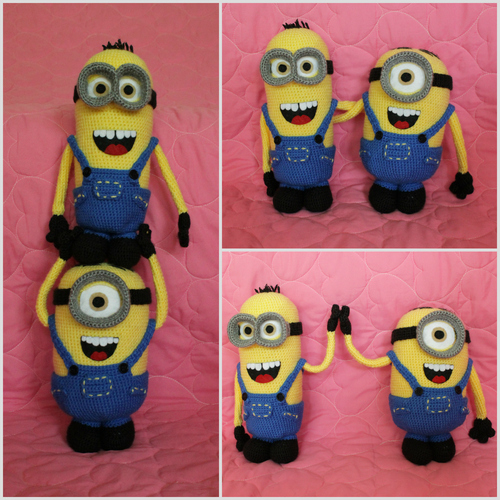 This next picture comes with a sweet story!  Victoria stumbled upon my page when she came across my Urban Jungle Slouchy Beanie blog post.  As she delved more into my blog, she found my Minion pattern and knew that she HAD to make it as she had just made a one-eyed Minion beanie for her 4 year old nephew.  Her nephew is obsessed with the movie and absolutely LOVED his matching Minion!  Victoria told me that she used fabric glue to attach the Minion's jumper and goggles to his body otherwise there would be a bare-bottomed Minion running around 😉  I thought that was so funny…  Victoria also made minion cupcakes for her nephew's birthday!  What a sweet auntie 🙂  There is so much cuteness going on in this photo!!!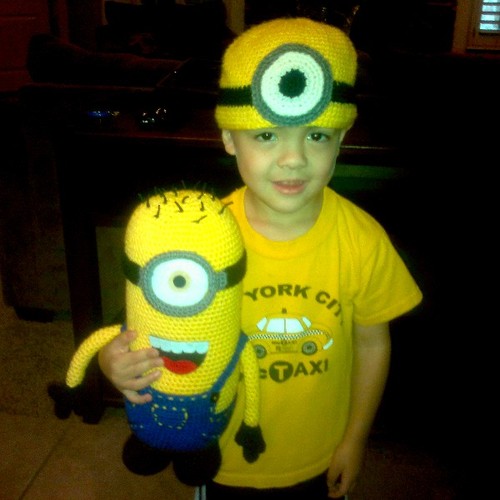 As always, thank you SO MUCH for taking the time to send me your photos and share your stories behind them!  If you would like to make your own Minion, please check out my free pattern HERE and the accompanying step-by-step post HERE.  You can also see more Minions that people have made in my first Minion Crochet Corner post from last year HERE!  We are incredibly excited to see the sequel as I'm sure all of you are too 🙂