I first blogged about the amigurumi Despicable Me Minion we made back in October.  He certainly was a labour of love as we spent countless hours working on all his details (he's still the largest amigurumi we've made to date) and writing up his complex crochet pattern.  After publishing the step-by-step and pattern posts, I wondered whether anyone would try making him.  I really hoped so since we had poured so much time and effort into this Minion!  As the months went on, people started sending me photos of their own Minions, and I was absolutely amazed to see how wonderfully they all turned out!  It made me feel good knowing that people could read and interpret my pattern so well since each and every Minion looked fabulous.  Come see all the different Minions that have been created around the world 🙂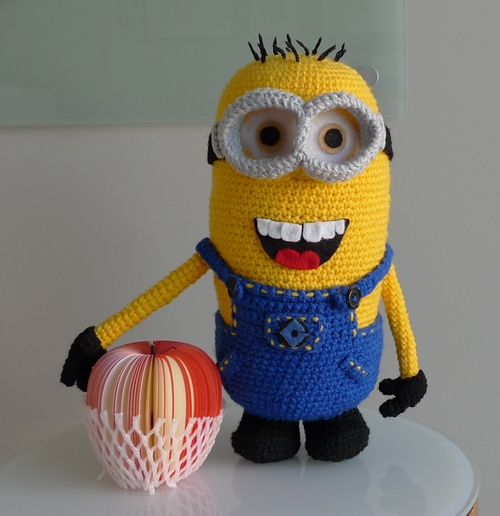 Catherine did an absolutely beautiful job crafting her own Minion.  I love how my Minion was posed with an apple, and Catherine crocheted a delicious banana for her Minion to hold!  Love the props and your fine attention to detail, Catherine 🙂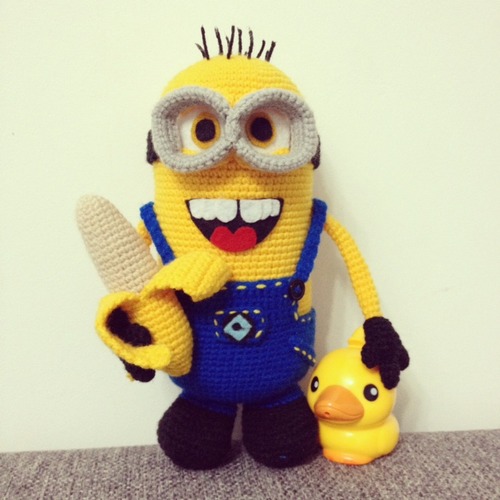 Laura made this Minion for her son, who absolutely loves him!  What a sweet present 🙂  I imagine Laura's son and this Minion will go on many fun adventures together…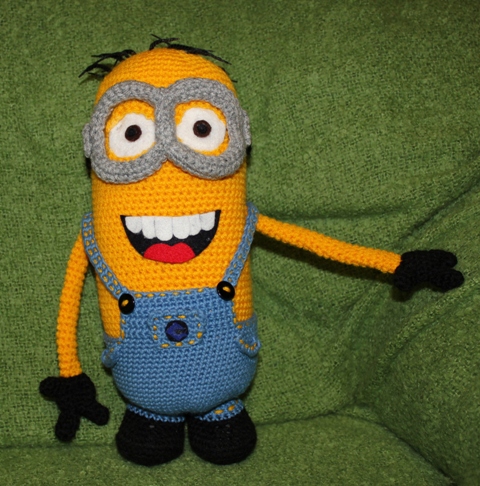 Tiffany's Minion is holding a massive chocolate bar!  I think he was sent on a secret mission by Gru to bring back enough chocolate for the girls 🙂  He looks so cute just standing in the middle of the room, chilling with his chocolate bar!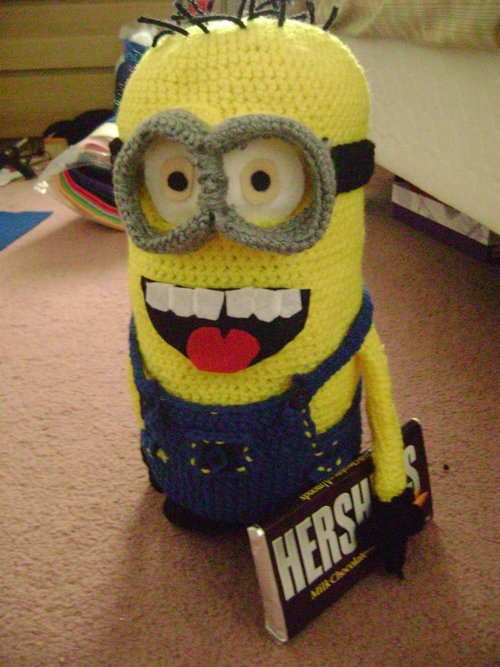 Phyllis' Minion was her first real amigurumi project!  I love how she adapted my pattern to make a shorter Minion, also giving him huge googly eyes and a lopsided grin!  He looks a little mischievous to me 😉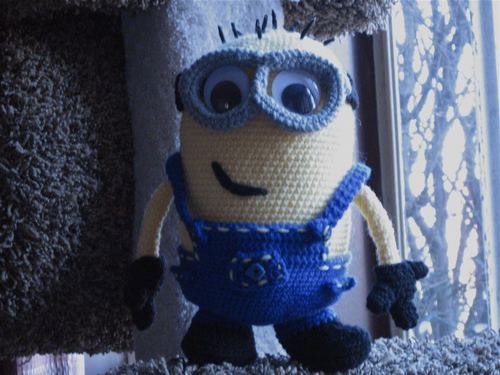 YarnAccumulator made this Minion for someone special on Valentine's Day!  She gave him a tuft of hair in the middle instead of individual hairs spread throughout the top of his head.  I love seeing how people put their own touches on their amigurumi!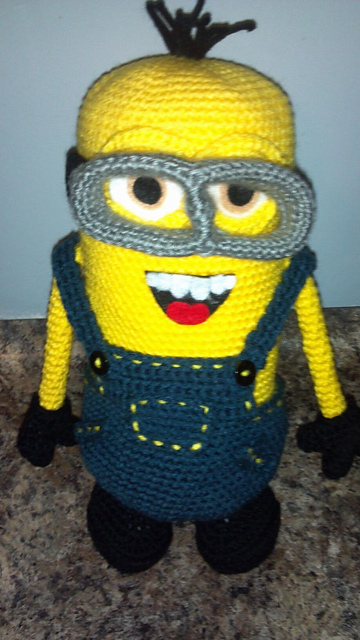 Donesia made this Minion for her husband, and she loves how his goggles and pants are removable!  He looks very well-made, and I love how his hair flops down instead of sticking straight up.  His expression is so cute as he looks super excited or amazed about something!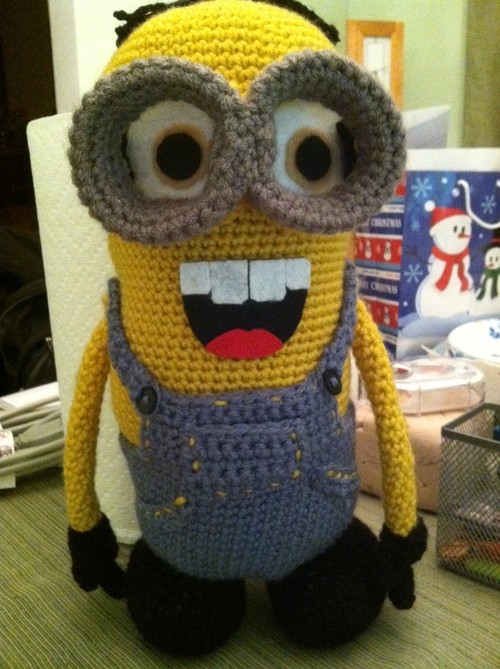 Tracy from the United Kingdom made this special Bob the Minion for her son as well!  Looks like he's guarding that cup of tea for her at the moment:)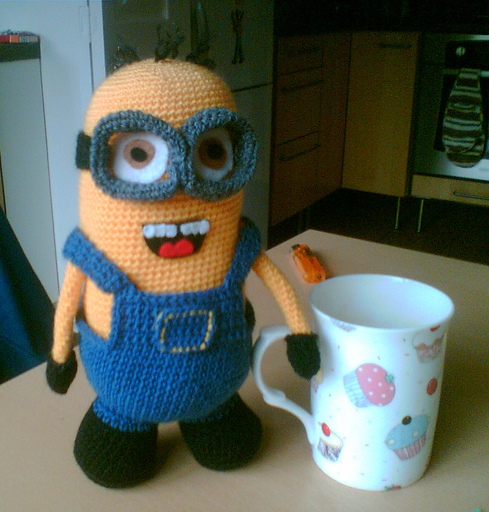 GreenGrapes said it took her forever to finish this Minion, but all her time and effort were worth it!  She did a wonderful job, and I'm so happy she persevered through this project to complete him 🙂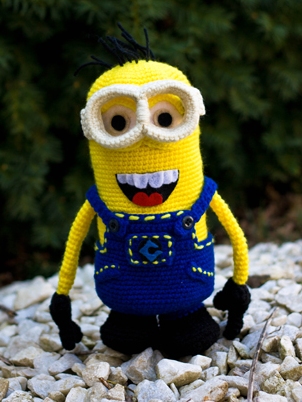 Camille also said it took her forever to make her Minion, but she managed to complete hers as well!  Here he is enjoying some sunshine on a bench- great work, Camille!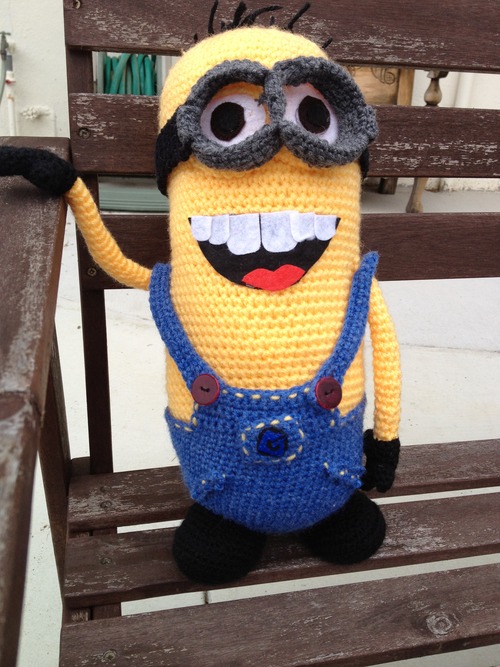 Maria from California made a Minion for her brother, and she commented that my pattern was the best she's ever followed.  Thank you for your kind words and feedback, Maria!  I love how she gave this Minion a graduation cap and diploma too (in the style of Graduation Teddy)!  I'm sure her brother loved this special gift!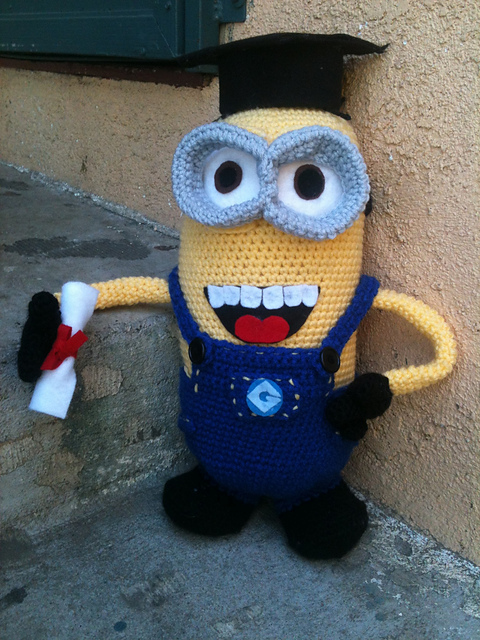 Bogee from the Philippines made this fabulously expressive Minion.  I really love his lopsided grin and how he's looking off to the side (the addition of the small white circles in the corner looks great!).  I also really like the colours that Bogee used- the light blue contrasts nicely against the yellow, grey and black as well.  Absolutely wonderful job, Bogee!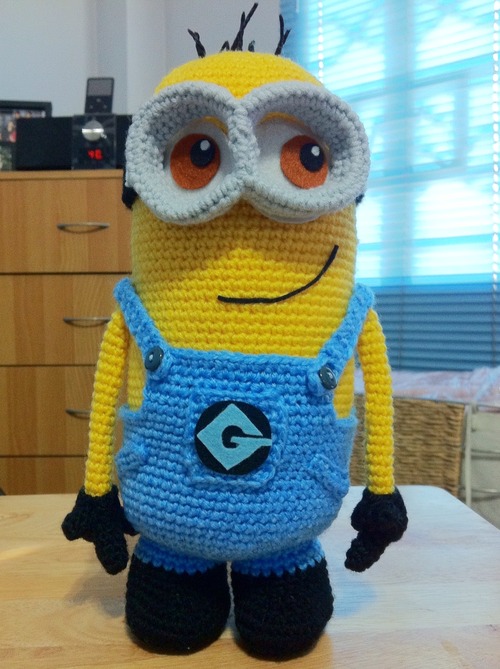 If you haven't already seen the making of my Minion, please check out the step-by-step blog post HERE and the free pattern HERE.  Thank you so much for sending me photos of all your Minions, everyone….they are slowly taking over the world!  Illumination Entertainment and Universal Studios were also kind enough to send me some special one-sheets (posters) after seeing my amigurumi- you can read about it HERE.  
I originally wanted to do this "Crochet Corner" post because I thought the sequel was being released today (July 3).  However, upon further investigation and realizing there was no promotion happening for the movie, I realized that it was being released on July 3, 2013.  Haha, I guess that means we have to wait another year before we can see the sequel!  That also means there's still one whole year to work on your own Minion in time for "Despicable Me 2" 😉