I was so excited to begin working on my first amigurumi.  But what would I make?  I was in the process of moving from my family's house to my new house, and I only had pink and black yarn with me.  Hmmm….who could I make that was pink?  I narrowed it down between two round, pink Nintendo characters: Kirby or Jigglypuff.  I ended up choosing Jigglypuff.
I used to play Pokemon Red on my Nintendo GameBoy back in 1996.  I used to love collecting and training my pokemon and watching the Pokemon anime series as well.  Jigglypuff was always so cute when she puffed up with anger and put people to sleep with her mesmerizing songs.
And so, I found this great Jigglypuff pattern on WolfDreamer's blog.  I ended up altering the pattern here and there because I wanted to make a smaller Jigglypuff.  Here is how my Jigglypuff turned out: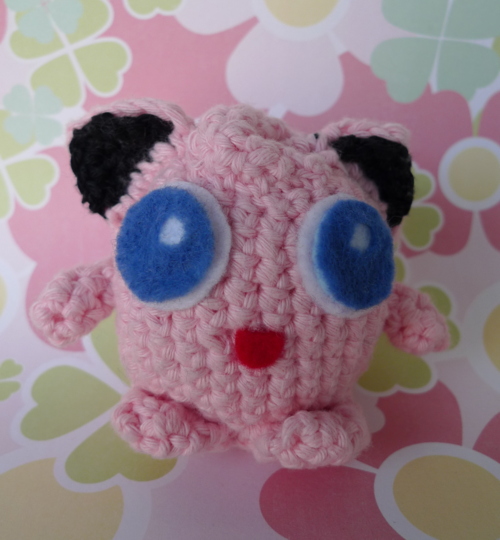 And these are the materials I used to make Jigglypuff: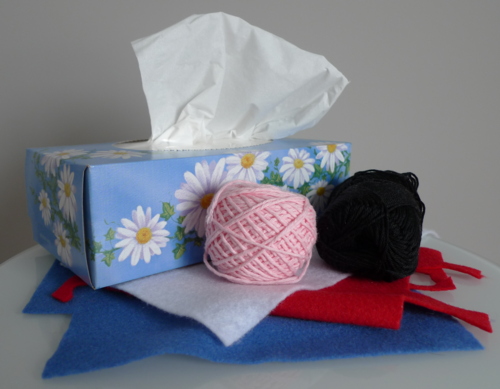 Pink and black yarn for crocheting.  White, red and blue felt for the eyes and mouth.  And kleenex?!?  Yes, that is what I used to stuff Jigglypuff.  I did not yet have polyster fiberfill, and I did not want to wait another day to go out and buy it or get it from my family's house (the same polyester fiberfill I used to make my original amigurumi in 1995).  I was too eager to start assembling Jigglypuff.  So I used the only thing I could find around the house – kleenex.  That means it'll be bye bye Jigglypuff if she ever gets dunked in water :S
Here's a pic showing what was made out of the above materials: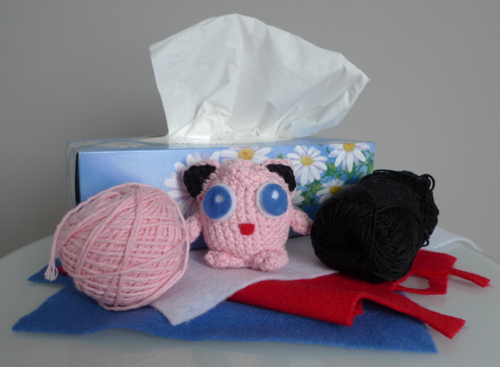 Crocheting the parts was simple enough, particularly since the single crochet stitch is the only stitch that is typically used to make amigurumi.  Reading the crochet patterns came back to me.  However, assembling the parts together was a different story.  Placing and sewing the body parts together is key, and at times I got frustrated.
Curving and attaching the tuft of hair onto Jigglypuff's head was challenging.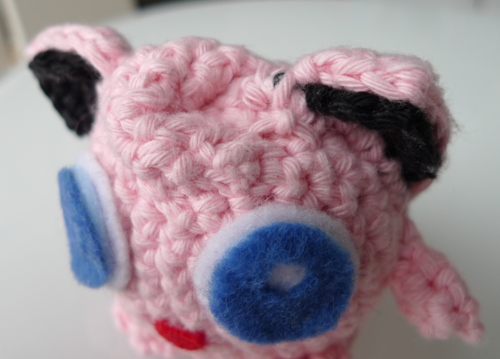 Sewing the black inner ear to the pink outer ear (without showing the black stitches and yarn from behind) was also difficult.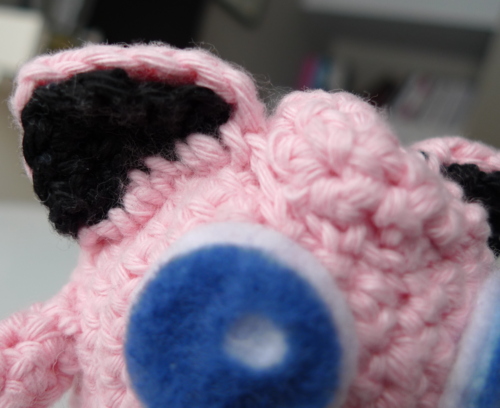 I was very happy with how Jigglypuff turned out though!  Ryan helped me cut the eyes and mouth out of felt (he's very precise!) and used a glue gun to glue them to Jigglypuff's face.  I was so proud after making my very first amigurumi as an adult!  There was no doubt in my mind that taking up crochet again to make these cute stuffed animals was going to be a fun challenge.