I am very excited to share my newest magazine feature with you all!  When Lindsey first e-mailed me about being featured in an upcoming issue of "Inside Crochet", I was incredibly thrilled and honoured.  They first heard about me because they had featured my friend Sarah of "Repeat Crafter Me" in their Issue #51, and Sarah had listed me as one of her favourite bloggers!  Sarah is a blogger whom I deeply admire as she is a busy mom of three and she consistently creates and blogs about her very creative and beautiful craft and crochet projects.  Thank you for the wonderful shout-out, Sarah!  You can read about her feature in "Inside Crochet" HERE.
I am featured in Issue 52, and I was very excited to pick up a copy at my local Chapters!  If you live in the US, you can find this magazine at Barnes & Noble and select Jo-Ann stores.  This issue contains 25 crochet patterns with many of them having a spring and floral theme, such as the "Summer Garden Throw" pictured on the cover of this issue.  I was impressed by the beautiful lay-out of "Inside Crochet" and all the bright, vibrant pictures displayed page after page.  I enjoyed reading about the other crochet artists featured in the magazine as well as the yarn and book reviews.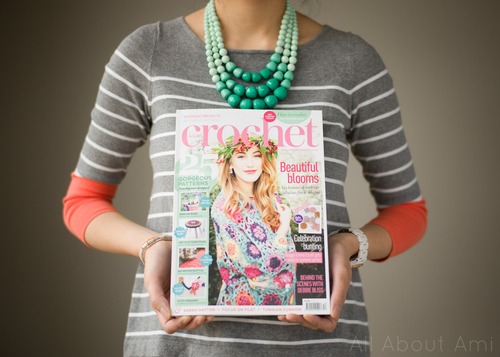 As soon as I got my hands on a hard copy, I excitedly flipped through the pages to find my feature!  I was expecting it to be towards the back, so I kept missing it…my feature was actually near the front on Page 8!  I was delighted they included the pictures of Dragon, Chinese New Year Doll, Pony and my Minnie Mouse Ears Headband.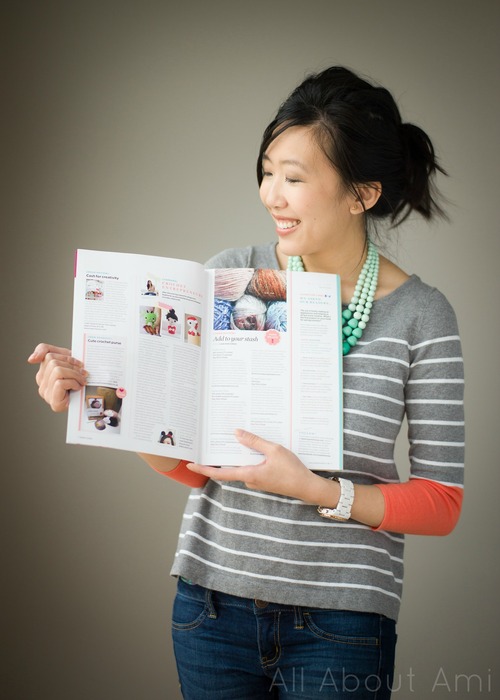 Here is a close-up of my feature so you can read it for yourself!  They slotted me under the "Crochet Entrepeneurs" section- although I don't know if I would classify myself as an entrepeneur since I don't currently sell anything or have a business, I am just thankful to be featured in this magazine!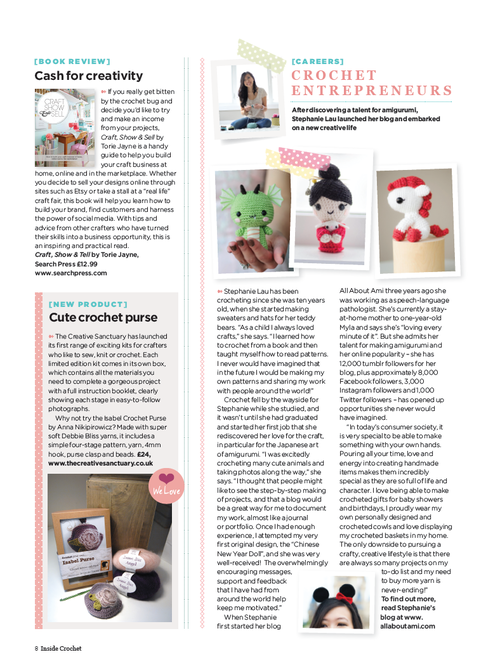 Thank you to Lindsey and Adrian and the lovely people of "Inside Crochet" for the wonderful feature!  They have also been very generous as they are offering a free one year digital subscription to a lucky reader!  This means that you will be able to download a digital copy of each month's issue and therefore be able to access tons of free patterns and high quality content!  It's a great prize valued at $44.99, and you can read more about their digital subscriptions HERE.  You can enter this giveaway using the Rafflecopter widget below, and there are 6 different ways to enter- none of them are mandatory, but of course the more entries you have, the higher chances you have of winning!
Thank you so much to all my loyal readers who have been so supportive along the way!  It has been a huge blessing and honour sharing in these exciting and special moments with you all 🙂