***This is the step-by-step blog post for our Graduation Teddy!  The free pattern for this teddy can be found HERE!  You can also purchase an INEXPENSIVE AD-FREE PDF of this pattern on Etsy HERE  The printable PDF with step-by-step pictures has been condensed into a total of 4 pages including the cover page!
My younger brother is finishing up his last year of high school, and our whole family attended his commencement and graduation banquet at the end of May.  Going to these events definitely made me feel nostalgic as I reflected back upon my years in high school.  I remember feeling both excited and scared leaving the comforts of a small, familiar school and going to university where thousands upon thousands of students explored their interests, met new people and joined clubs, and pursued studies that would lead to their future occupations.  Back then there was so much uncertainty as I did not know what I wanted to study and I had no idea where life would take me.  It amazes me that time passes by so quickly….I've now gone through two university convocations, got an awesome job, gotten married, moved into a new house and started my very own blog!!!
As my mom and I were shopping for my brother's graduation presents at the mall, we stopped into Hallmark to see what graduation items they had.  Among the photo frames, cards, and mugs, I saw a teddy bear wearing a mortarboard.  That's when I realized that I could try and make my brother his very own personalized graduation teddy since I was, after all, in the habit of crocheting stuffed animals!  I thought it would be so cute if this bear could hold a little diploma.  My brother's favourite colour is blue, so I immediately began crocheting away to try and give it to him in time!
I first crocheted his round, wide head…

Then I crocheted his other body parts.  I love laying them all out as I get ready for assembly!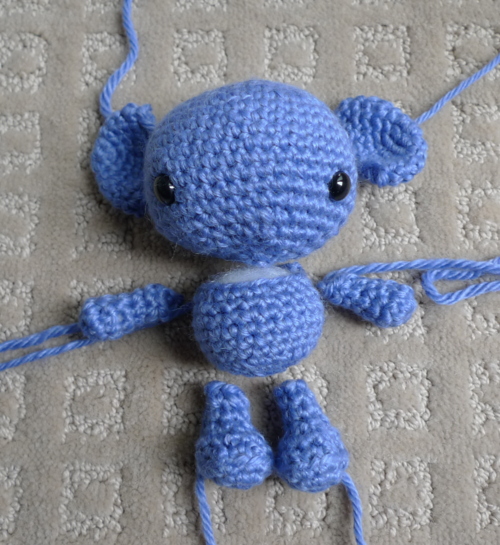 Ryan made a smiley nose for him and we glue gunned it it to his face.  The noses on amigurumi are so important- stay tuned for a nose tutorial that I'm currently working on!  I then attached his ears, body and legs.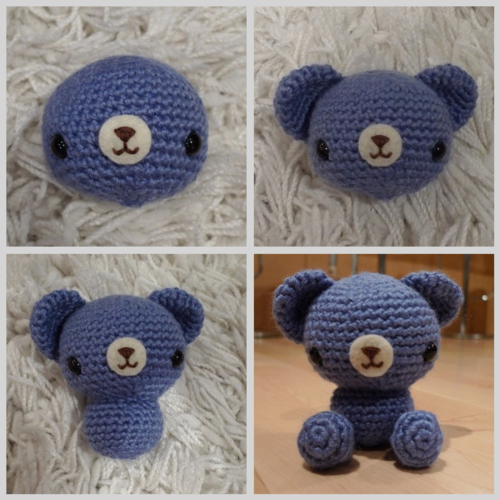 I added a slight extra detail on the feet by crocheting in the back loops only for a certain row, thereby leaving the front loops out to give an edge, helping to define the feet more.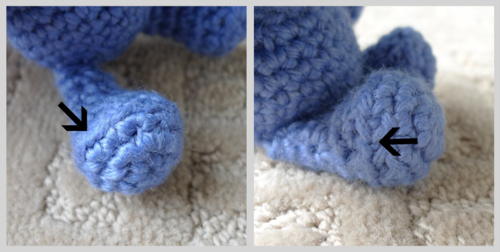 Once I added his arms, the teddy himself was complete!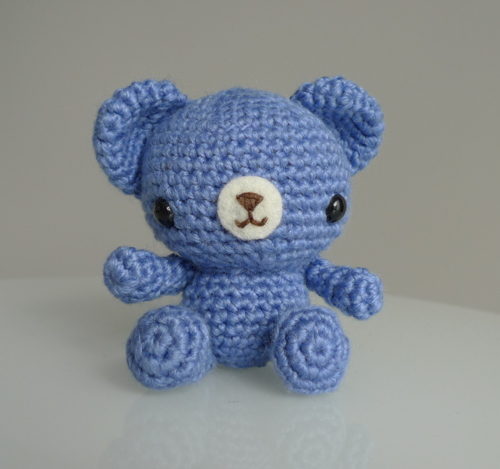 Then I crocheted the pieces to make his mortarboard: the skull cap, the square piece, the centre circle, and a tassel.  My tutorial on how to make a tassel can be found here.  My brother's school colours are purple and yellow, and the tassel on his own mortarboard consisted of these colours!  And so, you can personalize the tassel on this teddy by using the school colours of your graduate!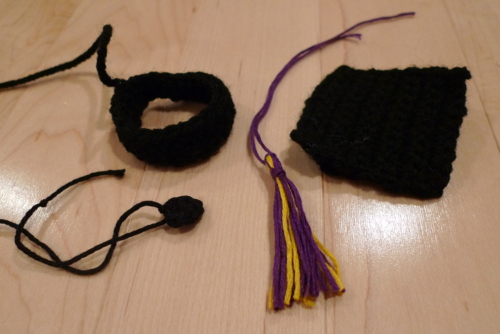 I attached the centre circle onto the square piece and then wrapped the tassel around the centre circle.

We then used some black cardboard or hard paper (the only thing I had lying around was a black duotang!) to cut a square.  We then glue gunned this paper piece to the crocheted square to prevent the edges from lifting up or waving.

Next, Ryan did a fabulous job embroidering "2011″ onto the skull cap.  Ryan is so good at doing fine detailed work!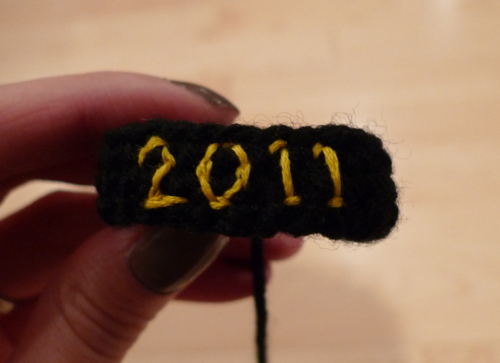 I sewed the skull cap onto teddy's head, ensuring that the year of graduation was centered…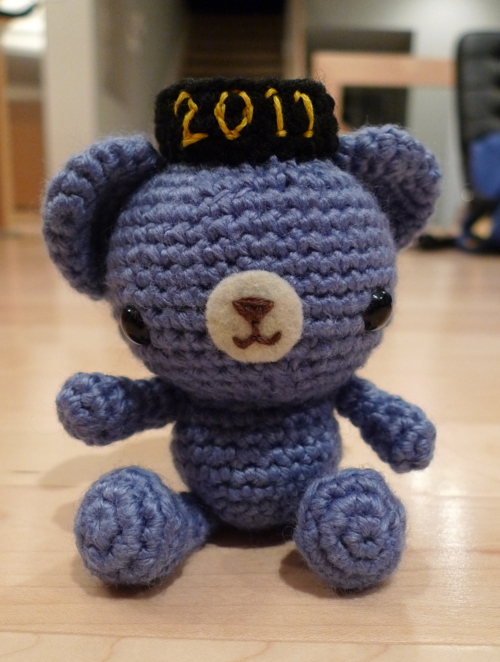 Then we used a glue gun to attach the square piece to the skull cap.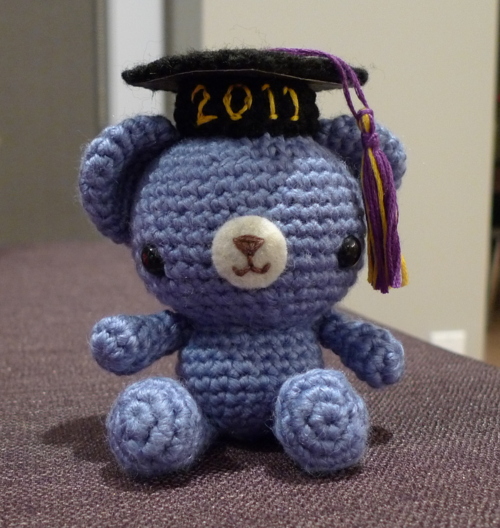 We rolled up a small piece of felt and used a glue gun to secure its shape.  Then we tied a ribbon around the scroll using red embroidery floss.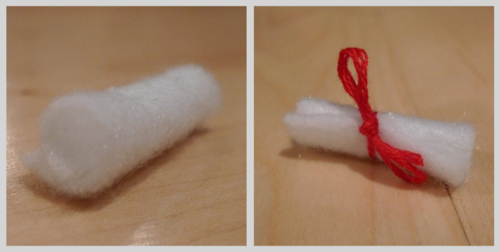 We then used a glue gun to attach the diploma scroll to his hand!  Here he is, all complete 🙂  Look at him proudly holding his diploma high!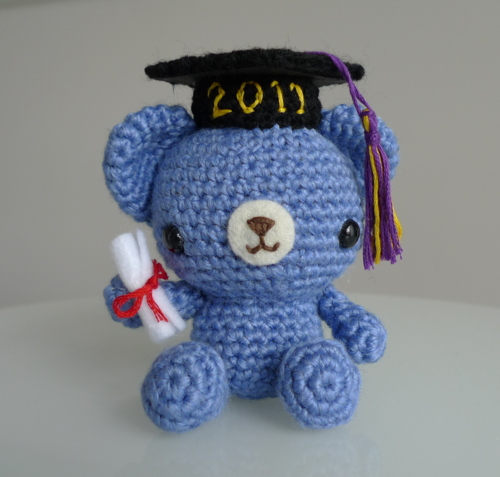 Graduation Teddy from various angles: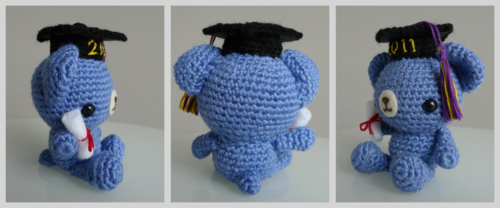 A pic of me holding him to show relative size 🙂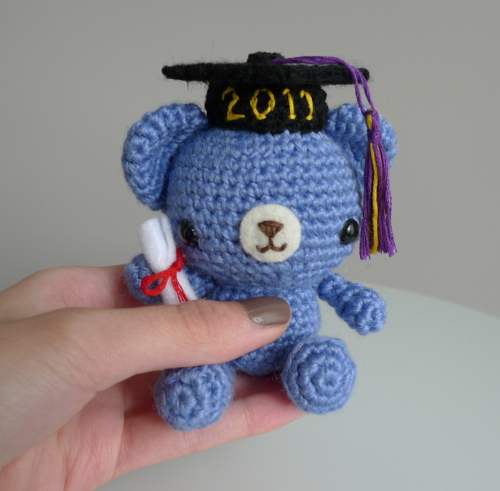 Graduation Teddy surrounded by school supplies!  I ♥ my giant calculator 🙂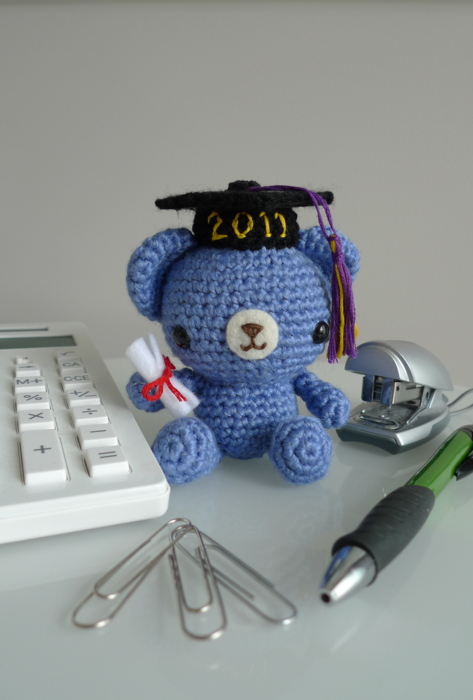 Here's a close-up of the diploma scroll: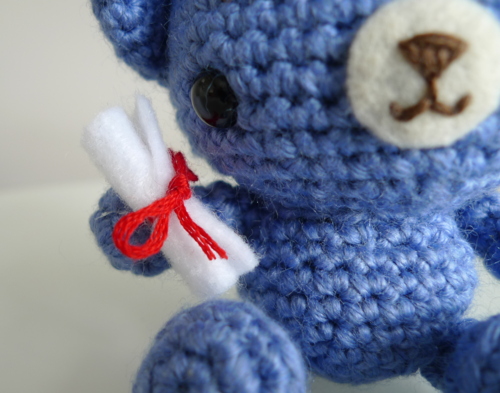 And a close-up of his mortarboard with tassel: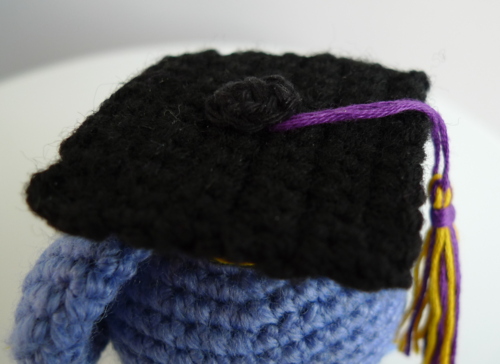 I couldn't resist having Graduation Teddy take a picture with my brother's *actual* mortarboard so you can see how they match!  My own tassels were always black, so I thought this one with its bright colours and "2011" was extra special!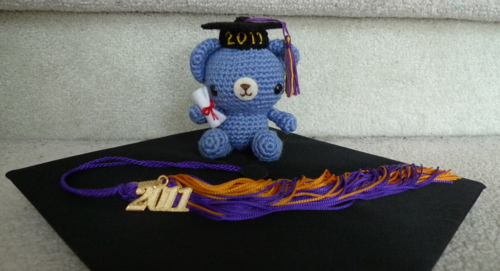 The pattern for this Graduation Teddy can be found HERE so you can all make your own personalized teddies for those special graduates in your life!  T'is graduation season after all 🙂  I'm sure many people out there would be thrilled to receive a special teddy to commemorate this exciting time in their life, whether it be high school or university graduation, knowing a loved one made it just for them!  My brother loved his grad teddy, particularly since they had matching tassels.  I want to wish him a Happy Graduation– we're all so proud of you and we'll always support you 100%!!!