I can't believe it's been a year since my brother graduated from high school already!  Our family had a great time attending his commencement and grad, and he's had a wonderful first year of university.  I made him this little "Graduation Teddy" to help him commemorate this special time in his life, complete with a diploma, mortarboard and tassel matching his school colours.  Since graduation season is upon us once again, some others have used my free pattern to make sweet Graduation Teddies for their friends too!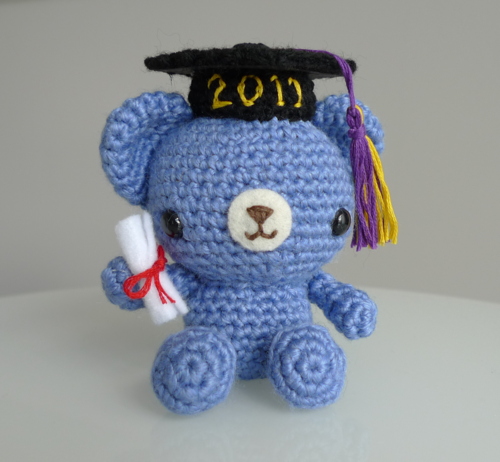 Makayla of Illinois made this teddy for her cousin who is graduating!  I love the purple she used, and she did an absolutely fantastic job with the diploma, mortarboard, and yellow and red tassel. I'm sure her cousin loved this special, personalized gift!  What a cutie!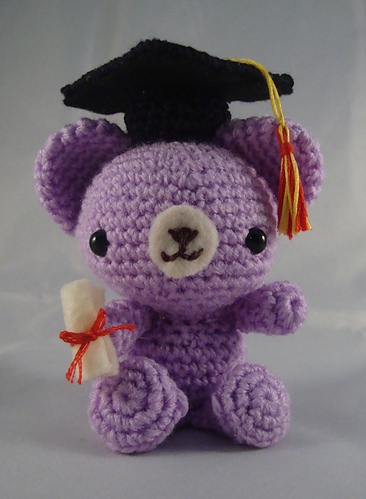 Emily was new to crochet, so she watched some videos and learned how to read crochet patterns as she attempted her own Graduation Teddy.  She did a wonderful job, particularly since this is her first amigurumi project!  I love the light, airy colours she chose, and I think she did a superb job stitching the nose.  Emily wanted to include the year on her hat, so she used glue!  Way to go, Emily 🙂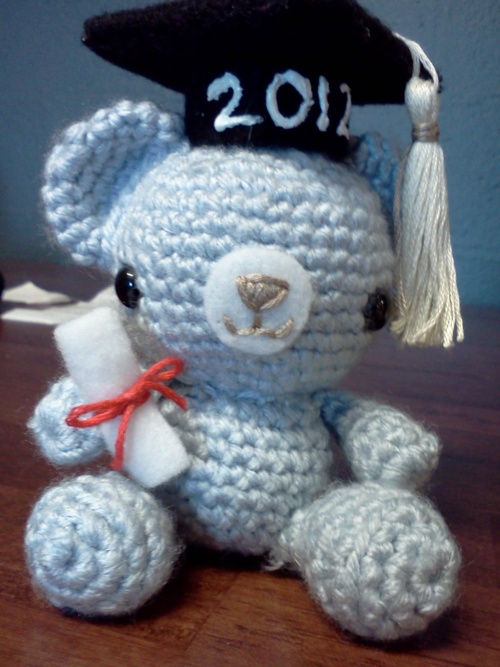 Nicollette of Louisiana found my pattern and made this bright orange Graduation Teddy for her sister-in-law!  I love how everyone uses such different colours for their teddies 🙂  She stitched on the year as well!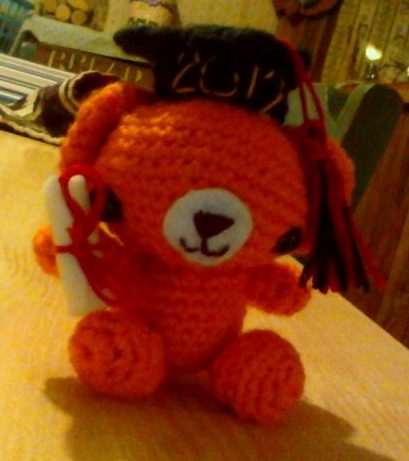 Maria of Indiana made this Graduation Teddy in a similar blue colour that I used!  He looks very dashing with his white and blue tassel!  She also did a fabulous job stitching "2012" on the hat as it is very bold and thick- the year really stands out!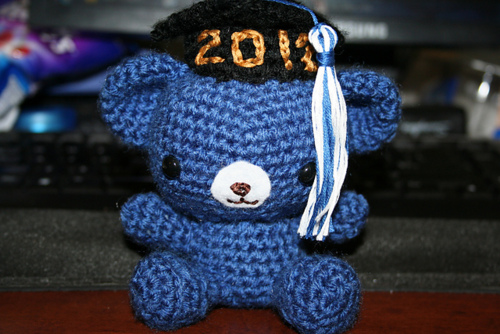 Mandy made this Graduation Teddy using a yarn called "Oatmeal"- she decided to name her teddy "Oatmeal" too!  What a cute name 🙂  He has a lot of texture with this variegated yarn, and he looks very proud to be graduating!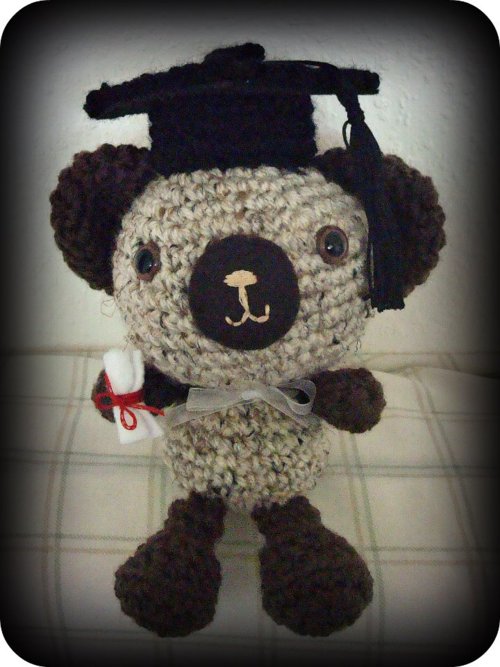 Mandy had a great idea of also making a Graduation Cupcake Bear!  She said that this project went by really fast, and she added polly pellets to the cupcake liner to give it some weight.  This is such a great idea as not having to crochet the body and limbs and attach them together will save a lot of time!  And as Mandy says, there are so many fun and fabulous cupcake liners out there to really make this project unique!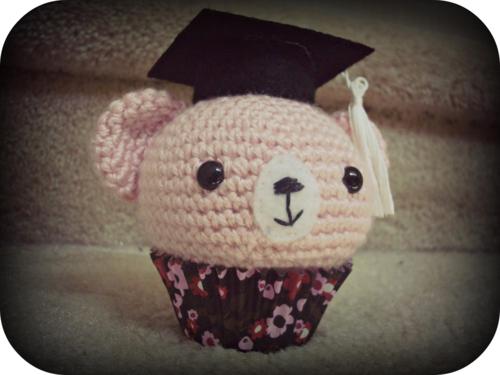 Fadilah of Rojak made this bright green Graduation Teddy and even added a little bit of felt to the neck as his graduation robe!  That's such a cute idea 🙂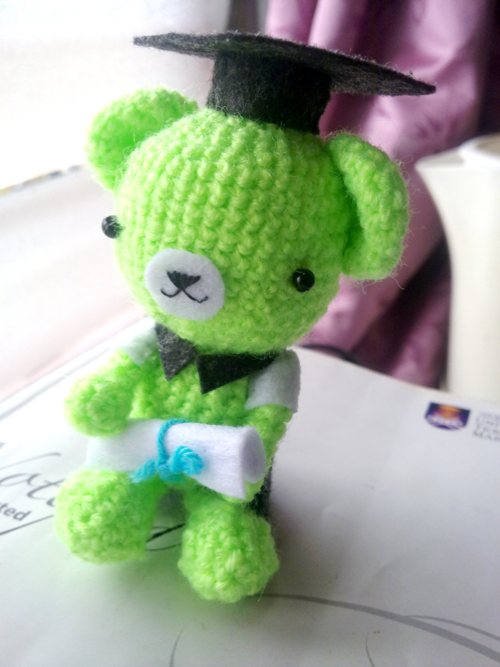 Fadilah didn't make just one teddy!  Her friend asked her to make one for her boyfriend, so she made this purple one for him and a green teddy keychain for her!  I love how Fadilah wrapped up the purple teddy so beautifully and even had the teddy holding a lovely bouquet of flowers!  I'm sure her friends were very touched when they received these special gifts.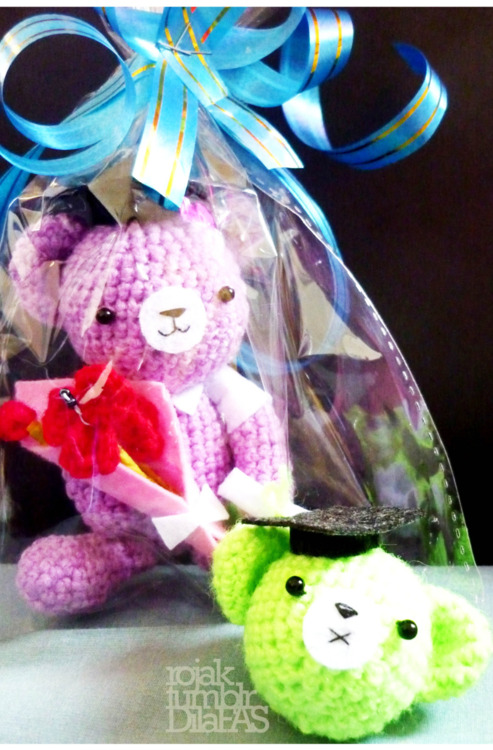 Since Fadilah had many friends graduating, she made many Graduation Teddy keychains in a vast array of colours!  Similar to Mandy's idea, this is a great way to save time when you have a lot of gifts to make.  It must've been fun handing out these special bears to her friends with their adorable sideways graduation caps 🙂

I love seeing how other people's creations turn out using my patterns as well as how they modify them.  If you have a special grad in your life, do check out my free Graduation Teddy pattern as well as the step-by-step photos to personalize a special teddy for them!  Thanks for sharing your pictures and stories with me, everyone!  Congrats to all the new grads of 2012!