I am so incredibly excited to finally share about a secret project that I was working on last year!  A year ago in January 2015, I was contacted by Quarto Publishing Group, and they asked if I wanted to be a guest contributor for an upcoming book that would be published in 2016.  The working title was "Crochet, Learn It. Love It" and the main author would be respected crochet designer and teacher, Tracey Todhunter!  Tracey and the editors said that they had been impressed by my blog and gave me the freedom to design any amigurumi that I wanted!  Brielle was less than a month old when I received this offer, so I asked about the timeline of this project and wondered if it was possible.  I was very interested in this opportunity since it would be my first time being published in a book!
The proposal was due in March, and the final project was due in May.  Thus, I excitedly took on this project as I thought that gave me ample time.  It was my first time creating a proposal, and it was neat seeing what was required.  I needed to include a sketch of my proposed amigurumi, a photograph of my swatch showing my stitch and design details, the estimated finished size and dimensions, and yarn suggestions (weight, type, colour, and estimated yardage).  Ryan and I brainstormed what amigurumi to design, and we thought it would be neat to tackle a fox with a cute little snout/nose!  It turned out to be a perfect choice since "todd" means "fox" in English, and the main author was Tracey Todhunter!  Ryan did the following sketch that we submitted in our proposal: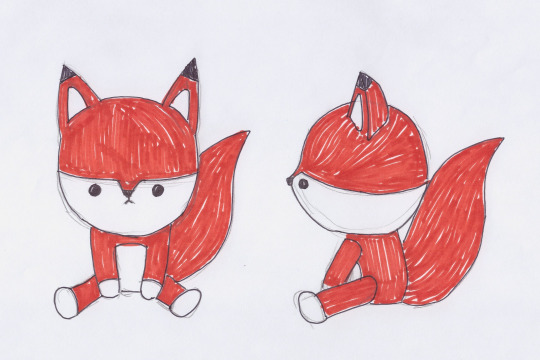 All the projects in the book used yarns in the DMC range, and I chose their "Natura Just Cotton" since it was a fine (level 2) yarn that had a great variety of colours.  I chose their "Ibiza" (white), "Coral" (red) and "Noir" (black) colours for our fox and hoped that they would be the perfect colours in real life!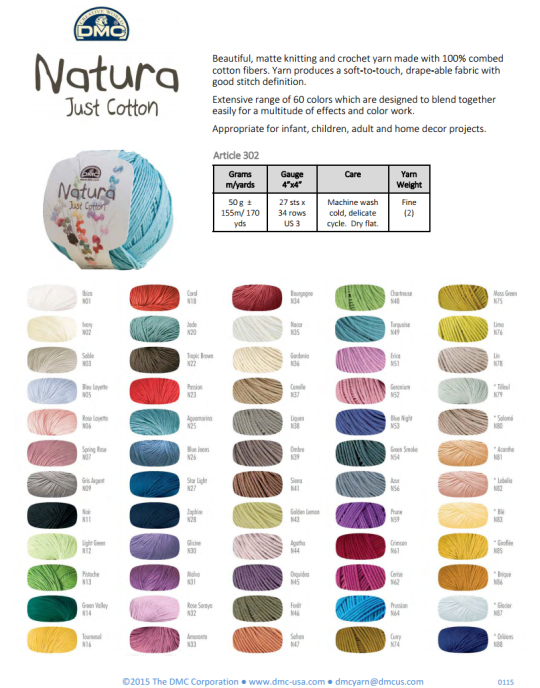 I was delighted when my yarn arrived in the mail as the colours were beautiful and the yarn was so soft!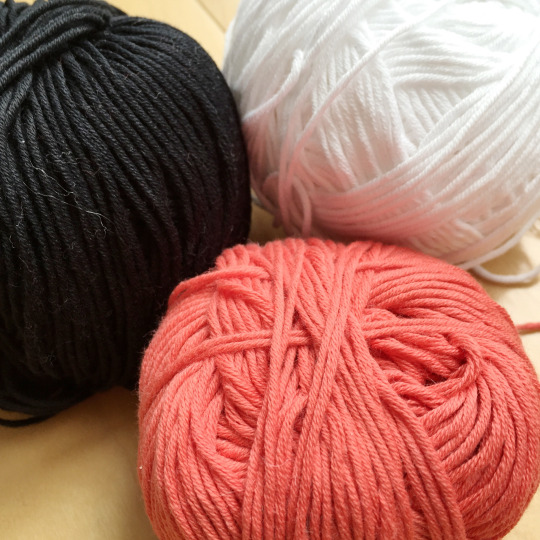 We had so much fun figuring out how to make our fox's nose protrude outwards and how to shape a big bushy tail for him.  However, this project was A LOT more challenging than I had anticipated because it was hard getting even one hour of free time.  I underestimated how difficult it would be taking care of both a toddler and a newborn, and Brielle did not sleep well at night.  I took whatever time I could get here and there, but my focus and designing was often interrupted by a crying baby who needed my attention.  Then, our whole family got sick in March and I got VERY sick in May where I was bedridden.  The Quarto team was very understanding though and gave me an extension if I needed it!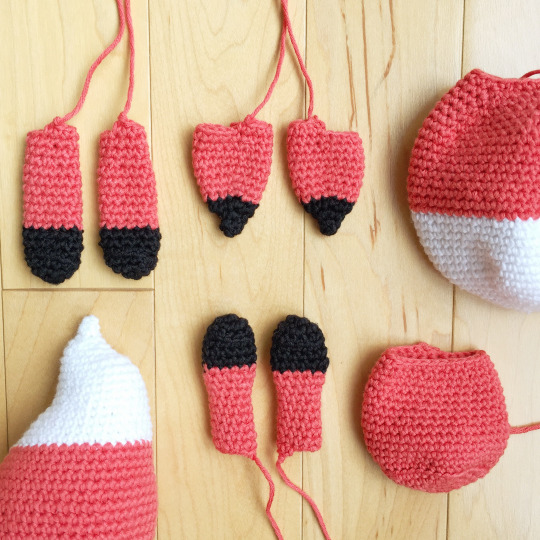 Thankfully, we were able to complete our project in the end within our time limit, and it felt so satisfying sending him off to England as it was such a big accomplishment!  We decided to name him Finnley as it seemed like the perfect name!  I posted the below photo to social media in May 2015 hinting that I would reveal this project in 2016.  I can't believe the time has already come that I can show you what we were working on back then!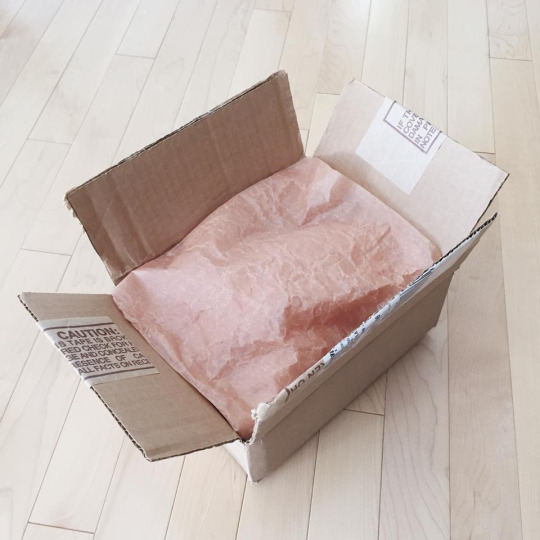 After I officially submitted my fox pattern and design, I tried to replicate Finnley the fox and work through my own pattern to see if I could find any typos or mistakes!  Whenever I make a typo on the blog and a reader points it out, I can instantly fix it by editing the blog post.  However, I did not have this luxury with an officially published book, so I wanted to make sure the pattern was perfect (I despise typos!).  I found a few points that needed clarification and was happy to send them in.
***So far there is one typo in the book that happened during the editing process!  In the tail section, Round 6 should read: 2 sc in each of next 6 sts, 1 sc in each of next 6 sts (18 sts).
Here is our Finnley the Fox (technically Finnley the second or Finnley II since the original lives in England and has his pictures in the book)!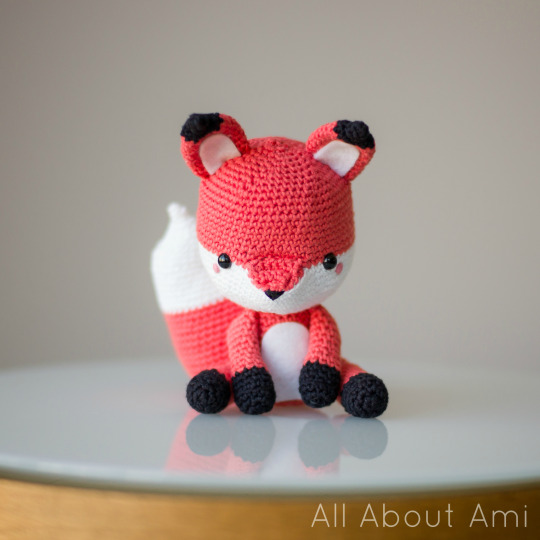 Finnley is such a sweet little fox and I just adore his protruding nose and bushy tail- they give him so much character!  As a sidenote, we used 7.5 mm eyes on Finnley II while the original Finnley in the book has 6 mm eyes!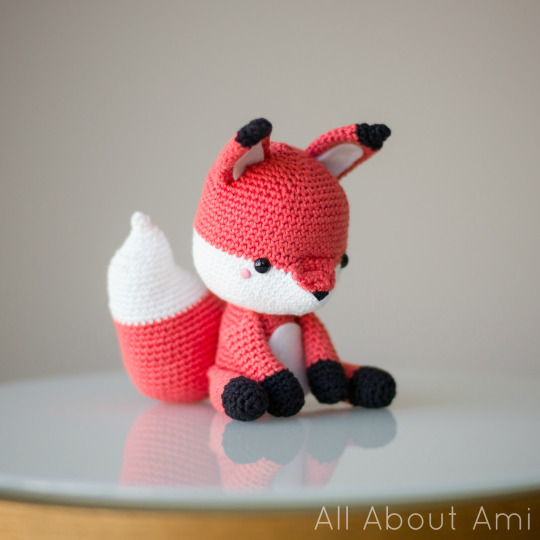 Working with thin yarn and a small crochet hook gives such nice and tight stitches, wouldn't you agree?  Using pink brads as cheeks gives such a clean look too!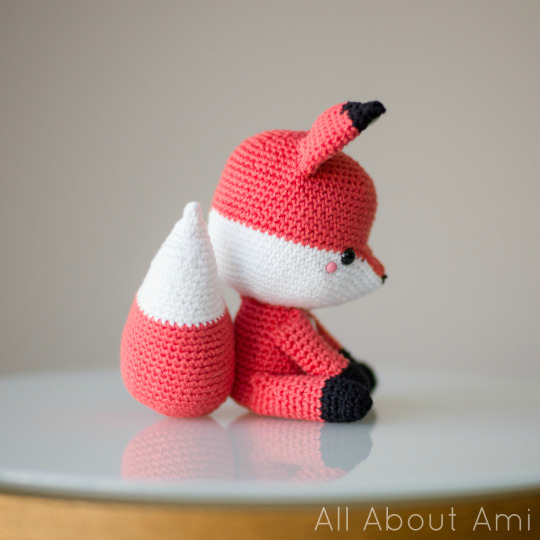 I know many of you have been interested in making an amigurumi fox, so I hope you love our sweet Finnley as much as we do!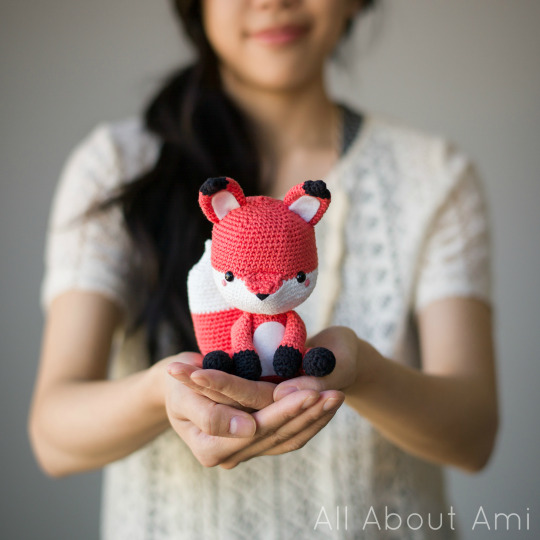 I was thrilled to receive my official copy of Tracey Todhunter's "Crochet, Learn It. Love It" recently as it just came out in March!  This skill-building book is aimed at beginners to enthusiastic intermediate crocheters who would like to improve their crochet technique.  It includes hundreds of detailed how-to photographs and works progressively through the stages of crochet, from building essential skills, to working in the round, to more advanced techniques.  Patterns are included throughout where readers can implement the new skills they've just learned, and "Crochet Clinics" are included where Tracey solves common dilemmas.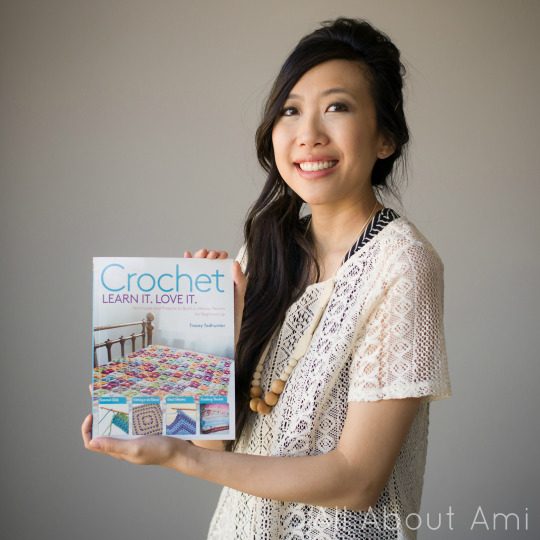 My Finnley the Fox pattern appears towards the middle of the book after readers have mastered all the basic crochet stitches and have learned how to work in the Round (Chapter 2).  I love how they laid out and presented Finnley's pattern with the beautiful colours.  It's so exciting how our family picture is in it too!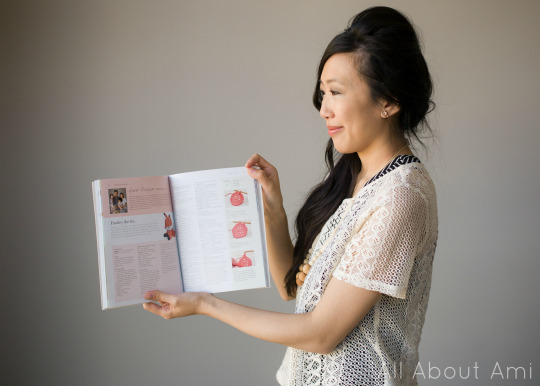 Tracey is a highly respected crochet designer who has been teaching for over two decades.  She has designed for many major knitting and crochet titles, and it's evident what a clear communicator she is as her book is extremely well-written and laid out.  I read through the entire book and was impressed by how each technique and step was explained, and I learned some new techniques and tips along the way too.  I am so honoured to be a part of this wonderful book that will be a staple in any crocheter's book collection.  Frequently I am asked what books I recommend for people who are just starting to crochet, and now I can direct people to Tracey's book with confidence!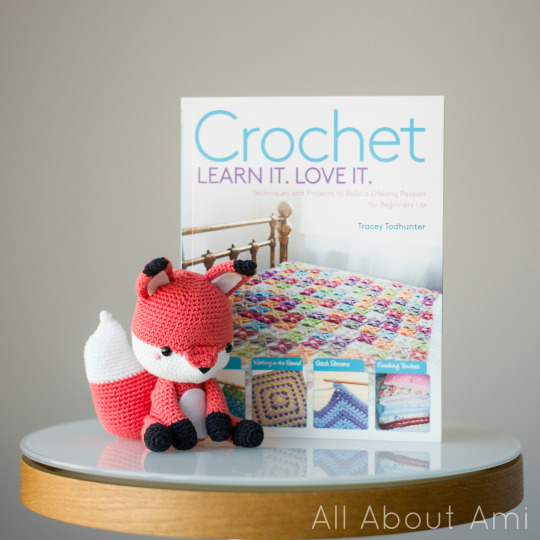 Here is Finnley II admiring the original Finnley and how distinguished he looks!  I think it's wonderful how this introductory crochet book includes an amigurumi pattern as it shows readers that you can create so many different items once you know the basic crochet stitches.  I love how more and more people are being introduced to our beautiful art of amigurumi!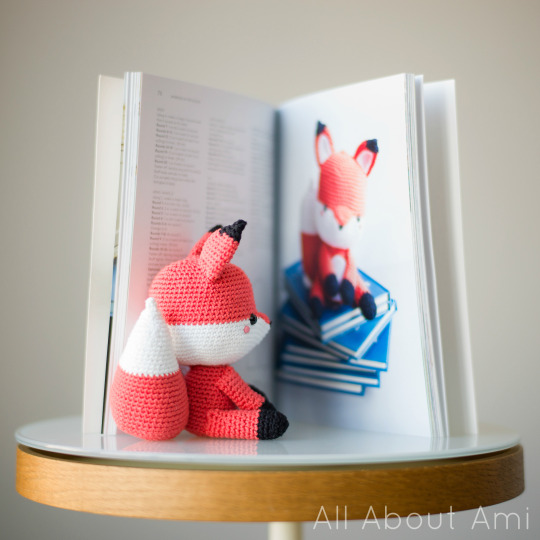 If you want to make your own Finnley the Fox, be sure to check "Crochet, Learn It. Love It" on Amazon HERE and at your local book stores (e.g. Barnes & Nobles, Chapters).  It was so exciting for us to walk into our local Chapters and find the book on the shelf with our crochet pattern officially published in it!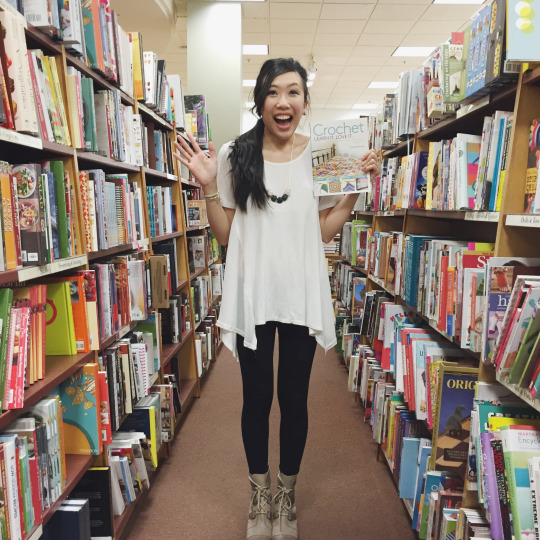 Here is a blooper from some of the pictures that we shot in Chapters!  Ryan was carrying Brie while snapping these photos, and Myla was having a ball twirling with my "dress" and being in the picture!  She was pretty surprised when I pointed out that her picture could be found in this book!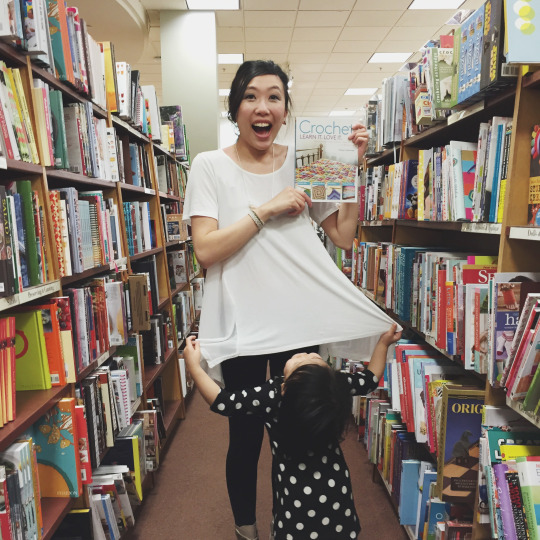 The UK version of the book has a different title and cover page as it's presented by Woman's Weekly, so be sure to look out for it if you're in the UK.  You can find it on the UK Amazon HERE and also read the stellar reviews!  I am so pleased that Finnley actually made the cover of the book in the UK version!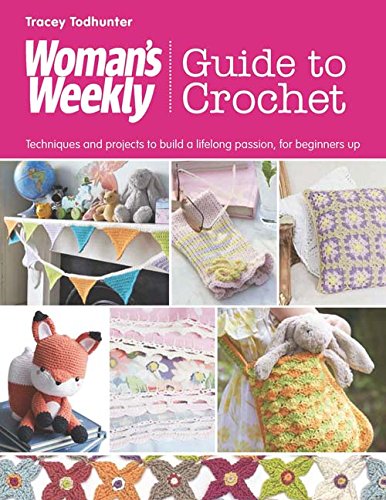 I hope you are excited to try making your own foxes and that you'll check out "Crochet, Learn It. Love It"!  If you do, please let us know what you think and write reviews on Amazon to help us spread the word!  It was such a wonderful opportunity for me to get a taste of having my work published in a crochet book and how much hard work goes into it.  One day, I hope to author my own book when the timing is right!  In the meantime, please check out Tracey's book on Amazon HERE  and at your local book stores!  You could also request your local libraries to order this book so you can access it this way too (I love the library)!  Visit Tracey's blog HERE and also check out her lovely blog post about Finnley HERE!  Stay tuned as there will be an exciting giveaway where YOU can win your very own copy of this book soon!  Subscribe to my e-mail list HERE so that you never miss a post, and follow me on Facebook, Twitter and Instagram to get all my updates!  Please share your fox pictures with us on social media (you can use the hashtag #finnleythefox) or through e-mail (all_about_ami@hotmail.com) as I'd love to see them!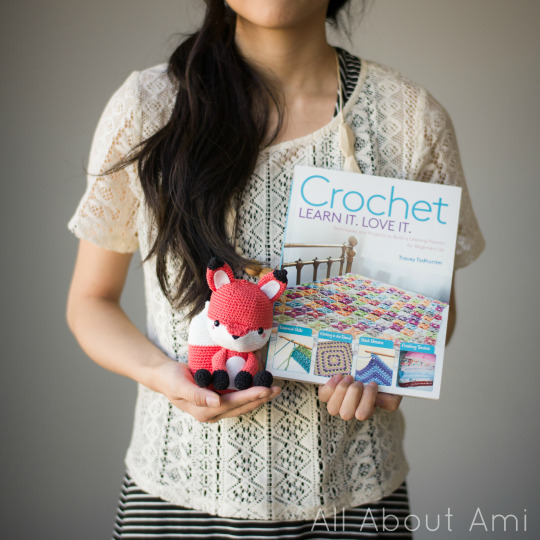 Thank you so much to Tracey and the Quarto team (Michelle and Georgia)!  It was such a pleasure working with you, and I am so proud to be a part of this wonderful book!
Amazon affiliate link: