We feasted on so many beautiful and scrumptious desserts while we were in Paris.  I hope you enjoyed my tweets as we traveled, and we can't wait to share more photos with you soon!  In the meantime, I thought I'd share a project I worked on before Christmas with you.  I have a good friend who is a wonderful baker and cook, so when I saw this adorable crocheted dessert trio in Ana Paula Rimoli's "Amigurumi Toy Box", I knew I had to make these for her!
I first started on the dainty little cake by alternating between white and tan for the layers.

We made some modifications to our little cake.  To make the layers more flat and solid, we cut out pieces of cardboard and glued them onto the white parts so they would not be as puffy when filled with stuffing.  I only recommend doing this if you are making these pieces for an adult who will be putting the amigurumi on display rather than for a child who will be playing with them and probably getting them dirty.  The cardboard will not fare so well if you will be washing the amigurumi!  As you can see in the pictures below, we cut out a circular piece of cardboard as well as a doughnut-shaped piece.  We also put some stuffing between the layers of cardboard.

The layers are much more flat and defined now, just like a real cake 🙂  We then added the eyes and the dainty little smile!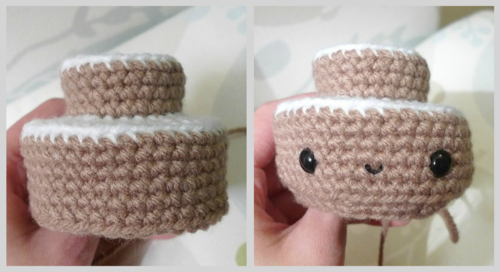 Next I crocheted a pretty pink cherry adorned with a green leaf to sit atop the cake!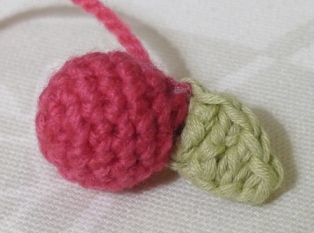 Here is the finished little cake!  The pink cherry adds such a cute touch 🙂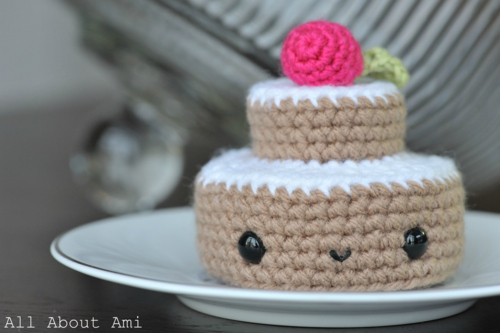 The flan was very easy to make as I switched from brown to yellow and added the face.  I love how these desserts have such big eyes and how minimal sewing is required!

This little flan gets a red cherry…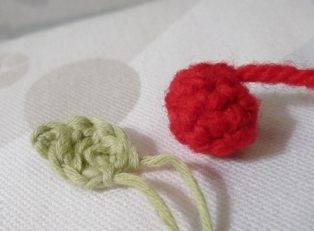 Here is the finished flan!  We got these beautiful dessert plates as a gift, and I love their vibrant colours and wise quotes.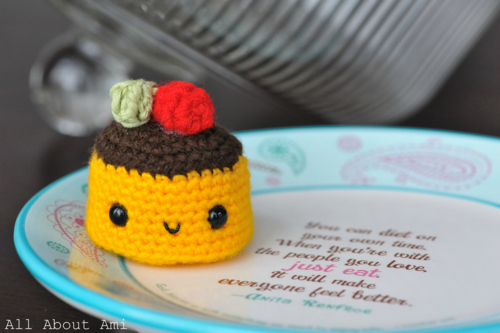 To finish up our dessert trio, I then worked on the hot cocoa.  We once again added a circular piece of cardboard so that his base would be flatter.  Then we added the eyes, smile and rosy cheeks!

Next I sewed on the brown hot cocoa part and added the curved little handle.  He's so dainty and tiny!

A melting marshmallow finishes off the look of this little hot cocoa!  Working on him reminded me of the two amigurumi cups I made when I first started making amigurumi!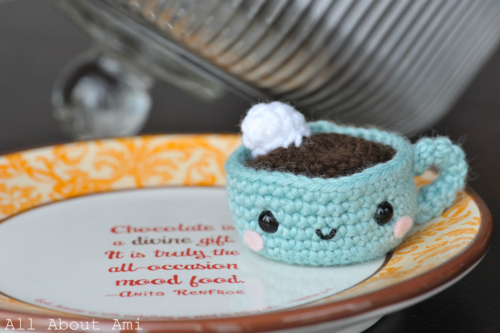 And here is my dessert trio altogether, displayed on my three-tiered platter 🙂  I love using this platter when serving jello and other desserts at parties.  Wouldn't you be happy if you walked into a potluck or party and saw these three cuties staring back at you?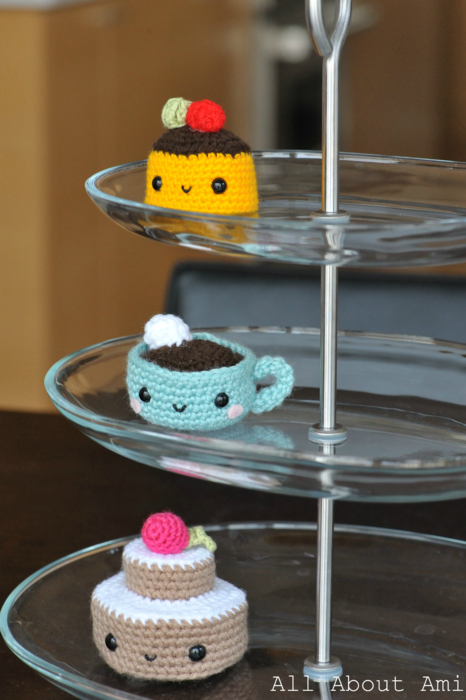 I love how the flan, cake and hot cocoa each have something special to decorate them ontop.  These desserts would be the perfect gift for someone who has a sweet tooth or perhaps for someone who loves high tea (like me)!  These three were quick and easy to make, and my friend loved them!  They are proudly sitting atop her shelf in her office 🙂  It's fun not only making amigurumi animals but amigurumi food too!  Adding faces to household objects and food make them look so cute (like my amigurumi Siu Mai)!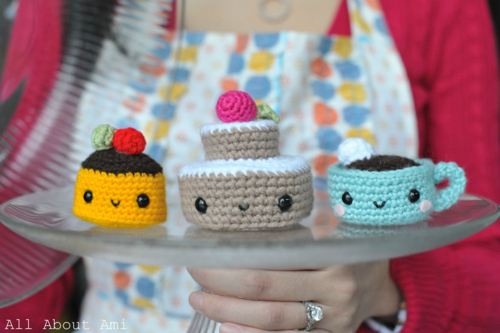 You can get the patterns to make the flan, cake and hot cocoa in "Amigurumi Toy Box".  If you haven't checked out Ana Paula Rimoli's three books yet, I highly recommend buying them or borrowing them from your local library.  I went through her patterns when I first started making amigurumi, and they are very easy to understand and follow.  Her patterns are always adorable!  Who is your favourite?  Do your friends have any favourite foods that you could perhaps amigurumi-fy?  Thank you for reading!
Amazon Affiliate Link: