It's always fun when we have moments of amigurumi inspiration when we know we HAVE to make something or someone into an amigurumi.  This happened to us about two months ago when we watched a Japanese movie called "Oblivion Island: Haruka & the Magic Mirror".  We had seen the trailer while watching another movie and the concept looked very interesting.  "Oblivion Island" explores what happens to neglected items such as old toys, and people have compared it to "Toy Story" (except from the owner's perspective) and "Spirited Away" as the main character Haruka explores a magical world filled with unique creatures.  Although we felt that the story progressed a little too fast at times, we thought that the overall concept was very creative, the visuals were beautiful and the story was touching (I must admit that I teared up in certain parts).  Take a look at the trailer below to get a taste of the movie:
One character in particular stood out to us.  Haruka rediscovers her old stuffed sheep named "Cotton" in the movie and for us he pretty much stole the show!  His relentless bravery, loyalty, fearlessness and cute mannerisms made us squeal throughout the movie, and we knew immediately that we had to try to crochet him!  You can see Cotton in more clips from the movie below here:
Here are some pictures of Cotton that I found on-line.  Naoyoshi Shiotani, the movie's animation director, created and designed Cotton to be the stuffed animal that everyone had as a child.  In this interview he stated that he "wanted everyone in the audience to relate with and overlap their own personal childhood memories the very instant Cotton appeared on screen" and fall in love.  He also stated that Cotton is one of the most emblematic characters of the story since some of the movie's themes are childhood, neglect and treasuring our memories.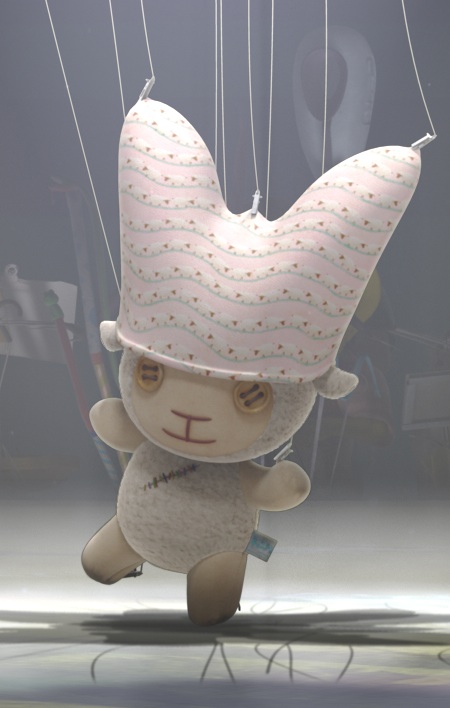 On designing Cotton, Shiotani stated, "I wanted Cotton to be cute in his appearance and movements. I went through a process of trial and error, and I concluded that he would look cuter if his facial expression were fixed, unchangeable. The risk was to have a very creepy doll, so I came up with the idea of using buttons for the eyes".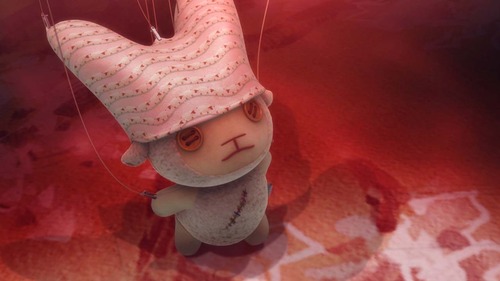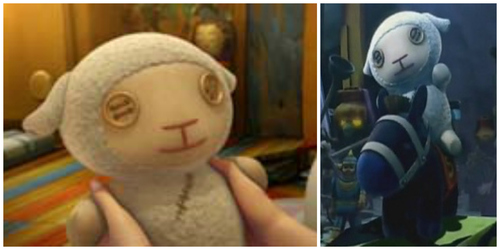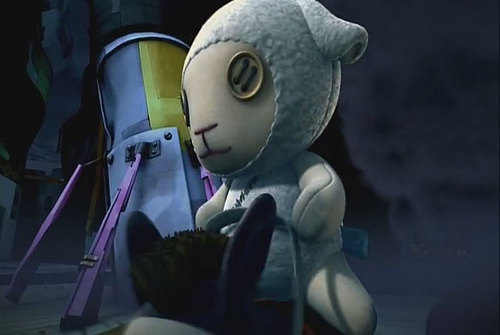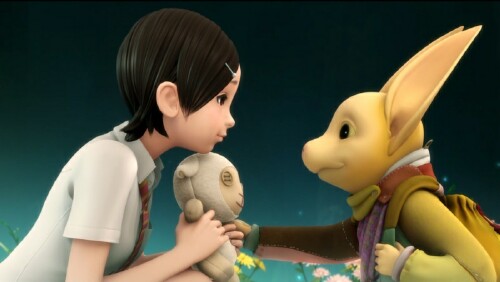 And so, after we watched "Oblivion Island", we were determined to crochet Cotton!  We quickly went out to buy some fluffy white yarn and beige yarn….which happened to be cotton (excuse the pun, hehe ;p).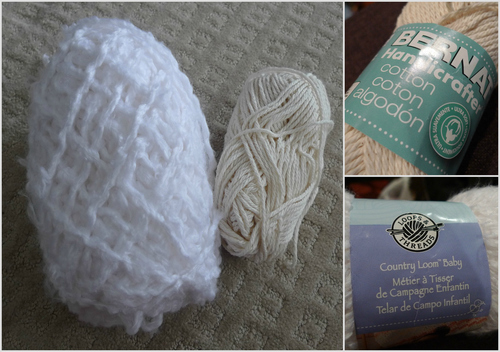 I first began crocheting Cotton's face using the beige yarn.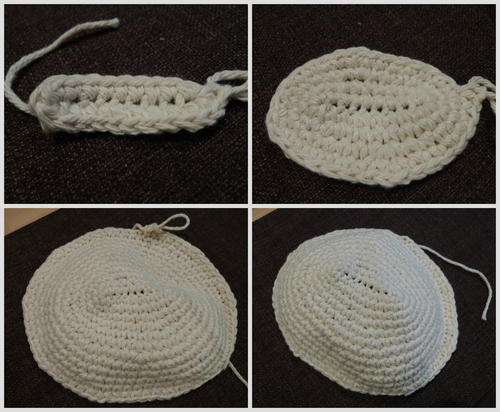 Next, I picked up stitches around the face with the fluffy white yarn for the rest of the head.  In case you didn't know, there is technically a "right" and a "wrong" side to amigurumi (read about it HERE).  When crocheting with fluffy yarn, however, it is best to leave the "wrong" side out as it is fluffier (read about this HERE).  I actually began crocheting in the incorrect direction when picking up my stitches…I noticed this in the following round and just turned and went the other way after that.  I will try and explain what to do clearly in the pattern post!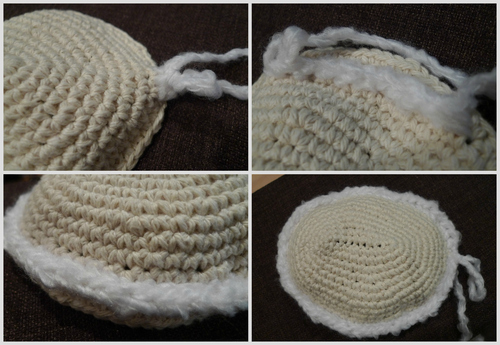 In order to raise the first round, I front post single crocheted the second round.  This helps frame the face nicely…

After more rounds, this was what the head was looking like.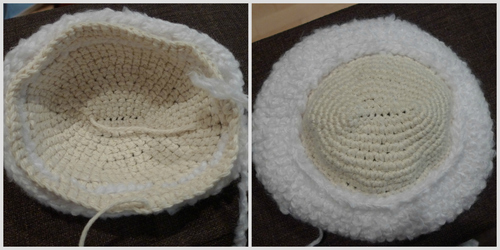 Here you can see the difference between the "right" and "wrong" side when crocheting with fluffy yarn.  The left picture is the "wrong side" which we want on the outside- it is fluffier and the individual stitches are less visible.  The right picture is the "right side" which we want on the inside- it is less fluffy and the individual stitches are more visible.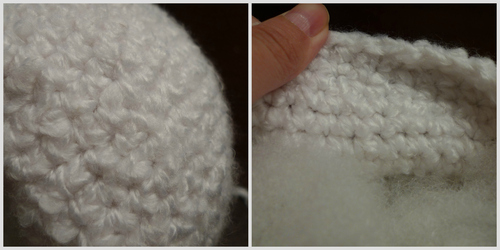 I then added stuffing and got ready to close up the head…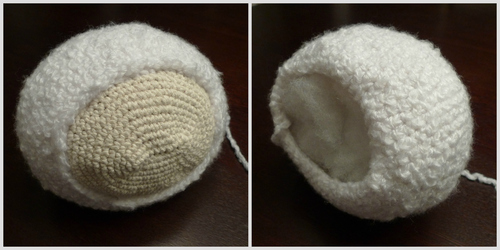 But not before adding the details to Cotton's face!  It was important to have the perfect wooden button eyes to make Cotton accurately.  We found these wooden buttons with two holes at Fabricland- however, we needed four holes in each button.  Thus, Ryan used a drill to make the appropriate holes!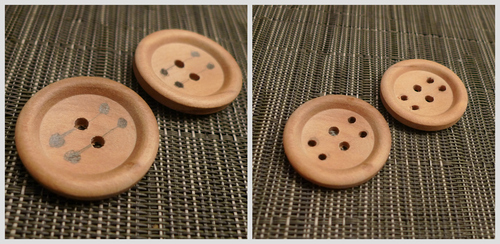 We used brown yarn to sew on Cotton's wooden eyes, nose and mouth.  We also added a piece of cardboard to give Cotton's muzzle more definition.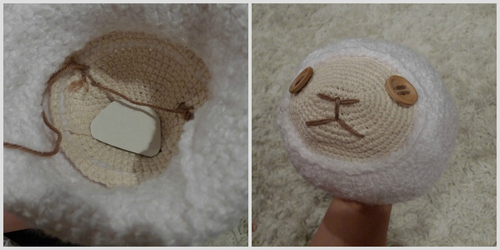 We were finished Cotton's head!  Interestingly, the yarn in Cotton's eyes angle downwards in a similar direction- they are not symmetrical!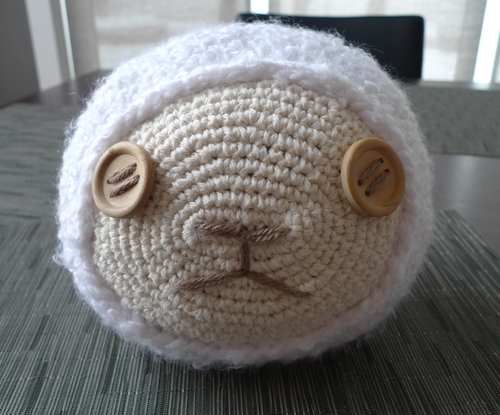 Here is a close-up showing the raised look of the first round using front post single crochets.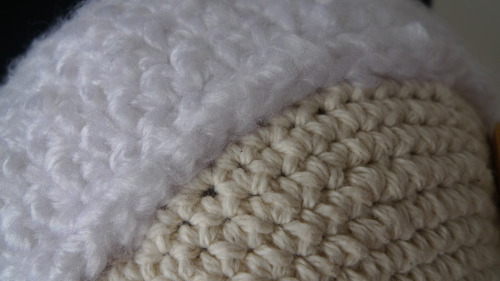 Next, I worked on the body which was very simple!  Once again, I had to remember to keep the fluffier side on the outside (the first picture shows the inside of the body).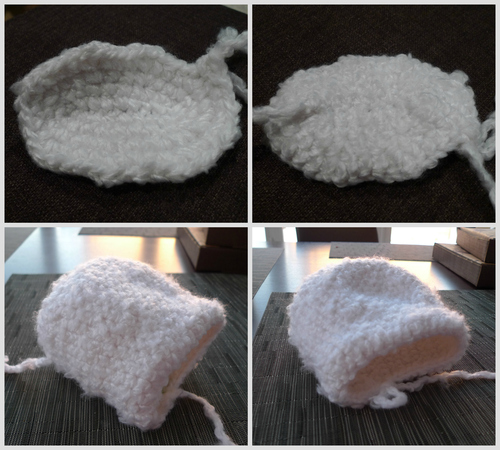 Cotton has a scar on his body because there is a shard of mirror within him that brings him to life!  Ryan used embroidery floss to add the colourful scar to Cotton's body.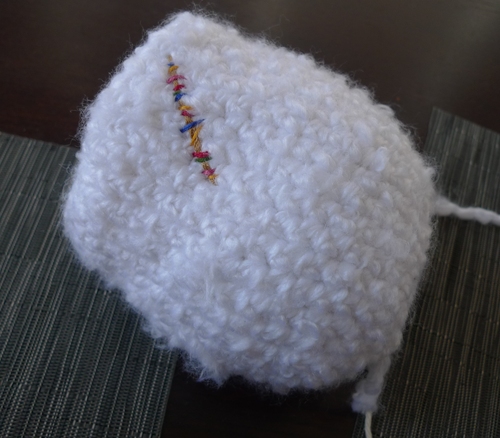 Next I crocheted the ears.  Ryan cut out the shape we were aiming for out of hard paper (we measured the paper against the head so we knew this would be a good size).  It was nice having a "template" to go by!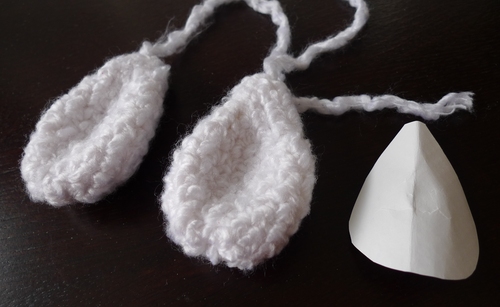 We then attached the ears so that they curved downwards and outwards..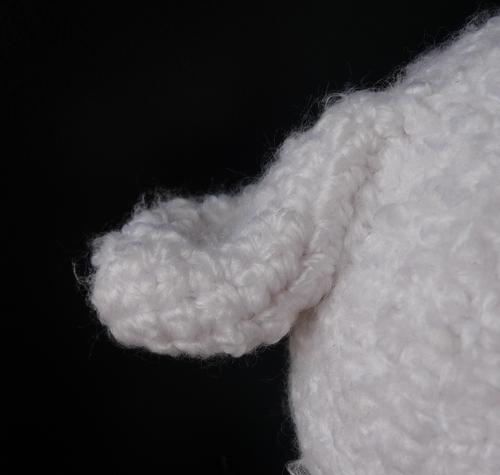 Next up were the feet!  Once I was done crocheting the base, I crocheted in the back loops only to make the base more flat.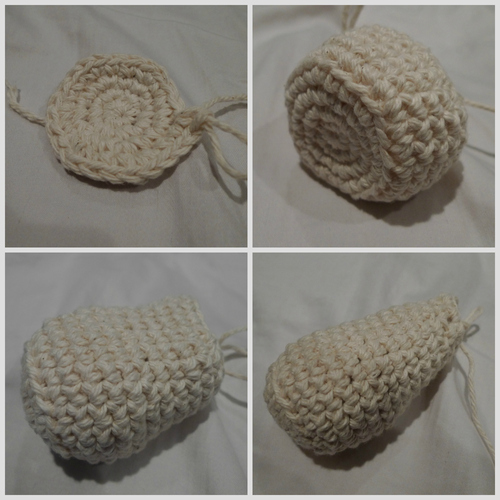 I decreased more on one side to create this angled tip..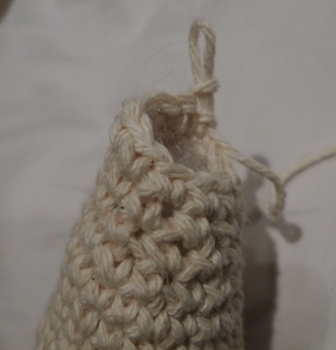 And these were the legs I created!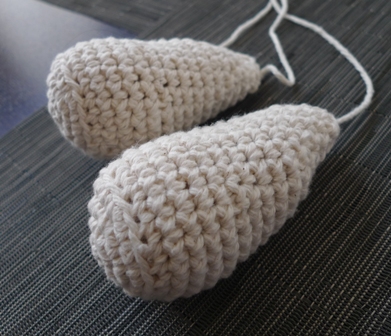 I crocheted the arms similarly, just shorter and slightly smaller…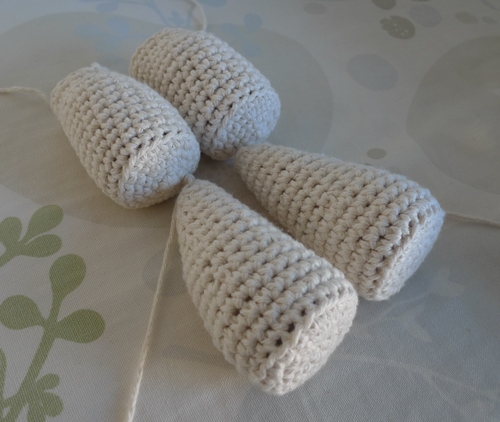 Then it was time to assemble the rest of Cotton!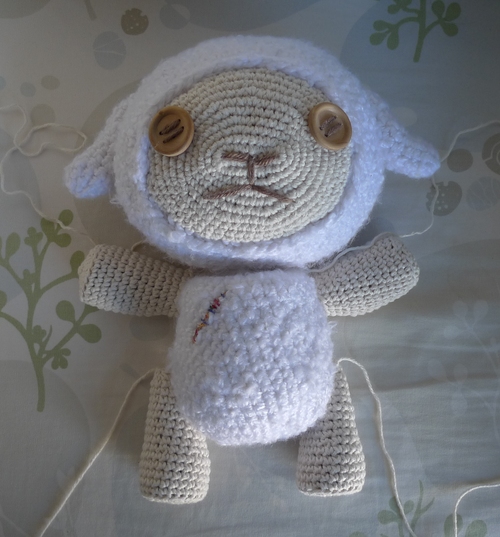 It's fun seeing an amigurumi come to life after the parts have been made!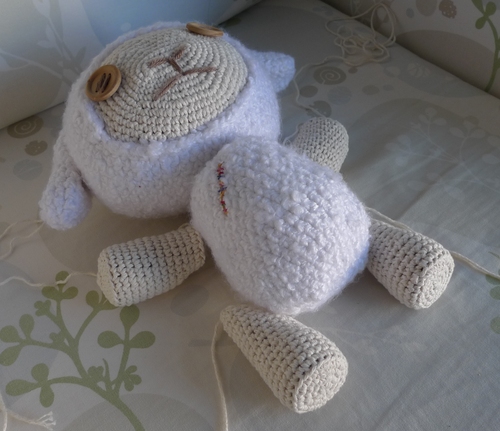 We positioned and attached the legs to the body as pictured below.  The last few rounds of the angled side were attached to the body (not just the tip).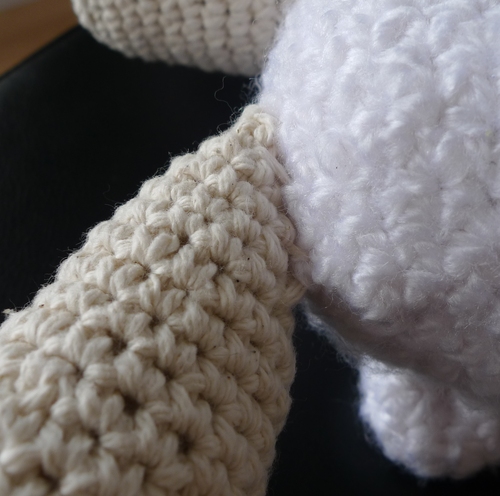 Here are some close-up shots of Cotton!  The side of his face with his nostalgic buton eyes…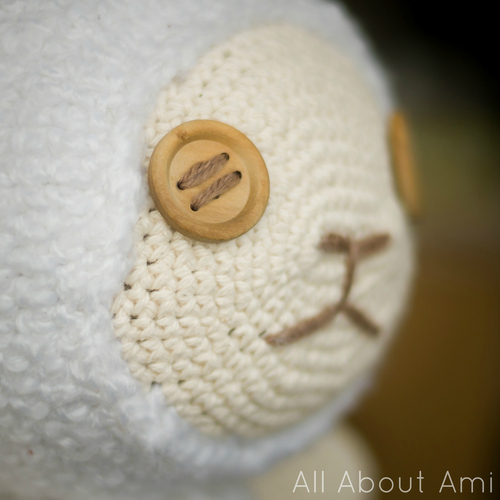 His colourful scar…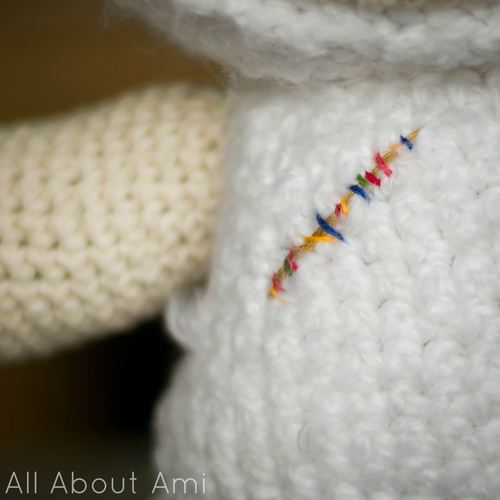 Ryan even made a little tag out of felt and embroidery floss as the Cotton in the movie has this!  This makes Cotton seem like a "real" stuffed animal from a store.  We couldn't really tell what was on the tag, so Ryan made up his own logo 😉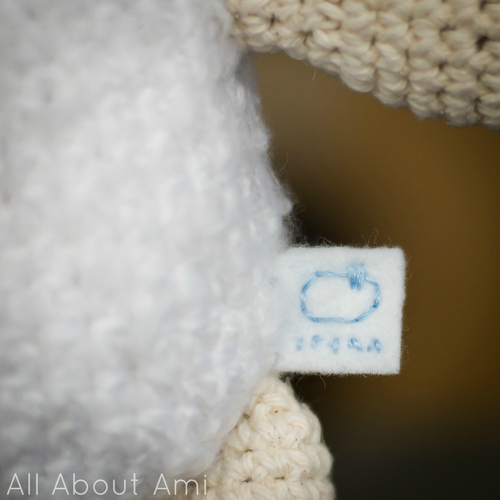 We also made this fluffy little tail similar to the ears and attached it to his back.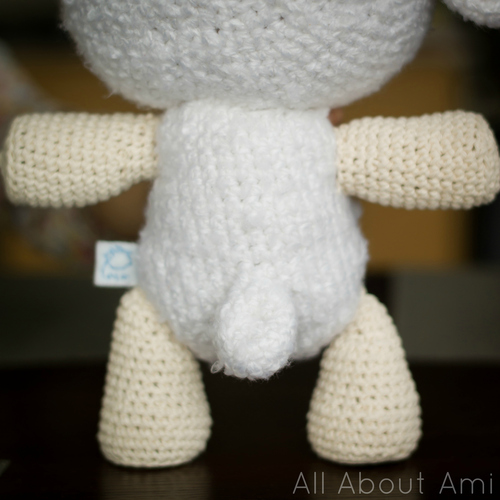 Now after seeing all the details, here is our finished Cotton!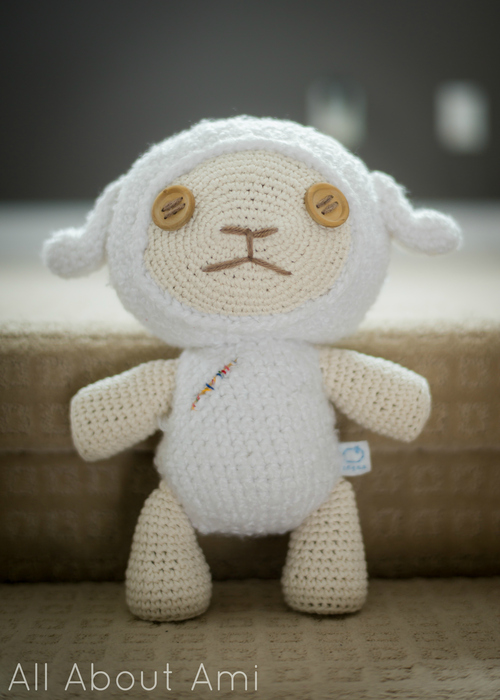 Cotton loves to dance!  You must check out this clip from the movie here in which you can see Cotton's absolutely adorable movements, from the way he walks to his cute dance moves!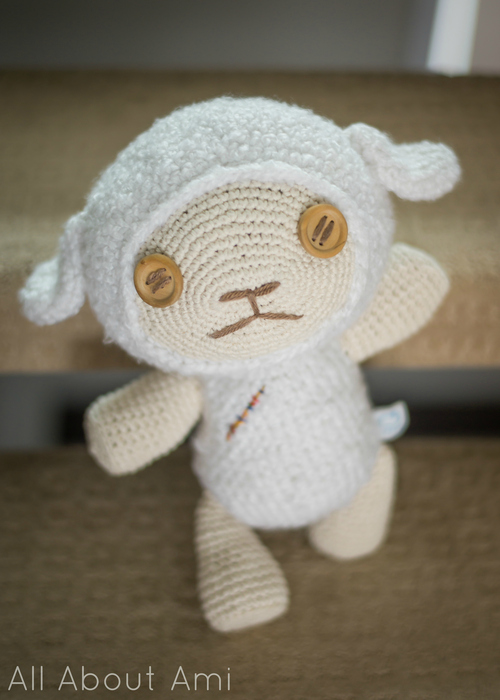 Doesn't it look like Cotton is walking towards you here?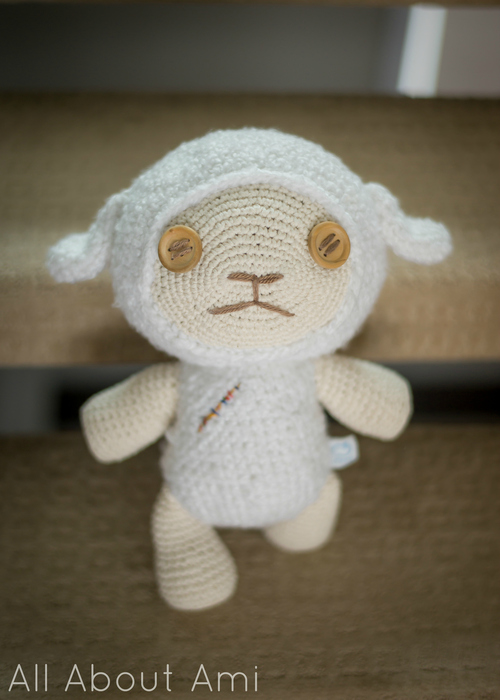 One of the first scenes of the movie shows Cotton sitting on a desk.  As soon as I saw him, I thought he kind of looked like an amigurumi with his button eyes.  Little did I know that he would play such a big role in the movie!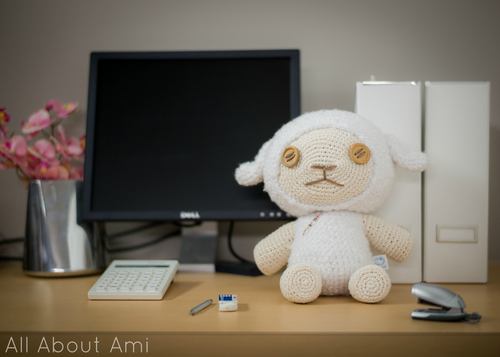 Cotton is one of the biggest amigurumi we've made (second only to the Despicable Me Minion here) as most of our creations are palm-size!  We wanted to make an exact replica of the Cotton in the movie, so the sizing and proportions were important!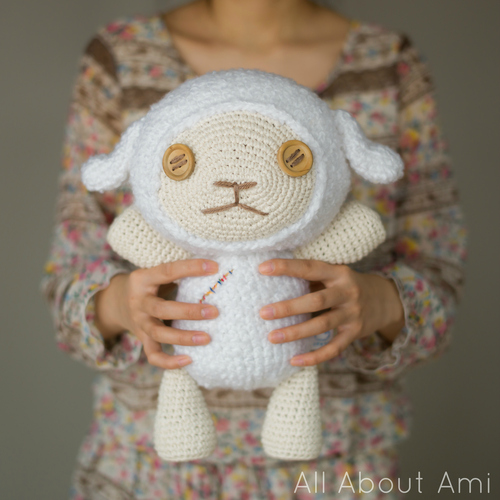 Carrying Cotton around like Haruka does!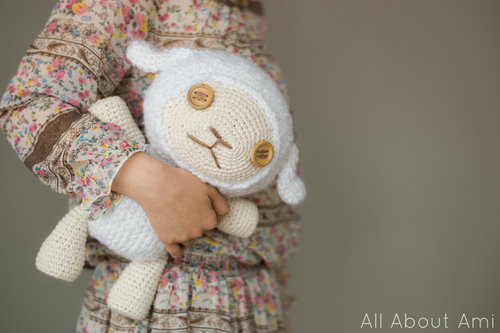 Cotton decided that he could walk on his own and didn't want to be carried around anymore 😉  I think it's neat that he turned out to be "life-size" in relation to people!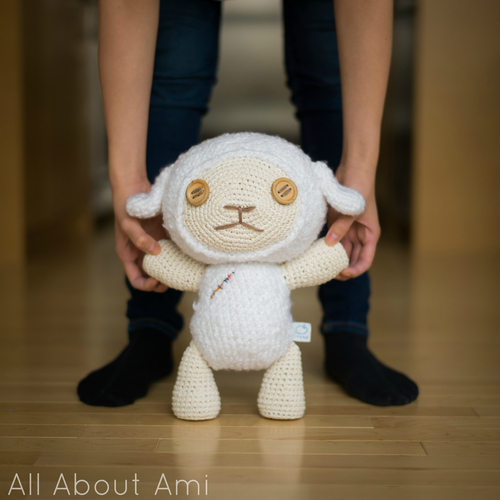 We are very happy with how Cotton turned out and it was fun trying to create and crochet him based on the images we saw on-line and from what we remembered in the movie.  We had fun giving out hints on our Facebook page to see if anyone could guess who our new amigurumi was too- thanks for playing along!  And to those of you who watched "Oblivion Island" based on our recommendation, we hope you fell in love with Cotton as we did and that this blog post was extra special for you!
Let us know if you are planning on making Cotton too!  Did you have any special stuffed animals from your childhood like Cotton?  I myself had a teddy bear collection!  Have you had any moments of amigurumi inspiration after watching a particular movie? The FREE PATTERN can be found HERE!!!  Thanks for reading this long and picture-heavy post!